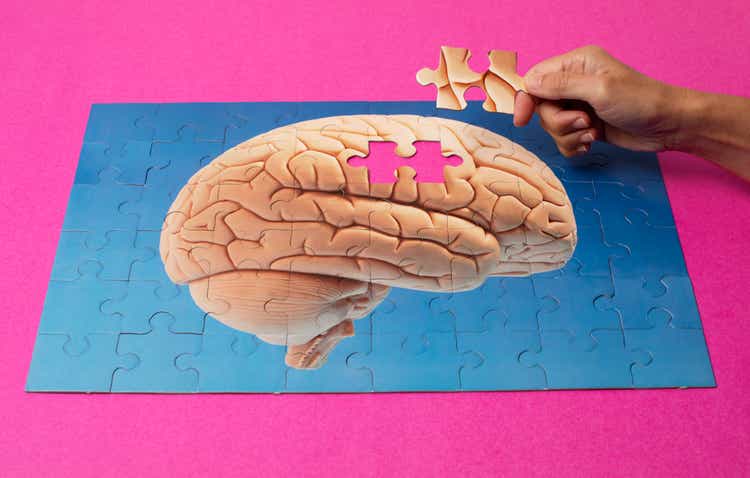 Investment Thesis
An Alzheimer's disease treatment bubble that had been building since the beginning of this year, when it became apparent that the FDA would ignore the advice of its own Advisory Committee and approve Biogen's (BIIB) Aduhelm for commercialisation in the US - seemed to have all but burst by the end of October.
Biotech's developing Alzheimer's therapies which had seen their share prices climb by thousands of percent during the first half of this year, have seen stock prices plummet, and in some cases, recover again, whilst a market that offered peak sales potential of ~$50bn, according to some observers, has shrunk under scrutiny of whether new drugs really have what it takes to slow cognitive decline.
Investors should not necessarily despair however, even if backing Alzheimer's stocks has become a cross between visiting a casino and a circus - real progress is being made, albeit it incrementally, and often taking two steps back after one decisive step forward.
In this article I will recap on the struggles of Biogen and Cassava Sciences (SAVA) - the two companies whose reputations have been most in the crosshairs over the past several months - and also highlight several other developers' investors ought to be aware of.
The market may get hysterical when it comes to treating this deadly disease, but that does not mean investors need to panic, or that the sector should be avoided altogether. Just expect a bumpy ride.
Biogen's Struggles Reflect A Loss Of Faith In Alzheimer's Drug Developers
When Aduhelm was approved in early June, driving Biogen's stock price from ~$280, to ~$415, analysts put out peak sales expectations that ranged from ~$10bn, to >$50bn in some cases, based on a population of patients in the US of ~5.5m, and a $56k list price, which implied a total addressable market of ~$308bn.
Even President Biden had weighed in on the debate, telling attendees at a Florida campaign stop in 2020 that:
If we do not find an answer to Alzheimer's, then in the next 19 years, every single solitary bed that exists in the United States of America now will be occupied by an Alzheimer's patient.
The furore surrounding the approval of Aduhelm, which led to three members of the FDA's AdCom - who voted 10-0 that the therapy should not be approved - resigning - was intense and prolonged.
A large proportion of the scientific community thought Aduhelm - whose Phase 3 pivotal trials were ended early after failing to survive a futility analysis - had, and continues to have, no clinical benefit whatsoever.
In fact, many believed that Aduhelm was more likely to damage patient's health owing to frequent instances of Amyloid-related imaging abnormalities ("ARIA") involving brain oedema ("ARIA-E"), which can cause headaches, changes in mental state, confusion, vomiting, nausea, tremors, and gait disturbance.
Biogen's share price dropped steadily, falling to a price of $260 - lower than before Aduhelm's approval, in late October, as Biogen published its Q321 earnings, which showed that sales of Aduhelm since approval had been just $0.3m, whilst analysts had forecast for at least $12m.
The drug may have been on the market for just a few months, but that is a far cry from the multi-billion dollar sales quarters the market claimed to be expecting.
Some hospitals had even been putting up signs suggesting that Biogen sales representatives were no longer welcome at their premises. In short, Aduhelm had gone from being the drug that would revamp Biogen's falling sales (I explained how in a note from April this year), to a potential liability for the company - but having reached a nadir, Aduhelm's fortunes may be on the turn.
The fact of the matter is that the FDA has approved Aduhelm based on the evidence put before them by Biogen. Many have argued that the relationship between the company and the agency was too close, and even Biogen may have been shocked to discover the FDA approved Aduhelm with no restrictions, meaning any and all patients are eligible to be prescribed the drug.
The Longer Term Outlook For Biogen (& Others) May Not Be So Bad
Biogen has generally remained silent in the face of all the criticism, but you can certainly make a case that after 20 years of failed Alzheimer's therapies from the likes of Roche (OTCQX:RHHBY), Eli Lilly (LLY), Pfizer (PFE) and Johnson & Johnson (JNJ), all of which failed to show the efficacy the FDA was looking for, Aduhelm was the drug most deserving of an approval, based on its ability to reduce levels of Amyloid Plaque in patients, correlated (however loosely) with a slowing of cognitive decline in patients.
On its Q321 earnings call, Biogen CEO Michel Vounatsos told analysts that the company was "obviously disappointed with the uptake of Aduhelm in the US". But there are valid reasons why the uptake has been slow.
For example, Biogen has had to decide for itself which patients would benefit most from the therapy, having been given no guidance by the FDA - putting the burden of responsibility entirely on the Pharma.
Additionally, the reimbursement situation is complex. Biogen now has a J-code - essentially an ID that pharmacy vendors, physicians, hospitals and other pharmacy distributors can use to bill for medications - although it does not become active until January next year.
Of greater significance may be the Center for Medicare & Medicaid Services' decision on National Coverage Determination ("NCD"), which is expected to be made by April next year, Biogen believes.
The reason this is important is because usually, Medicare reimbursement decisions are made via Local Coverage Determinations ("LCDs"), by Medicare Administrator Contractors ("MACS"), but given the controversy surrounding Aduhelm, the likelihood of the drug being reimbursed at the local level is negligible, since no MAC wants to attract any negative publicity.
If the CMS decides to provide coverage at the national level however - a rare type of approval usually reserved for medical devices - then MACs would likely follow suit, and reimbursement coverage for Aduhelm - albeit not at the levels Biogen might have initially hoped for - would potentially become widespread.
Historically, NCD decisions for drugs are usually positive - a good sign for Biogen. As a last resort, the CMS could also make a Coverage with Evidence Determination ("CED"), although this would reduce the level of coverage for Aduhelm to an even greater extent, perhaps to cover only people in Open Label trials.
Biogen will doubtless be keeping their fingers crossed for a positive LCD decision, and in another twist, the CMS is unable to rule on the pricing of any drug, meaning that, despite its belief that Aduhelm should cost no more than $3,000 - $8,500, reimbursement may end up covering Biogen's target list price of ~$50k per annum.
It should be noted that Biogen splits profits on sales of Aduhelm 55/45 with its development partner Eisai, so its earnings will not be as obscenely high as some of the Pharma's critics may think - by my ballpark calculations (outlined in a recent deep dive note on Biogen and Aduhelm) the Pharma stands to earn ~$15 - $19k per patient.
It should also be noted that, although Biogen's revenues have been falling (and its pipeline assets have had a bad habit of falling at the final hurdle since Aduhelm's approval), Biogen remains an exceptionally profitable company.
In Q321 revenues slipped to $2.8bn, from $3.4bn in the prior year, mainly due to falling sales of its MS drug Tecfidera in the face of generic competition. But the company still returned non-GAAP net income of $689m - down from $882m in the prior year's Q3, and non-GAAP diluted EPS of $4.77.
Investors should note that Biogen does not pay a dividend, so share price accretion is of paramount importance, and many recent buyers of the company's stock may be shaking their heads at the declines since Aduhelm's approval - having expected the opposite effect.
But now may not be a bad time to be considering adding to a position in Biogen. If the company can secure reimbursement for Aduhelm at the national level, and with management self-limiting its target market to early stage, mild-to moderate stage Alzheimer's only, the company may finally be able to start building a viable market for itself. A return to share price levels of >$400 may be a long way off, but a 6-9 month target of >$350 may not be entirely unrealistic, if national reimbursement is secured next April.
Additionally, Biogen appears to be taking the initiative with its Phase 4 post-marketing study - a draft protocol has been submitted to the FDA, and the sooner Biogen delivers data, the sooner it may be able to end the debate on Aduhelm's efficacy, one way or the other.
Why Cassava Sciences Shares Are Back On An Uptrend
It is interesting to note that both Biogen and Cassava Sciences - developers of Simufilam, an Alzheimer's therapy that has produced potentially exciting results in a Phase 2, open label trial - are advocates of using their drug in combo with others in order to offer patients the best chance of slowing or reversing cognitive decline.
That reflects the difficulty of treating the disease, and arguably deflects some of the criticism aimed at companies like Cassava and Biogen, who are often accused of peddling snake oil for profit, rather than using science to cure a debilitating disease.
Cassava's shares have made stratospheric gains ever since the company had results from a failed Phase 2 trial (my deep dive note here) re-analysed, showing positive results, back in late 2020, triggering a bull run that saw shares grow in value from ~$6 in January, to a peak of $135 in July this year.
The gains were based on Phase 2 open label trial results that showed that after six months of treatment, cognition scores rose 1.6 points on the ADAS-Cog11 score - up 10% from baseline - whilst dementia-related behaviour also improved by 1.3 points on the Neuropsychiatric Inventory, a 29% mean improvement from baseline.
The results at nine months seemed to confirm the efficacy of Simufilam - a drug that works by correcting misfolded Filamin A protein, restoring its proper shape and function, and preventing it from releasing the inflammatory cytokines that cause AB and Tau to misfold and mutate - indicated that cognition scores, based on ADAS-Cog-11, had improved still further, rising 3.0 points overall. No Alzheimer's drug has ever produced such strong efficacy scores.
But then the problems began to mount for Cassava. First of all, criticism of its open label trials, which do not have a placebo arm to measure performance against, became more widespread, with noted scientists raising concerns as to whether the trial protocols were rigorous enough.
Then, just before nine-month results were released, a Citizen's Petition was lodged with the FDA, claiming that Cassava may have doctored certain presentations and evidence submitted to a scientific journal - all the way back in 2012 - in order to secure its Investigational New Drug ("IND") approval from the agency - I covered the accusations in some detail in a recent post.
The petition - apparently submitted by anonymous short-sellers of Cassava stock - caused Cassava stock to crash from ~$118, to ~$42 - a 64% drop.
Last week, however, Cassava management reported that the Journal of Neuroscience - the journal that published Cassava's technical paper - had found no evidence of tampering, other than a small error that it did not consider to be consequential:
"The Journal of Neuroscience follows COPE [Committee on Publication Ethics] guidelines and takes any claims of misconduct very seriously. In response to allegations of data manipulation in JNeurosci 2012;32:9773-9784 the Journal requested raw data, including images of original, uncropped Western blots. The Journal determined that there was one duplicated panel in Figure 8 and a Corrigendum was requested and will be printed. No evidence of data manipulation was found for Western blot data."
Cue a comeback for Cassava stock, which rose from ~$42, to $90, within the space of a few trading sessions. At the same time, a second Citizen's Petition was submitted to the FDA, this time advocating for Simufilam to be approved immediately and a Phase 4 post-marketing trial to be initiated, based on Simufilam's apparently exceptional 12-month open label trial data.
In reality, Cassava will rely upon two major Phase 3 trials of Simufilam, the protocols of which have already been agreed with the FDA, to determine whether the drug will be approved for commercialisation or not.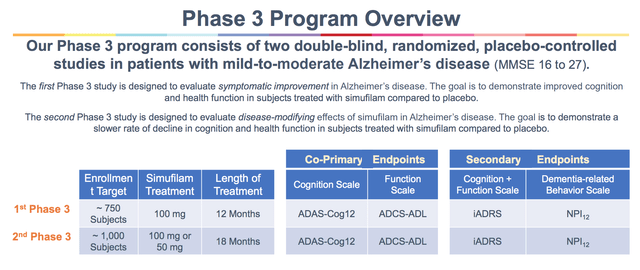 Cassava's Phase 3 trial protocols - this time, placebo controlled. Source: Cassava Sciences Investor Presentation.
For me, a Cassava long who bought in at a price >$100, the phase 3 trial - which will be initiated before the end of this year - is key to determining the fortunes of Cassava.
Those critics / shorts who demanded to see Simufilam results measured against a placebo will now get their wish, whilst the scale of the trial ought to provide conclusive evidence as to whether Simufilam will work in a real-world setting.
Except, of course, that Biogen's Aduhelm underwent two similarly comprehensive pivotal trials, which failed to establish in most people's eyes whether the drug has a clinical benefit or not. That is the trouble with a disease such as Alzheimer's - how do you prove that a patient's cognitive decline would not have been worse had the medication not been used? Clinical trials are not necessarily a perfect science, but they remain the best option available,
Nevertheless, most parties will likely be partially satisfied with the path that Cassava is now taking. Management has the opportunity to prove that its orally available drug with a clean safety profile can outperform placebo, and deliver best-in-class data, and even if it does not, valuable insight into how the drug works and whether it can be used in combo with Aduhelm, or one of the many other Alzheimer's drugs in development may be gained over the course of the trial.
As such, I feel Cassava shares are probably fairly priced at their current value of $89.50, and market cap of ~$3.6bn reflects the scale of the opportunity without pricing the biotech as if Simufilam is a guaranteed wonder drug.
Deciding whether or not to back Cassava is essentially a decision that should be made based on your view about the scientific rigour behind the development of Simufilam, and the Filamin-A / protein misfolding thesis.
Cassava is certainly not alone in working with this mechanism of action, and I believe it is worth persevering with. The Sava DX blood test the company is also developing, that may help to detect Alzheimer's much earlier in patients, is less spoken about, but also potentially groundbreaking.
The Best of The Rest - Anavex' / Prothena's Solid Progress, Lilly's Struggles, Annovis' Collapse
Many investors who have been critical of both Biogen's Aduhelm and Cassava's Simufilam have pointed to Anavex Life Sciences (AVXL) as the most exciting prospect in the Alzheimer's treatment field. Shares currently trade at $23, and market cap of $1.7bn - inexpensive given the company's diverse and advanced pipeline.
Anavex-273 is a Sigma-1 receptor agonist, that has "been shown to restore neuronal functions in neurodegenerative processes", management revealed in a recent investor presentation. The SIGMAR1 gene encodes the S1R protein, and its activation prevents toxic RNA from being translated into toxic proteins - effectively cutting off the formation of amyloid beta and / or tau - the peptides and proteins that are present in all Alzheimer's patients, and which most therapies target.
Anavex-273 - also known as Blarcamesine - improved Mini Mental State Examination ("MMSE") and Alzheimer's Disease Cooperative Study Group - Activities of Daily Living Inventory ("ADCS-ADL") over 148 weeks in a Phase 2a study, by a statistically significant amount, although the sample size was very small, with just 13 patients using Blarcamesine, versus eight using placebo.
Now there is a ~500 patient Phase 2b/3 trial underway however (details in this recent investor presentation), which ought to read out data in the second half of 2022. The primary endpoints are ADAS-Cog - the same scale used by Biogen in its Aduhelm trials and Cassava in its Simufilam trials.
Prothena (PRTA) is a biotech that, like Anavex, is not just focused on Alzheimer's but a range of Central Nervous System ("CNS") diseases. As I discussed in a July note on Prothena, the biotech's lead candidate is Birtamimab, targeting AL Amyloidosis. I made Prothena a buy then, and believe a market cap of $2.7bn currently continues to slightly undervalue the company, which has major long-term upside potential based on its Parkinson's, Amyloidosis and Alzheimer's opportunities.
Prothena has wholly owned preclinical assets targeting Alzheimer's, Alzheimer's in Down's Syndrome, and a vaccine targeting Amyloid Beta and Tau, and a lucrative collaboration with Bristol-Myers Squibb (BMY) in place to develop a third Alzheimer's therapy.
Its Alzheimer's portfolio won't deliver meaningful data overnight, but with a big Pharma partner and cash balance of >$600m (according to a recent investor presentation) the company is well-hedged, cash rich, and could become a major player in the Alzheimer's race.
Speaking of large Pharmas, Eli Lilly's Donanemab caused a stir earlier this year, after it met its primary endpoint of change from baseline to 76 weeks in the Integrated Alzheimer's Disease Rating Scale ("iADRS"), slowing decline by 32 percent relative to placebo, in a Phase 2 trial (more detail in my recent note on Lilly).
Lilly has already submitted its Biologics License Application ("BLA") for Donanemab to the FDA, but the underperformance of Aduhelm - another anti-amyloid drug - has left management urging caution around likely sales even if the drug is approved - perhaps as early as this year. Lilly stock has had an excellent year, up 83% across the past year, and Donanemab has played a major role in that, but an approval could potentially push the share price even higher.
Finally, illustrating how tough - and driven by wild market speculation - developing an Alzheimer's therapy can be, are Annovis Bio (ANVS) and Cortexyme (CRTX) have both seen their share price devastated recently - falling by >70% - after their Alzheimer's therapies failed to meet expectations.
Cortexyme reported that its lead candidate, Atuzaginstat (COR388) - an investigational orally administered small-molecule that targets gingipain proteases from the bacterium Porphyromonas gingivalis (P. gingivalis) - did not meet its co-primary endpoints in a Phase 2/3 trial, whilst Annovis' small data sets and somewhat grandiose claims (covered in more detail in my recent note) around improvement in ADAS-Cog11 scores have not been supported by other measures.
Conclusion - Curing Alzheimer's May Still Be Decades Away, But Attempts To Treat The Disease Should Remain On Investors Radar
As I discussed in my intro, hopes that Aduhelm may answer the call for an effective therapy for Alzheimer's Disease turned to despair after its post-approval backlash and underwhelming (to say the least) start to its commercial life.
There may be some hope - for patients and for Biogen shareholders - on the horizon however, as Biogen slowly figures out who may benefit most from the therapy - which is administered intravenously and requires regular brain scans - and looks to secure a nationwide reimbursement deal.
It may be restrictive, but if - and it is a big "if" - Biogen's post-marketing studies prove the efficacy of the drug, the market that analysts once forecast for Biogen in Alzheimer's may eventually materialise, meaning there is still significant upside potential in Biogen stock.
Likewise, after a difficult few months in which its trials and research have been subjected to heavy criticism, Cassava has taken steps to clear its name, and entered into the pivotal trial stage with a therapy that is orally administered and apparently safe, with conclusive data now a near-term prospect.
Meanwhile, Eli Lilly waits on a potential approval of Donanemab, whilst Anavex builds a case for a differentiated MoA with Blarcamesine, and Prothena partners with BMY and develops its own anti-tau vaccine.
There is no question that investing in companies developing drugs for Alzheimer's is exceptionally risky, but such is the significance of the disease, and the size of the market, there will never be any shortage of biotechs willing to try to improve on current Standards of Care, which are woefully short on efficacy.
Market speculation is rampant, data often impenetrable, and even trials do not always provide conclusive evidence of safety or efficacy, but the more you look into the development space, my belief is, the more that signs of genuine progress are detectable.
Although the bubble that built in the first half of 2021 was always likely to be unsustainable, I would certainly not rule out another one building as multiple pivotal data readouts, approval decisions, and scientific evidence loom in the first half of next year.