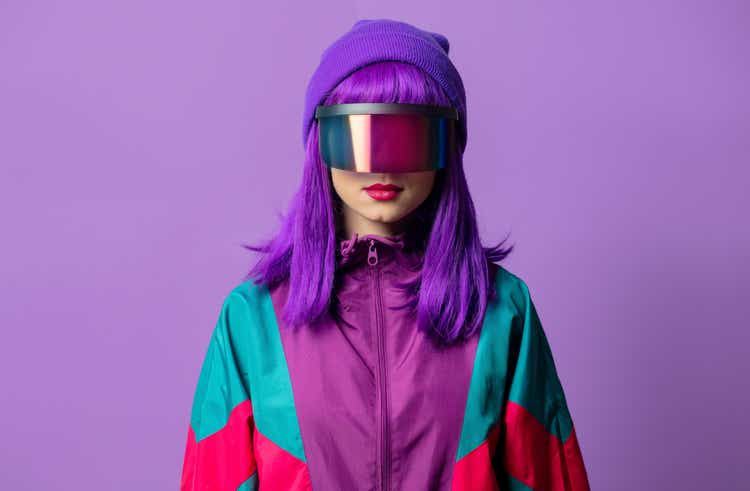 Introduction: What Is The Metaverse?
When Nvidia (NVDA) CEO Jensen Huang all but coined the term "metaverse" at Nvidia's GTC Spring 2021 event, it would have been hard to imagine that Facebook would be changing its name to "Meta" just a few months later.
RTX is a reset of computer graphics. It has enabled us to build Omniverse, a platform for connecting 3D worlds into a shared virtual world. Ones not unlike the science fiction metaverse first described by Neal Stephenson in his early 1990s novel, Snow Crash, where the metaverse would be collectives of shared 3D spaces and virtually enhanced physical spaces that are extensions of the internet.

Pieces of the early-metaverse vision are already here: Massive online social games like Fortnite or user-created virtual worlds like Minecraft.

-Nvidia CEO Jensen Huang (4/12/2021)
It's the later bit that has crept into the lexicon, rebranding the combination of VR + gaming + social media into a new unified concept, "the metaverse". Recently trending articles on Seeking Alpha are full of accusations that Nvidia is overhyped, despite the fact that creating these virtual worlds is incredibly computationally intensive. Take note, as this fact will be critical as we explore CD Projekt Red.
Other metaverse concepts include Nth Floor, a cyberpunk-like enterprise version where workers are put into VR pods where they complete their tasks and assignments. This vision comes from Microsoft (MSFT) and Accenture (ACN), a powerful Swiss-partnership-of-consultants-turned-global-public-company that specializes in assisting large firms replace their domestic workers with inexpensive foreign labor. Maybe next we will issue them digital ID's and put them in metaverse worker pods.
In summary, we can think of 'the metaverse' as a series of online virtual worlds where users/players immerse themselves with the assistance of VR. Overtime, this world may increasingly resemble the physical world in detail and complexity, on some occasions used for industrial or commercial purposes (which will be outside the scope of this article). Cryptocurrencies and NFTs are likely to act as a bridge between the metaverse and the real economy. Given the hefty computational requirements, enthusiast gamers with powerful computers will be at the forefront of it all.
Cyberpunk 101
CD Projekt Red ("CDPR" for short, less commonly referred to as CD Projekt S.A.) is a video game developer based in Poland, known for creating elaborate titles with sophisticated plotlines and artistic attention to detail. We wrote about CD Projekt Red extensively back in January, arguing that with the power of VR, video games will soon rival film as the superior medium. Video games already exceed film and sports in terms of revenue. In this context, we can think of CDPR the same way we might think of the Coen brothers or James Cameron.
U.S. investors can invest in CDPR via two ADR options, (OTCPK:OTGLF) and (OTCPK:OTGLY).
CDPR spent eight years developing Cyberpunk 2077, which was released in December 2020. The game is both a masterpiece and cultural phenomenon. The script for all of the dialogue is thousands of pages long. Keanu Reeves plays a starring role, quite convincingly. It picked up collaborations with Adidas (OTCQX:ADDYY) (OTCQX:ADDDF) and Porsche (OTCPK:POAHY). Elon Musk plans to make it available in Tesla's infotainment system, and his former girlfriend Grimes makes a cameo appearance.
Cyberpunk is set in a future version of the United States, where the government has largely collapsed, enabling a semi-anarchic corporatocracy. Players create their own character, deciding everything from gender to background. The story unfolds based on the choices they make, resulting in an array of different possible paths and endings.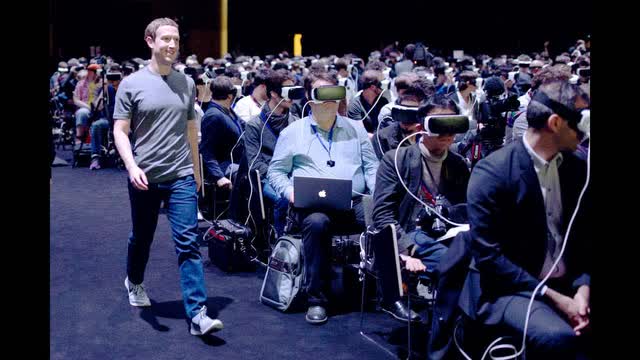 The CEO of what is now known as Meta Platforms, Inc. (FB) walks past rows of telecom and tech executives attending a tradeshow in 2016. (Image source: Meta/Facebook)
These themes resonate deeply with the game's audience; it's not hard to see why. The idea of tech conglomerates rivaling the power of government has moved Cyberpunk 2077 to Washington's premier policy publication. Nevada is considering allowing tech companies to set up their own governments. Facebook seems to be intent on turning this fiction into reality, the photo above is just one example.
Yet as astute readers know, the game did not live up to expectations. It was plagued with bugs, resulting in Sony pulling it from PlayStation Store (it has since returned). CDPR was forced to issue an apology to customers, affirming a commitment to fix the associated issues.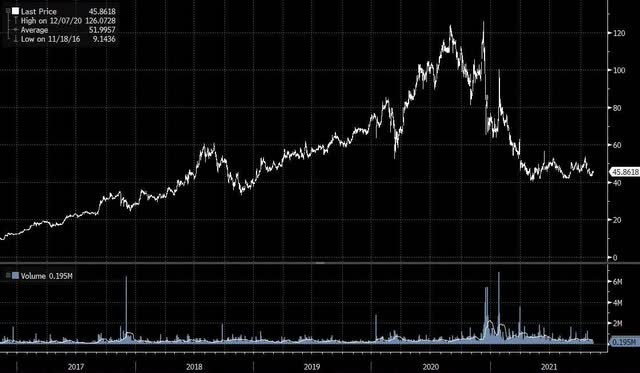 CD Projekt S.A./CD Projekt Red share price, adjusted to USD. (Image source: Bloomberg)
Though CDPR's revenue more than quadrupled on the release of Cyberpunk 2077, it has not met the high expectations. CDPR's stock has declined 61% from its August 2020 peak.
Become A Legend
But don't write off Cyberpunk 2077 and CDPR just yet; there are tricks up the sleeve. CDPR not only has additional single-player content in the works (which likely ties into the aforementioned possible endings), but more importantly a possible online multiplayer component. This planned multiplayer component was supposedly cancelled, but sleuthy enthusiasts have found evidence that suggests otherwise. It's likely that "cancelled" in this context means delayed in a way such that it can be sold as an add-on later, providing additional monetization.
Previously we hinted that our next triple-A would be a multiplayer Cyberpunk game, but we have decided to reconsider this now. Given our new more systematic and agile approach, instead of primarily focusing on one big online experience or game, we are focusing on bringing online into all of our franchises one day.

-CEO Adam Kiciński (3/30/2021)
To put the importance of this possible online multiplayer component into context, consider that GTA Online has been critical to propelling Take-Two Interactive's (TTWO) GTA V to become the highest-grossing entertainment release of all time. GTA V has raked in $6.4B since its release in 2013. Even in 2020, seven years after its initial release, it generated nearly $1B in revenue. There's no reason to think that a multiplayer component couldn't give CDPR's Cyberpunk 2077 IP similar longevity.
The video game world can also be quite forgiving. An example of this is Star Citizen, which has raised $396M, largely from crowd funding. The game was slated to be released in 2014, yet in 2021 it is still only in alpha testing. Why have customers (generally-see lawsuit here) been so patient? The game promises an expansive online world for gamers to explore in dazzling realism and attention to detail. Combine this with VR and you get-you guessed it-the metaverse.
Investment Thesis/Speculations
Based on extensive research and first-hand experience, it seems very likely that the reason Cyberpunk 2077 was so error-prone was because the game had to be significantly detuned in order to run on hardware such as the Xbox One and PS4. This likely created the infamous problems.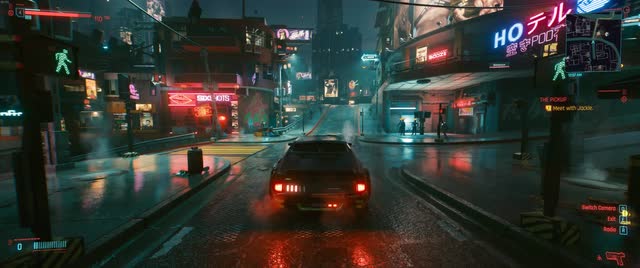 Cyberpunk 2077 with the graphics turned up (Image source: Reddit)
In other words, the game is so advanced (so ahead of its time) that you need the most cutting edge and expensive hardware to run it in full fidelity. If you want to play it in VR, the requirements would be even higher. CDPR seems acutely aware of this; they partnered with Nvidia for a then top-of-the-line GPU in Cyberpunk 2077 livery. At the time of the game's ultimate release, even that wasn't capable of the maximum settings. Nvidia has since used the game to demo the power of its behemoth RTX 3090.
To be clear, our analysis of Cyberpunk 2077 in VR was the result of both the latest (and most expensive) hardware combined with a VR utility from a small 3rd party developer. CDPR currently offers no native VR support for Cyberpunk 2077. Yet the game, with all of its attention to detail and unique dialogue, seems uniquely suited for VR. Perhaps this was intentional, but the computing power required just wasn't there.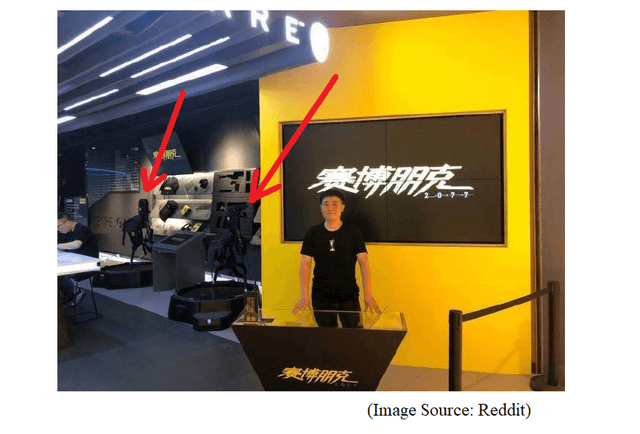 And so, the thesis that Cyberpunk 2077 will become the platform for a metaverse product is well founded. CDPR was spotted testing the game on sophisticated VR rigs at a press event, and initially said there would be VR support. The hardware required will inevitably become cheaper and more accessible over time, bolstering the thesis that this is just the beginning of a more sophisticated platform built on existing IP.
There is also enormous potential in the phenomenon of NFTs. If collectible Meka NFTs (pictures of robots) are worth $5,800 each, who's to say that NFTs couldn't be valuable in-game items? This could include apparel, vehicles, weapons, real estate, furnishings, experiences, and so on. If these in-game items became part of an outside blockchain (as NFTs), perhaps purchased with cryptocurrencies, we've truly reached the metaverse.
Falling transactional costs, courtesy of blockchains such as Solana, offer the opportunity to bring such dreams into reality. A mere announcement that 'Cyberpunk 2077 Online' will be a metaverse world supported by Solana or Ethereum might be enough to reignite investor enthusiasm.
There is also significant support from outside creators. CDPR has encouraged 'modders' to create homebrew content for the game, offering tools and support. Could we see CDPR choose some of this content for the final version, or otherwise create a way for it to be sold (possibly in the form of NFTs) in a potential online version of the game? Consider that CDPR has already hired some of these enthusiasts to work on "various projects".
Valuation/Financials
The metaverse is exciting to discuss, but at some point, we have to get down to brass tacks. Fortunately, the fundamentals are quite good. CDPR is currently valued at $4.5B, a fraction of its all-time high of nearly $11B. CDPR has generated $329B in operational cash flow LTM, enough to pad the balance sheet with $233M in cash (against just $5.6M in debt). This was due in large part to an initial boost from Cyberpunk 2077 launch sales. This is a 'software-like' business with minimal capex.
Valuation is enticing at 7.6x revenue, 15x TEV/EBITDA, and 16x P/E. Consider that in February 2020, CDPR was trading at an eyepopping 264x TEV/EBITDA in anticipation of Cyberpunk 2077's launch.
For comparison, Roblox (RBLX). Roblox is now pitching itself as a 'metaverse company', meaning simply they will add VR functionality. It is valued at 30.5x revenue. Roblox faces the risk that its core customer will, in a few years, grow up and become a citizen of Cyberpunk 2077's Night City metaverse, before Roblox can grow into this sort of valuation.
Risks
The risk/reward ratio seems well balanced by CDPR's strong fundamentals and Cyberpunk 2077's potential as a metaverse platform. Some games have initially turned out to be disappointments, ending up as successful turnarounds as more content is added.
This was the case with No Man's Sky, now described as "one of the best-selling new franchises of all time", despite a disastrous launch. When it was finally released (after several delays), the game was boring with little to do. They fixed it.
Other games have not been so fortunate. Much work was put into fixing Fallout 76, yet it was never enough for it to catch on. In total, Fallout 76 has sold just 2.5M copies. By comparison, Cyberpunk 2077 sold 13M copies in 10 days.
CDPR cannot afford to fumble major updates, a likely factor in the decision to delay additional content until 2022. The stock has actually risen slightly on the news, while short interest collapsed (-90%) in the month of October. There is significant execution risk. This is after all, a contrarian trade idea.
Conclusion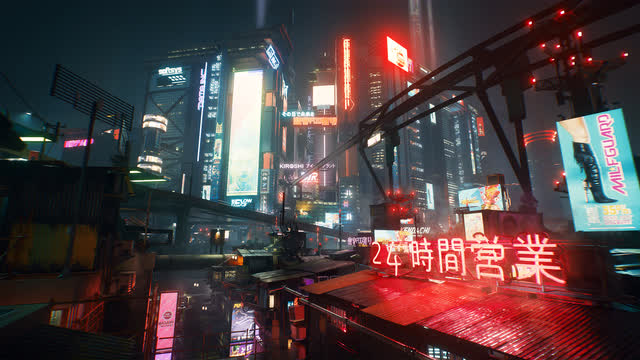 Cyberpunk 2077's Night City... You haven't seen it until you've seen it in VR with full fidelity and resolution. (Image source: CD Projekt Red)
To recap, CDPR's Cyberpunk 2077 could be a platform of which is still in the early innings of content and functionality, and thus still in the early innings of revenues to CDPR. Doing 'metaverse things' requires powerful and expensive hardware (which is why Meta/Facebook's Oculus looks like a low-res cartoon). This requirement is well suited for CDPR's older and more mature core audience, with natural enthusiasm for technology (it's a game about science fiction, garnished with sophisticated political and economic commentary).
Recent M&A hints this thesis is accurate. Last month (at the same time short interest was collapsing), CDPR acquired game studio The Molasses Flood, which was founded by developers from renowned titles such as Halo, Bioshock, and Guitar Hero. The team from The Molasses Flood will work on 'an ambitious project' using 'existing CD Projekt IP'.
CDPR can reach new heights if it is willing and able to radically leverage its flagship title. It would take years for another developer to recreate the massive and intricately detailed world that is Cyberpunk 2077. CDPR has the luxury of adding and perfecting features while it waits for the hardware to catch up.
We have not yet taken a position in CDPR, to be clear, but are watching things closely. We may do so at any time.