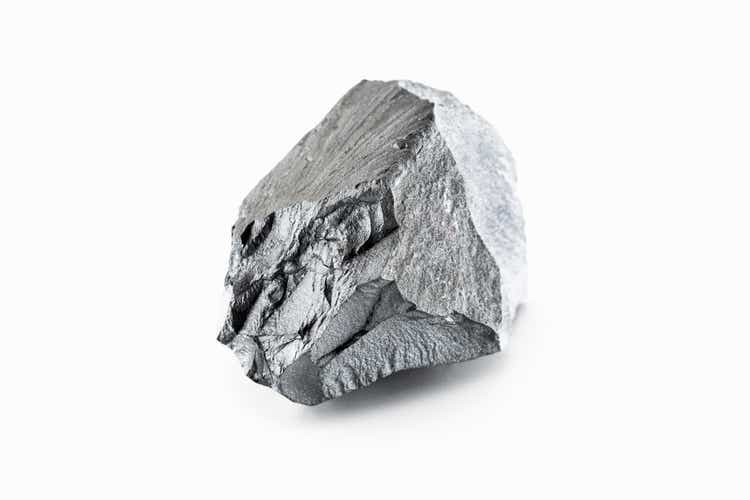 Shares of BHP Group Ltd (NYSE:BHP) popped up on my high yield screens this fall, and found their way onto our income model portfolios, after a significant price decline in August and September which seems to have been driven by a crash in iron ore prices. In this article, I wanted to model BHP's dividend going forward, with a look at its revenue breakdown between iron ore, copper, and other sources.
What is BHP's dividend yield?
I consider BHP to be an "income stock", not a "growth stock", and so the first detail I want to get a handle on is what BHP's dividend yield actually is. When I look on BHP's Seeking Alpha page or the below YCharts data, I get the dubious dividend yield number of 11.27%. The main value of the below chart is that it does show: 1/ BHP has tended to grow its dividend over time, though with some intermediate ups and downs, and 2/ BHP's yield was mostly below 4% before 2015, and higher yields seem like a more recent pattern.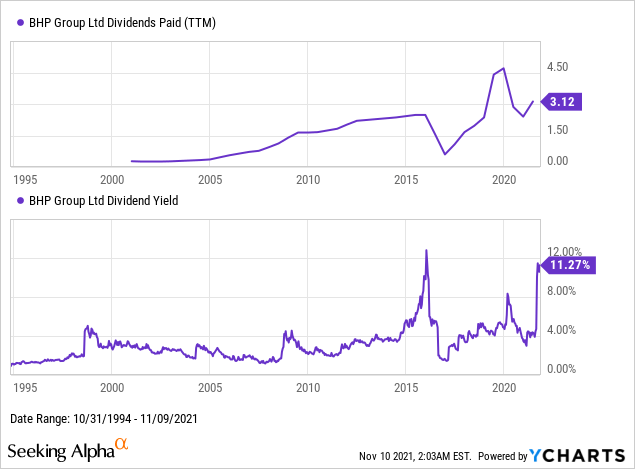 The 11.27% yield number seems due to an abnormally large $4 dividend in September 2021, following a $2.02 dividend in March, and this $6.02 total divided by the 53.4 last share price is 11.27%. If we look at the three preceding years of dividends, we see BHP paid dividends totaling $2.36, $4.70 and $2.40 in 2018, 2019, and 2020 respectively. If we divide all of these by the same 53.4 share price, we get a dividend yield range of 4.4-8.8%. If we want to "shock test" BHP's dividend, we can use the 2016 dividend number when BHP paid only $0.60 in dividends, the lowest since 2005, which we will later see was the last time iron ore prices crashed. More information on BHP's dividend is also available on their IR page.
BHP makes over half its revenues from iron ore
The big picture on BHP is that it saw massive growth in the 2000s, when a rise of China was buying more and more minerals from BHP's mines, followed by a relatively flat decade in the 2010s. The below chart shows the annual numbers on BHP's 2021 revenues, EBITDA, and total balance sheet size.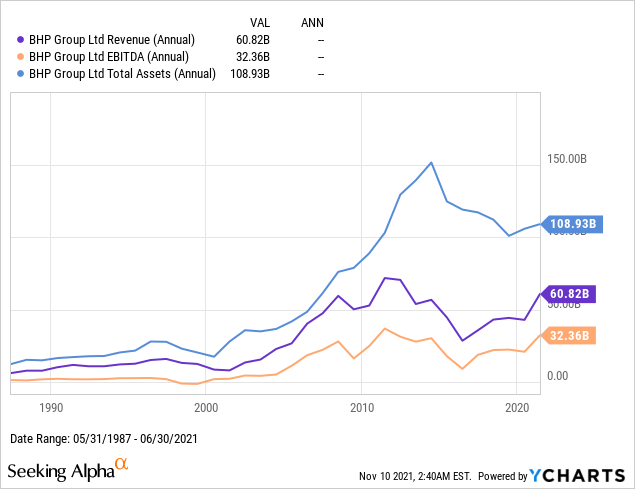 In section 1.17 of BHP's 2021 annual report, we see a breakdown of these main financial numbers by resource, and here we see that iron ore makes up over 50% of BHP's revenues and 80% of BHP's EBITDA (76% EBITDA margin), but using operating assets that make up less than 20% of the balance sheet.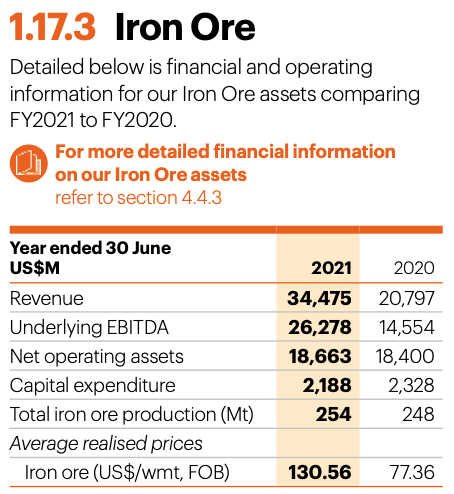 Source: BHP Annual Report 2021
Following iron ore, I would summarize the following numbers for BHP's other sources of revenue and EBITDA margins:
Copper: $15.7 billion, 54% EBITDA margin
Coal: $5.1 billion, 5.5% EBITDA margin
Petroleum: $3.9 billion, 59% EBITDA margin
Nickel West: $1.5 billion, 17% EBITDA margin
Potash: EBITDA loss of -$167 million
The iron ore and copper revenue and EBITDA numbers, which make up over 80% of BHP's income statement, rose significantly from 2020 to 2021 on a relatively constant asset base, largely due to the spike in iron ore prices mentioned earlier and charted in the next section. I don't see coal or petroleum as growth businesses for BHP, but do expect we may see a more diversified portfolio of metals beyond nickel possibly added to the portfolio as metal-hungry technologies develop over the next decade.
If we look further down section 1.17 of the BHP annual report, we see the following table showing the sensitivity of BHP's net income and EBITDA to different commodities prices. Although a $1/tonne change in iron ore prices seems like the most financially significant, it is important to normalize this against the copper sensitivity, which is quoted in cents per pound, and needs to be multiplied by 22 to see this number in dollars per tonne. On a tonne by tonne basis, BHP's earnings can be seen as a balanced portfolio of iron ore and copper in a roughly 1:3 ratio, and as we will see next, iron ore prices have crashed, but copper prices have not.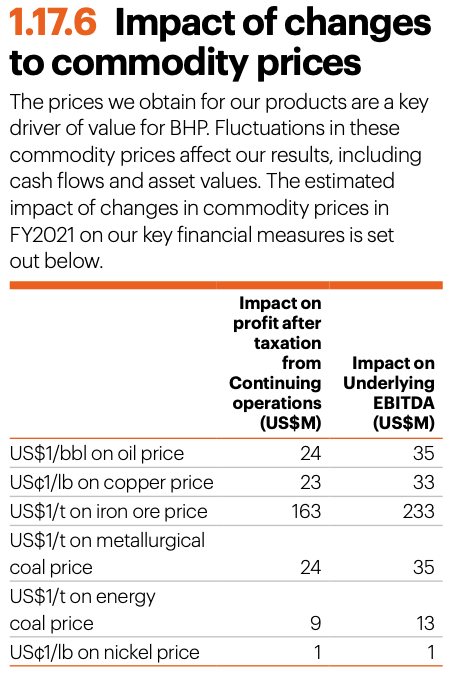 Source: BHP Annual Report 2021
Quick look at iron ore and copper prices
As mentioned earlier, the decline in BHP's share price in August and September 2021 seems to have largely been driven by a crash in iron ore prices from around $220/tonne in July to below $90 in early November. In a longer-term context, the lowest level iron ore prices reached over the past decade was just below $50/tonne in late 2015/early 2016, and as mentioned earlier, BHP paid only a $0.60 dividend that year. While I don't even know enough about iron ore prices to tell you the difference between the "wet metric tonne" ("wmt") number in table 1.17.3 above and the "T" tonne used in the below chart, the below chart seems much closer to a bottom than at top.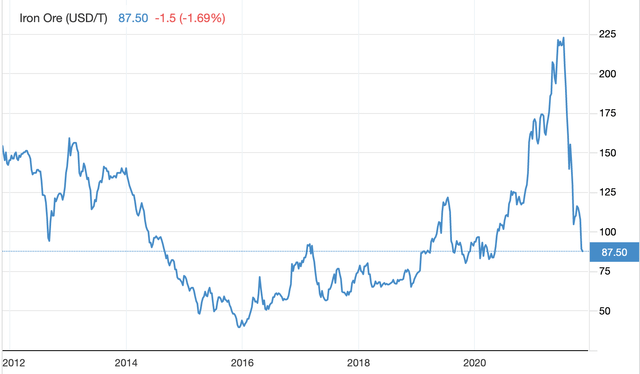 Source: Trading Economics / Iron Ore
By contrast, we see copper prices seem to be near their 10-year highs, after having also bottomed in 2015-2016 along with iron ore prices.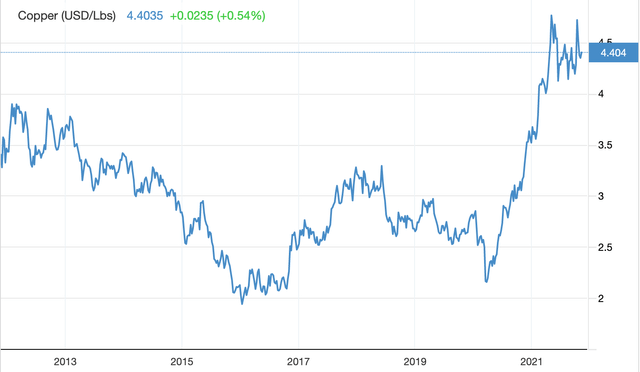 Source: Trading Economics / Copper
Although the currently high copper prices might seem like they have more room to fall, copper futures prices going out at least a year show almost no backwardation or contango, so if you did want to hedge your BHP shares' copper exposure a year out, it would cost you very little to do so.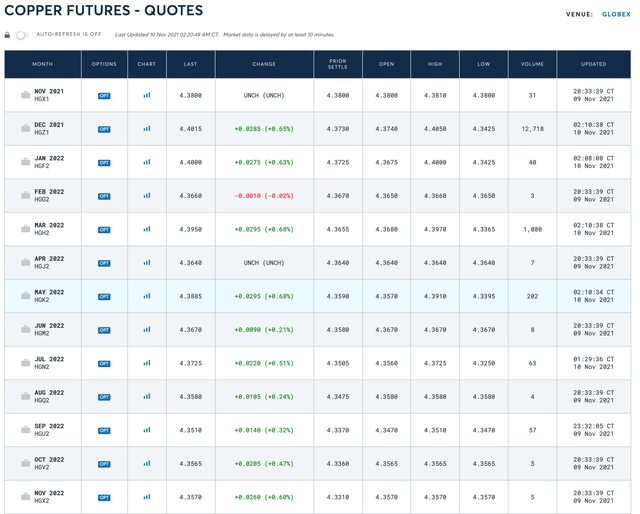 Source: CME / Copper
Inflation favors higher metals prices
While the risk of owning BHP shares seems dominated by the ups and downs of metals prices, especially iron ore and copper prices, I see metals prices rising over the long term, especially as long as the US federal reserve keeps real interest rates negative. One of the main ways I express this inflationary outlook is by looking to buy shares of companies that can borrow long term at less than 3% fixed in dollars, and then invest those dollars at a long term return on capital rate over 6%. One benchmark for how low BHP's long term borrowing costs have gotten is the 2.8% yield on its bond due in 2043, charted below.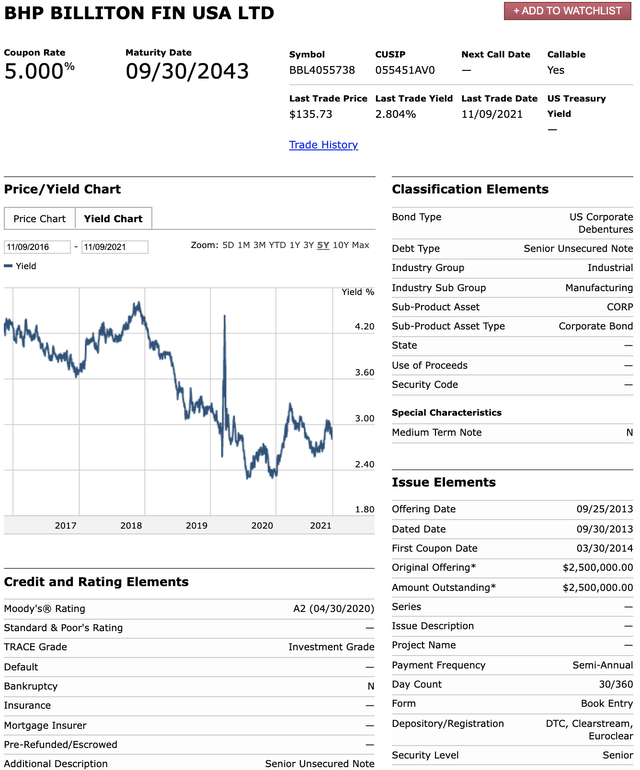 Source: FINRA TRACE
Other than dips like that in 2015-2016, BHP has in fact shown that it can easily sustain return on capital rates well above 2x this long-term cost of borrowing. Over time, I expect loose monetary policy to both continue to devalue BHP's liabilities, while increasing the price at which it can sell its metals.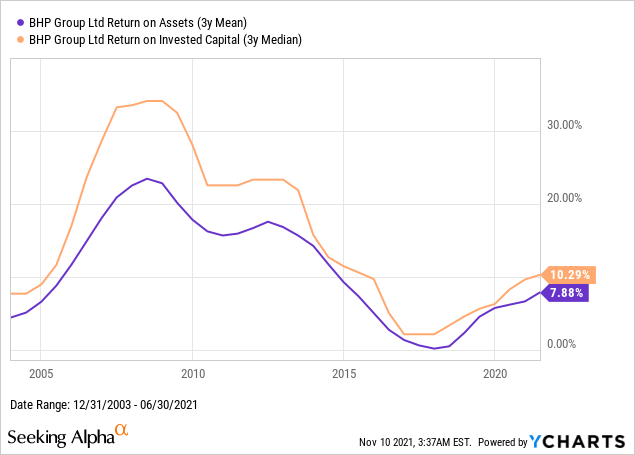 Conclusion
Although I project BHP's 2022 dividend to return to 2020 levels, with the risk of another 2015-2016 dip over the next decade, I think it is fair to project a forward looking rate of return of around 8-10%, with 5-7% of this coming from the dividend yield, and the rest coming from inflationary rises in metals prices over the next decade. This expected rate of return is in line with the longer-term return on capital rates BHP has shown over the past 15 years, which BHP is likely to be able to lever up by borrowing at less than 3% if needed. For the portion of an income portfolio that can withstand some commodity price volatility, and would benefit from inflationary growth, BHP ticks our boxes.