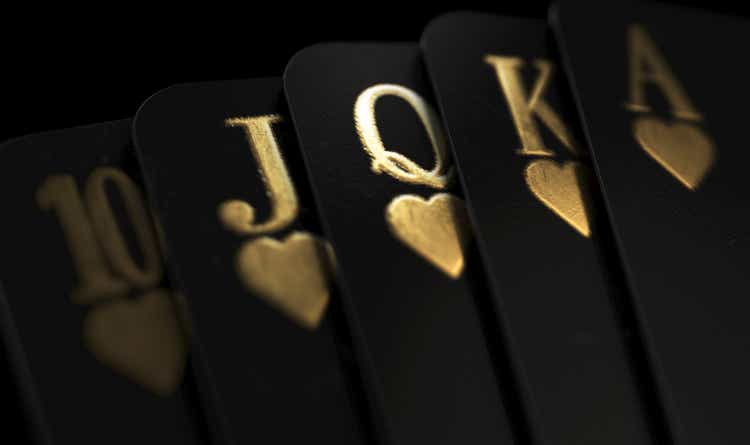 Investment Thesis
Gaming and Leisure Properties (NASDAQ:GLPI) is a REIT that acquires, finances, and owns real estate properties for gaming operators in triple-net lease agreements. I believe they present a great investment opportunity because:
GLPI

has a great economic moat with high quality tenants, favorable lease agreements, and built-in growth in their lease agreement.

GLPI's revenue and AFFO has been growing rapidly over the past 5 years, and I expect this to continue in the foreseeable future.
They are undervalued by the market, and I expect their P/AFFO to converge to the sector median soon.
Economic moat with great tenants and built-in growth
GLPI has several factors that contribute to their strong economic moat. First of all, they have an impressive list of high quality tenants. The majority of their revenue comes from premier casino operators like Penn National Gaming (PENN), Caesars Entertainment (CZR), and Boyd Gaming Corporation (BYD). Secondly, their master leases include many characteristics that contribute to growth (e.g., annual escalator clause) and stability (e.g., tenants do not have the ability to terminate their obligations). Thirdly, the oligarchical structure of the gaming industry and real estate property management landscape imposes a high barrier to entry, making it unlikely for new businesses to enter the market.
Thanks to this economic moat, GLPI has been enjoying strong profitability (net income margin of 47.92% and return on common equity of 22.94%) and outstanding cash flow (between $400 M and $750 M in the past 5 years). I expect them to maintain this strong economic moat into the foreseeable future. The overview of their real estate portfolio and summary of their master lease characteristics are shown below.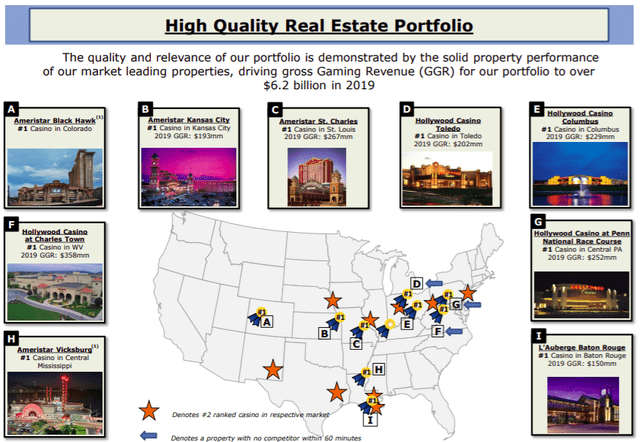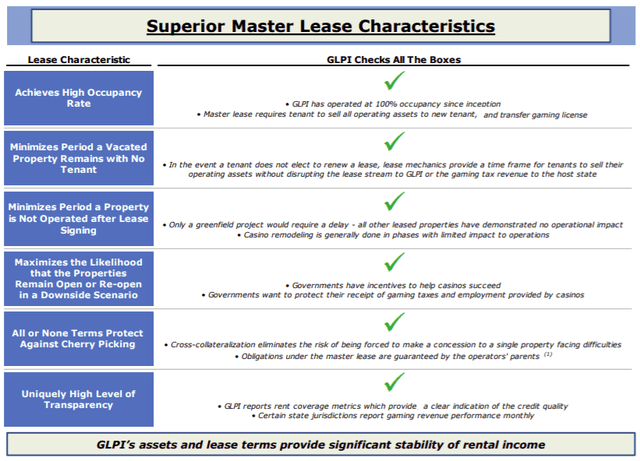 Source: Slide from investor presentation
Strong revenue and AFFO growth
GLPI's revenue and AFFO have been growing rapidly in the past 5 years. Revenue has grown at 11.15% (5-year CAGR), and AFFO has grown at 13.42% (5-year CAGR). Some of this growth originates from clauses built into the lease, such as the annual rent escalator clause, and the remaining growth comes from the acquisition of new properties. GLPI has been active about acquiring properties in the past. In addition, their main competitor VICI (VICI) recently acquired MGM Growth Properties, and I expect this will also spur GLPI onward. Therefore, I expect GLPI to continue, or even accelerate, their activity to fuel growth. During the latest earnings call, the executives mentioned that there are several transactions are on the horizon, subject to the regulatory approval. Also, the recovering economy and loosening travel restrictions will positively contribute to GLPI growth. The revenue trend of GLPI is shown below.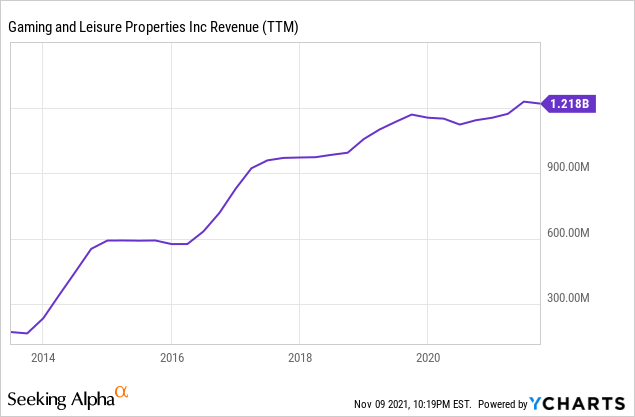 Undervalued by the market
Currently, GLPI is undervalued by the market. Their FWD P/AFFO is 14.02x and their FWD P/FFO is 14.59x, which are 20-30% lower than sector medians. I believe the undervaluation is a reflection of their decision to cut the dividend during the pandemic and the negative sentiment surrounding the gaming and leisure industry. However, as travel bans are lifting, I expect travel will soon return to its pre-pandemic level, and that the gaming and leisure industry will also come back to its normal operating level. There are already signs that travel to Vegas is increasing, and I expect the trend to continue. As the travel numbers improve, I believe GLPI will restore their dividend to its pre-pandemic level, and this will bring an appreciation in stock price. Also, an improvement in market sentiment toward the gaming and leisure industry will contribute to stock price appreciation. The Las Vegas visitor statistics summarizing the change from the previous year is shown below.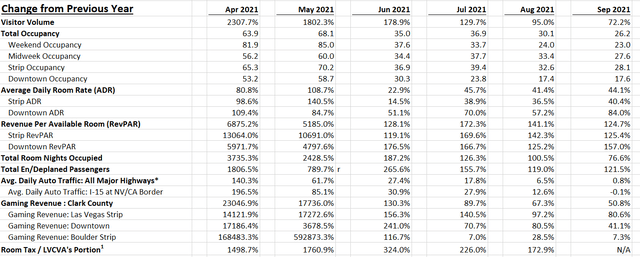 Source: Las Vegas Convention and Visitors Authority
Fair Value Estimation
The DCF calculation based on their total dividend paid ($495.8 M), WACC (6.5%), and dividend growth rate (13%, 5 year average AFFO growth rate) for the next 5 years (and zero growth afterwards) estimates that the intrinsic value of GLPI is $56.23 per share. The intrinsic value represents 15% upside from the current level ($48.58 at 11/09/2021). Also, I expect GLPI to continue to increase their dividend at 10-15% per year for the foreseeable future, so a shareholder should be rewarded in that regard as well. Given their growth prospects and the favorable economic/industry condition, these upsides are warranted.
Risk
Regarding the pandemic and travel ban, although I expect conditions will continue to improve and travel bans will be lifted in the near future, there is always the possibility of unexpected negative news (such as the delta variant outbreak in recent months). However, given the effectiveness of treatments and vaccines now available, I truly believe that an end to the pandemic environment is in sight, and that any bad news won't have a long term impact on GLPI's business.
As to the nature of their business, GLPI carries significant long term debt ($5,761 M) on their balance sheet, and must use a significant amount of their cash to service that debt ($273.5 M cash interest paid). Therefore, rising interest rates and lower availability of capital may negatively impact GLPI's business and growth rate. However, their portfolio contains very high quality assets and they generate strong cash from operations ($733 M). Therefore, I expect they won't encounter problems in servicing the debt or in obtaining funding for ongoing acquisitions.
Conclusion
GLPI has a truly impressive portfolio of assets and tenants. Also, they write favorable terms into their master lease agreement that contribute to their growth and stability. Thanks to this economic moat, they enjoy high profitability and strong operating cash flow. Their shares are currently trading at a discounted rate, due to negative sentiment surrounding the gaming and leisure industry and stresses from the pandemic environment. However, I expect these to resolve as post-pandemic travel and activities resume. I expect 10-15% upside in the stock appreciation and a solid dividend yield along the way.