Cardinal Health (NYSE:NYSE:CAH) is a global health care company that provides pharmaceutical and medical products and related services to more than 35 countries globally. One of the issues in the health care sector is health care affordability. By the end of 2025, health care spending as a percentage of GDP is predicted to reach 20 percent, equating to 5.6 percent growth starting in 2017. According to the study of Ernest Mario School of Pharmacy in 2017, in order for health care expenditures to be sustainable in the long-run, we need to put $600 billion in savings just to make the trajectory flat, as demonstrated in the image below: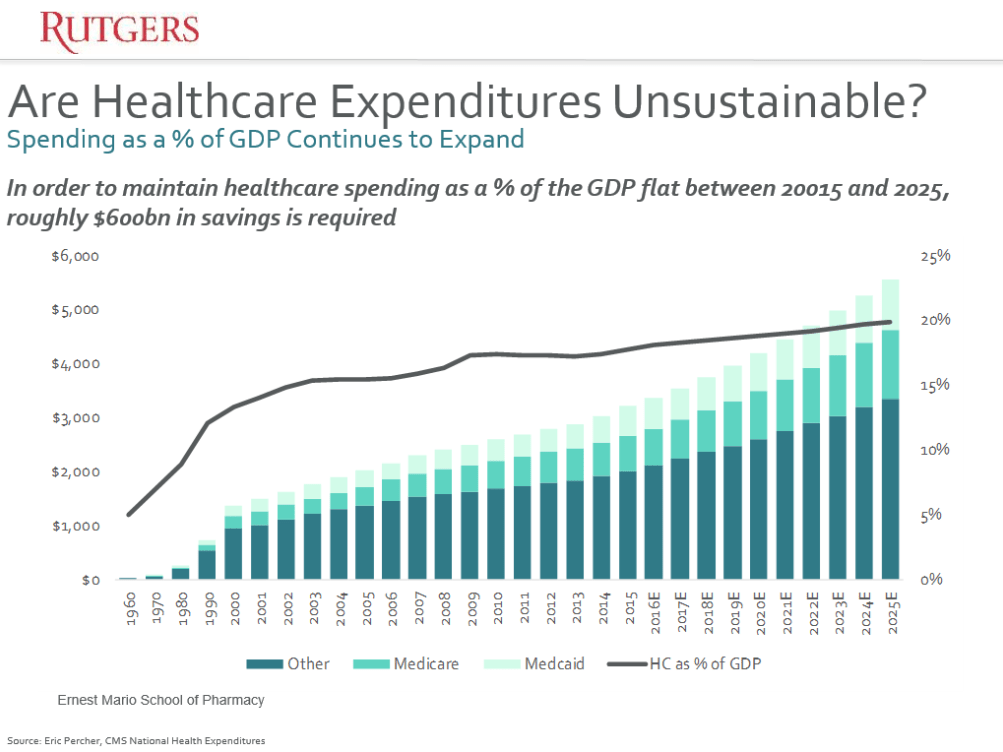 Source 1: Image
According to one study, the United States saved $388 billion on generic and biosimilar drugs in 2020. On a side note and trivia, generic and biosimilar products are often confused with one another as both are marketed as less costly versions of name-brand drugs but they are actually very different:

Source 2: Image
CAH shows solid support in biosimilars and firms to capitalize the current trend in the hospital care industry, as shown in the quotation below:
Cardinal Health distributes all launched biosimilars across all sites of care where they are approved for use – including physician offices, health systems and retail and specialty pharmacies nationwide.

In addition, our Specialty Solutions business works directly with biosimilar manufacturers to help them navigate the path toward clinical development, regulatory approval and commercialization.
The Growing Biosimilar Market May Help CAH Sustain Growth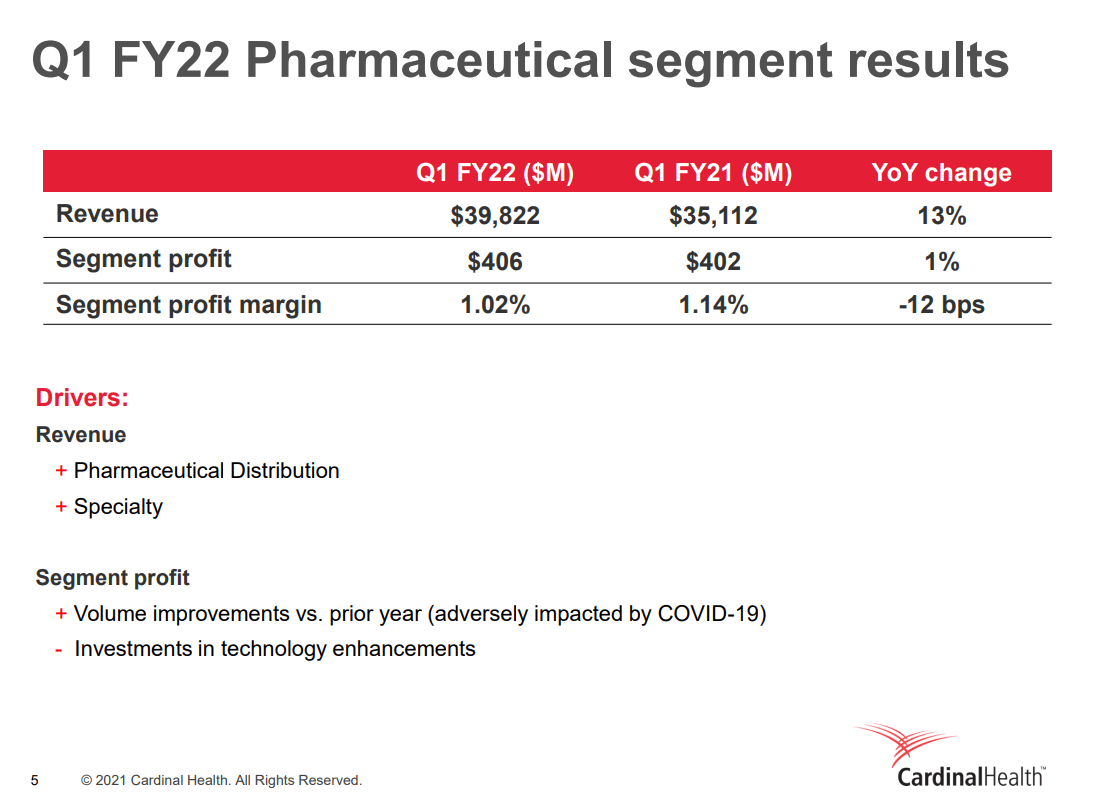 Source 3: Investor Presentation
CAH generated a positive growth on its pharmaceutical segment, which amounted to $39,822 million, up 13 percent from the same quarter last year. One of the company's primary growth drivers is the expansion of its specialty customer base, and one of its specialty products is a biosimilar. Currently, the biosimilar market is estimated to grow to $103,638 million in 2026 at 24.2 percent 5 year CAGR. In the long run, this will benefit CAH.
Investigating CAH's Income Statement
Just like any other companies, CAH, as a health distributor is not spared from the ongoing supply chain crisis.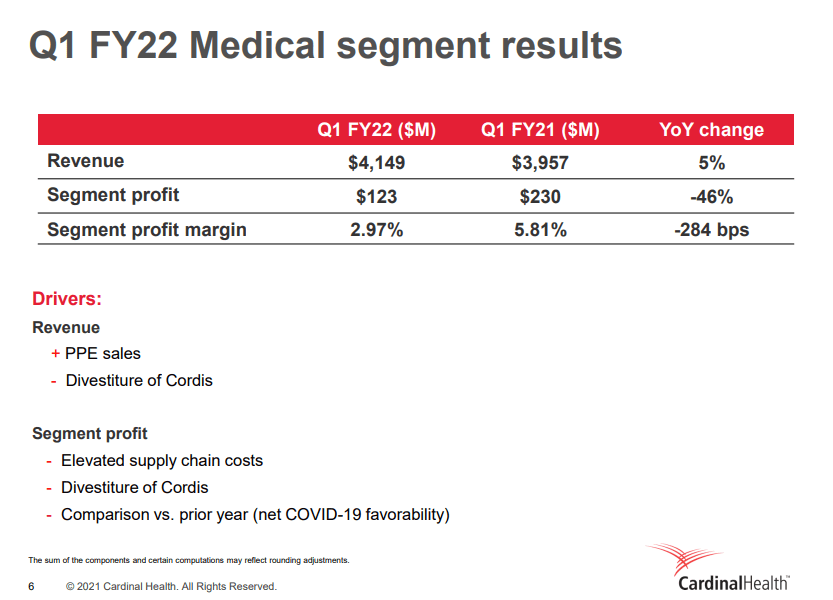 Source: Investor Presentation
Despite the higher medical segment's total revenue of $4,149 million, up 5 percent year over year, it contributed only $123 million in profit, down 46% from Q1 2021. The management provided an explanation and forecast for its medical segment:
Our Medical segment continues to be impacted by the disruptions in the global supply chain that we called out last quarter. Recently, these pressures have rapidly escalated, and we are experiencing significantly elevated product costs due to international freight and commodities.

While we believe the majority of these elevated supply chain costs are temporary, we do not expect them to return to normalized levels this fiscal year. As a result, we are lowering our FY'22 outlook for Medical segment profit to adjust for these increased headwinds.
Summarizing Its Top Line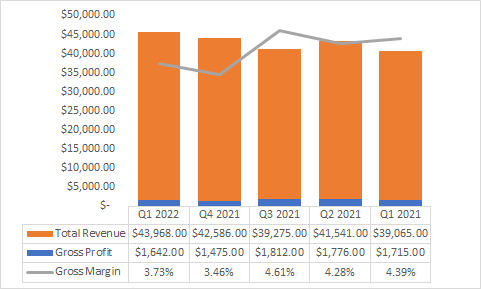 Source 4: Company Filings and Yahoo Finance, prepared by the Author, amounts in Millions
CAH increased its top line by 12.55 percent year over year, but its gross profit fell by 4.26 percent in the same quarter last year.
Management Provided A Fair Top Line Guidance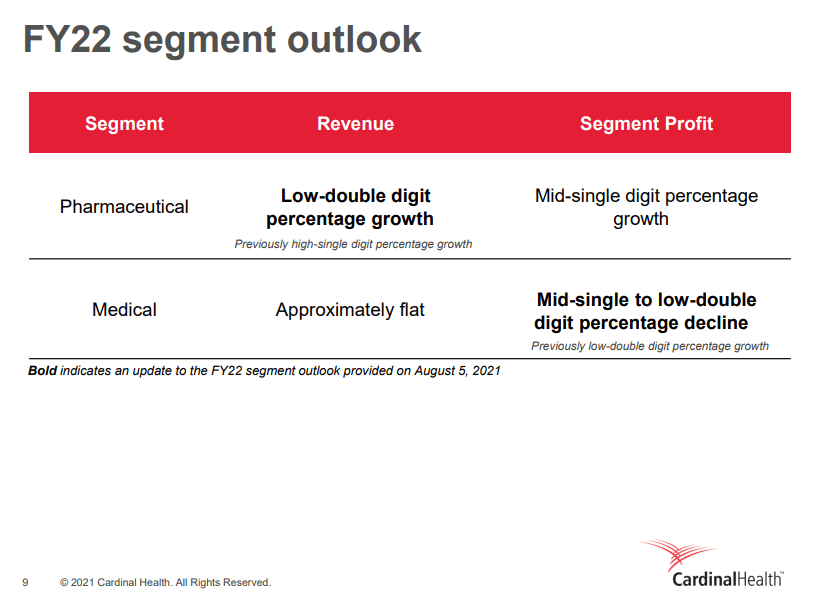 Source: Investor Presentation
In my opinion, CAH's top line can generate $177,046.60 million this fiscal year, with a 10% increase in its pharmaceutical segment and a 0% increase in its medical and corporate segment. Additionally, the management provided an outlook for its NON-GAAP EPS, which expects it to be between $5.60 and $5.90, up from $5.57 last year. Currently, its TTM GAAP earnings per share is $3.89, up from last year's $2.08.
Improving Bottom Line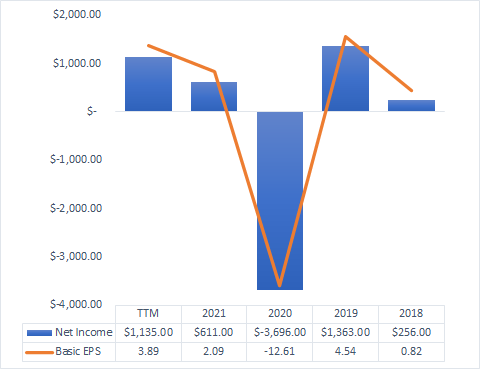 Source 5: Company Filings, prepared by the Author, amounts in Millions
Despite the current economic sentiment, CAH still manages to provide a good start to its fiscal 2022, outperforming its tough 2021 and pre pandemic 2020. Its bottom line was hampered by recognizing huge litigation expenses to prepare the company's settlement with its $6.37 billion opioid lawsuit.
Facing Opioid Lawsuit
Cardinal Health, along with McKesson (NYSE:MCK), AmerisourceBergen (NYSE:ABC), and Johnson & Johnson (NYSE:JNJ) are the companies who need to settle their Opioid Lawsuit and as part of the proposed settlement, CAH would pay up to $6.37 billion in cash over 18 years. The following is a brief overview of the lawsuit:
The distributors were accused of lax controls that allowed massive amounts of addictive painkillers to be diverted into illegal channels, devastating communities, while J&J was accused of downplaying the addiction risk in its opioid marketing.
CAH has already accrued $6.37 billion on its balance sheet, allowing it to free up its bottom line for its future quarterly report. In effect, it may be able to reduce the fear of having risks of insolvency. This could be a harbinger of a turnaround for CAH in the near future.
CAH Is Relatively Cheap Compared To Its Peers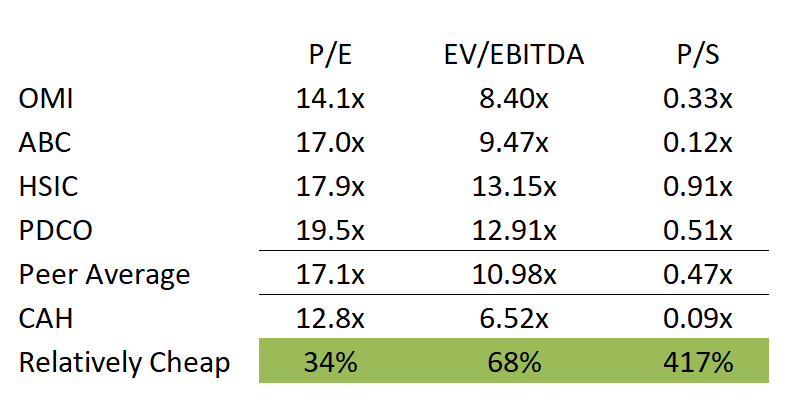 Source 6: Seeking Alpha and Authors Estimates, prepared by the Author
AmerisourceBergen (NYSE:ABC), Owens & Minor (NYSE:OMI), Henry Schein (NASDAQ:HSIC), Patterson Companies (NASDAQ:PDCO)
CAH is pretty cheap in comparison to its peers' average P/E of 17.10x, with an estimated EPS of $5.82 next year, and a discount rate of 6.09 percent. CAH has an implied fair value of $93.86, providing investors with an 89 percent upside potential.
Price Action: Near All-Time Low, Potential MACD Bullish Crossover, Pullback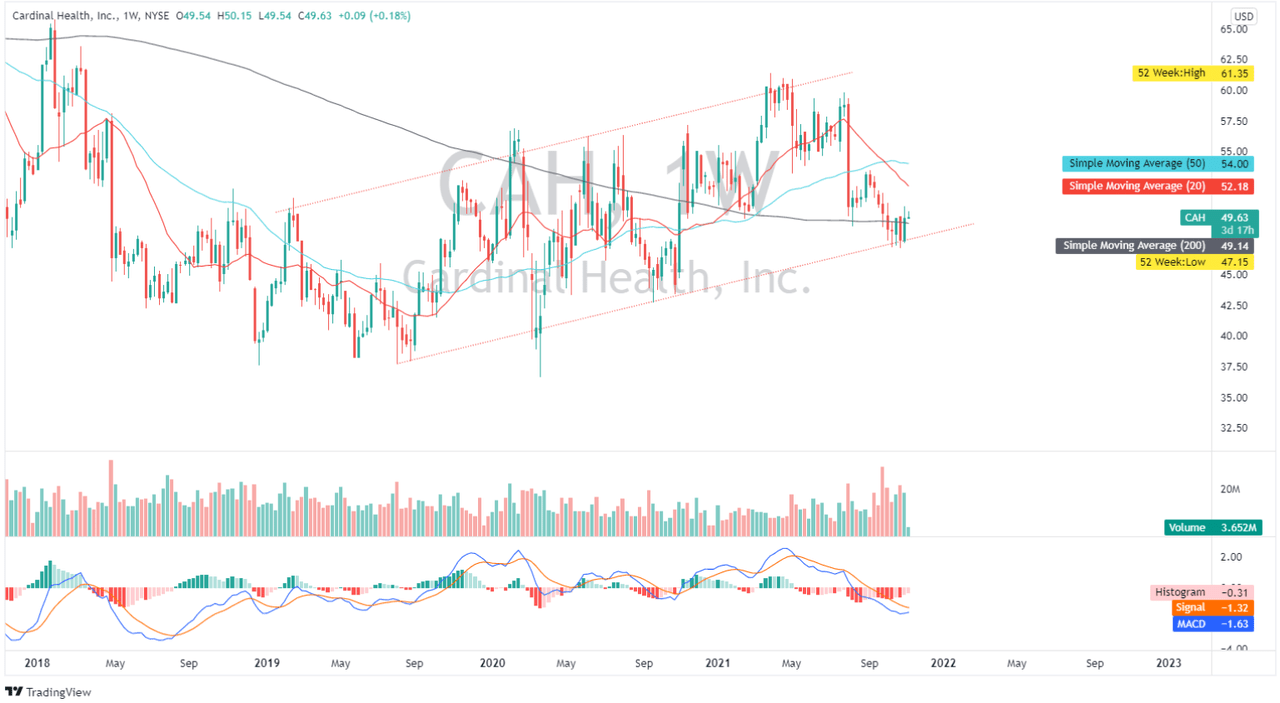 Source 7: TradingView
CAH is currently supported by 200 SMA, and a potential MACD crossover in the coming weeks may confirm its current area of support. If the price continues to decline, I believe that the critical levels of 45 and 42 represent an excellent entry point for investors.
To Wrap It Up
CAH improved its income statement overall this quarter by not recognizing additional litigation-related expenses. It continues to add value to its shareholders through share repurchases and dividend payments. CAH currently pays a dividend yield of 3.98 percent and has an acceptable payout ratio of 50.75 percent. It generated an exceptional return on equity of 68.1 percent. As of June 2021, it retained a $743 million share repurchase program and management approved an additional $3 billion program that will expire at the end of 2024. Furthermore, management claimed that they plan to repurchase $1 billion worth of shares this fiscal year and of that, CAH has already purchased $500 million worth of its own shares in the first quarter.
Cardinal Health remains liquid, with $2.46 billion in cash. According to management, the company has no outstanding borrowings under its credit facilities and no material debt maturing in the coming year that could jeopardize its liquidity. CAH's current ratio is 1.12x lower than its five-year average of 1.14x. Its total equity has decreased to $1,396 million as a result of the massive share buyback, resulting in a deteriorating D/E ratio of 4.05x, compared to its five-year average of 2.28x.
CAH is trading at a discount to its peers and is a good buy at its current level of potential support.
Thank you for reading and Happy Veterans/Remembrance Day everyone!