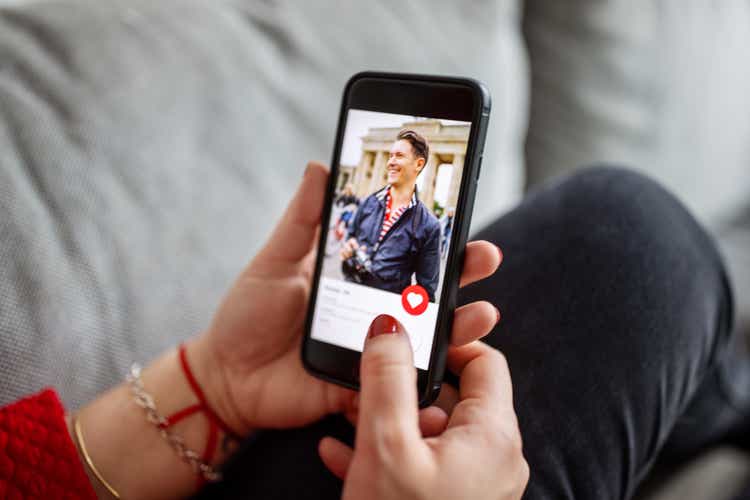 Introduction
Match Group (NASDAQ:MTCH) expects to pay over $550M this year in app store charges as reported in its Q3 2021 earnings call. These charges, which are divided roughly 80/20 between Apple's (AAPL) App Store and Alphabet's (GOOG) Google Play, represent roughly 19% of Match Group's revenue, up from 17% in previous years.
These charges will likely decrease (as a percent of revenue) over time. Various legal and regulatory assaults have been levied against app store practices. Assuming these assaults are effective, you'd likely see a reduction in these charges.
Match is primed to benefit from these regulatory efforts. As detailed below, I think it's likely that Match Group's payments to app stores fall to 12.5% of revenue in the medium to long term. If this materializes, Match's stock has room to run higher.
App Stores & Regulation
Currently, Apple takes a 30% commission on all in-app purchases (IAPs). Apple also prohibits developers from linking to external payment sources and it makes its App Store as the sole distributor of apps on its hardware. As a consequence, developers seeking access to iOS users are required to abide by Apple's Developer Program License Agreement ("DPLA") and the 30% charge it imposes on all IAPs.
Various authorities worldwide, from South Korea's Parliament to the United States Senate, have proposed or enacted legislation designed to limit app store power. These proposed laws don't directly attack the 30% commission but instead are designed to introduce competition against App Store operators. Under Senator Klobuchar's proposal, for instance, Apple would be required to permit iOS users to download competing app stores (e.g., Google Play).
South Korea's legislation prohibits App Stores from requiring users to make their purchases through the App Store. A similar change might occur in the United States, not from legislation but instead as a consequence of the Epic v. Apple ruling.
Epic sued Apple as part of its Project Liberty strategy. It intentionally breached the DPLA by embedding a link within its popular game Fortnite permitting users to bypass the App Store's IAP system. After Apple discovered the breach and deleted the app from its app store, Epic sued.
The decision is more nuanced than reported by the media; you can read an analysis here. For our purposes, the pivotal ruling was that Apple's anti-steering provisions (prohibiting developers from linking to external payment systems) violated California's Unfair Competition Law ("UCL") and ordered that Apple end these practices nationwide.
Apple moved to stay the order pending resolution of its appeal. The court, however, denied the stay and, beginning on December 9th, will require Apple's App Store to permit developers to link to external payment systems and to communicate directly with customers whose contact information they gathered from data provided through the app. (In my view, the 9th Circuit will uphold the ruling that anti-steering provisions violate the UCL, but the remedy - a nationwide injunction based on violation of a California law - is less certain.)
Impacts on Match Group's Financials
Match Group, which operates various online dating apps (e.g., Tinder, Hinge, OkCupid), generates the vast majority of its revenue from IAPs, either from user subscriptions or from user purchases of a la carte features. Match has historically paid roughly 17% of revenue to App Stores.

Source: Match Group Financial Statements; Author Calculations
Bumble (BMBL) has paid a similar amount.

Source: Bumble Financial Statements; Author Calculations
Match, in its Q3 2021 earnings call, stated that it expects these fees to increase to 19% of revenue in the coming quarters. However, it withheld EBITDA guidance pending clarity on future app store charges.
Roughly 80% of Match's IAPs go to Apple although, by my analysis, it earns roughly equal revenue through Android and iOS users.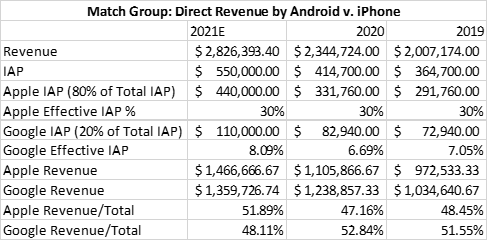 Source: Match Group Financial Statements; Author Calculations
There are two primary reasons for the discrepancy. First, Google Play, which has continued to allow firms to embed alternative payment mechanisms in their apps (despite repeated threats to end the workaround), effectively takes less than 10% of sales through Android. Second, iOS users likely have higher ARPUs than Android users (as per my analysis below).

Source: Match Group Financial Statements; Author Calculations
(My external article, Match Group and the App Store Battles, provides more granular detail on the assumptions underlying these conclusions.)
The Epic v. Apple decision, then, could have huge impacts on Match's bottom line. IAPs are recorded as a cost of revenue. If all of Match's non-advertising revenue were taxed at the 30% rate, its gross margin would drop to 19.11%. If, however, it were taxed at a 7% rate (roughly equal to the effective charge on Android users' IAPs), Match's gross margin would increase to 84%.

Source: Match Group Financial Statements; Author Calculations
Valuation
Match is by no means cheap on a traditional book value basis/old school value measures. It currently trades at an EV roughly 55.85x its EBIT. If this ratio held constant, a 30% and 7% charge on all IAPs would result in per share values of $87.8 and $216.6, respectively.

Source: Match Group Financial Statements; Author Calculations
However, the ratio almost certainly would not hold constant. In my assessment, the current stock price incorporates downward trends in its effective IAP charges.
Still, my analysis reveals a strong upside if IAPs trend downwards, say, to 12.5% of revenue. Assume revenue CAGRs at roughly 16% over the next 10 years. I don't think these top-line growth projections are unreasonable given Match's expansionary opportunities. See Match: Could Double from this Point as it Leads the Online Dating Trend for a discussion on its expansionary opportunities/social discovery.
Further, assume that Match's cost structure remains exactly as it exists currently but with a decrease in IAPs to 12.5% of revenue, I project $5.5B in EBIT in 2031.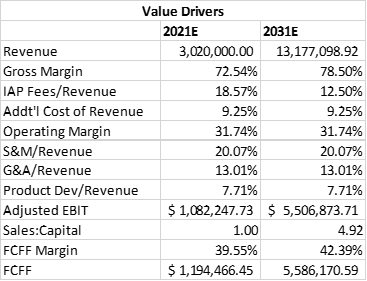 Source: Match Group Financial Statements; Author Calculations
Discounting these cash flows and netting non-operating assets, I find an 8.56% internal rate of return on its stock (currently priced at roughly 155/share).
Risks and Variance
There are a few valid objections to my analysis, the most significant of which are noted below.
As noted above, Google Play has threatened to enforce its anti-steering provisions. Assume it does and assume Apple prevails on its appeal of the order requiring it to permit developers to bypass the App Store's payment system. In this case, all Match IAPs would be taxed at 30%. I see this as a low-likelihood event but if it occurs, it would have a serious downside effect on Match's stock.
My effective 12.5% IAP rate above assumes that iOS users are less sensitive to price than Android users and thus less likely to follow external links to alternative payment systems. The degree of price (in)sensitivity is key. It could turn out that to entice more iOS users to alternative payment systems, Match has to offer substantial discounts which effectively net-out the benefit gained.
This analysis, in my view, is fairly conservative insofar as it doesn't account for any further margin improvements, except as would occur with reduced IAP fees.
Conclusion
As app stores come under increasing fire for allegedly extracting unearned value and generating supra-competitive profits from IAPs, I expect app stores to effectively charge lower rates on IAPs. These effective lower rates might not come from reducing the 30% charge per se, but instead from various workarounds. Users may bypass app store payment systems once anti-steering provisions are eliminated. Or the app store operators make further concessions to deflect regulatory scrutiny. Apple and Alphabet have both offered nominal concessions, e.g. dropping commission rates to 15% for developers earning less than $1M. Google Play will reduce subscription revenue charges from 30% to 15% in early 2022.
Match Group, which expects to pay 19% of revenue to app stores in the near term, is a prime beneficiary of these expected changes. If App Store charges drop to 12.5% of revenue as I project, much of those cost savings will flow through to shareholders. Readers who form similar views on future App Store rules might likewise find that Match offers an attractive risk/reward at current levels.