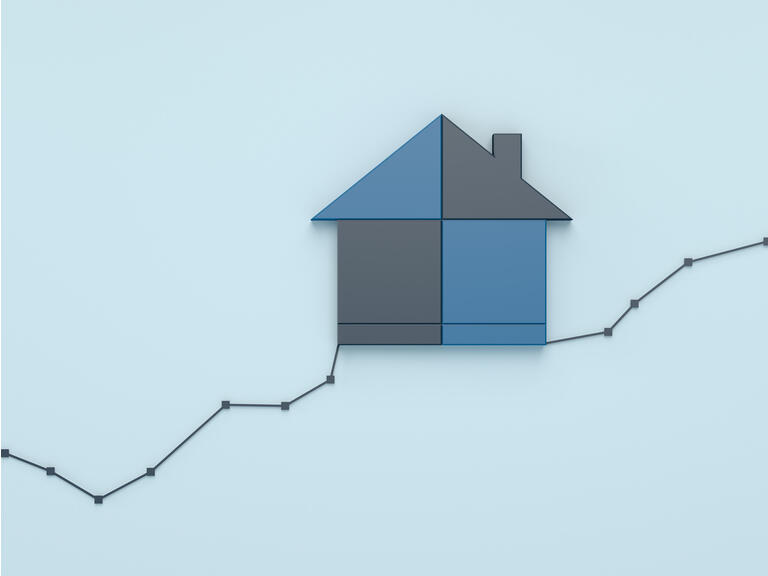 Main Thesis / Background
The purpose of this article is to evaluate the BlackRock Income Trust (NYSE:BKT) as an investment option at its current market price. This fund is one I have written about many times, and is managed by BlackRock (BLK), with an objective to "manage a portfolio of high-quality securities to achieve both preservation of capital and high monthly income", primarily through exposure to agency mortgage-backed securities.
This has been a fund I had owned for a while and constantly recommended. However, for most of 2021, I have held a more modest outlook on this product. In hindsight since my last review in July, this caution has been vindicated, with BKT generating a loss while the broader market rose: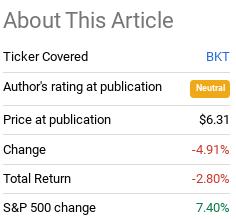 Source: Seeking Alpha
As we approach 2022, I wanted to take another look at BKT to see if I should upgrade my rating. As my readers know, I have been looking for a better entry point for this fund, so I am keen to find a buy thesis.
Unfortunately, after review, I still believe a neutral rating is appropriate. The fund remains sensitive to rising yields, which I expect to continue in the next few months. The fund's premium also does not entice me, nor does its weak UNII metrics, which have gotten weaker since my July article. Finally, the Fed's taper announcement isn't doing BKT any favors, although investors should not overreact to that development. Fed buying of agency MBS will still be historically high, and this fund remains a relevant equity hedge. Yet, for those who are total return focused, I don't see a lot of upside at current levels.
Premium To NAV Keeps Me Cautious
To begin, let us look at one of the reasons I backed away from recommending this fund over most of 2021. While this had been a stalwart holding of mine, it was a CEF that typically had a small discount or premium to NAV. Over time, getting it at a discount became harder and harder and, now that slight premium has changed to a noticeable one. Back in July, I noted my hesitancy on new positions in BKT, after seeing its premium rise above 5%. While that premium headed into the 6-7% range, it has backed off since then, but still sits at a level that makes me reluctant to buy:
Premium to NAV - July
5.01%
Premium to NAV - Current
4.35%
Source: BlackRock
The ultimate takeaway here is simple - BKT is not cheap. In fairness, most valuations across the market are elevated, and that has been the case for a while. So, while the 4% premium is a concern, I don't see a lot of immediate downside either. I say this because I am not "bearish" on the fund. The premium suggests some caution, but I don't see the fund reverting back to its NAV in the short term. I think a slight premium is probably sustainable. As a result, I will watch and wait to see if the NAV can tick up higher, or the market price can trend a little lower. If it does, and the premium narrows, I will once again look into buying this CEF.
Fed Will Taper, But Still Buy A Lot
I will now turn to one of the bigger news items that impact BKT. This is the Fed's announcement that it will begin to "taper" its bond-buying program. This means a reduction of its monthly purchases. This is relevant to BKT because one of the primary asset categories that the Fed was buying was agency MBS. With respect to BKT, this is pretty much all the fund owns:

Source: BlackRock
A short-term concern is that agency MBS is a sector that has received quite a bit of Fed support in the form of direct buying. However, this tapering is set to begin soon and, according to recent Fed minutes, direct buying of agency MBS will be reduced by $5 billion.
Now, I again use this to support a neutral view on BKT. Clearly, a reduction in Fed buying removes a critical demand element. So, it would be natural to expect some short-term weakness for the prices of these securities. In fact, BKT has seen a bit of a downward move over the past few weeks, and this tapering expectation is probably part of the reason why.
However, I again reiterate this is not enough to go too bearish on the fund. Yes, the Fed will be buying less, but it will still be buying a lot. Let us remember that the Fed balance sheet remains at unprecedented levels, indicating a high level of market support: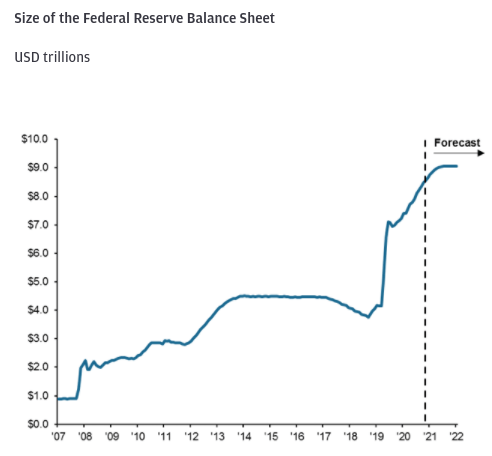 Source: JPMorgan Asset Management
The point here is that the Fed's support is extremely large and even some short-term tapering is not going to reverse that trend. Of course, eventually the Fed will have to normalize operations, but we are probably some time away from that reality. The conclusion is that tapering is not ending the accommodative policy. Fed buying of agency MBS will remain robust, and that should help support the underlying assets in BKT's portfolio.
Inflation Is Relevant To This Fund Too
Now for the inflation discussion. I will keep this short and sweet, since I am beginning to sound like a broken record in some of my reviews. Yet, this is an important area of focus, as the Fed's transitory message was proven resoundingly wrong in 2021, as I predicted at the beginning of the year. Inflation readings continue to come in red hot, and actually point to an accelerating inflationary environment:

Source: St. Louis Fed
Of course, these readings will cool - eventually. Once supply chain issues get resolved, we will start to see price increases moderate. The problem is there is not much hope on the immediate horizon. The holiday shopping season is upon us, and the U.S. continues to face a worker shortage. Oil prices are up, demand is growing, and retailers have a lot of pricing power with limited inventories (on a relative basis). The end result is that inflation is not likely to cool until next year.
This means that yields will keep ticking higher, pressuring funds that are interest rate sensitive. This includes BKT, which has a duration metric above 6 years, as shown below:

Source: BlackRock
Clearly, BKT is not immune to inflationary pressure. The fund has a duration level that is not alarming, but is high enough to pressure total return if yields push higher heading into 2022. For me to get excited about a fixed-income product right now, I'd personally want to see a duration level lower than this, especially if I am paying a premium price to own it.
UNII Metrics Are An Issue
Looking deeper into BKT's outlook, we should consider income performance. BKT has a solid history of paying a high income stream, especially considering it is made up of agency MBS. These are safe, lower-yielding securities, so BKT's income over 6.5% is attractive given this reality.
However, we must acknowledge that this distribution level is probably unsustainable at this point. I mentioned my concern over the income metrics in my last review, but the fund has continued to maintain its distribution in the interim. However, since then, the UNII metrics have gotten worse. This is a red flag for me, with BKT seeing its negative UNII balance double in the past four months. Further, the distribution coverage ratio has declined as well. To illustrate, consider the UNII report from July to its most current metrics, shown below, respectively:


Source: BlackRock
The takeaway here is pretty obvious. BKT is overpaying what it is earning in income, and that is not a sustainable strategy. The good news is the fund can afford an income cut and still deliver a pretty attractive yield for holding some of the safest debt around. The bad news is the potential for a lower yield is a headwind, as CEFs will often see some intense selling pressure after a cut announcement.
Important, I do not see this trend reversing. Part of the reason for this weakness is undoubtedly the high level of refinancing activity going on among U.S. homeowners over the past year. As rates have fallen, mortgage holders have a greater incentive to refinance. This pushes down the interest paid by these homeowners and, accordingly, lowers the amount of income investors holding this debt can earn. For perspective, let us consider that a large portion of new mortgage activity is the result of refinancing. In fact, the latest report from the Mortgage Bankers Association (MBA) shows the refinancing activity is on the rise (in percentage terms of total applications):

Source: MBA
What I am seeing is that mortgage refinancing remains a big part of the market. Since this activity pushes down the yield income investors in BKT can earn, this again supports my rationale for maintaining a neutral outlook on the fund.
Is There A Buy Case? Perhaps, For Those Worried About Stocks
Through this review, my tone has been relatively pessimistic. In truth, it is indeed hard for me to justify buying into BKT right now - but I do see the potential for upside. This balances out some of the negative attributes and will force me to keep BKT high on my watch list.
Some of the reasons I have touched on. While the 4% premium worries me, readers will note that BKT had a much higher premium (7%ish) in the short term. This suggests there is upside here if investors are willing to bid this CEF up again. Further, agency MBS, whether through BKT or another product, represents a very viable equity hedge. This is an asset class that tends to have a pretty low correlation to stocks, so investors anticipating a correction may be wise to park some money in BKT. Cash, of course, is also an option, but this fund offers the opportunity for income while we wait for stocks to correct. Whether the risk in buying BKT is worth the potential reward, is up for each individual investor to decide for themselves.
And there are valid reasons to be concerned about an equity correction. Stocks globally are expensive. Worryingly, the U.S. is expensive in isolation and in relative terms. When we look at the equity premium for the S&P 500 compared to a large-cap European index, we see stocks are markedly cheaper across the pond: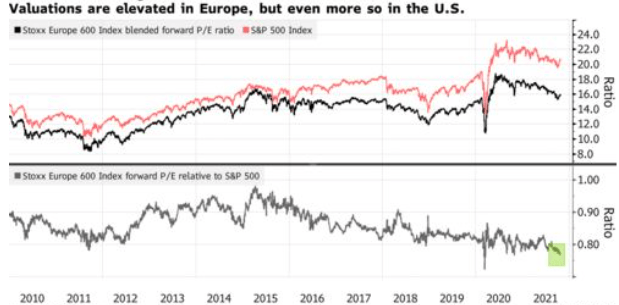 Source: Bloomberg
My thought here is that those who are worrying about stocks have valid concerns. If stocks do correct, BKT may provide a bit of a bounce to counter-balance equity holdings. That, in a nutshell, is one of the fundamental purposes of a fund like BKT. So, from that perspective, there are legitimate reasons for investors to consider buying in, despite the concerns I noted.
Bottom Line
BKT has come under some pressure recently, and there is a good chance that could remain the case heading into 2022. The premium price limits upside, as does the potential for a distribution cut. Further, rising yields are pressuring the fixed-income market as a whole, and BKT is not immune to that reality.
However, these negative attributes are balanced out by some positives, allowing me to maintain my current rating on the fund. Equities are expensive, and could correct in the near term, which would likely benefit BKT investors. Further, the fund has recently traded at a higher premium, so there is potential for current investors to enjoy some price appreciation. However, I continue to maintain a wait-and-see approach. I don't want to sell off one asset class that is overvalued just to buy another expensive sector, so I will stay put with my current holdings. If BKT drifts lower still due to an income cut or Fed tapering (or some other reason), then I will be a buyer. Until then, I remain patient.