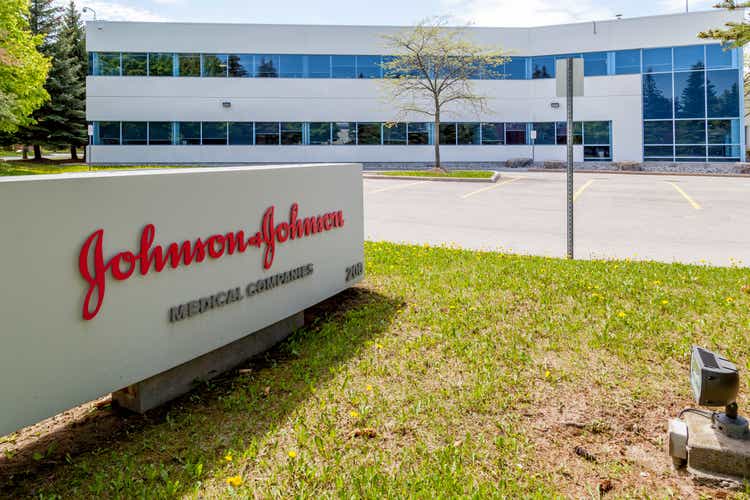 In decades past, it was common for companies to acquire other businesses with the aim of growing larger and generating synergies to create additional shareholder value. In some industries, that opportunity still exists. However, a trend that is growing more popular as of late is the spinning off of assets from these conglomerates. The underlying objective is to unlock value by having the market price each independent company differently than when the two are merged and to give each entity a management team that can be competent and focused on creating value for that particular enterprise. The latest example of this can be seen by looking at the consumer health, pharmaceutical, and medical device giant known as Johnson & Johnson (NYSE:JNJ). Though some uncertainties do still exist about its strategy, the company's decision to split into two makes logical sense. And when you look at the recent historical performance of the parts of the enterprise, it likely will make financial sense at the end of the day as well.
A look at Johnson & Johnson's split
This past week, the management team at Johnson & Johnson announced that they were splitting the company into two different firms. One of these would hold the pharmaceuticals and medical devices segments of the business. And the other would hold the much smaller consumer health business. It might be worthwhile to know the difference between these particular arms of the company as it stands today.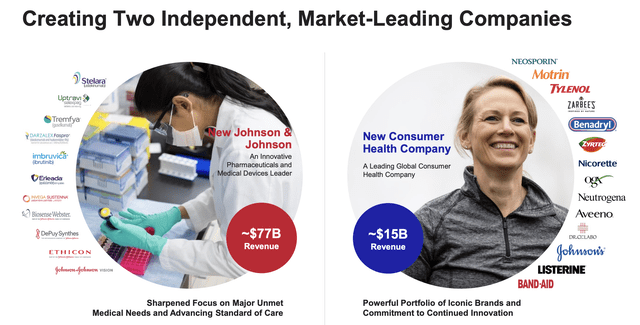 *Taken from Johnson & Johnson
On the pharmaceuticals and medical devices segment, we have an industry giant. Combined, these operations should generate revenue this year of around $77 billion. Of this revenue, 65% should be associated with pharmaceutical operations, while the remaining 35% falls under the medical device category. Major products under the pharmaceutical category include DARZALEX, ERLEADA, IMBRUVICA, STELARA, and TREMFYA. The entity also consists of medical device solutions in the interventional solutions, orthopedics, surgery, and vision categories. In fact, 21% of the revenue associated with this segment falls under the immunology space, while 19% is attributable to oncology. Surgery accounts for 13% of sales in this unit.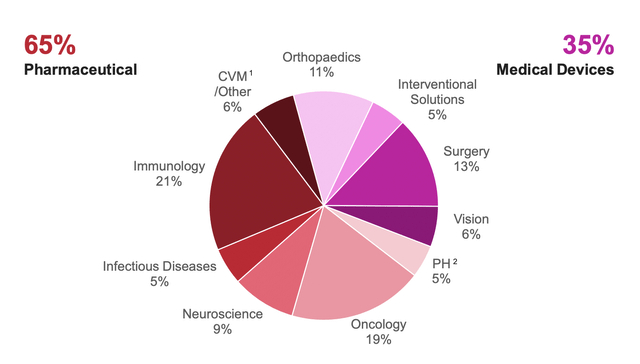 *Taken from Johnson & Johnson
The other, much smaller, company will be dedicated to consumer health. The segment that comprises these operations will include a variety of name brands dedicated almost equally to three main categories. These are essential health and specialty products, over the counter and self-care product, and skin health and beauty products. The major brands owned by the segment include Neutrogena, AVEENO, Tylenol, Listerine, JOHNSON's, BAND-AID, And more. According to management, four of the brands under the consumer health business each generate sales exceeding $1 billion. And an impressive twenty of its brands each generate revenue of $150 million or more. Combined, this unit will be responsible for sales of about $15 billion annually. Management also expects revenue to continue growing for this segment at a rate of 5% or more per year.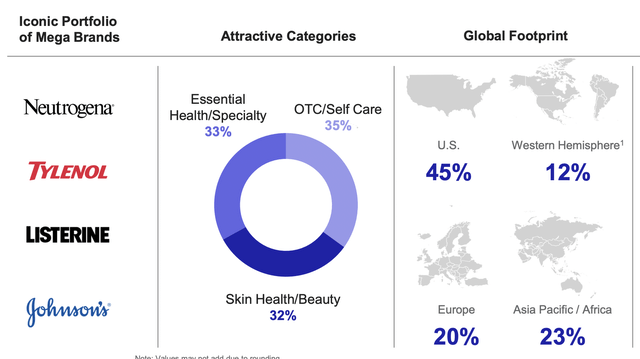 *Taken from Johnson & Johnson
At first glance, it may seem peculiar to investors that a business like Johnson & Johnson would decide to split up. After all, the general financial performance of the company has been solid. Revenue increased every year, climbing from $71.89 billion in 2016 to $82.58 billion last year. Although net income has been all over the map, ranging from a low of $1.30 billion in 2017 to a high of $16.54 billion a year earlier, operating cash flow has risen consistently, climbing from $18.77 billion in 2016 to $23.54 billion last year. By pretty much every measure, the enterprise is a remarkable one.

*Created by Author
But when you dig deeper, you start to notice that there are some problems that are holding back shareholder value creation. Take, as an example, the consumer health portion of the enterprise. Although revenue hit an all-time high of $14.05 billion last year, profits have been suffering. After hitting $2.52 billion in 2017, profits for the segment declined to eventually hit a loss of $1.06 billion in 2020. To put this in margin terms, the company went from a profit margin of 18.6% in 2017 to a margin of negative 7.6% last year. Revenue in the first nine months of this year for the segment is up, having risen by 5.2%, but profits for that segment are still down, having declined by 3.7% from $993 million to $956 million.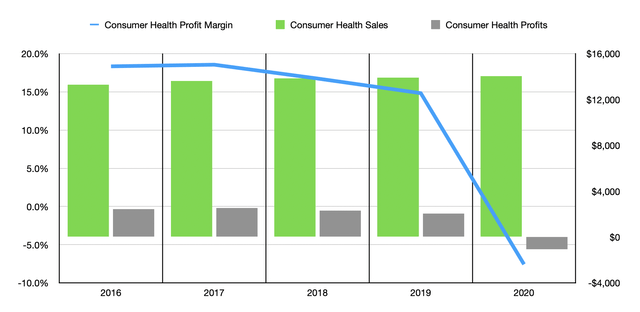 *Created by Author
Meanwhile, things for the company's pharmaceutical and medical device operations remain attractive. Revenue for those two segments, on a combined basis, hit an all-time high last year of $68.53 billion. This represents an increase compared to the $58.58 billion achieved in 2016. After seeing profits drop from $18.41 billion in 2016 to $16.48 billion in 2017, they increased most years, eventually hitting a new high of $18.51 billion in 2020. To put this in perspective, ignore the set operating margin for these two combined units totaled 27% in 2020. Other than the 31.4% achieved in 2016, this is the highest figure recorded over the past five years.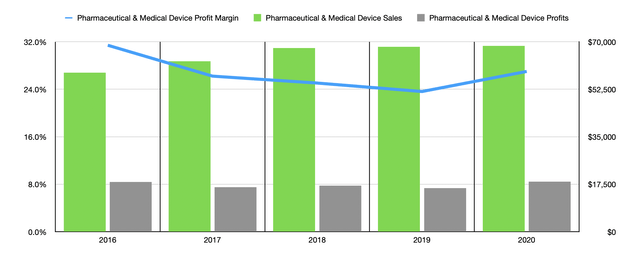 *Created by Author
So far this year, revenue at this unit is up 16.7%. Some may chalk this up to the COVID-19 pandemic, but the amount to which the company has benefited from that on its top line is just $766 million. Even without that, revenue for the pharmaceutical and medical device portions of Johnson & Johnson would still be 15.2% higher than it was a year earlier. Profits, meanwhile, are up 21.9%, having risen from $14.47 billion to $17.64 billion. This has been instrumental in pushing total operating cash flow for the company up to $17.68 billion for the first nine months of 2021. That represents an increase of 16.4% over the $15.19 billion achieved in 2020.
Takeaway
At this moment, investors who own shares in Johnson & Johnson should be generally excited. By splitting off the consumer health operations of the company into a separate entity, Johnson & Johnson can focus on what it does best. This appears to be growing and generating profits from pharmaceuticals and medical devices. Meanwhile, they get to offload a portion of their business that has been underperforming on the bottom line. If it can turn itself around, it could be worth a great deal of money. But it likely requires a separate management team that is capable of giving it the intention required of such a large business. Sadly, there are still some things we are in the dark about. We don't know exactly how other aspects of the company, such as debt, will be divvied up. We don't know any implied share price on the two separate firms that will come to exist from this transaction. And we also have no idea what kind of loss in synergies, if any, will be incurred. Even so, the overall picture should be viewed favorably for those who are interested in the long run. The value created by this transaction has the potential to be significant.