Income Statement: What Is It And What Is Its Purpose
An income statement is a financial statement in which a company reports its income and expenses over a specific period of time, usually a quarter or fiscal year. It can be used to analyze a company's operating performance, including things like its profit margins or burn rate.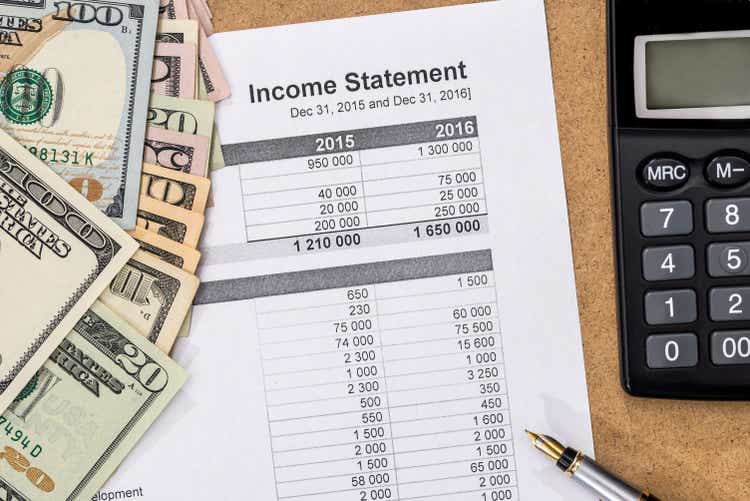 What Is An Income Statement?
An income statement lists a company's income, expenses, and resulting profits over a specific time frame, usually a quarter or fiscal year. Companies create income statements for managers, investors, auditors, lenders, vendors and any other interested parties. If the company is publicly held, publishing its income statements is required by the Securities and Exchange Commission.
An income statement, which is also sometimes called a profit and loss statement, is often used in collaboration with a balance sheet and a cash flow statement to help people monitor and assess a company's financial performance. It is often used to compare performance against prior time periods to determine trends, or to benchmark performance against competitors.
An investor can use an income statement in a variety of ways to gauge the financial health of a company, understand whether a company's revenues have increased or decreased, understand the company's cost structure, and monitor the company's profit margins including net income.
An income statement also typically includes an earnings per share calculation, which tells investors how much net income a company made for each share of stock outstanding. This helps investors understand the company's value and make decisions on buying or selling the stock.
Key takeaway: An income statement is a core financial document for assessing a company's financial health and is readily available for all public companies. The income statement is important to internal managers and executives as well as to investors and third parties, such as vendors or lending institutions.
Purpose Of An Income Statement
An income statement represents the primary way in which both company management and investors can assess the profitability of a company. In addition, an income statement's components contribute to the calculation of key metrics. Investors can also gauge the company's revenue streams and expenses for a specific time period so that trends or projections can be derived for further analysis.
Private companies are generally only required to prepare an income statement annually, though they might do so more often for internal planning purposes. Publicly traded companies need to prepare and publish income statements at the end of each quarter (10-Q) and after each year-end (10-K), as required by the Securities and Exchange Commission.
Investors can learn about things like a company's interest obligations, product costs and revenues, overhead expenses, and profitability from an income statement. Income statements can also help investors calculate investment metrics that are commonly used to guide investment decisions. For example, many investors use profitability ratios, liquidity ratios, and sales ratios to determine whether a company is a good investment and to aid in predicting future performance.
What Does an Income Statement Show?
The key sections of an income sheet are revenues, expenses, gross income, operating income, and net income.
Revenues
An income statement will include all sales revenues plus any other income from asset sales, law suits, royalties, or other sources. Revenue is often classified into two types – operating and non-operating. Operating revenue is revenue that a company earns for performing the key aspects of its business, whether selling products or services, and non-operating business activities include other sources of revenue, such as investment earnings or interest.
Expenses
Expenses are often broken down in a variety of ways and classified as the cost of goods sold, overhead, wages, payments to suppliers, sales commissions, and even expenses such as inventory charges, theft, and legal costs. Expenses are also generally divided into operating and non-operating categories. Operating expenses are those directly connected to a company's core business activities, like material costs for products, while non-operating expenses include such things as taxes or lawsuit settlements.
Gross Income/Profit
A major part of an income statement is the gross income or gross profit section. Gross profit is the amount of money that a business makes after the cost of manufacturing and selling the company's products or services is subtracted. Gross profit is calculated by subtracting the cost of goods sold (COGS) from a company's total sales. This number can then be used to calculate the gross profit margin by dividing it by net sales.
Operating Income/Profit
Operating income or operating profit is the amount that a company makes after a subtracting cost of goods sold (COGS), as one does with gross income, but then also subtracting other operating costs such as utilities and wages. To obtain a company's operating margin, one can divide the operating income by net sales to get a percentage.
Net Income/Profit
Net income or net profit is derived by subtracting all remaining expenses not accounted for in the gross profit and operating profit calculations. When calculating gross profit, take a company's revenue and subtract the cost of goods sold, operating expenses, interest, taxes, legal judgments, and all other expenses. This provides a figure that represents the total net income of the organization. Investors can then divide that number by a company's total revenue to determine the net profit ratio.
Income Statement Example
Income statements can look different from one company to the next depending on a company's streams of income and expenses and how they choose to categorize them.
Here is generalized income statement example:
| | |
| --- | --- |
| Operating revenue | |
| Sales of products | 500,000 |
| Sales of services | 500,000 |
| Cost of goods and services | (600,000) |
| Gross profit | 400,000 |
| | |
| | |
| Operating expenses | |
| Selling expenses | |
| Wages | 100,000 |
| Advertising | 5,000 |
| Shipping | 5,000 |
| Administrative expenses | |
| Rent | 50,000 |
| Office supplies | 5,000 |
| Office equipment | 5,000 |
| Total operating expense | 170,000 |
| | |
| | |
| Operating income | 230,000 |
| EBITDA | 230,000 |
| | |
| Non-operating or other | |
| Interest revenue | 10,000 |
| Gain on sale of equipment | 10,000 |
| Interest expense | (20,000) |
| Depreciation | (10,000) |
| Total non-operating items | (10,000) |
| | |
| Income before taxes | 220,000 |
| Taxes | 20,000 |
| | |
| | |
| Net income | 200,000 |
| | |
| | |
| Earnings per share (200,000 shares) | 1.00/per share |
Tip: Generally, an income statement includes things like:

Sales

Cost of Goods/Services Sold

Gross Profit

Operating expenses

Operating income

Non-operating expenses

Non-operating income

Net income

Earnings per share
Uses Of An Income Statement
An income statement can be used by investors to analyze a company's operating performance, including things like its profitability, income ratios, and other metrics that can help investors understand the financial health and performance of a company.
An income statement can also potentially be used to predict future performance since it helps calculate a company's profit margin and earnings per share. That can be compared with its competitors to help investors decide if a company is outperforming or underperforming its peers. If an investor pays attention to successive income statements of a company over time, that can also help the investor detect changes in profitability over time that could lead to increasing or decreasing earnings in the future.
Companies use income statements to help them see how they are performing, where they might have room to reduce their expenses, or which products or business segments are underperforming or outperforming. They can then use the income statement to adjust their plans or projections for that period and make changes by either reducing expenses or increasing sales. It can also help businesses plan for capital needs, uncover opportunities to increase profit margins, guide business strategy, and set goals.
Tip: There are two main ways to analyze an income statement. Vertical analysis calculates the percentage of each line item from a single base figure in the statement, such as a percentage of gross sales. This makes it easy to compare financial statements between companies and industries regardless of their different sizes. It will also help investors see if these figures improve over time.

In contrast, a horizontal analysis compares the dollar amounts in a company's income statements over multiple reporting periods. For example, it compares a company's revenue in one quarter to its revenue in the same quarter the year before. This type of analysis allows investors to see how a company is growing and performing over time.
Bottom Line
An income statement can be very useful, since it allows both managers and investors to look at how a company is performing during a specific time period. This allows people to analyze a company's operating performance, profitability and growth over time, allowing people to make more informed decisions.
This article was written by
Amanda Reaume has been writing about retirement, investing, and financial planning for over a decade. She has been published in USAToday, Time.com, Yahoo!Finance, Business Insider, Forbes, and Fox Business. She is a former credit expert at Credit.com and wrote a book about financial planning and investing aimed at millennials.
Disclosure: I/we have no stock, option or similar derivative position in any of the companies mentioned, and no plans to initiate any such positions within the next 72 hours. I wrote this article myself, and it expresses my own opinions. I am not receiving compensation for it. I have no business relationship with any company whose stock is mentioned in this article.
Comments disabled for this article