Vision Marine Technologies: Revolutionizing The Electric Outboard Industry
Summary
Vision Marine Technologies has developed a revolutionary outboard motor for recreational boats.
Their first fully electric outboard powertrain system, E-Motion, changes the boating experience, reduces recurring cost, and requires less engine maintenance than a traditional outboard engine.
The electric outboard motor market is enjoying secular tailwinds given the move towards greener alternatives, decreasing cost of Li-ion batteries, and double-digit growth in the recreational boat market.
Vision Marine Technologies partners with Linamar Corporation, Canada's second-largest automobile parts manufacturer on E-Motion™ Fully Electric Outboard.
Vision Marine Technologies is poised to leverage the industry tailwinds and is expected to deliver high growth performance over the next five years. I believe that the company is currently undervalued with an expected fair value of US $25 per share.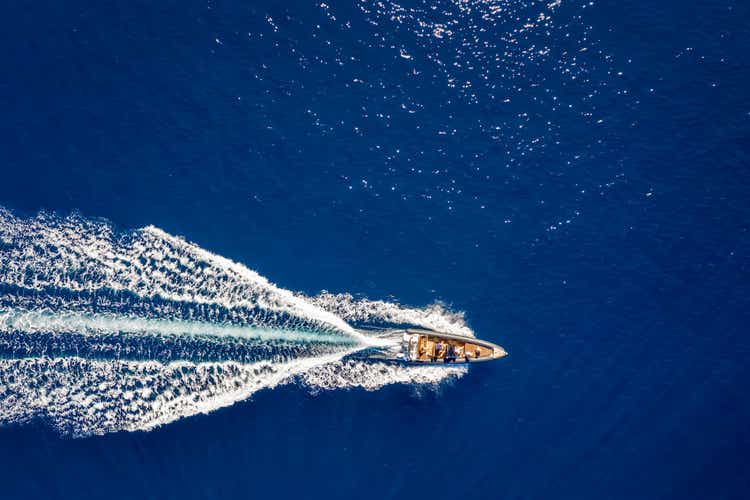 With its fully electric outboard motor for recreational boats, VMAR has the potential to deliver value by disrupting the boating industry. The double-digit growth in the recreational boat market means the timing is right for VMAR, which could also ride the wave as a new influx of consumers seeks greener alternatives to the traditional outboard engine.
Company Overview
Vision Marine Technologies Inc. (NASDAQ:VMAR), formerly known as Canadian Electric Boat Company, is headquartered in Montreal, Canada. VMAR primarily designs and manufactures electric outboard powertrain systems, which they sell to original equipment manufacturers (OEM). VMAR is revolutionizing the electric outboard industry with their flagship product, an outboard powertrain motor, E-Motion. According to the company, "It is the first fully 180 hp integrated propulsion and energy management system, perfectly suitable for all recreational boaters."
VMAR has achieved significant powertrain efficiency of more than 94%, which is unmatched compared to its competitors. More efficiency means there's more room for power and range upgrades, both priority requests from consumers in the sector. While the E-Motion powertrain system has yet to be commercialized, many OEMs have shown interest in adding the powertrain technology to their fleet.
In addition, VMAR manufactures electric, recreational powerboats in Canada, selling mostly to commercial and retail customers. Their growth strategy also includes increasing the number of electric powerboats from 56 in the last fiscal year to nearly 150 over the next 12 months. They have been working on a plan to increase brand awareness by marketing their services to retail customers and operators of rental fleets. VMAR's distribution network includes marinas, local distributors, and showrooms. Additionally, they have increased their online presence to market and sell their products.
Management Overview
Alexandre Mongeon has been the Chief Executive Officer since 2014. Early in his career, he worked as a designer and contractor for several construction projects on the waterfront in and around Montreal. He left college early to pursue his entrepreneurial dream of making a difference in society. Mr. Mongeon has been a strong proponent for creating climate-oriented, sustainable business models.
Xavier Montagne is VMAR's Chief Technology Officer. As the company's CTO, he oversees all design and operations of Vision Marine's revolutionary E-Motion powertrain. Before joining VMAR, he was senior designer for Panasonic, Saft, and Foresee Power, where he played an important role in the design of low- and high-voltage battery management systems. He contributed to developing the Renault ZOE's sports version, where he used his expertise to design the powertrain definition, conception, and assembly. He has also served as the CEO and Senior Engineer for MAC Engineering, whose intellectual property relating to marine outboard electronic systems was acquired by VMAR.
Unique Product Offering Backed by IP and Proprietary Technology
The company has designed and developed its first fully electric outboard powertrain system that incorporates an advanced battery pack, inverter, high-efficiency motor, and extensive control software. With the technology in place, Vision Marine's primary focus is to successfully market the system, securing purchase orders and deposits from OEMs and dealers. This latest innovation comes with certain advantages such as better performance, higher range, lower noise, no smoke, less vibration, fewer recurring costs, and minimal engine maintenance.

Exhibit 1: Technical Specifications of Electric Outboard Powertrain Systems. Source: Company filings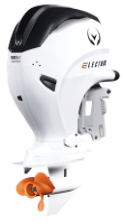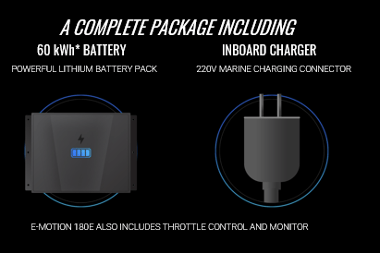 Exhibit 2: VMAR's E-motion Unit (left) and E-Motion Battery Package (right). Source: Company Filings
Although the electric powertrains are not yet commercialized, Limestone Boat Company has shown interest and is testing Vision Marine's EV outboard engine on two of its test boats. Even OEMs have shown considerable interest in VMAR's product, as shown in the table below. The company has received non-binding letters of intent and has projected the sales price of their first electric outboard powertrain systems at CA$100,000. Currently, VMAR has developed a 180 HP version of the electric outboard motor and expects to release a new 300 HP version within the next 24 months.
| | | | |
| --- | --- | --- | --- |
| Timeline | Expected Orders (LOI) | Projected Sale Price | Sales Expectations |
| August 31, 2022 | 186 | $100,000 | $18,600,000 |
| August 31, 2023 | 335 | $100,000 | $33,500,000 |
| August 31, 2024 | 504 | $100,000 | $50,400,000 |
Exhibit 3: Electric Powertrain Sales Expectations (in CAD). Source: Company filings
The company plans to market directly to boat OEMs once they have launched their innovative electric outboard powertrain system. By leveraging the support and distribution systems of OEMs, VMAR intends to sell and market its powertrain technology with minimal capital outlay. VMAR does not plan to have any direct relationship with the purchasers and they do not expect to service such purchases directly rather provide periodic training and instruction to the OEM's personnel.
| | | |
| --- | --- | --- |
| Year | No. of Electric Boats Sold | Sales of Electric Power Boat |
| 2018 | 21 | $1,036,379 |
| 2019 | 46 | $2,664,001 |
| 2020 | 56 | $2,249,107 |
Exhibit 4: Sales of Electric Power Boats (in CAD). Source: Company filings
The sale of electric power boats comprises almost 90% of VMAR's current revenue. Their sales are consistently increasing year over year and their products are primarily sold to retail customers and operators of rental fleets. VMAR is extending its network via third-party dealerships and by attending more trade shows to expand its product offerings.
Competitors Profile
The existing EV outboard motor manufacturers are focused on <50HP capacity. Torqeedo, a major player in the EV outboard motor market, manufactures engines with a maximum capacity of 180HP. Another emerging player, Evoy, is the only one after VMAR with a power capacity of 150HP.
While there is much less competition in the high-value segment, the company believes its competition is the legacy ICE boating industry. The objective is to disrupt the conventional fossil fuel-powered boats in the same way that TESLA is disrupting the auto industry. Marine vehicles, which have not evolved in the same way, lag the environmental conscience consumer awareness by five years.
Already established traditional boat manufacturers with electric powerboat demonstrators like Winnebago Industries, Brunswick Corp., Malibu Boats, Mastercraft, MarineMax Inc., and Marine Products are the targeted customers for VMAR.
The majority of traditional boat manufacturers, possibly VMAR's future clients, are well-established brands with a large loyal customer base and deep relationships with industry participants, such as suppliers, customers, and other key stakeholders. Developing partnerships will help VMAR to leverage its supply chain and large customer base.
Comparing VMAR to their direct competitors in the electric powerboat segment, their competitive advantages and operational strengths become apparent. These include:
1) Technological Innovation: VMAR has demonstrated its ability to develop innovative products through R&D. VMAR's boats are a sustainable and economical alternative to the traditional fossil fuel-powered boats that run on local waterways, lakes, and rivers. Many cities and states have imposed restrictions to enhance air quality and protect aquatic habitats, creating a defined market for innovative products.
2) Product Performance: The efficiency of the company's flagship electric powertrain is unmatched in terms of speed and range to its competitors' products. Assuming normal use, most consumers will be able to enjoy a full day of boating on one full charge.
3) Certifications: The boats manufactured by VMAR meet all the regulatory and safety criteria established by the regulatory authorities in North American countries. According to the company, "The boats are certified by the U.S. Coast Guard and the Canadian Coast Guard in Canada and meet the American Boat & Yacht Council safety standards and the European Union's imported manufactured products standards."
4) Product Price: VMAR has competitively priced all their products along with optional customizations. Additionally, their products come with low maintenance costs as a fully sealed electric outboard motor has few moving parts, meaning there is no oil to check, no spark plugs to replace with no recurring expensive gasoline cost.
Outboard Power Engines Industry On The Cusp Of Growth
Recreational boating is one of the major growth drivers for the global recreational boat market. The industry is expected to record an absolute growth of 87.27% over 2020-2026, with North America being the largest market, followed by European countries.
There are four main products in the recreational boating market: outboards, inboards/sterndrives, personal watercraft, and yachts. Outboard motors are self-contained units mounted on the outside of a boat. The motor is moved around either electronically or manually to change its angle in the water to steer the boat, while an inboard motor is enclosed inside the boat's hull. Personal watercraft are basically jet skis or vessels where the rider is not within the boat. A yacht is any sailing vessel used for recreation, cruising, or racing.
The outboard power engine market is dominated by fossil-fuel-powered engines, however, the electric outboard motor market is a new phenomenon that will grow with the development of the electric boat market.
According to NMMA, in 2019, sales of outboard engines in the United States have reached a thirteen-year high of 280,300 units, representing a market size of $2.9 billion. In 2020, outboard engine sales jumped approximately 17.55% to 329,500 units. In 2019, high-performance engines were in greater demand, while the 200HP-300HP capacity composed 16.3% of total sales. In 2019, engines greater than 300 HP amounted to 10% of total sales. In the past 10 years, there has been a 46% increase in horsepower capacity. Ongoing advancements in battery technology have led to reduced battery production costs and greater capacity, offering far greater range and significantly higher horsepower.
U.S. legislation proposing incentives for all types of electric transportation including electric boats is moving quickly. The FAST electricity act of 2021 would allow a 30% investment tax credit. This act will expand and empower further investment and adoption of EV boats.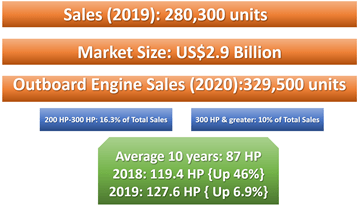 Exhibit 5: Outboard Power Engines Market. Source: Company Filings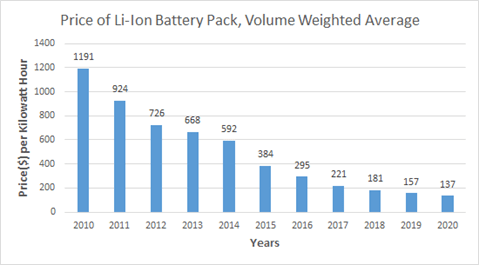 Exhibit 6: Price of Li-Ion Battery Pack. Data Source: arstechnica
The price of the lithium-ion battery pack has declined since 2010, from $1,200/kWh to $130/kWh. Electric boats are becoming a realistic alternative to the internal combustion engine (ICE) when considering the total cost of operations. Government, state, and local municipalities want to limit the use of boats powered by ICEs since they are major contributors to pollution. Legislators are seeking a sustainable and economically viable transition to electrically powered boats.
The high cost of fossil fuels will incentivize electric powerboat manufacturers to competitively price their products. For this reason, cheaper energy sources are becoming increasingly popular in industries that consume fossil fuels. A similar trend is unfolding in the automobile industry. Companies, like Tesla, are disrupting the automobile industry on a massive scale. One could expect the fossil-fuel reliant recreational boat industry to be disrupted by an electric alternative.
Outboard power is preferable since the motor is externally attached to the boat and is easily replaced in the event of an operational failure. There is substantial consumer preference for up-gradation and automation of controls, such as joystick docking control, automatic trim control, and digital throttle. This is because new boaters have less time to develop the skills needed for manual controls. For this reason, customers are reliant on updated technologies and automation causing the industry to grow at an unprecedented rate.
Financial Position of the Company
VMAR generates the majority of its revenue from the sale of electric powerboats. VMAR funnels some of that revenue into revolutionizing their outboard powertrain technology, providing room for growth into an attractive industry. The downside of operating in such a favorable industry is it attracts fierce competition that may eventually render the company's technology obsolete. We expect the company to generate the majority of its revenue from the E-motion powertrain in the next two to three years. Even though profitable on the gross level, the company has been reporting operating losses.
VMAR raised US$27.6 million from their Initial Public Offering (IPO) in November 2020. Their cash balance, as of May 2021, was ~CA$24 million. VMAR's average three-year cash burn rate is CA$0.8 million, and the last fiscal year's cash burn rate was CA$2.0 million. We expect the company to burn cash for the next six quarters. After this period, we expect the commercialization and new sales from outboard powertrains systems to generate positive cash flows. Their current cash balance more than covers their financing requirements, including the commercialization expenses of the E-motion powertrain. VMAR's robust financial position is evident given its comfortable cash balance and negligible debt profile.
Risk Profile
● VMAR assembles all the powerboats at their facility, but sources the component parts from third-party suppliers, including Torqeedo, Minn-Kota, E-Tech, BMW, and Relion batteries. This is a major risk factor because VMAR is reliant on its competitors to supply component parts.
● VMAR currently generates all of its revenue from its electric powerboat business but the focus has been shifting towards developing electric powertrains, which is expected to drive the majority of its future growth. The technology has yet to be commercialized, which creates uncertainty and increases the risk of market failure if it is not accepted by the market after launch.
Valuation Outlook
VMAR is expected to deliver strong performances once it commercializes the outboard-power train system. The company recently announced a manufacturing and supply agreement (a seminal event in fulfillment capabilities) with McLaren Engineering, a subsidiary of Linamar Corporation, to assemble and manufacture the E-motion powertrain technology indicating another step towards full-scale commercialization of the company's technology. Linamar is Canada's second-largest automobile parts manufacturer, so this partnership validates VMAR's breakthrough technology and boosts stakeholders' confidence.
The exhibit shows an estimate of the company's sales from E-Motion technology for the next four years. Based on the total outboard motor sales and the company's target value segment (200-300 HP), a total addressable market is calculated. Based on the total addressable market (TAM) and an assumed market share I have calculated an estimated sales value.

Exhibit 7: E-motion Industry Sales Expectation. Source: Company Filings, Research
Given the industry tailwinds and their superior technology, VMAR is positioned to leverage the opportunity. I valued the company based on the expected 2024 revenue and forward P/S ratio. The growth in sales is primarily based on the adoption of electric powerboats by consumers and the ongoing industry tailwinds.

Exhibit 8: Sensitivity Analysis
While the company will continue to generate revenue from electric powerboats and other services, the valuation estimates just incorporate the value derived from the sale of E-motion technology to OEMs. Based on unit sales estimates, expected revenue of ~US$67.09 million for 2024 is derived. At a forward P/S ratio of 3.0x, in line with the industry multiples, VMAR's fair value is ~US$201.0 million or ~US$25 per share.
Conclusion
VMAR has breakthrough technology that could disrupt the recreational boating industry. The company is starting to gain traction with more established players in the space. Keep an eye out on the pace at which the industry is adapting to electric-based vehicles. The Linamar partnership is further validation towards the company's success. I remain bullish on VMAR.
This article was written by
Ari Zoldan is the CEO of Quantum Media Group, a marketing and media agency based in New York City. As an on-air TV personality, Ari can be seen regularly on FOX, CNN & CNBC covering technology, media and business trends. Ari serves as Chair of the Media & Development committee for The Zahn Center for Innovation at City College. In his journalistic capacity Ari and has been to dozens of war torn and conflicted zones such as South Sudan, Uganda, Nicaragua, Haiti, Burma, & Guinea. He holds press credentials on Capitol Hill and the United Nations and is a member of the National Press Club in Washington, DC.
Analyst's Disclosure: I/we have no stock, option or similar derivative position in any of the companies mentioned, and no plans to initiate any such positions within the next 72 hours. I wrote this article myself, and it expresses my own opinions. I am not receiving compensation for it (other than from Seeking Alpha). I have no business relationship with any company whose stock is mentioned in this article.
Seeking Alpha's Disclosure: Past performance is no guarantee of future results. No recommendation or advice is being given as to whether any investment is suitable for a particular investor. Any views or opinions expressed above may not reflect those of Seeking Alpha as a whole. Seeking Alpha is not a licensed securities dealer, broker or US investment adviser or investment bank. Our analysts are third party authors that include both professional investors and individual investors who may not be licensed or certified by any institute or regulatory body.