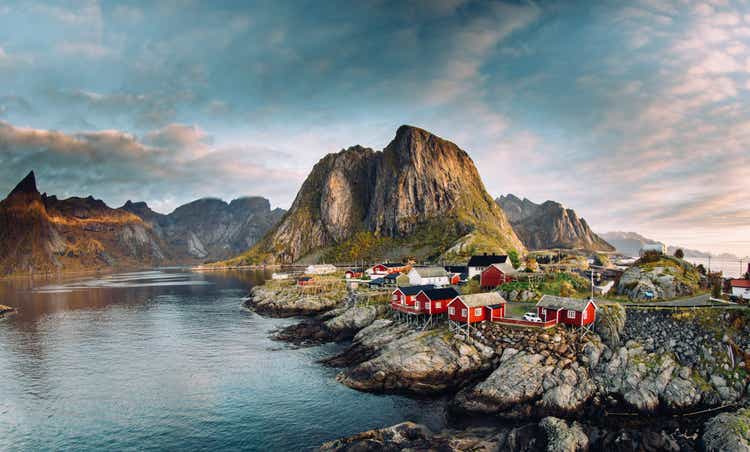 Global X MSCI Norway ETF (NYSEARCA:NORW) is a small-size fund offering a relatively concentrated portfolio of Norwegian companies operating predominantly in the financial, consumer staples, and energy sectors. For international equity-focused funds, NORW has a reasonable expense ratio of 50 bps, 1 bps south of the class median.
In the article, I will explain why the oil price and Norges Bank's hawkish moves are two essential matters investors pondering gaining exposure to Norwegian equities should pay attention to right now. And why the upside is not fully secured at the current levels, though the fund has seen a sterling run this year, delivering a YTD return of ~22.9% (as of October 31).
Source: Global X. Please read the notes to the table on the fund's website
Before we proceed to the discussion of NORW's strategy, returns it should be capable of delivering, and risks, the primary fact worth paying attention to is that the wild upswing in the ETF NAV, price, and AUM in end-October was not the consequence of the Norwegian equity valuations going through the roof, all of a sudden. The reason is more tedious: the fund was reorganized and combined with the Global X FTSE Nordic Region ETF. As a consequence, its AUM went from ~$43 million as of September 30 to almost $110 million as of November 12. For more details, I strongly recommend reading the prospectus.
Investment strategy
The cornerstone of NORW's investment strategy is the MSCI Norway IMI 25/50 Index. The prospectus says the fund uses the replication technique, though it might opt for a less strict one - a representative sampling strategy, depending on the circumstances, for example, if liquidity issues emerge, so purchasing all the index securities, no matter how large spreads are, would result in damage to the NAV.
The index is nothing but a basket of key Norwegian public companies weighted by float-adjusted market capitalization. All three echelons are welcome, but given the traditional market-cap-weighting principle, the index tends to overrepresent the most generously valued players and underrepresent small-cap players.
I should draw my dear readers' attention to the fact that because of the market value being adjusted for float by the index provider, some Norwegian heavyweights failed to qualify for this benchmark, namely Aker BP (OTCPK:DETNF), an ~$12.4 billion oil & gas player I have been covering since 2018, with the most recent piece published in August. Though BP (BP) and Aker, its top investors, have announced they are pondering a potential sale of a 5% stake in this Norwegian Continental Shelf-focused petroleum producer, its float-adjusted market cap will not increase much in case the potential deal proceeds successfully since both own 70% of the company, and the sale would bring free float to just 35%.
It is worth noting that MSCI (MSCI) applies a few single-stock caps ('investment limits') required of RICs in order to ensure compliance with the US Internal Revenue Code. Let us quote the factsheet,
One requirement of a RIC is that at the end of each quarter of its tax year no more than 25% of the value of the RIC's assets may be invested in a single issuer and the sum of the weights of all issuers representing more than 5% of the fund should not exceed 50% of the fund's total assets.
But even despite caps being applied quarterly, the index and the fund's portfolio are exceedingly top-heavy, with ten major holdings having almost 60% weight. This adds to risks, especially in the case the oil market reverses direction again given its large exposure to oil & gas producers.
NORW's closest peer is the iShares MSCI Norway ETF (ENOR), a fund tracking the exact same index, with AUM similar to NORW's pre-reorganization level, though with higher costs of 53 bps.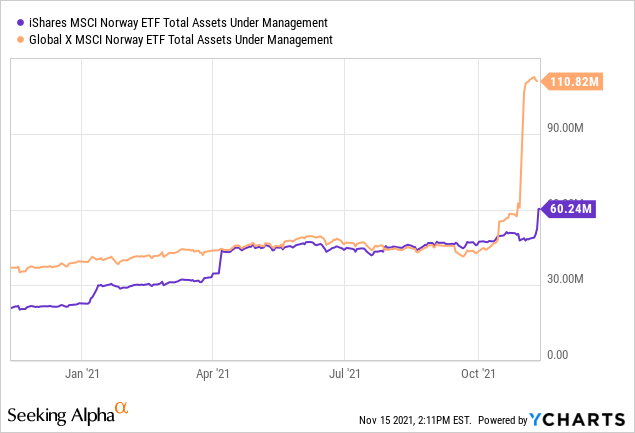 Another difference is that ENOR, for some reason, is actively using derivatives: it has 81 total holdings, only 68 of which are equities.
The equity holdings of NORW and ENOR are identical, though with marginal differences in % of the net assets. Both are grossly overweight in two cyclical sectors and one relatively defensive sector: financials, consumer staples, and energy. In the case of NORW, they account for 22.7%, 17.9%, and 15.9%, respectively.
Equinor ASA (EQNR), an energy supermajor, is their essential holding, with 12.9% weight in NORW. The second-largest position accounting for 11.8% of the net assets is DNB ASA (OTCPK:DNBHF), the top Norwegian financial services group.
Oil price, interest rates to watch
According to Norwegian Petroleum, a fifth of Norway's government revenue comes from the petroleum sector, which also accounts for 39% of total exports.

For the country that heavily relies on revenues coming from exploration & production activities (principally taxes, though also cash flows from State's Direct Financial Interest, as well as Equinor's dividend, given 67% of the company belongs to the state), the correlation of the national currency moves with the oil price seems explainable. On a side note, this makes the NOK distinctively different from the Danish krone, which is pegged to the euro.
So this begs a question: is Equinor-heavy NORW poised to move higher on the back of more expensive Brent? Probably, though I don't believe it's highly likely. For context, in its November short-term energy outlook, the EIA said it is expecting Brent price to hover close to the current levels for the rest of the year, then retreating to an annual average of $72 a barrel in 2022 mostly due to higher production and 'slowing growth in global oil consumption.' I concur with it, remaining skeptical of NORW's upside.
Another variable to watch here is interest rates in Norway.
From time to time, to have a better understanding of the developments of Scandinavian economies as well as neighboring countries, I read the Nordic Outlook research report from SEB (Skandinaviska Enskilda Banken). In the September edition published on August 31, SEB highlighted that the hawkish moves from Norges Bank were likely, 'because of the rapid recovery, along with a home price upturn this past year.' Also, earlier in June, the central bank itself signaled that conditions were supportive of a September hike. Expectedly, it then increased the benchmark interest rate from zero to 25 bps in September, with more hawkish moves expected ahead. The rate remained unchanged in November, but another increase in December is in the cards.
Consistent though slow tightening of credit conditions in Norway can be beneficial for NORW for two reasons. First, it's the potential appreciation of the krone. The fund price is denominated in the U.S. dollar, so if the NOK goes up, so the NAV will follow upwards. Second, it's tailwinds for bank income and profits, and, as I said above, the ETF is overweight in financials. For example, DNB has already adjusted its rates on consumer products, a step that is forecast to provide a NOK 1.5 billion tailwind to interest income.
But tightening cannot push the krone higher ad infinitum, of course. As comes from SEB's FX forecast (which is, of course, is only the authors' opinion), USD/NOK might touch 8.71 by December 2021, retreating to 8.65 by June 2022 and then bouncing back to 8.76 in December 2022. This scenario, with which I overall agree, does not look unquestionably bullish for NORW's NAV, at all.
On a side note, as of end-August, SEB was more bearish on Brent price than the EIA now, expecting a decline to an average of $62.5 a barrel in 2022. Though I am not that skeptical, I still see no room for the bull run.
Final thoughts
To sum up, the essential advantage of NORW, as well as ENOR, is that investing in them is the simplest way to gain exposure to key Norwegian companies, most of which are listed on the Oslo Stock Exchange and have lackluster or totally inadequate liquidity over-the-counter (pink-sheet listings primarily) in the U.S., except to the NYSE-quoted EQNR.
At the same time, investing in small-size country ETFs like the one from Global X we've discussed today still involves liquidity risks, grossly above the level to be expected in the case of most U.S.-focused funds. As indicated on NORW's website, the 30-day median bid-ask spread stands at 0.45%, which is not a level of liquidity supportive of building a large position quickly or exiting it as soon as possible in case downside catalysts emerge unexpectedly, and at a desirable price.
At the moment, I concur with the EIA's oil price forecast, while anticipating another rate hike in December. But all things considered, with attention paid to liquidity risks, I am neutral on NORW.