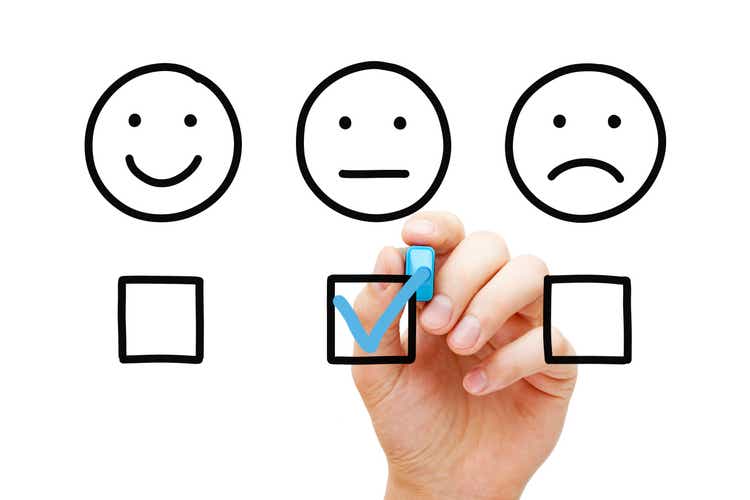 Investment Thesis
The Invesco BuyBack Achievers ETF (NASDAQ:PKW) is an ETF that looks good on paper, but when you dig under the hood, you quickly realize that it has issues. Namely, a 0.64% expense ratio, above-average volatility levels, and a history of dealing primarily in just four key sectors. It's disappointing because buybacks are just as crucial as dividends these days, and the Index has actually outperformed the S&P 500 in the last 15 years. However, as the fund stands currently, it's full of single-digit-revenue growth companies trading at higher multiples than dividend-payers with better outlooks. Therefore, I recommend investors avoid PKW right now but revisit in February to see my update on the Index's latest reconstitution.
PKW Overview
Fund Basics
Current Price: $97.72
Market Value: $1.56 billion
Shares Outstanding: 15.99 million
Expense Ratio: 0.64%
Launch Date: December 20, 2006
Trailing Dividend Yield: 0.77%
Five-Year Dividend CAGR: 2.80%
Five-Year Beta: 1.09
Number of Securities: 103
Portfolio Turnover: 93% (70% Five-Year Average)
30-Day Median Bid-Ask Spread: 0.04%
Tracked Index: NASDAQ Buyback Achievers Index
Reconstitution Frequency: Annually In January
Strategy & Methodology
The NASDAQ Buyback Achievers Index essentially holds certain U.S.-listed securities (common stock, limited partnerships, and limited liability companies) that have reduced shares outstanding by 5% or more in the last twelve months. The Index is evaluated every January with changes taking effect the last business day of January, and constituents are weighted based on their modified market capitalizations.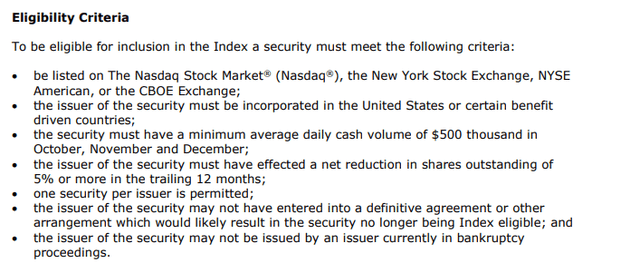 Source: NASDAQ Buyback Achievers Index Methodology
The strategy is unique because it only focuses on buybacks in the last year. In contrast, the iShares U.S. Dividend and Buyback ETF (DIVB), which I reviewed here, considers total shareholder yield (dividends and buybacks) and uses the last eight quarters of buybacks to smooth out year-over-year fluctuations. As a result, PKW investors should expect constituents to be changing a lot with each reconstitution. DIVB's most recent turnover rate, for example, was 30%, compared to 93% for PKW. However, I'll discuss in the next section that sector allocations are reasonably constant, so it's not as if you'll have no idea what the fund will hold next year.
My preference would be for buybacks to be smoothed out more, as the very nature of buybacks are that they are inconsistent. However, I think it adds a bit of a momentum factor to the Index. The implication of a company buying back a significant portion of their shares is that not only are they generating enough cash to do so, but that management believes the share price is undervalued. Those not in favor of the strategy may point out that such companies lack growth opportunities, but the same can be true for any company with a dividend policy. Management should be acting in the best interests of shareholders, and if a dividend or buyback policy is what shareholders demand, it should be carried out.
Here's an image tweeted by Jurrien Timmer, Director of Global Macro at Fidelity, to give you an idea of how large buybacks have become. Since 2004, buybacks have totaled $11 trillion, or about one-fourth of the market capitalization of U.S.-traded equities.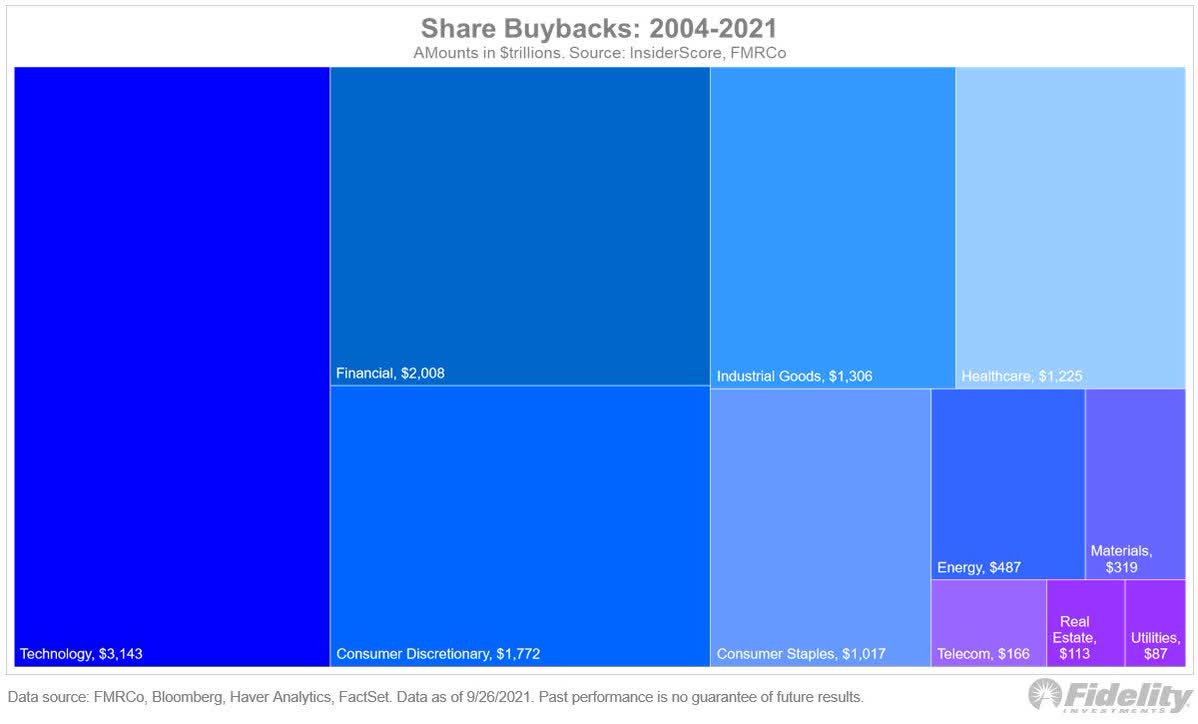 However, buybacks as a percentage of market capitalization are on a bit of a rollercoaster ride lately. After declining steadily in 2019 and 2020, they are on the rise again in 2021 - up approximately 50% over the first three quarters of last year. The threat of a 2% tax looms, but that will require a unified Congress, which is unlikely in my view.
Sector Allocations and Top Holdings
Financials, Technology, Health Care, and Consumer Discretionary stocks currently make up 77% of the ETF. Readers of my recent article on DVY will know that this isn't the optimal allocation for high-inflation environments, though. Sectors likely to outperform in these conditions, like Energy, Real Estate, and Utilities, have a combined weighting of only 2.25%.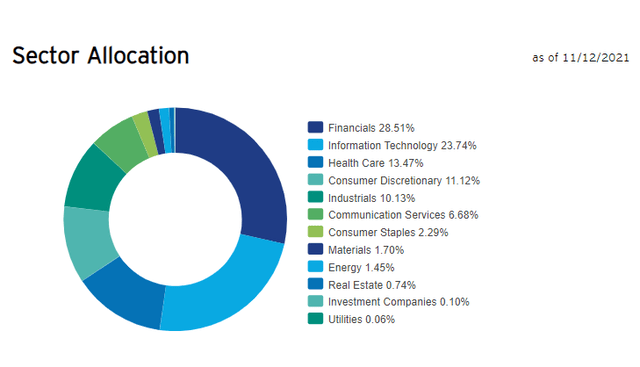 Source: Invesco Buyback Achievers ETF Overview
These sector allocations are similar to what the fund has held in the past. From 2017 to 2020, for example, these four sectors totaled 70%, 78%, 74%, and 79%. Even in 2008-2009, these sectors totaled 73% and 64%. Therefore, I think the current allocation is par for the course. What you will get, however, is some small- and mid-cap exposure. 86/103 holdings have market capitalizations less than $13.1 billion, which is S&P's minimum for large-cap stocks, though these stocks only total 40% of the ETF due to the market-cap-weighting scheme.
PKW is a pretty concentrated ETF, with the top ten accounting for 46% of the total. Fortinet (FTNT) is the largest holding with a weight of 5.42%. This cybersecurity solutions company is up over 200% in the last year, and management wisely bought back $883 million worth of stock in Q1 2020 compared to just $180 in the previous year alone. Hence, it seems unlikely it will stay in the Index after it reconstitutes. Oracle (ORCL), on the other hand, has ramped up its buyback program. In 2020, buybacks totaled about $17 billion, and the company is already approaching $20 billion this year. Finally, eBay (EBAY) keeps ramping up their buyback program - now at $7 billion for 2021 - which includes $2.4 billion returned in Q3 alone.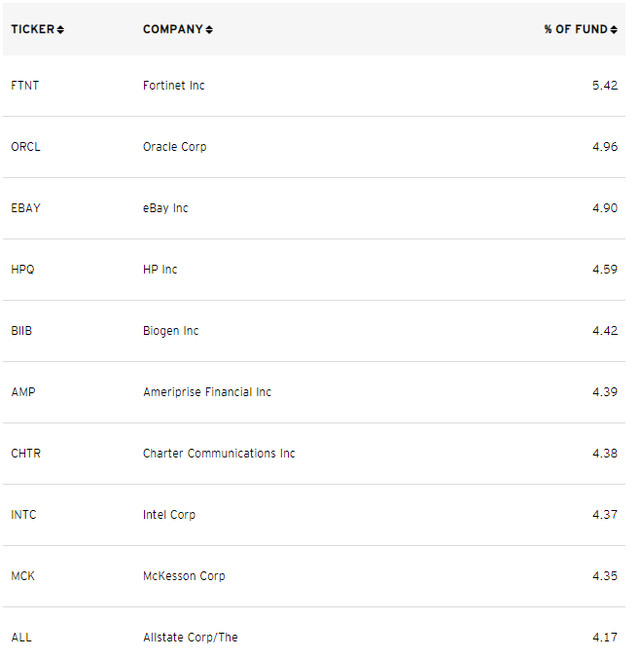 Source: Invesco Buyback Achievers ETF Overview
Performance
PKW's long performance history strongly suggests that buybacks are an indicator of superior returns. Of course, I don't recommend using it as the sole factor, but the Index has beaten the S&P 500 by 0.81% per year since its inception.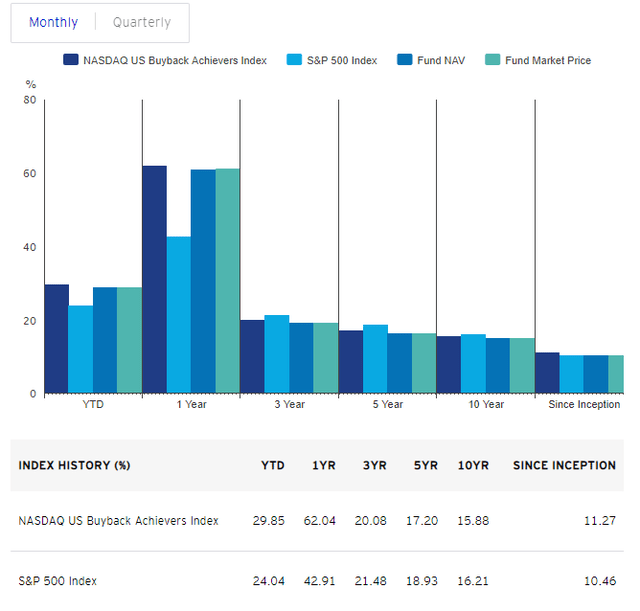 Source: Invesco Buyback Achievers ETF Overview
Investors are reminded that the above returns do not include fees. Considering the Vanguard S&P 500 ETF (VOO) only costs 0.03% per year, PKW's 0.64% expense ratio eats into the excess returns of what otherwise would be a solid fund. Investors hoping to collect even a marginal dividend will be disappointed because the fees further dilute the constituents' generally low (or zero) dividend yields. You can see the effect of these fees in the graph below, showing that PKW's returns are nearly identical with VOO and the Vanguard Total Stock Market ETF (VTI).
Source: Portfolio Visualizer
Given that PKW's volatility is higher as measured by standard deviation, you have to wonder if it's worth it despite its seemingly good selection process. The Hoya Capital Income Builder ETF Tracker also makes for easy comparisons with three shareholder yield ETFs, and as you can see, performance is mixed.

Source: Hoya Capital Income Builder ETF Tracker
PKW Fundamentals
The table below shows some selected fundamental metrics for PKW's top 20 holdings, which total two-thirds of the ETF.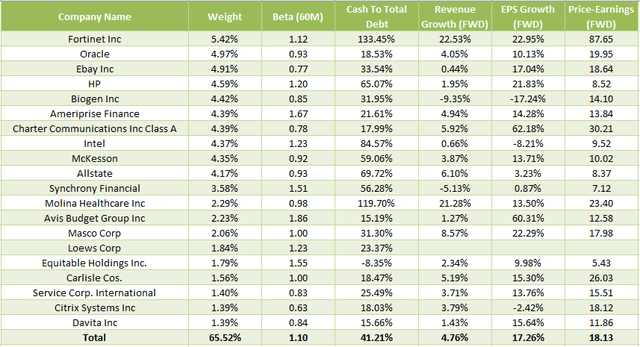 Source: Created By Author Using Data From Seeking Alpha
The most obvious thing here is the massive discrepancy between the forward revenue and earnings per share growth rates. I can only assume this is driven by the anticipated buybacks, which increase EPS because the denominator (shares outstanding) is reduced. It's troubling, though, that revenue growth rates are in the low single digits. Cash positions as a percentage of total debt aren't strong either. I prefer cash to total debt ratios above 50%, but the fund's weighted average is only 41%, and many (75 stocks, or 65% in weight) are below this threshold. I'd expect more for above-average volatility and an 18.13 forward price-earnings multiple (which is high in the dividend ETF space).
Finally, the table below highlights Seeking Alpha ratings of the fund by industry. You can see that PKW isn't particularly strong in any one area. Growth scores the worst, while the Profitability grade of B is the best.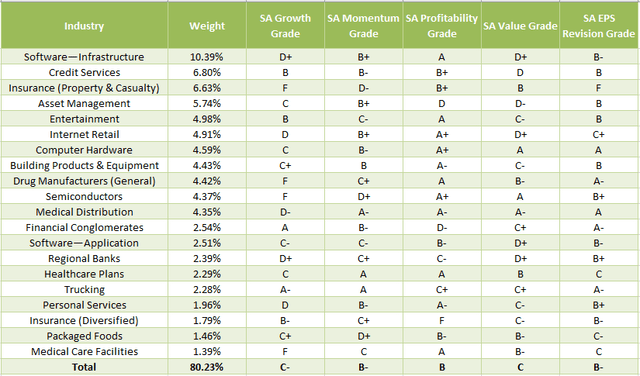 Source: Created By Author Using Data From Seeking Alpha
Investment Recommendation and Conclusion
It's frustrating when an ETF looks good on paper, but some severe problems start to emerge when you dig a little deeper. In general, the high fees work not only to drive yield down and dividend investors away but almost wholly erase the outperformance of a seemingly solid Index. As for the current constituents, they're simply in average-at-best financial health. I don't think you should be paying a premium for slow-growth companies like these; therefore, I expect some underperformance soon.
The good news, though, is that the Index will reconstitute in two and a half months. While the overall sector exposures aren't likely to change, it may end up including a whole new group of securities that have better growth prospects and are reasonably valued. I'll be looking forward to reassessing the fund at that time, but for now, investors should hold off. It's just not worth the risk.