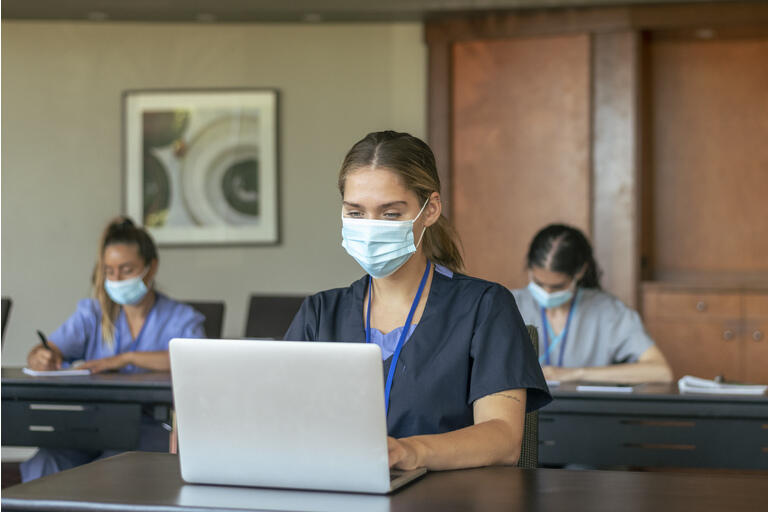 ASPU is a fast-growing online education company that operates two online universities pivoting into pre-licensure Nurse training, a highly profitable growing sector of the education market. Sustained revenue growth in the coming years driven by new training facilities coming online as part of the Aspen 2.0 development plan look set to deliver a 300% increase in share price. Multiple valuations confirm this target price, and the recent takeover of ASPU's largest competitor shows that someone is prepared to pay it.
Wall Street Analysts covering ASPU are very optimistic, and a significant number of Institutions have increased the size of their holding in the last 12 months.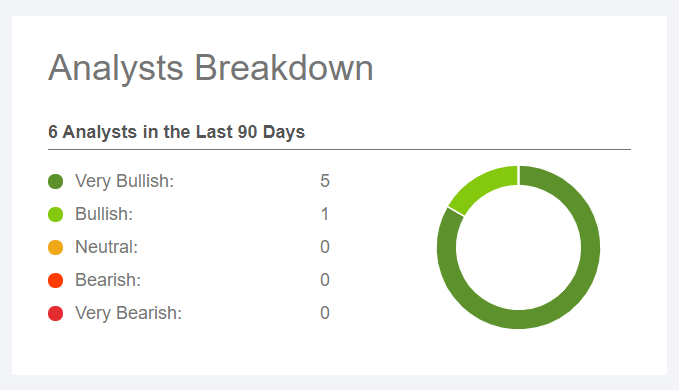 Source: Seeking Alpha rating page
ASPU is a fast-growing Online Education company
ASPU operates two online universities Aspen University and the United States University, which it acquired in 2017. ASPU initially intended to offer a complete university education to any motivated student and focused on building a broad range of courses. They had a vision of making money by bringing University education to disadvantaged communities. Revenue has increased quickly along with student numbers since its inception.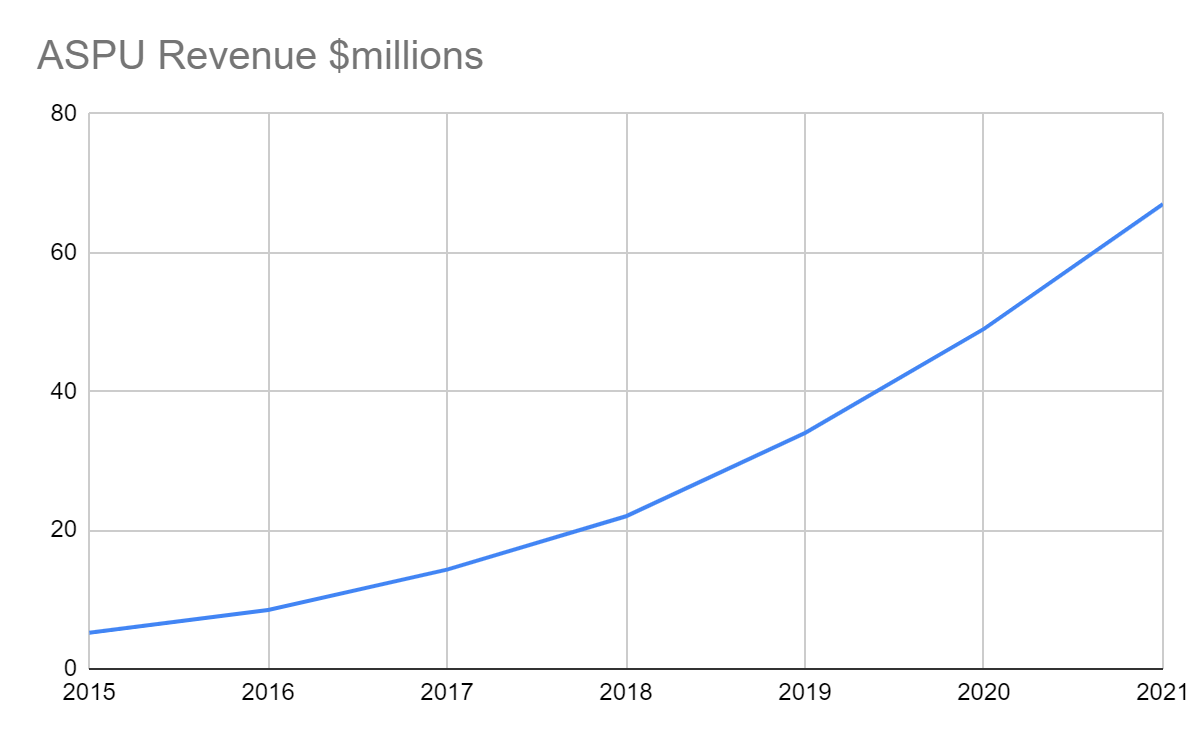 Source Author Generated: Data from Seeking Alpha
Online companies, by their nature, develop a great deal of information. Analysis of the data regarding pupil performance, outcomes, and profit ASPU management realized that Nursing students were far more profitable than others. Nurses complete their courses and continue training after graduation.
The lifetime value of a nursing student is high; it is a profitable niche
Aspen decided to pivot its business towards providing Pre Licensure Nursing training. The plan, called Aspen 2.0, involved significant investment and a conscious decision to reduce the size of the rest of the business by re-directing advertising spending and using the proprietary CRM software to prioritize outreach to students more likely to join a nursing course.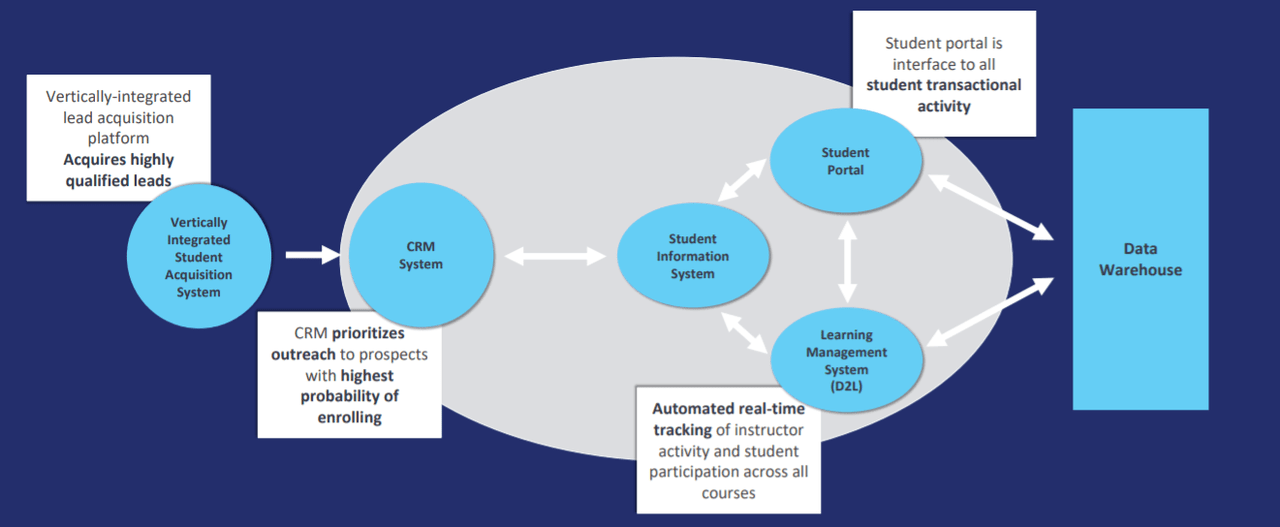 Source: Aspen presentation
The Nurse training industry
The demand for Registered Nurses is growing, the healthcare industry is snowballing, and many nurses are at or close to retirement age. The US Bureau of Labor Statistics suggests that almost 200,000 registered nurses will be needed every year for the next decade. Nursing is a high-income aspirational profession (median income $75,000 pa).
You need to take an accredited registered nursing program to become a nurse; bachelor's degrees are the most common and respected. You must then sit the NCLEX-RN examination and become state-accredited.
At present most nurses train at University and state colleges; these institutions are at maximum capacity. The current waiting time to get on a course is more than three years. Over 50,000 people with the correct qualifications fail to find training every year despite the US health care industry being in desperate need of more Nurses.
Nurse training is a large growing industry with currently unsatisfied demand. Unlike many parts of the online education industry, it also has significant barriers to entry. Courses must be accredited, and institutions must provide the "hands-on" medical training facilities accreditation requires. Any provider must ensure that nurses train with actual patients and real equipment in the correct controlled environment. Providers must have a training campus in each state they intend to operate in and have strong relationships with Hospitals and Clinics in the area that are willing and able to provide access to patients.
The 50,000 people being turned away from Nurse training now represent a market in the region of $1.5 billion per annum. ASPU's current turnover is $67 million. Three online universities are chasing this market, Chamberlain the largest, then Walden, and finally ASPU.
ASPU planning for the future
Having recognized the opportunity ASPU is pivoting both of its universities towards Nursing, they already both had an accredited pre-licensure course along with training facilities in place.
The plan, called Aspen 2.0, is seeing ASPU move from providing a reasonably comprehensive university to a Nursing Focussed one. As of Q1 FY22 (ended July 2021), Nursing represents 87% of the active student body ASPU report +20% EBITDA for each training campus.
ASPU is investing heavily in expanding the number of its prelicensure training campuses to enable it to grow this business and bring it to profitability. ASPU reports that it takes six quarters for a new training site to become profitable.
Aspens first PL training campus opened in 2018 in Phoenix, a second Phoenix site opened the following year. In 2020 two more were added in Austin TX, and Tampa FL; in 2021 Nashville Tennessee will shortly be joined by the biggest metropolitan site they have built to date. Six further sites are currently under development. Within 12 months, ASPU's nurse training capacity will have been multiplied by 4. These sites provide the "hands on" training the majority of instruction takes place online, it is an excellent low cost model allowing aspirational motivated people access to a new rewarding career.
The competition to ASPU
Aspen has two main competitors Chamberlain and Walden Universities targeting this particular part of the industry with the mix of online and offline campuses required.
Aspen is the lowest cost operator of the three and hence can offer lower prices to its students. Much of this cost-saving is derived from the proprietary tech platform.

Source: Investor Pack ASPU
At these prices, ASPU delivered a margin of 54% in its latest filings but intends this to rise to 59% as the newer training campuses increase their student numbers.
ASPU has a very high 95% satisfaction rating amongst its customers. One of the reasons for this is the monthly payment scheme it offers. Students can pay a fixed amount ($250-$350 per month course dependent); this scheme is unique to ASPU. It means that people can fund their courses without taking on student loans. The majority of ASPU's student body take advantage of this offering and graduate without student loan debt.
This lower-cost offering combined with a monthly payment plan and extreme customer satisfaction implies that ASPU has a good chance of capturing a significant portion of this $1.5 billion a year market and utilizing its newly established increased capacity.
Valuing ASPU
Adtalem Global Education (ATGE) acquired ASPU's largest competitor Walden University in Q1 2021. Adtalem paid $1.48 billion in an all-cash deal, making Adtalem a powerful force in the industry as they already own Chamberlain, the other major player.
The deal offers an insight into what someone might pay for ASPU. If we assume the price is related to the number of students studying at the university, we can use 2020's graduation figures as a proxy.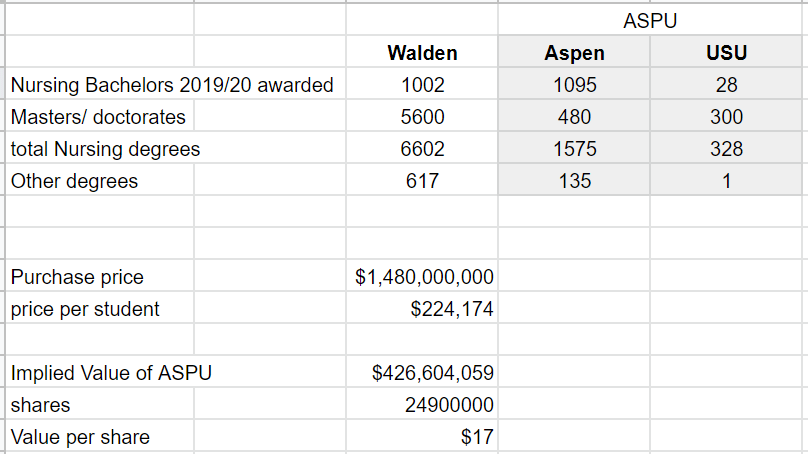 Source: Author generated data from national center for educational statistics
A second valuation comes from a professionally produced discounted cash flow analysis.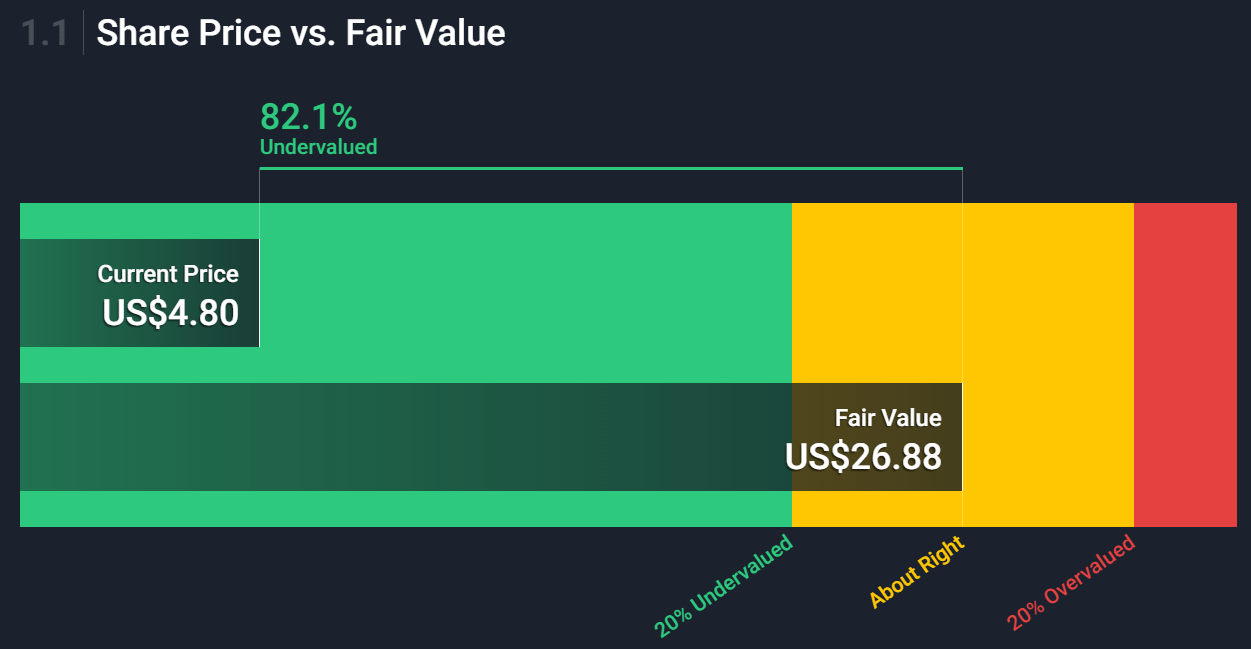 Source: SimplyWallStreet
The SimplyWallStreet valuation is driven by an earnings forecast increase of 65% and the company achieving profitability Q4 2022. Both of these facts are the expectation of ASPU management and the six analysts giving coverage.
I have also modeled the business to get an idea of the maximum likely share price increase. Suppose ASPU manages to capture a quarter of the previously identified $1.5 billion market and keep its margins between 54% and 59%, leading to a 20% EBITDA per training site. In that case, it becomes a multi-bagger showing a ten-fold increase in share price.
Over the last three years, earnings per share have increased by 21% on average, whilst the share price has only increased by 8%. This represents a significant opportunity for investors.
ASPU finances
ASPU is growing quickly, it has increased revenue every year and is pivoting to focus on higher-margin students. Such a pivot requires investment, and while the new sites grow, a significant cash burn.
In the quarterly statement delivered August 2021, Aspen reported that they had $6.6milion in cash and had drawn down $5million on a credit facility due to expire in November 2022. The $5million drawdown is for general business expenses and the rollout of new campuses. Before drawing down the $5million, the company had no debt.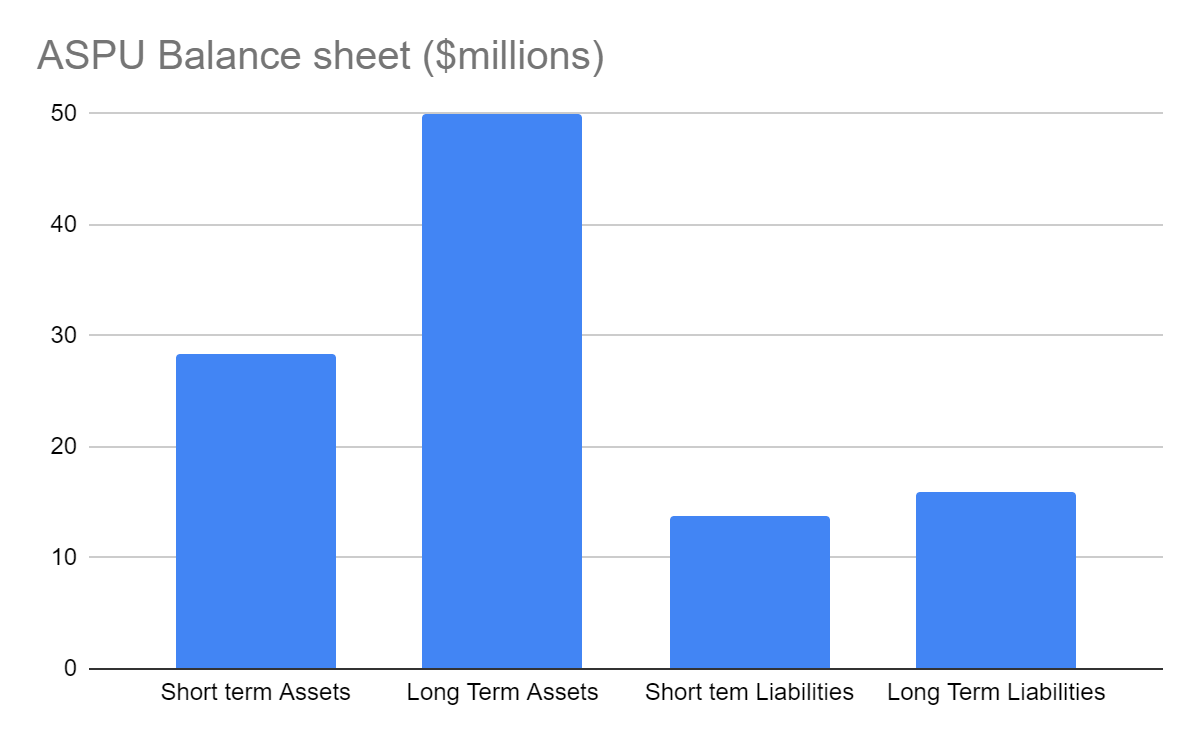 Source: Author Generated data from Seeking Alpha
During this growth period, the company has managed its money wisely, employees have increased from 435 in April 2019 to 742 in April 2021, yet net loss only increased from $2.1 million to @$2.3 million. Capex is up significantly from less than a million to more than 6.
ASPU is in the middle of a significant transformation. Three new sites just opened, three more are in development. The new sites are expensive and do not reach profitability for six quarters.
ASPU forecasts they will hit positive cash flow by Q4 2022
With the current cash burn rate, ASPU will probably not have sufficient reserves to get to Q4 2022. They will need to raise some extra cash. Of course, this may mean more debt, but it could be a follow-on offering dilutive to shareholders. My independent model and research suggest they will need to raise between $5 and $6 million.
It is worth noting that management maintains that the Aspen 2.0 plan will get them to positive cash flow without the need for additional funding.
Conclusion
ASPU is a fast-growing online education company, its Aspen 2.0 business plan is seeing it pivot its offering towards the higher-margin Nursing education segment that has significant pent-up demand. ASPU is expanding its network of Nurse training facilities giving it a sustainable competitive advantage and putting in place a significant barrier to entry.
Per share valuations range from $17 using the Walden University takeover deal, $26 from SimplyWallStreet's DCF and $52 if they capture 25% of the available market.
In every case, ASPU is currently significantly undervalued having a share price of less than $5.
I opened a position on Nov 11th using leverage provided by IG markets (LON: IG) at $4.99. I intend to hold the position for approximately 12 months and have set a target price of $15.