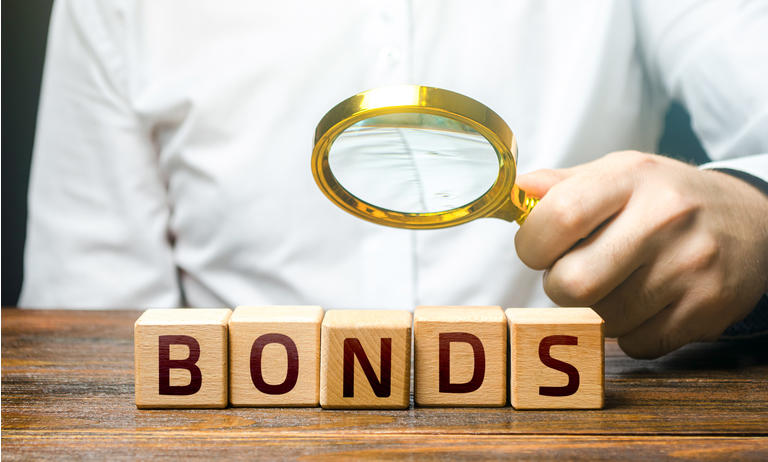 Over the years I have favored the PIMCO CEFS for obtaining some exposure to fixed income securities as the PIMCO asset management team has always been considered "world class". These funds include:
PIMCO Dynamic

Credit and Mortgage Income Fund (

PCI

) which is to be merged with the Dynamic Income Fund (

PDI

).

PIMCO Corporate & Income Opportunity Fund (PTY).
PIMCO Income Strategy Fund (PFL).
PIMCO Income Strategy Fund II (PFN).
These funds have varying degrees of exposure to high yield, non-agency MBS, non-U.S. developed and emerging market debt although tend to be more focused on the first two. They also have varying degrees of international exposure and leverage employed. Duration risk which measures the sensitivity to the NAV changes in interest rates ranges between 3.5-4.5%, so does not differ substantially.
What they all have in common is their larger than usual premiums to NAV which are at historical highs. The times that the premiums to NAV were more than 10% were in 2015 and 2019 and investors were met with some horrible pain shortly after (COVID was part of the reason in 2020). Investors of these funds recently were dealt a blow most notably on PTY which has fallen 16% since September as a result of the dividend cuts. Quite frankly I'm surprised PTY has only pulled back 14%.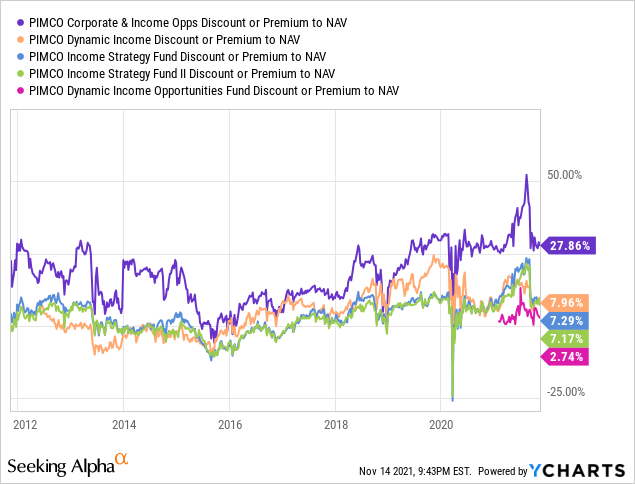 The outlier among these funds is PIMCO's Dynamic Income Opportunities Fund (NYSE:PDO) which has the lowest premium to NAV at only ~3%.
This fund's characteristics are closest to PTY in terms of international exposure, duration, and industry allocations, but also leverage (PTY: 46%, PDO: 44%, PDI: 45%, PFL: 37%, PFN: 37%). PTY is more heavily allocated to high yield credit whereas PDO is more heavily allocated to non-agency mortgages. PTY is a little less flexible with only 51% of debt maturing in the next five years whereas PDO has 63%.
PDO: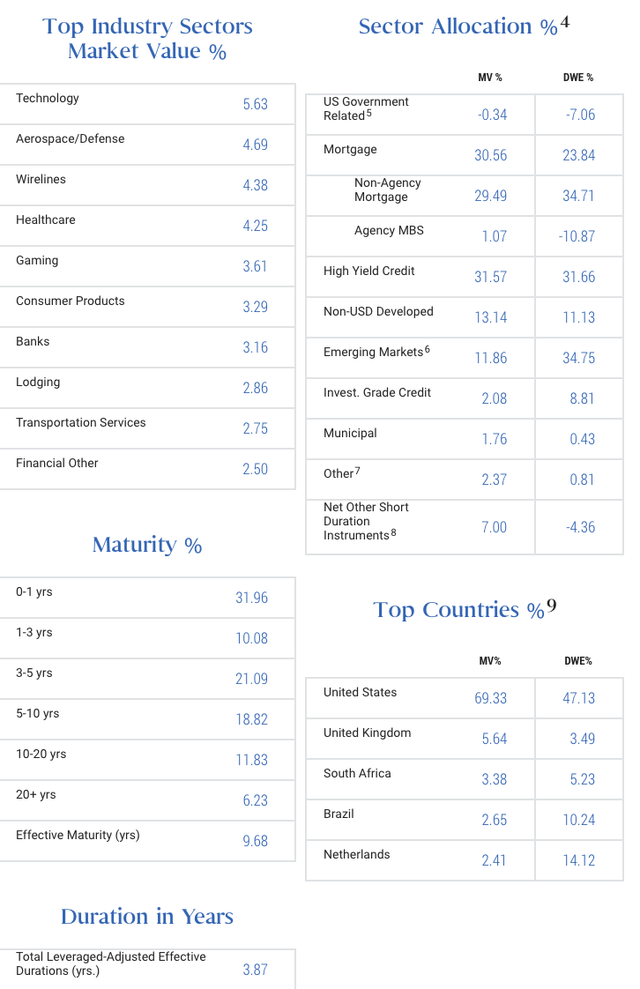 PTY: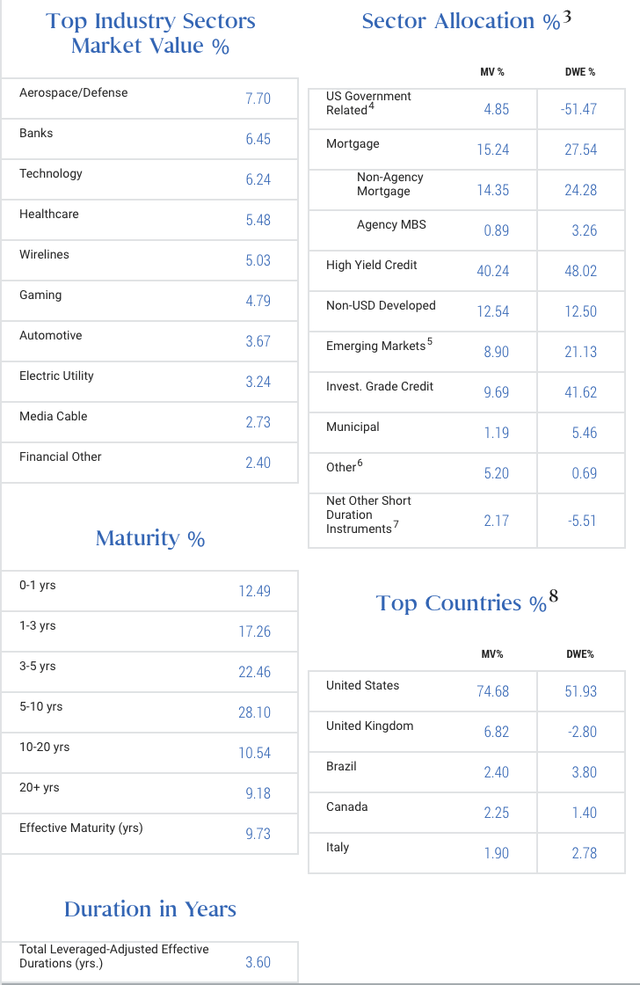 Source: PIMCO
The likely reasons for the substantial difference in their relative valuations are three-fold. One, PDO has a slightly higher management fee at 1.15% versus PTY at 0.67%. Either way, these are low fees for strong active management ability. PDO was only incepted in February of 2021 so the fund's model may be considered less proven. Two, and more importantly PDO has a unique structure in that it has a termination date of Jan. 27, 2033. Once terminated assets are liquidated and shareholders would be paid a pro-rata portion of the fund's net assets. None of PIMCO's other funds have this structure.
First of all the termination date is 12 years away, just imagine how much could change with all these funds in that time. Many investors don't even have that long of an investment horizon when it comes to fixed income investments either. PIMCO also has over 50 years managing fixed income CEFs, therefore I don't feel the assets PDO is invested in are exactly unfamiliar territory, it is just a slightly different mandate than the other funds. We will talk more about how PIMCO is best in class in the next section.
Best in Class
It may seem like the way I began this article that I am rather bearish on PIMCO. On the contrary, PIMCO has a long history of creating value for investors with a proven active management strategy.
PTY which is one of the oldest funds and has been the most successful of the funds over the last 15 years and has actually outperformed the S&P 500 over that time, although this hasn't been the case in the last 10 years as a result of low interest rates and equity performance.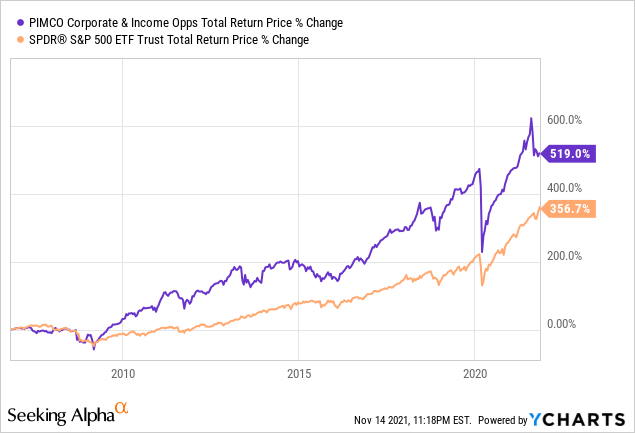 PIMCO funds have been able to create shareholder wealth by growing NAV at high enough rates to cover their distributions of 8-10% on NAV as paying out more than NAV would mean the funds are "cannibalizing" themselves.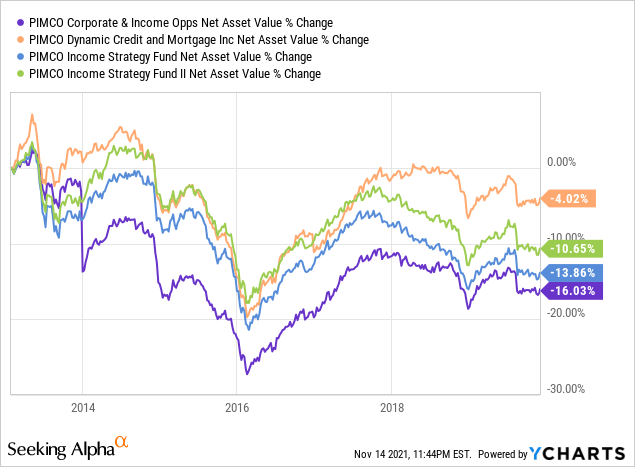 It is still early days but PDO has managed to keep its head above water with its 10% distribution on NAV throughout 2021. This doesn't mean a dividend cut cannot ensue over the next year or two as we will discuss in the next section.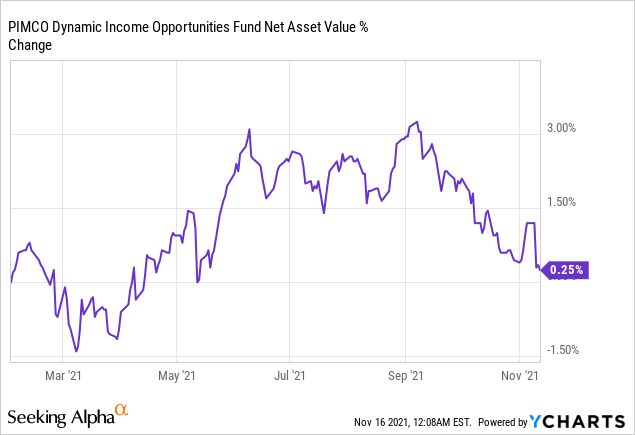 Had $10,000 been invested in 2010 in either PTY, PCI, PFL, PFN annual income would have been at least $900 per year for a minimum of a 9% yield and would have nearly made back the initial investment by now.
PTY:

PCI:

PFL:

PFN:

Source: Portfolio Visualizer
As you may have noticed the distribution is very volatile as interest rates have as much a say if not more on NAV growth than management skill.
Fixed Income Investments Have Become a Hostile Battleground
Assets of all kinds have been bid up at as rapid a pace as we have ever seen causing credit spreads to tightly compress, which makes it difficult for even the pedigree of PIMCO to find opportunities that can increase NAV at 8-10% annually which is required to maintain the current distributions. As mentioned previously, PIMCO has already cut distributions on PTY, PFL, and PFN. Although no cut has been more than 10% of the previous level, those who bought PTY in August at its highs of ~$21.50/share will see their expected yield drop from 7.2% to 6.6% and give up over two years' worth of the current distribution when the price pulled back 16% and this is assuming no further cuts.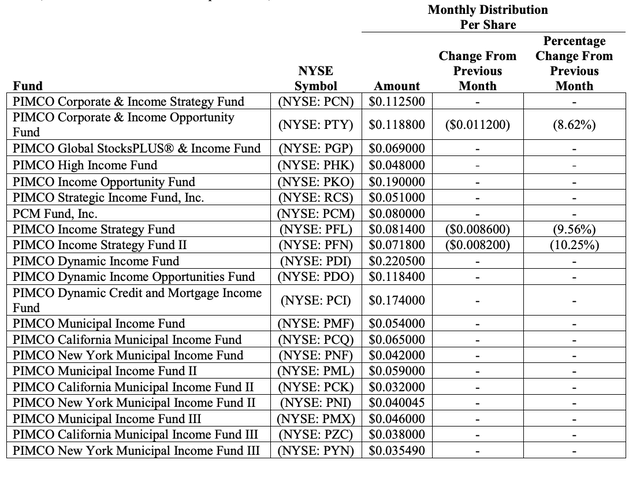 Source: September 2021 Press Release
According to a Reuters poll, forty of sixty-seven economists said the fed funds rate would rise from its current level of 0-0.25% in 2023 or later, with most clustering around the first quarter of that year. The remaining 27 economists expect a rate hike by the end of 2022.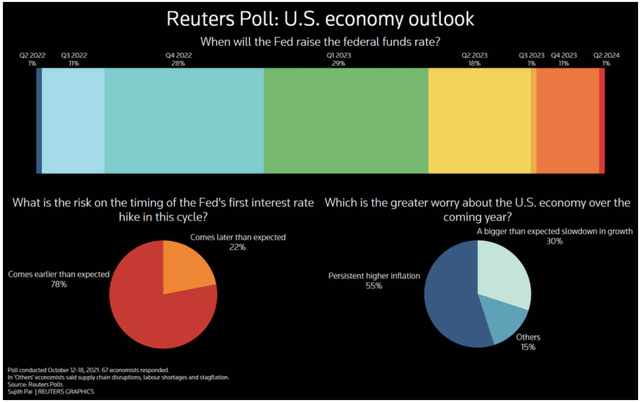 Twenty-nine of the thirty-seven economists who responded said the risk for the timing of the Fed's first interest rate hike was that it could come earlier than they expected. Inflation has risen faster than expected as a result of a combination of pent-up consumer demand in a reopening economy and global supply chain disruptions caused by the coronavirus pandemic causing shortages of inventories.
Inflation across a broad swath of products that consumers buy every day was even worse than expected in October, hitting its highest point in more than 30 years. The consumer price index, which is a basket of products ranging from gasoline and health care to groceries and rents, rose 6.2% from a year ago, the most since December 1990. That compared with the 5.9% Dow Jones estimate.

Source: CNBC
The Fed is expected to at least begin tapering its bond purchases in the next month as it has been buying $120 billion in bonds on a monthly basis.
Twenty-two of the 40 economists who responded to an additional question on the Reuters poll said the greater worry for the U.S. economy over the coming year was persistently higher inflation, and 30% of them said it was a bigger-than-expected slowdown in growth. Economic growth is expected to be modest over the next three years (4.0% next year, 2.5% in 2023, and 2.2% in 2024).
Former Federal Reserve economist Stephen Roach takes the polar opposite view from the FED and has stated the only way to nip concerns of stagflation in the bud is with immediate rate hikes. Stagflation is more concerning than inflation as it is increasing price pressure in the face of slowing economic growth.
They're in denial. They continue to harbor the view that these are transitory Covid-related rebound effects. I would just put the burden of responsibility on the Fed. The longer they defer a more meaningful monetary tightening, the great the risks of stagflation. The level of aggregate demand is much, much stronger than the Fed had thought when assessing inflation prospects in recent policy meetings. The Fed has its priorities wrong. They need to raise rates first and worry about the balance sheet later. They need to use the most impactful tool they have, not the least impactful tool, which is the balance sheet.

Source: CNBC
The exact timing of a rate rise is unclear. That being said, we are extremely likely to see considerable rate rises within the next 1-3 years as a means to stop considerable shockwaves from going through the economy that has the potential to wipe out people's life savings. All funds discussed in this article including PDO have at least 60% of their bonds maturing after three years. PFN has almost 80% and an effective duration of almost 4%, meaning a 1% rise in interest rates would reduce NAV by that amount. As mentioned previously these funds all have effective durations above 3.5%. What this means is it will take some exceptional managerial skill to find opportunities just to maintain the dividends which currently yield 8-10% on NAV.
Concluding Remarks
PDO may have the lowest dividend yield of the funds discussed, however giving up that extra 80 bps by picking PDO over PTY could be well worth it if there is another dividend cut that could easily wipe out that premium to NAV. Remember at the current price of ~$18.50 per share you are paying almost four years' worth of the current dividend for the premium and that could easily become five or six years if further cuts ensue. The extra 200 bps may seem well worth it to go with PFL or PFN but the cost of that premium is almost one year of the current dividend.
| | |
| --- | --- |
| CEF | Forward Dividend Yield |
| PTY | 7.7% |
| PDI | 7.8% |
| PFL | 8.9% |
| PFN | 8.7% |
| PDO | 6.9% |
As we can see the long-term outlook appears very risky for all funds but PDO's modest premium to NAV allows for substantially more downside protection relative to the other funds and provides the cheapest means to gain access to the pedigree of PIMCO's asset management. This does not mean the dividend will not get cut, but if it ensues the loss will likely feel like a paper cut relative to the hemorrhaging that could ensue on the other funds.