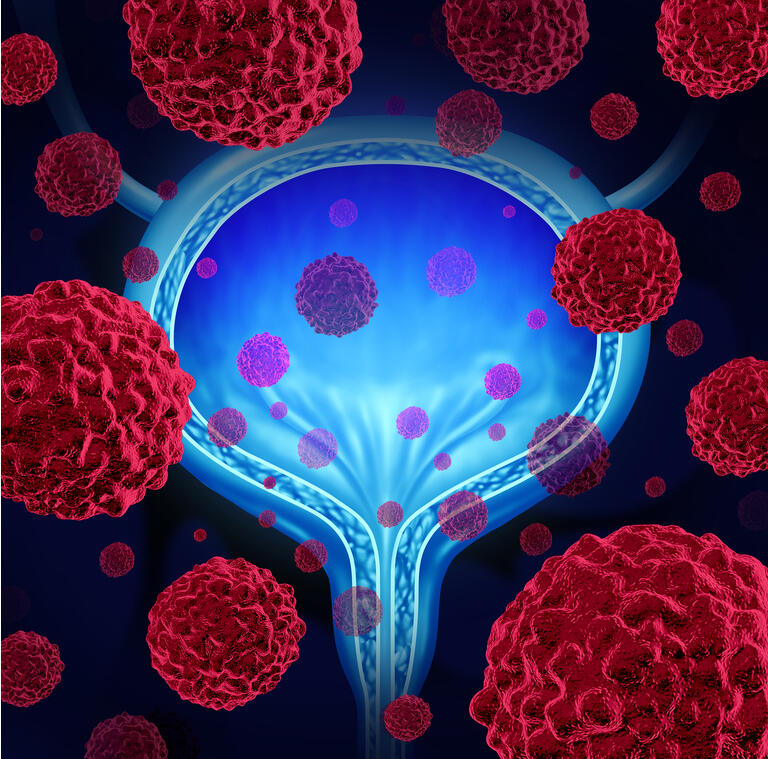 Sesen Bio, Inc. (NASDAQ:SESN) suffered a setback in Q3 2021 after the US Food and Drug Administration (FDA) failed to approve its Biologics License Application (BLA) for Vicineum. The FDA questioned the current form of Vicineum as noted in the complete response letter (CRL). In addition, Sesen pulled out its marketing authorization application (MAA) to the European Medical Agency (EMA) for Vyseneum. This withdrawal was expected since the US served as the prototype for expansion into other parts of the world including Europe.
Thesis
In light of the FDA decision and with the clinical Type A meeting expected in Q4 2021, Sesen Bio may have it easy seeking revalidation for Vicineum as a treatment for bladder cancer. In this article, I will explain why I am upgrading my rating of Sesen Bio to buy from hold with a critical assessment on the historical evidence that guided the FDA's decision.
Benefit-risk Investigation
Prior to the FDA's disapproval of Sesen's BLA for Vicineum (a "treatment of BCG-unresponsive non-muscle invasive bladder cancer" (NMIBC) the Agency had published a warning letter to a former investigator handling the company's Phase 3 Vista Trial. Sesen had discontinued the services of the investigator by 2017 and even closed the clinical site used in the trial.
The FDA published the warning letter on October 27, 2021, just 2 days before CMC Type A meeting- a move that adversely affected the share price at the time. It dropped 11.11% YTD.
The company termed the CMC Type A meeting as productive since it aimed at discussing the Chemistry, Manufacturing and Controls (CMCs) identified in the FDA's BRL. Notable in the announcement is the fact that the FDA confirmed that the Vicineum utilized in the proposed commercial process was comparable to the Vicineum produced in the clinical trial (used in the past including the trial applied in 2017).
Ahead of the Type A meeting, the burden of proof will be on Sesen's side to show whether the Vicineum manufactured during the trial was not part of the fraudulent study's investigation. In my view, Sesen will have an easy time since records show that the company informed the FDA of the investigator's misconduct and was quick to cut ties immediately after 2017.
Upon closure of the clinical facility, in 2017, 5 patients were already on post-treatment follow-up. Their health was not interfered by the investigator's actions. However, in the CRL, the FDA indicated particular clinical, statistical data and CMC that needed to be included to determine approval of Vicineum's quality.
Heading into 2022, Sesen will work to explain the drug substance of their lead product, manufacturing, reference standards and microbiology that determine its non-interference (post-2017). This investigation will turn out to be integral in getting the FDA's approval especially when demonstrating comparability of the drug analysis- before and after 2020. Sesen is preparing a randomized study to actualize this approval.
In the Q2 2021 business update, Sesen's CEO- Dr. Thomas Cannell noted that if the FDA would request for a new registration trial, then the company would consider the clinical guidance from February 2018. This study is post-2017 with at least 12 months of data and sample design of 90-100 patients as required by the FDA.
Effect on the Share Price
In the past 5 years, Sesen Bio's stock price has declined 54.20% due to the effect of the fraudulent investigation.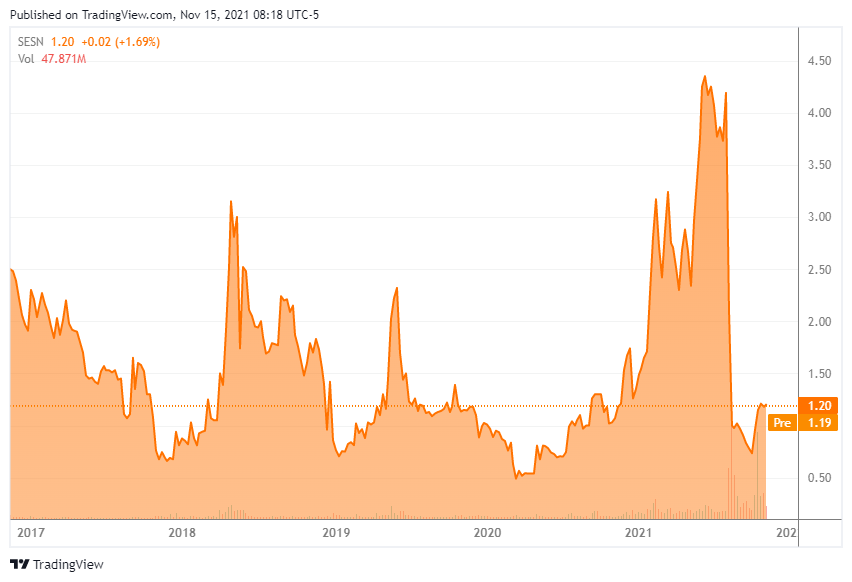 Source - 5-year Chart of Sesen Bio stock
Progressive management has seen the share price jump 11.11% since November 2020.
Dr. Cannell took office in August 2018 and he brings a myriad of experience both in drug development and in product commercialization. He was the Chief Commercial Officer at Orexigen Therapeutics where he worked for 3 years and 7 months. Before that, he worked at Merck (MRK) for 28 years heading the commercialization, consumer marketing and sales department. Merck's market cap is currently at $211.09 billion with investors earning a dividend yield of 3.11%.
Like Sesen Bio, Merck is also engaged in the protein therapeutics market. This market is expected to grow at a compounded annual growth rate (CAGR) of approximately 6% from 2021-2016.
Merck announced that the FDA had approved KEYTRUDA (pembrolizumab) together with Chemotherapy as a treatment for patients with cervical cancer. The disease can be treated using the drug whether it is persistent, recurrent or metastatic. Patient data indicated that the use of KEYTRUDA demonstrated stronger survival rates, whether bevacizumab was incorporated or not.
What is Vicineum's efficacy?
I agree with Sesen's study showing high-prescribing urologists would use a treatment agent branded with Vicineum in more than 80% of the BCG-unresponsive NMIBC patients as opposed to 17% with Keytruda.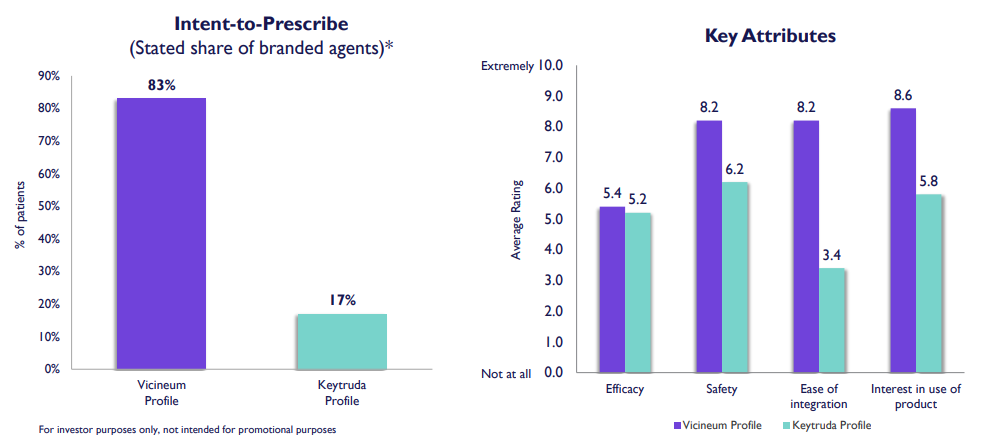 Source: Sesen Bio
Vicineum boasts of a stronger efficacy, safety and ease of integration as compared to Keytruda.
A recent (single-arm) study presented to the American Urological Association (AUA) Annual meeting of 2021 showed a positive response to treatment among patients with BCG-unresponsive NMIBC.
The (single-arm) study involving 12 patients exhibited a complete response (CR) rate of 42% in patients treated over 3 months. Patients treated over a 12-month period had a CR of 17% among patients with BCG-unresponsive NMIBC. An amalgamation of durvalumab (Imfinzi) and Vicineum (oportuzumab monatox, VB4-845) was used in this treatment.
Patients had a stronger toleration of the Vicineum and durvalumab mixture with no new safety signals identified. Durvalumab- a product of AstraZeneca (AZN) was shown to increase survival chances in biliary tract cancer (BTC) patients. The maximum-tolerated-dose (MTD) in this study was 30 mg of Vicineum in 50-ml of saline water.
Vicineum was administered via intravesical therapy (within the bladder) weekly for the first 12 weeks (at 30 mg) while durvalumab was intravenously given on a monthly basis at 1500 mg (every four weeks) for a period of 52 weeks.
Expansion of clinical teams
To further strengthen its mission of using Vicineum to treat BCG-unresponsive NMIBC, Sesen Bio expanded its CMC and clinical teams with new employments in the analytics and clinical dockets. The new hirings that included Eun Jang- Senior Director in charge of Analytical Sciences and Cherie Kaefring, Director and Head of Clinical Operations will be integral in following up the Clinical Type A meeting expected in Q4 2021.
After completing its BLA in December 18, 2021 (in the US) Sesen expected the FDA to accept it by Q1 2021. It was later to be approved by August 18, 2021 that would make the product available by Q4 2021. In essence, if the FDA had approved the BLA in Q3 2021, Vicineum would have been commercialized by mid-2022. In my view, a successful resubmission of the BLA by 2022 will see Vicineum begin its commercialization by mid-2023.
Current Financial Position
As of Q1 2021, Sesen's cash and its equivalents had surged 100% from $55 million (in Q4 2021) to $110 million. The stock price had also increased 93% from $1.35 (as at December 31, 2020) to $2.60 by March 31, 2021. Prudent utilization of funds had seen the company close the quarter with no outstanding debt. The market cap also soared 135% from $190 million to $447 million but has since declined close to 47% to $239.36 million as of Q3 2021.
By Q3 2021, Sesen's cash position had increased 59.09% to $175 million (as of September 30, 2021). The reduced engagement in Europe following the suspension of the MAA review will see the company save up to $5.7 million in cash costs (even as it executes a plan to retain employees).
A consideration of the past financial performance will help us ascertain whether Sesen will survive in the future as it awaits FDA's approval of the Vicineum. In Q1 2019, Sesen Bio's cash and its equivalents stood at $42.4 million (a 15.87% decline from $50.4 million recorded in Q4 2018).
Despite the lack of revenue at the time and with a net loss of $6.5 million, Sesen Bio was able to fund its operations into 2020. Q3 2021 has seen Sesen's net income jump 382.28% from a net loss of $25.4 million in Q2 2021 to a net income of $71.7 million.
Sesen Bio is able to fund its capital operations including R&D until 2023 when it is expected to begin commercialization of Vicineum.
Bottom Line
As a late-stage clinical company, Sesen Bio has demonstrated its ability to push through with Vicineum's approval by the FDA. Its focus on the American market as a proto-type before expansion will help it to unlock other markets including Europe, China and the Middle East. The company's new hires in the clinical and analytics department will help identify challenges that prompted the FDA to reject the BLA. Additionally, we find that the fraudulent investigator dismissed in 2017 informed the FDA's decision to disapprove the BLA in 2021. The burden of proof will be in organizing a new registration trial from 2018 that will prove Vicineum's efficacy. Finally, urologists are seen to have a stronger recommendation for Vicineum as compared to Merck's Keytruda that was recently approved by the FDA in the treatment of cervical cancer. With these reasons, I believe that Sesen Bio is a buy and hold.