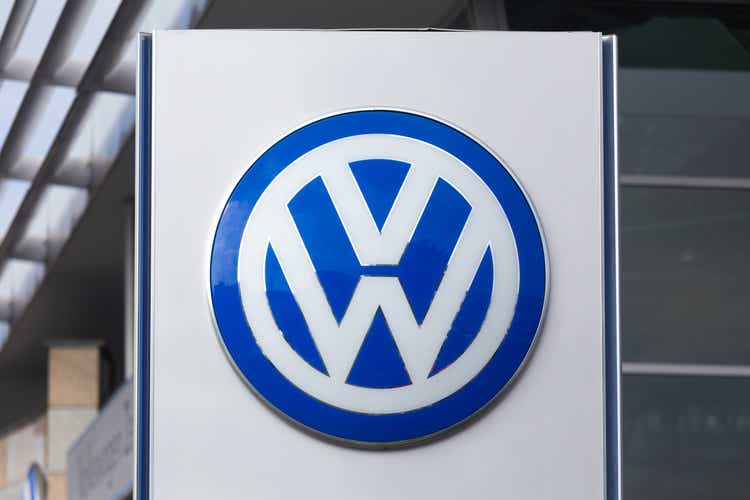 Mr. Market Is Both Uninformed & Irrational
Mr. Market is a peculiar man. He is short sighted and often lacks information. He tends to trade on emotion and/or misinformation. He mostly looks to the short term and does not have the ability to peer into the future. We can profit from this.
The main take away of this article is the recent events surrounding Nano One (OTCPK:NNOMF) amount to little when you view the company from a longer time frame. Dare to ponder that Nano One has three potential automotive deals in place. Ask yourself what happens if just one of the three blossoms into a stream of revenue?
Nano One: A Hard To Understand Stock
Nano One is not a simplistic stock like a typical lithium miner. They are complex and have several deals that are not fully transparent as NDA's are in place. This muddies the waters. For some clarity on what Nano One actually does please view: The Nano One One-Pot process is explained and Nano One M2CAM Explained
Adding to that, people rarely are thinking about the future and asking what does the world look like in 5 years or 10? This short sighted viewpoint is our advantage. After reviewing recent positive and negative events, the most important question posed is "Can the company convert multiple automotive deals into revenue"?
Looking at the short term view I will reiterate this: The recent events concerning Nano One are a big ol' nothing burger in the grand scheme of things. People are making a huge deal out of minor negative events. No the sky is not falling.
Big Picture Overview - Automotive
Before we delve into details of recent events, we need to focus on what we know and what is most important. Nano One potentially losing a six month old contract with struggling British company Johnson Matthey (OTCPK:JMPLY) is not anything to get into a hissy fit about. However, when I ponder the impact that multiple automotive contracts might have on Nano One's market cap of $327 million --- the result could be interesting. Additionally, I view Volkswagen as a potential wild card.
Connect The Automotive Dots
Looking at the automotive deals, we see the following two deals with a Volkswagen (OTCPK:VWAGY) (OTCPK:VWAPY) wild card:
(Source: Nano One - November Presentation)
Deal #1 - Global OEM
The first potential deal is with an undisclosed "Global OEM" - They are exploring Nano One technology for the car market.
Nano One's CEO, Mr. Dan Blondal, is pleased to announce that Nano One has entered into an agreement and has received a purchase order in the amount of CDN$550,000 from a Global OEM (Original Equipment Manufacturer) to jointly evaluate processes and innovative cathode materials for high energy density lithium ion batteries in automotive applications.
(Source: Nano One - Jun 20, 2019)
Then we see a follow up PR in the form of "Nano One enters agreement with global automotive company to develop and evaluate manganese rich batteries" dated Sept 30, 2021. This is in relation to the above Global OEM deal.
Per the below, we have the completion of the LNMO (Lithium Nickel Manganese Oxide) batteries R&D. Then they are advancing to phase two which is an MOU (memorandum of understanding)
Nano One is pleased to announce that it has completed a project with a global automotive OEM (Original Equipment Manufacturer), that was first announced on June 20, 2019 and the two parties have signed an MOU to evaluate manganese rich cathode materials for potential use in automotive scale battery cells.
The completed project successfully demonstrated the synthesis, performance and improved durability of a proprietary and experimental nickel rich cathode formulation, using Nano One's patented One-Pot process. Nano One has built on this success and has now signed an MOU with the same OEM for the multi-phase development and evaluation of LNMO (Lithium Nickel Manganese Oxide) batteries using cathode materials prepared by Nano One. Work under the MOU will include performance testing, economic feasibility and future potential commercial collaboration for jointly developed battery cells using Nano One's advanced LNMO cathode materials.
"This latest development in our relationship comes on the back of several years of collaboration and test work on a range of Nano One cathode materials," stated Dr. Stephen Campbell, CTO of Nano One, "and it is a testament to our team, technology and collaborative spirit. Our innovation engine led to an advanced LNMO cathode material with demonstrated benefits that has attracted the attention of global OEMs and materials companies."
LNMO, also known as high voltage spinel (HVS) has great potential in next-generation lithium-ion batteries for electric vehicles, renewable energy storage and consumer electronic devices. It delivers energy and power on par with other high-performance cathodes and is cost effective because it is cobalt free, low in nickel and does not require excess lithium.
LNMO's three-dimensional spinel structure enables lithium ions to flow more quickly than other types of cathodes for fast charging and discharge and keeps it from expanding, contracting and straining the battery in both liquid and solid-state battery systems.
LNMO also has an operating voltage that is 25% higher than commercial high nickel cathodes, enabling fewer cells in applications such as power tools and electric vehicles while providing improved productivity, efficiency, thermal management, and power.
(Source: Ceo.ca - Sept 30, 2021, emphasis added by author)
Deal #2 - American Based Multinational Auto Manufacturer
The second deal is with an unnamed American multinational auto manufacturer.
"Nano One has entered into a cathode evaluation and benchmark agreement with an American based multinational auto manufacturer to jointly evaluate Nano One's cathode materials for automotive lithium ion batteries. Financial compensation towards the project is confidential."
"The goal of this project is to evaluate the performance and commercial benefit of Nano One's patented One-Pot process for nickel rich and cobalt free cathode materials in electric vehicle applications," said Ms. Hamutal Ben Bassat, VP of Business Development for Nano One. "This agreement formalizes efforts that began earlier this year and aligns Nano One with its second major automotive company. These are formative steps in developing a long term relationship. We are confident that given economic viability it will lead to commercial opportunities and strategies to integrate Nano One's technologies into the electric vehicle value chain."
(Source: Nano One - Dec 18, 2020)
Then we see a follow up PR release dated Aug 17, 2021 concerning this project which reads "Nano One adds industrial scale engineering study to automotive project". I want you to read this very slowly and focus on the content.
"Nano One announced a cathode material evaluation program with a multinational automotive company last year and is now pleased to report that progress has led to an expansion of their joint project. The expanded program will include an engineering cost model report on the industrial scale production of nickel rich cathode materials to supply a full-scale automotive battery cell assembly plant."
"The additional scope will examine the economic, environmental, and engineering details of industrial production. The report will be prepared by Hatch, based on the engineering study being prepared for Nano One, and will include a Front-End Loading level 1 (FEL1) analysis on capital costs, operating costs, and a cost comparison of the Nano One process versus the conventional cathode material manufacturing process."
"The report will enable the companies to evaluate both the economic and environmental advantages of Nano One's patented One-Pot, Metal to Cathode Active Material (M2CAM) and coated nanocrystal process technologies at large industrial scale. This work runs in parallel to the ongoing performance testing and validation work on Nano One's nickel-rich and manganese-rich cobalt free cathode materials."
"We are pleased to be advancing the relationship with our OEM collaborator," stated Mr. Dan Blondal, CEO, "and evaluating the economics and environmental advantages of Nano One's process technology at automotive scales. It is clear from developments over the past year that the pace of change is accelerating, and the target manufacturing scale is many times what it was only a couple of years ago."
"The name of the automotive OEM and details of the project remain confidential in accordance with the terms of the agreement."
(Source: Ceo.ca Aug 17, 2021, emphasis added by author)
The takeaway here is that massive automotive companies are deep in bed with Nano One.
Speculation - A Third Car Deal With VW
When you read the automotive section above, you clearly read about the two deals. Yet, on the below graphic we see three automotive deals (or do we?)
(Source: Nano One - November Presentation)
(Source: Nano One - November Presentation, emphasis and highlights from author)
Looking at the timeline; sorting out dates; wading through various NDA laced PR's; I think I have a grasp of how this is structured. I assess that we might have two official deals in place (with a wild card of Volkswagen on the side).
(Source: Nano One - November Presentation)
Volkswagen - A Possible Deal
Volkswagen is not some scrappy EV company with an absurd market cap such as Rivian (RIVN). No, they are the #1 carmaker on planet Earth as of 2021 at $254 billion in revenue. Say that slowly, $254 billion in revenue. Striking a deal with a company the size of Nano One would be a rounding error for them.
However this is just my guess. Nano One could be in bed with someone else so take this section as just that: Speculation on my part. We do know for a fact though that Ford and Volkswagen are working together in an alliance of sorts. We do not know for a fact if the Nano One deals are part of this alliance.
(Source: Motor1.com)
Reviewing the links above, it is of interest that the partnership between Volkswagen and Ford is quite massive. Looking at the graphic, they are in bed with each other:
"Ford Motor and Volkswagen plan to share production of 8 million commercial vehicles as part of an expanded alliance between the two automakers." along with "The deal, which is expected to drive billions in cost efficiencies between the two companies, was initially announced in January 2019. It was then expanded roughly a year ago to include other aspects such as electric vehicles, among other products."
(Source: CNBC.com, emphasis added by author)
It makes me wonder if this alliance of Volkswagen and Ford might extend further out and involve Nano One at some future date? This is just idle speculation, however.
Nano One Financials & Burn Rate
For any company not producing revenue we need to look at burn rate & cash.
(Source: Nano One - Financial statements from Sept 30, 2021 via Sedar, highlights from author.
We can calculate a rough burn rate of $11.8 million per year using the numbers above. It is evident that Nano One has plenty of cash along with very little debt. Eventually they will have to raise additional capital or bring deals to revenue producing status.
Now it's time to shift this article. I've made my point concerning the various automotive deals. This brings us to Nano One shifting focus to North America with its LFP (Lithium Iron Phosphate) battery tech and the unexpected potential loss of the six month old British deal.
Unsuccessfully Coping With The Natural Beauty of "Nothing Burgers"
With any company working on multiple deals simultaneously, some will pan out to be incredible success stories. Other deals may linger then die a slow death. While Nano One has many deals in place, two fell by the wayside within just a few days and in a moment of unabated terror investors sold off stock concerning a massive "nothing burger".
The news had an adverse impact on the stock with volume at 600% the daily average on the 14th and the drop being around 32%. Let's explore further details of what occurred and see if the drop makes any logical sense or is just reverse momentum and fear taking its toll.
Now it is possible the JM deal will continue. If a company were to acquire the assets one might assume they would pick up the Nano One work completed and run with it via a new deal but that remains to be seen.
(Source: Google Finance)
Nano One Exits the Chinese Pulead Partnership
Nano One made the decision to pull out of the deal with Chinese company Pulead. While on the surface this appears to be a step back, I view this as a positive action. The aggressive stance of China concerning its neighbors (combined with the total and complete lack of respect for patents and intellectual property) deeply concerns me. In the past I have been directly involved in trying to hinder I.P. theft which can be accurately characterized as a continual game of Whack-a-Mole. Take down one infringing I.P. and another pops up for the exact same property. U. S. laws are an integral part of the problem (at least from the standpoint of willful infringement on the part of online stores in the U.S.), but that in itself would require expounding in a small chapter and is far outside the scope of this article. Interesting digressions aside, I find Nano One exiting China as a good thing and here is why.
Nano One Is Going To Help Build A North American Lithium Supply Chain
I'll step out on a limb and do some guesswork. Nano One is joining a consortium called "Accelerate" whose goal is to advance the North American lithium supply chain. Per Nano One:
"As the transition to clean energy and battery electric vehicles unfolds, there is a once-in-a-generation opportunity to create a secure and cost competitive supply chain that is domestically integrated with a low environmental footprint. In response, Nano One is shifting its LFP strategic direction to large emerging markets outside of China, starting in North America, and has ceased joint development activities with Pulead Technology Industry." - Per Nano One CEO, Mr. Dan Blondal
(Source: Nano One)
When I consider the global lithium supply chain and shipping lithium primarily to China for conversion, it makes little sense from a strategic viewpoint. The logistics of shipping lithium back and forth make even less sense. What strikes me as logical would be to build out a domestic industry for lithium conversion and cathode production.
Hence, you would not be at the mercy of China from a strategic viewpoint. In the past, China has been quick to threaten to cut off supply of critical elements (including rare earth elements). Would China threaten lithium processing and cathode production during a crisis as a political bargaining chip? It is possible.
Securing domestic lithium conversion and cathode manufacturing constitutes a solid and wise move from both an economical and national viewpoint. The market is missing this point.
Johnson Matthey Exits The Battery Business
A mere six months ago Nano One announced the beginning of a battery deal with Johnson Matthey. Frankly, I had never heard of them, but a deal's a deal and it was welcomed. The market reacted to the news with a mere shrug and brushed it off as minor. However, upon Johnson Matthey pulling out of the battery sector, Mr. Market viewed this along with the China news as an evil omen. In response, the stock took a rather sharp dive. Shortly after this news I started seeing messages asking:
(Source: Author)
These messages could be shorts playing games or it could be people that are simply confused. Either way the answer is no, Nano One is not exiting the battery business in the broad sense of the term involving lithium technology.
Johnson Matthey To Sell Off Assets
Additionally, Johnson Matthey is going to try to sell the battery division and it is possible the Nano One deal continues with whomever purchases those assets. Time will tell.
Conclusion: Mr. Market Is Ignoring The Big Picture
Mr. Market is missing the big picture. Is Johnson Matthey exiting the battery business positive news for Nano One? No, but a better question would be "Does it matter in the big picture?" The answer is no. Losing a six month old contract that never really started is a nothing burger.
The important factor for Nano One is multiple automotive deals with companies whose markets are counted in the hundreds of billions are progressing. Second, Nano One is shifting some of its focus to the North American lithium refining and cathode sector via a North American alliance that is forming. Lastly the Johnson Matthey deal might still have life in it albeit under the auspices of a new owner.
In conclusion: This is a pure buy and hold given the massive worldwide economic shift to EV.
Extra Resources Concerning Nano One