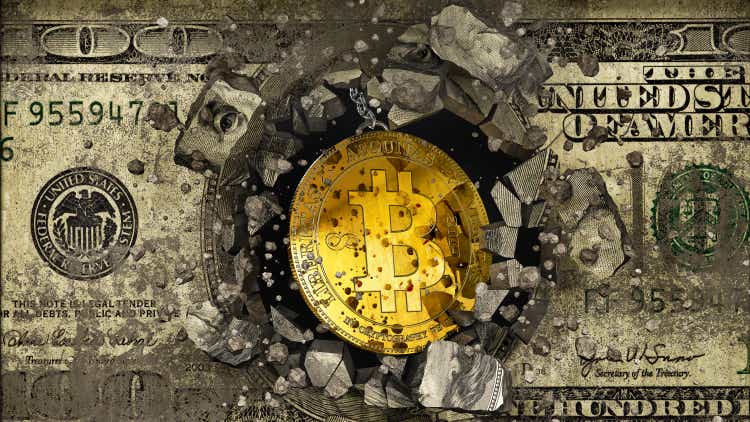 After a 50% move higher in the month of October, Bitcoin (BTC-USD) has desperately needed a pullback. Now roughly halfway through November, market players have graciously been given that pullback. While I've spent time in the last year covering numerous crypto assets like Litecoin (LTC-USD), Bitcoin Cash (BCH-USD), Ethereum (ETH-USD), Basic Attention Token (BAT-USD), and ZCash (ZEC-USD), it has been over a year since I've covered Bitcoin as the sole focus of an article. I believe it's a good time to revisit my thoughts on BTC and highlight some of the reasons why I'm looking to stack more sats on a deeper pullback.
Impending DeFi Regulation
Last week, Caroline Crenshaw of the Securities and Exchange Commission published a statement on the agency's position regarding DeFi and hinted at a crackdown in the DeFi space that is likely near. While the entire article is worth a read, in my opinion the most telling component of the piece was probably this one:
That being said, for non-compliant projects within our jurisdiction, we do have an effective enforcement mechanism. For example, the SEC recently settled an enforcement action with a purported DeFi platform and its individual promoters. The SEC alleged they failed to register their offering, which raised $30 million, and misled their investors while improperly spending investor money on themselves. To the extent other offerings, projects, or platforms are operating in violation of securities laws, I expect we will continue to bring enforcement actions. But my preferred path is not through enforcement, and I do not consider enforcement inevitable. Broad non-compliance that necessitates numerous enforcement actions is not an efficient way to achieve what I believe are shared goals for DeFi. The more projects that voluntarily comply with regulations, the less frequently the SEC will have to pursue investigations and litigation.
She's essentially telling those who operate in the DeFi space who haven't registered or taken necessary steps to comply with the agency that life could be getting more expensive pretty soon. While there may understandably be concern in the decentralized finance space regarding what the SEC has planned from a regulatory perspective, I think any forthcoming action that could be perceived as a DeFi crackdown could actually shift funds into assets like Bitcoin. For one, the SEC doesn't classify Bitcoin as a security, rendering it out of the agency's jurisdiction.
Beyond that, it's difficult for me to believe those who have funds locked in yield-bearing assets like stablecoins or various exchange tokens will move that wealth back to dollars if forced to liquidate. A large part of the crypto movement comes from an anti-fiat philosophical position. I would wager those generating interest on something like USCoin (USDC-USD) are more likely to move over to other crypto assets in a pinch as opposed to fiat currencies that are bleeding purchasing power. Given this admitted assumption, I think Bitcoin would do fine in a DeFi crackdown.
Seasonality says buy
While it goes without saying that past performance is not an indication of future gains, Bitcoin has a pretty strong history of nice returns in the fourth quarter of the year.
| | | |
| --- | --- | --- |
| Quarter End Date | BTC Close | Change |
| 2017-12-31 | $14,156 | 226.3% |
| 2020-12-31 | $29,002 | 168.8% |
| 2019-06-30 | $10,817 | 163.5% |
| 2017-06-30 | $2,481 | 131.5% |
| 2021-03-31 | $58,919 | 103.2% |
| 2015-12-31 | $431 | 82.4% |
| 2017-09-30 | $4,339 | 74.9% |
| 2016-06-30 | $673 | 61.6% |
| 2016-12-31 | $964 | 58.1% |
| 2020-06-30 | $9,138 | 41.9% |
Data source: Yahoo Finance, daily closing prices
In addition to the top two spots, four of the top ten best quarters for BTC going back to Q1-15 are fourth quarter performances. If we take the view that Bitcoin began another secular bull market in 2020, then it isn't unreasonable to expect another positive Q4 to end 2021.
Bitcoin's previous secular bull ended with a Q4 blow-off top in 2017. That run began after the asset bottomed in August of 2015. As you can see from the table above, Q4 2015, Q4 2016, and Q4 2017 were very impressive quarters during that bull run. Then BTC entered a 2 year bear market before making a COVID crash bottom in March of 2020. If, like me, you believe March 2020 was the beginning of a new secular bull market, then there could be a considerable amount of upside remaining through 2022.
Also, there's a bit of a history between Bitcoin and the Thanksgiving holiday. Now that we have numerous celebrities endorsing crypto exchanges and Bitcoin itself, I think BTC will be a topic of conversation at the dinner table yet again this year.
Bitcoin ETFs! meh
This might surprise some readers, but I couldn't care less about Bitcoin ETFs. And I also don't think Bitcoin ETFs are the market-moving forces that some may think they are. Case in point, Bitcoin hasn't really done all that much since The ProShares Bitcoin Strategy ETF (BITO) launched last month. We now have a couple of other Bitcoin futures ETFs through Van Eck (XBTF) and Valkyrie (BTF). According to the figures from Decrypt, the assets under management for all of these futures ETFs combined a little over a billion dollars. This is underwhelming to me considering Grayscale has nearly $40 billion under management through its Bitcoin Investment Trust (OTC:GBTC).
To be fair, Grayscale's fund has been on the market far longer than these futures ETFs, but I don't think investors who want Bitcoin in a retirement account have to wait for a spot or a futures ETF to do so. You can buy Grayscale funds in a Roth. You can work with a custodian like Kingdom Trust (not an endorsement, I have no account with them). There are ways to get tax advantaged exposure to Bitcoin and other cryptos without needing an ETF.
Charts
Members of my website/Substack have been directed to the 8-week and 20-week moving averages for important pivot points and support/resistance areas. I'm still very much encouraged by what I see in those averages. Not only are both lines still screaming higher with no sign of topping, but we have yet to produce a new overbought RSI high on the weekly chart since revisiting the 20 week moving average back in September.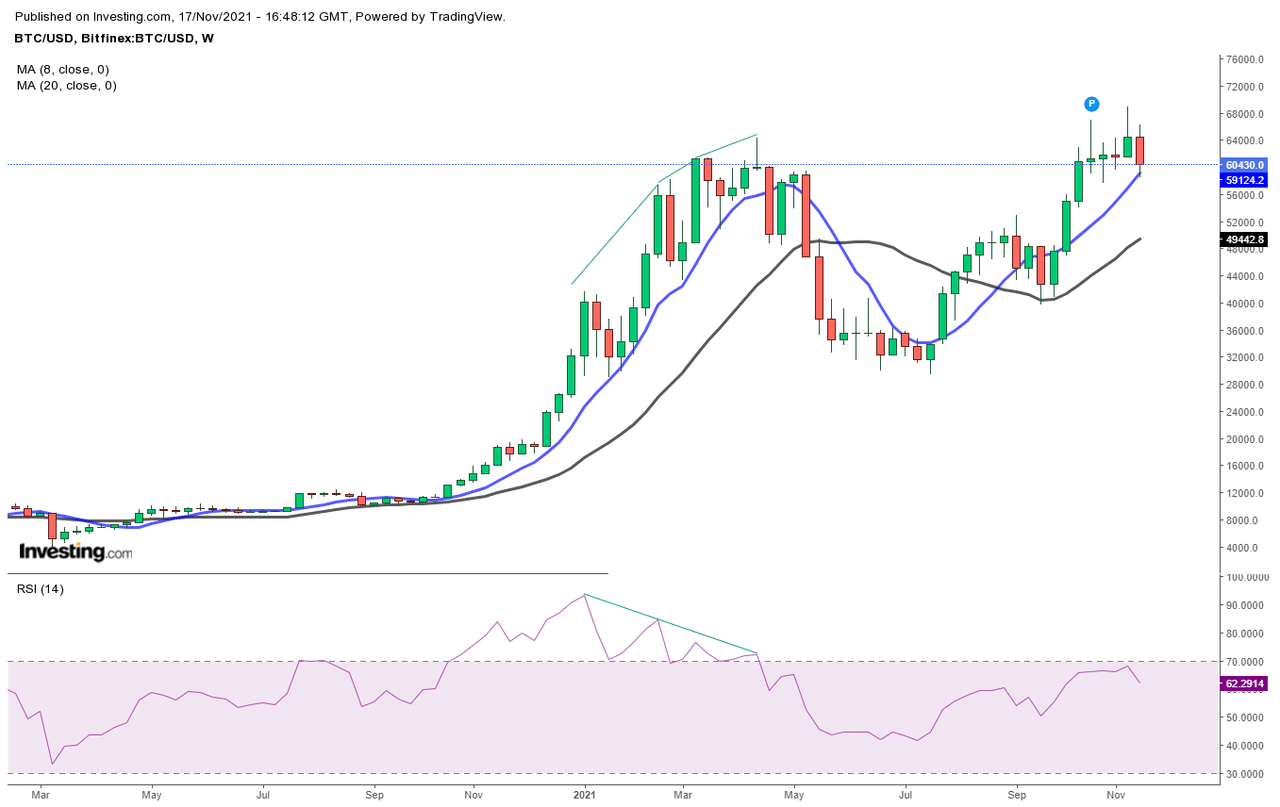 You can see in the image above that we had several bearish RSI divergences on the weekly during the massive runup late last year and in early 2021. We don't have that situation playing out this time. Furthermore, if we go back to the last secular bull market to look at how these averages behaved in Q4-16, we can see a bullish cross in the 8 and 20 weeks in that quarter.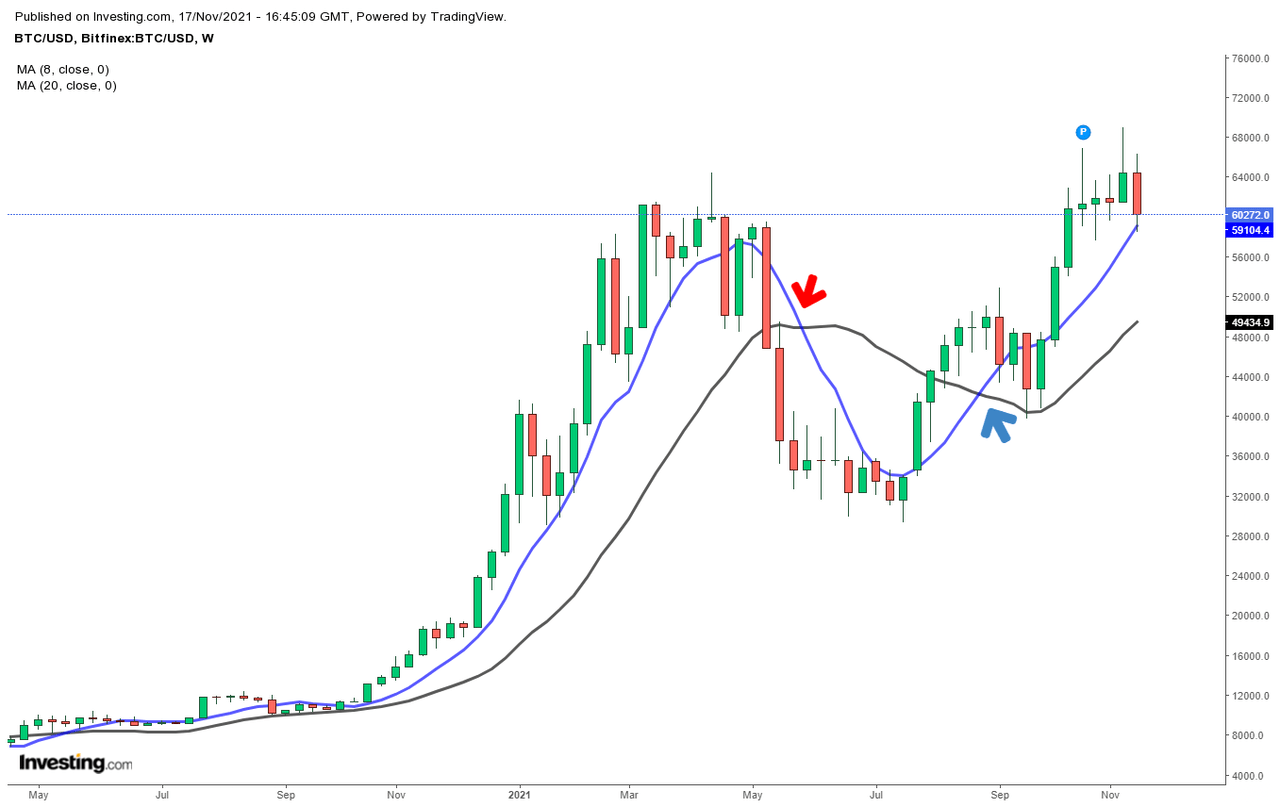 The 8-week is the blue line and the 20 is black. The bullish cross is marked with the blue arrow. If we use the 2015-2017 bull run as an analog for a 2020-2022 forecast, the setup looks somewhat similar to what we are seeing right now.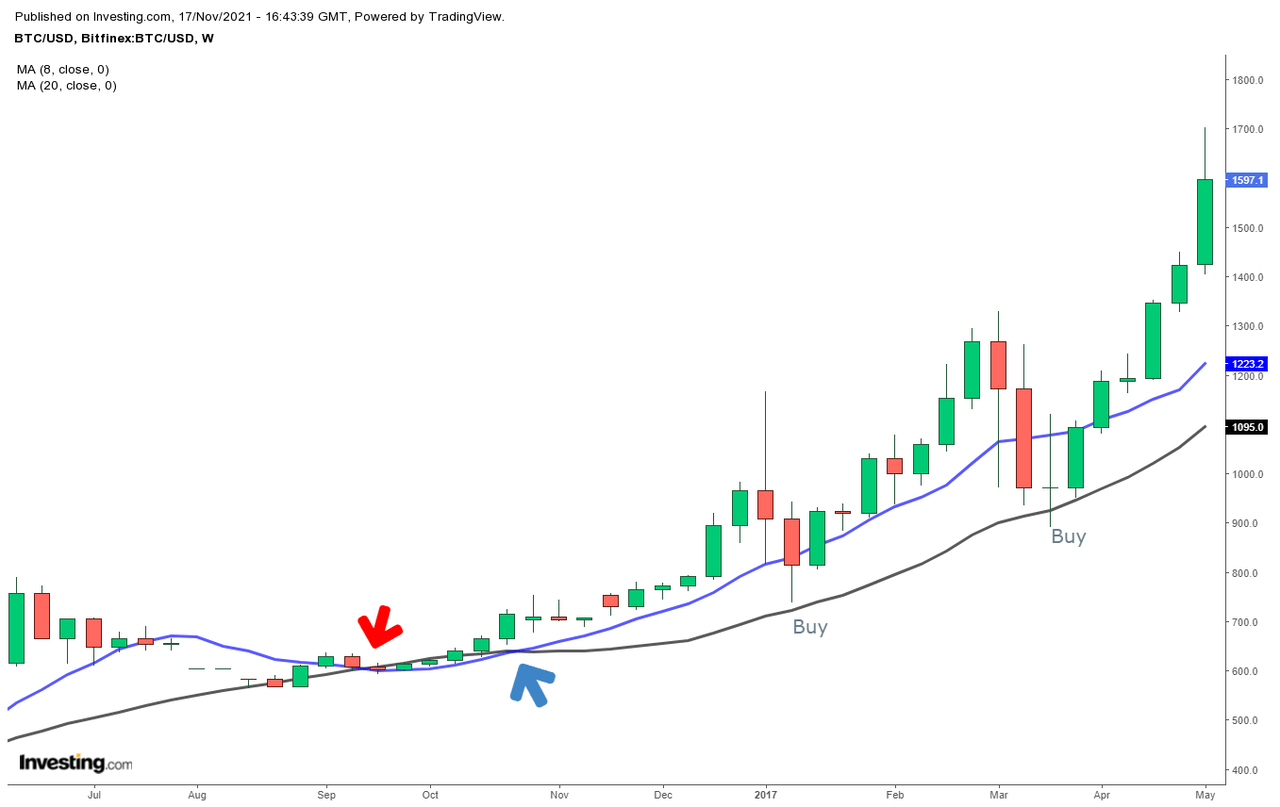 If the price of Bitcoin fails to hold the $59k/$60k area (current as of article submission), I believe the 20-week moving average is a possible target for a bigger pullback. I believe this will actually be fairly healthy technically. And it would be in the general 20-week MA area that I would be adding quite a bit to swing trade positions.
Conclusion
As I've said numerous times in my crypto coverage for Seeking Alpha, this investment space isn't necessarily for everyone. There are legitimate bear cases that should be considered. While I don't believe Bitcoin is going to replace gold completely, I do think younger investors who want to protect themselves from inflation are more likely to adopt crypto assets than they are to adopt precious metal assets... at least for now.
I take this view because of the ease of acquiring crypto and because of the crypto adoption we're witnessing from athletes and influencers. Of course, I could always be wrong. Bitcoin's top could be in already. I would not recommend putting money you need to pay the mortgage into any speculative asset. All this said, I think Bitcoin still has plenty of upside for the next 12 to 14 months.