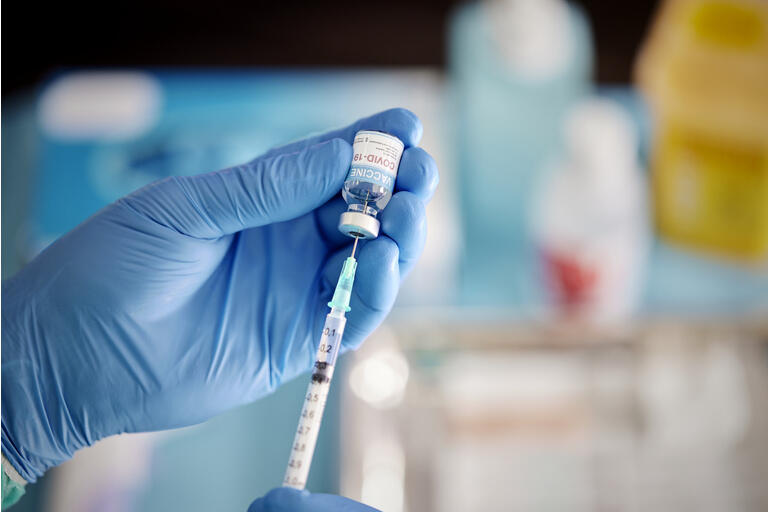 I've previously commented that there are a couple of health care companies, like Johnson & Johnson (JNJ) that if they were ever selling at an unreasonably cheap P/E ratio, I'd stick 5-10% of my portfolio in it and never have to worry about it again.
Most of the easy-to-hold never-sell blue chips tend to be in the consumer staples sector. However, there are some outside of that field as well; J&J is the classic example since it is a Dividend Aristocrat, and is also a highly-diversified operation with substantial interests in pharma, medical devices, and consumer products.
However, that company's recent announcement that it is splitting up its business may change things materially. If J&J was the obvious blue chip growth and income stock in health care before, what might take its place going forward?
Today's focus stock, Becton, Dickinson (NYSE:BDX) falls in a similar camp to J&J; it's also a Dividend Aristocrat, among other similarities. Becton, Dickinson is one of those large inevitable health care firms that will surely benefit from demographics; namely, the aging of the population.
It's an extremely unflashy business, but one that compounds at a highly predictable rate, offering investors as steady a return stream as you'll get from an equity. If you park a bunch of money in BDX stock and leave it there for a decade, you'll usually end up with a lot more, and downside risk has been minimal.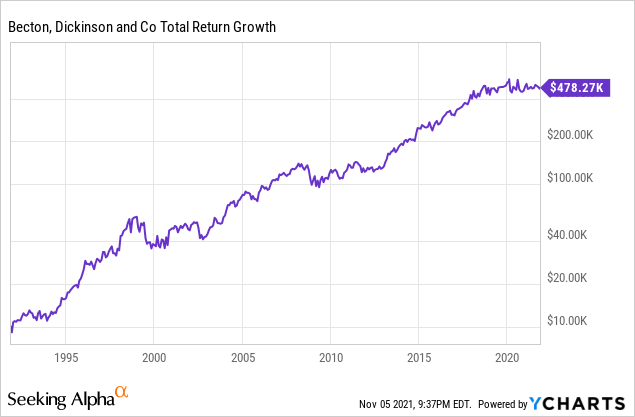 A $10,000 investment in BDX stock 30 years ago, would be worth $478,000 today. And, along the way, there were hardly any major drawdowns. At no time did shares lose even 40% of their value. The 2008 financial crisis passed with barely a blip, and Covid-19 isn't even noticeable on the BDX chart whatsoever.
What is perhaps most interesting, however, is that the stock has flatlined since 2017. Despite being in a raging bull market, BDX stock has stopped compounding for the past few years.
Has something gone wrong with the business? Not at all; it continues churning along with its high single-digit EPS growth. What has changed, however, is that the valuation ratio has come in dramatically: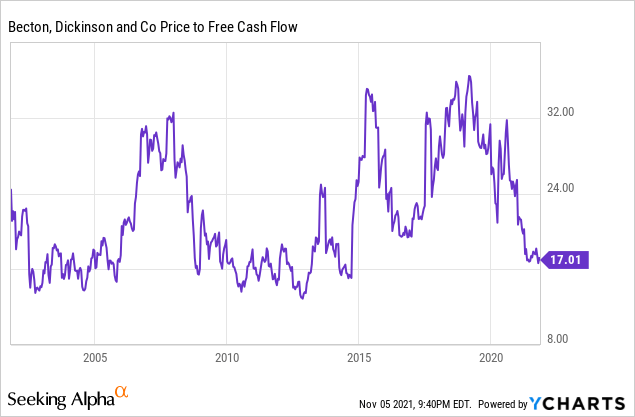 If you use earnings, BDX stock traditionally trades in the 20s and is now in the teens, though I can't chart it here since there was a data anomaly in 2018 that makes that chart unreadable.
Using free cash flow, you see a similar picture. Historically, BDX stock trades between 15x and 35x its free cash flow. It appreciated sharply in 2007, and then once again in 2015-onward. Now, while free cash flow (and earnings) continue to rise, the price has stopped going up, leading to a dramatically more favorable valuation ratio.
On an earnings basis, a median historical P/E for BDX would be 23x, which puts it as dramatically more expensive than the S&P 500 as a whole. Now, however, the S&P is into the mid-20s on a P/E basis. Meanwhile, BDX stock is selling at a big discount to both the S&P 500 and its own historical median. Just how cheap are BDX shares now? Here's the analyst estimates: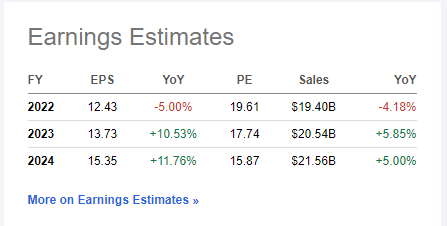 Source: Seeking Alpha
The one thing that might stand out is that earnings are expected to decline slightly in 2022 before returning to their usual strong growth after that. What's up with the earnings decline, and -- for that matter -- what does this business actually do?
Becton, Dickinson's Business
I started with the broader context on the company since the actual operations themselves are quite mundane.
The company is most known for its medical unit. It makes basic medical devices and implements. Think of things such as needles, syringes, catheters, insulin pens, anesthesia trays, and the like. There's very little here that is exciting to think about, however it's all highly essential stuff that will come into more and more demand with the aging population.
Investors like to make things too complicated.
Something like aging is a simple enough concept. Currently, an estimated 54 million Americans are over the age of 65. In 2060, that figure is modeled to be 98 million. Add 44 million more over-65 people to the population and you'll need way more medical care.
This is where many stock pickers would start weaving a narrative about robotics, gene-altering drugs, or other such moonshot investments. And that stuff could certainly work out.
However, it's a crapshoot which science-fiction type new technologies will actually bear fruit. Meanwhile, there are other things that are far more certain. For example, if you have 44 million additional older people in the future, you'll need way more needles, catheters, medication dispenser units, and so on.
This is elementary stuff, to be sure, but that doesn't reduce the predictive power of it.
In my view, people spend way too much time trying to estimate difficult puzzles (where will interest rates be in 10 years) instead of easy ones. If hospitals will do twice as many surgeries 10 years from now, how do I guarantee that I get a cut of that?
Becton, Dickinson is the ultimate "easy" button for investing in the aging population. You don't have medical care without basic tools, and BDX sells a large number of those implements.
That's good and the base of a solid investment thesis right there. However, there's a couple more sweeteners to add to the story.
For one, Becton, Dickinson has a large life sciences business. This segment provides products for the safe collection and transport of diagnostics specimens, and instruments and reagent systems to detect a range of infectious diseases, healthcare-associated infections and cancers.
Life sciences companies have been extremely hot in recent years. The big dog in this space, Thermo Fisher (TMO), has been an absolute rocket: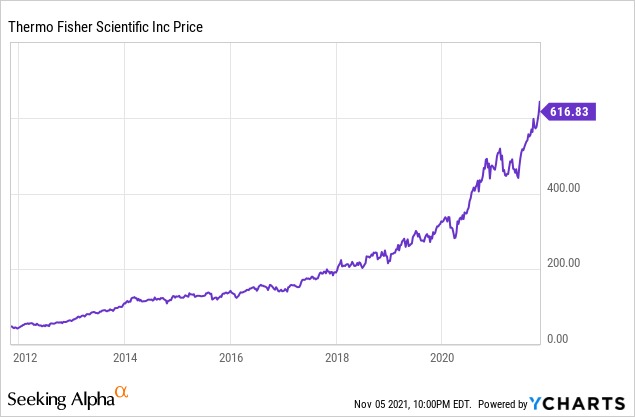 Meanwhile, Becton, Dickinson's life sciences business is just hiding inside a diversified holding company, and thus isn't getting the sort of valuation bump it should be. As a standalone company, a life sciences division should get a premium price, yet BDX stock is going for 19x overall earnings. That's a mispricing.
The company also has an interventional division, which makes more specialized products for a wide variety of medical ailments and acute conditions. There are some fun and on-trend things in that area, such as monoclonal antibodies, though much of it fits in the same basic blocking and tackling category as the syringes, needles and so on.
Before getting to the current moving parts, I'd also like to highlight one other key point. Becton, Dickinson wins in the categories it plays in. It is #1 in market share in a bunch of assorted different fields: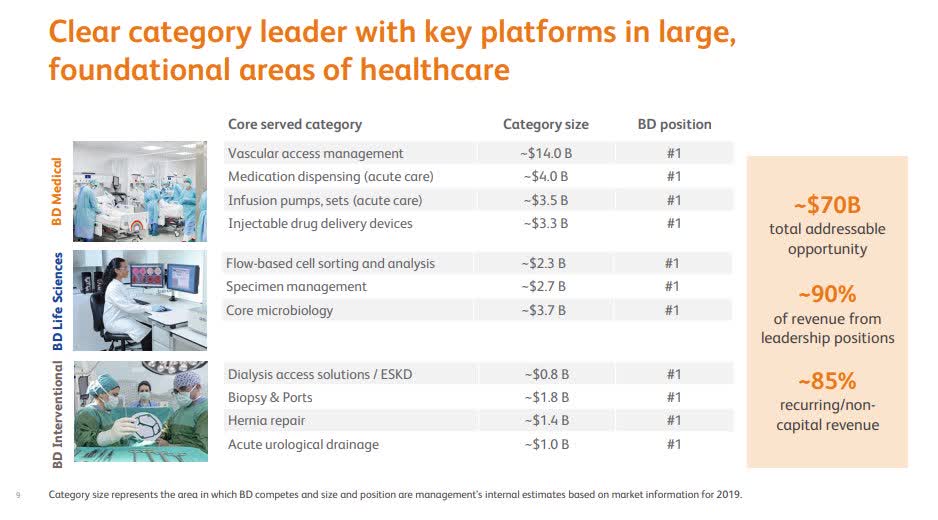 Source: Corporate presentation
Something like hernia repair or dialysis access solutions may not be huge markets, but being the #1 supplier with all the ensuing scale benefits is a good place to be. And those sorts of categories will grow much faster than the overall economy given demographics trends and aging. If you're looking for the sort of inevitable company that is destined to make more money simply from current demographic trends persisting, Becton, Dickinson has to be right near the top of that list.
Covid Hangover & Upcoming Spin-Off
Two things make BDX stock particularly timely right now. For one, the company enjoyed a huge boost from Covid-19 testing and vaccine development. Its life sciences division caught a massive surge in demand thanks to the massive ramp-up in demand for Covid tests: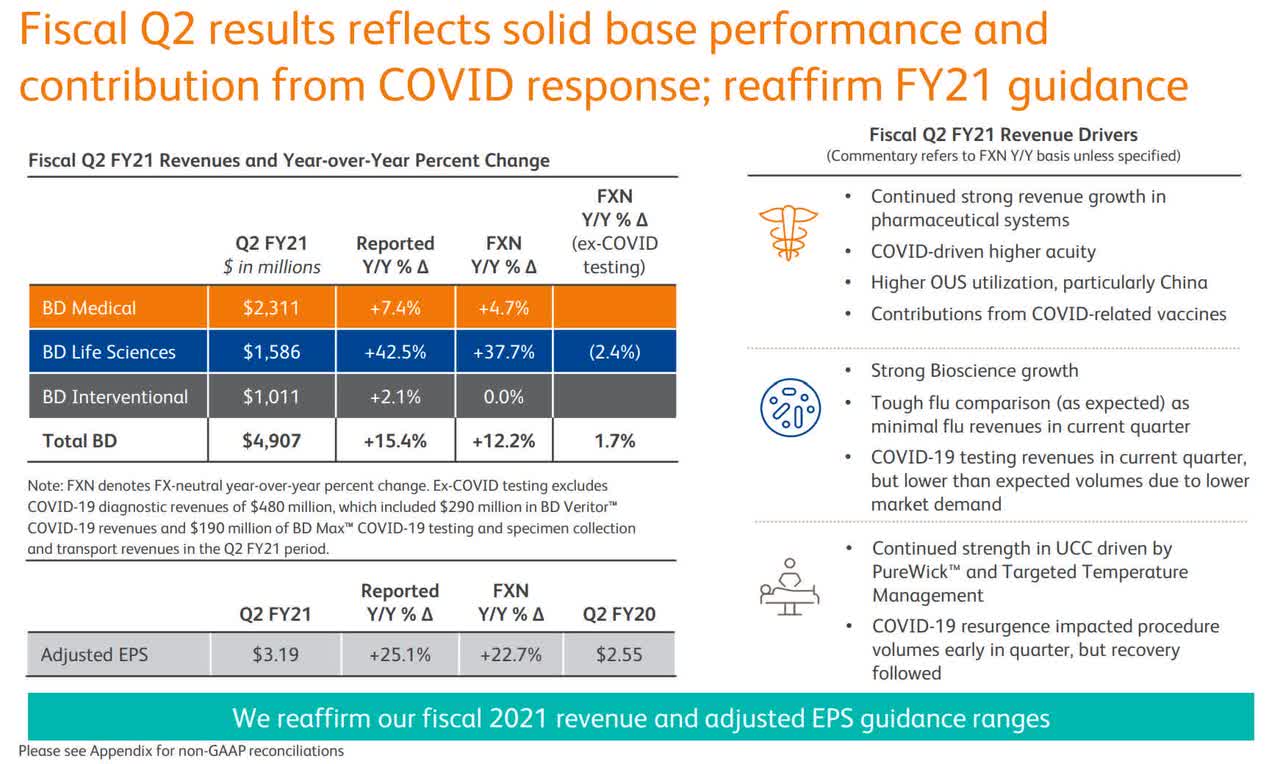 In Q2, for example, life sciences grew 42%, but would have been down slightly if you exclude the Covid-19 testing. That's a massive difference!
A lot of stocks with exposure to Covid-19 testing have been weak over the past quarter or two as investors rightly model in a decay on those earnings. That decline may accelerate given the news out of Pfizer (PFE) about its treatment for Covid-19. The market appears to be discounting Covid going forward.
That said, life sciences wasn't a huge piece of Becton, Dickinson's overall results prior to 2020, so a trailing off of results there will be overshadowed by strong growth out of the core medical division.
On the other hand, there's a couple of positive catalysts on deck for the company. For one, it had engaged in a large merger a few years ago, and thus suspended its share buyback to instead pay off debt associated with that deal. Between the company's success in paying down debt and the recent decline in its stock price, management has now reinstated the share buyback. That should be good timing as shares are as cheap as they've been on a free cash flow basis since 2014.
For another, the company is spinning off its diabetes operations next year. Diabetes is one of the fastest-growing medical problems globally. This has led to tremendous results for diabetes-centered firms such as Novo Nordisk (NVO):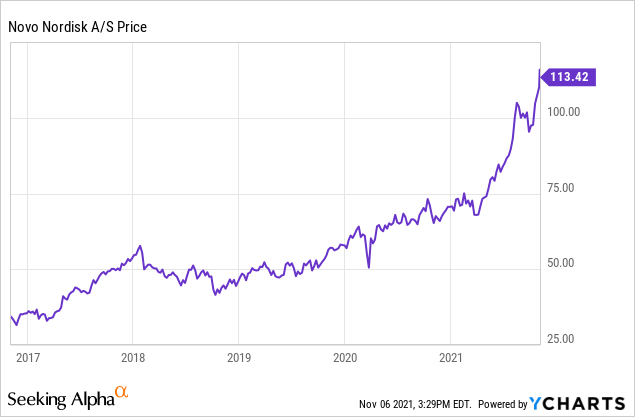 I added Novo Nordisk to my portfolio during a pullback in 2016-17 centered around long-since-forgotten concerns on insulin pricing. The thesis back in 2016 was very simple; short-term pricing disputes come and go, but diabetes isn't going anywhere. Novo Nordisk stock has played out even better than I could have imagined.
Becton, Dickinson is now in a similar place, where it makes products that are almost assuredly going to be in much greater demand in the future. Yet the stock price is flat now due to passing concerns around Covid-19 and a couple of other temporary issues. Long-term investors can seize the moment to add a true blue chip stock at a major discount to both its historical valuation and the S&P 500 as a whole.