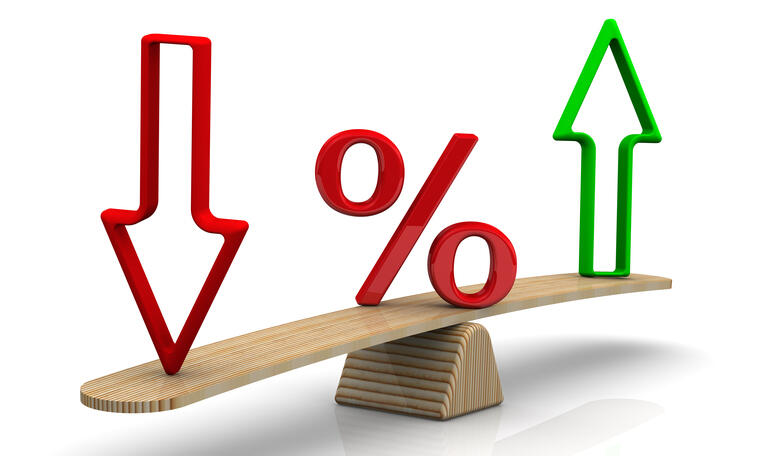 (This article was co-produced with Hoya Capital Real Estate)
Introduction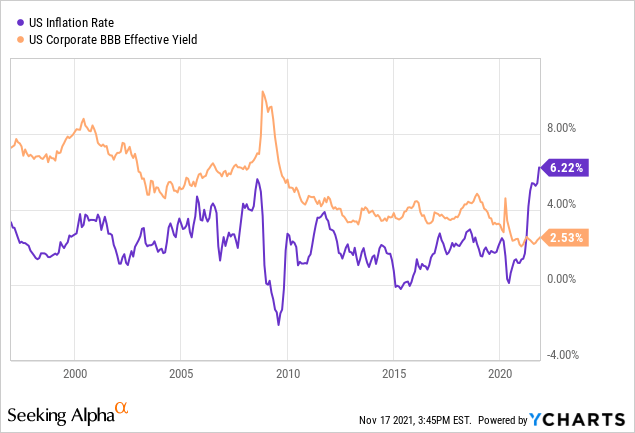 Like many things in today's investment world where the Fed and US Treasury Department are major players in the bond market, negative real interest rates make as much sense as a bank paying you to take out a 30-year mortgage, which Danish banks offered in 2019.
Assuming that today's 6% inflation rate isn't transitory as the Fed is still hoping for, loan rates will climb for new loans. That will result in fixed-rate loans dropping in value and so will the NAV of funds holding them. Floating-rate loans will hold up better if/when loan rates rise above inflation.
With BBB-rated bonds/loans averaging 2.53%, even meeting the 5-year inflation expectation means rates climb 37bps. They need to almost double to pass into real returns if the one-year expectation occurs. For funds, it is critical to know its duration and the average maturity of the holdings.
Based on my belief, rates have to go up for many reasons and Eaton Vance Senior Floating-Rate Fund's (NYSE:EFR) past performance versus its competitors, I rate this CEF as Bullish long-term but currently it is in rare territory; selling at a premium, so buyer beware!
Understanding the Floating-Rate Market
Each quarter, Eaton Vance posts a Floating-Rate Loan Market Monitor report. The following charts come from that document.
The report starts by defining the sector:
Corporate debt issued by below-investment-grade borrowers.
Most issuers are significant in size and scale - and many are familiar household names.
Companies undertake loans for recapitalizations, acquisitions and refinancings.
Coupon income from floating-rate loans resets regularly to maintain a fixed spread over a variable base rate, usually LIBOR (and in the future likely to be SOFR).
Loans are often referred to as "senior and secured": They typically have the highest priority of claims in an issuer's capital structure and are secured by specific collateral.
Other common monikers: bank loans, leveraged loans, senior loans (all are synonymous).
The next chart shows where floating-rate loans stand in the capital structure and why defaults are rare.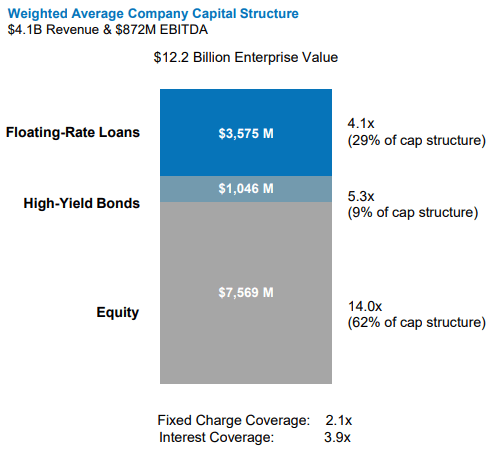 Along with above other components, they are secured by collateral including issuer accounts receivable, inventory, property, plant, equipment and/or stock.
Floating rate loans set the coupon based on an Index plus basis points. Here is a sample:

The "L" stands for LIBOR, which goes away at year-end. For US issues, the replacement is most likely to be SOFR. This chart compares LIBOR to SOFR. SOFR is usually less as I believe it doesn't account for risk as much as LIBOR does.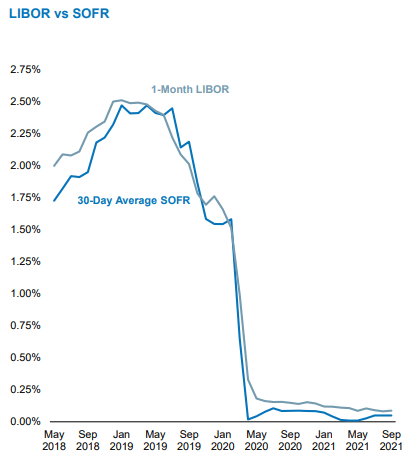 Investors like loans that also come with a minimum coupon setting, known as the floor rate. The next chart shows when recently these floor rates were better than the L+bps generated coupon.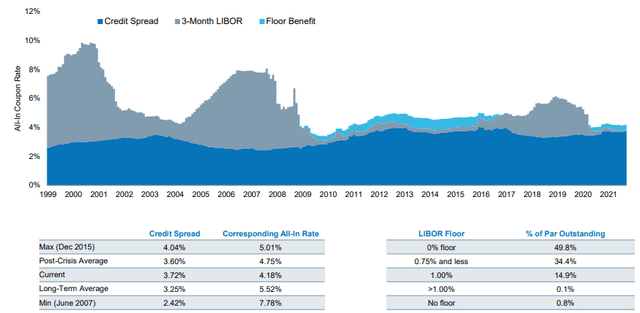 Notice almost half do not have a floor and for the rest its under 100bps. Even so, in 2021, the floor is raising what investors earn. Lastly, these charts show which industries used loans and the maturity breakdown.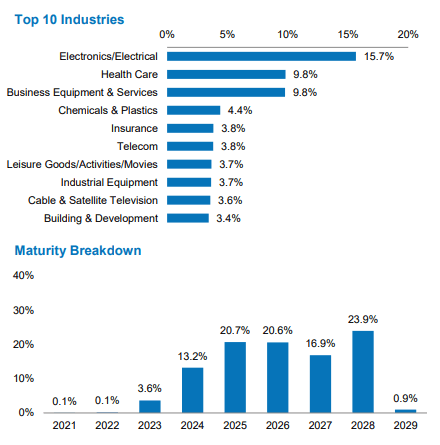 Understanding the EFR Closed-End-Fund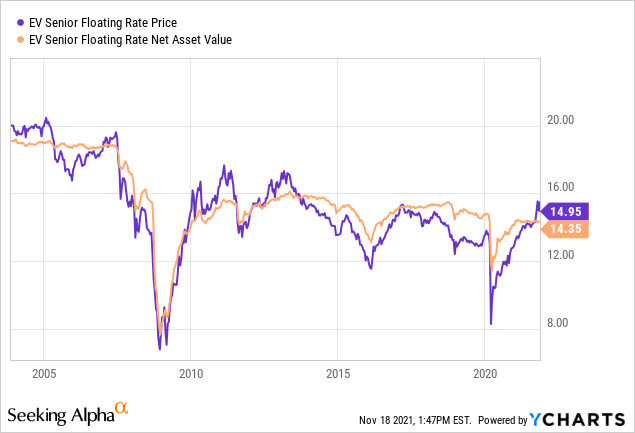 Seeking Alpha describes this CEF as:
Eaton Vance Senior Floating-Rate Trust is a closed-ended fixed income mutual fund launched and managed by Eaton Vance Management. The fund invests in the fixed income markets of the United States. It primarily invests in senior, secured floating rate loans. It benchmarks the performance of its portfolio against the S&P/LSTA Leveraged Loan Index. Eaton Vance Senior Floating-Rate Trust was formed on November 28, 2003 and is domiciled in the United States. The investment objective is to provide a high level of current income, with a secondary objective of capital preservation. Under normal market conditions, a duration of less than one year is expected.

Source: Seeking Alpha
EFR has $566m in assets with a current distribution of 6.3% based on price, whereas the average coupon is 4.52%, thus the benefit of EFR using leverage. Eaton Vance lists three reasons EFR is a good fit for an investor's portfolio.

Source: funds.eatonvance.com
The same report details the 2.1% expense ratio:

The fees seem average for an actively-managed bond CEF.
While EFR does not invest based on its underlying index, the S&P/LSTA Leveraged Loan Index, a brief review should add insight into the strategy used by Eaton Vance for their CEF. The following points were pulled from the Index Factsheet.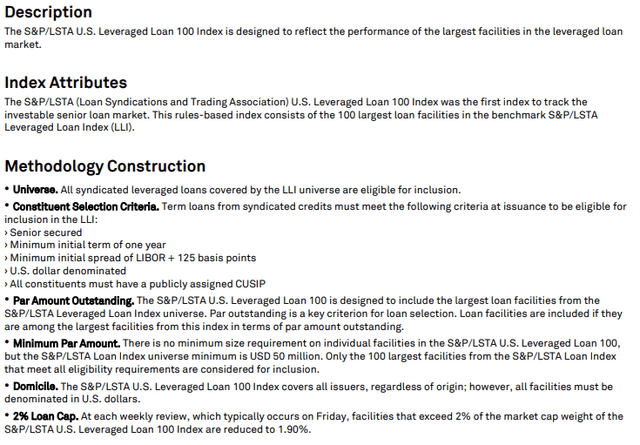 Holdings review
EFR holds just under 500 assets, across four classifications: 91% Floating; 5% Asset-Backed Securities, 1% Corporate bonds; and 3% Other. EFR's credit quality breakdown is: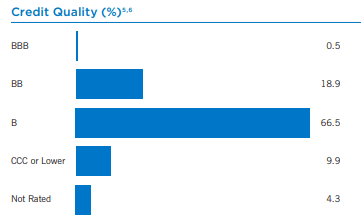 Source: funds.eatonvance.com
This mix is slightly below the mix of the overall market for loans.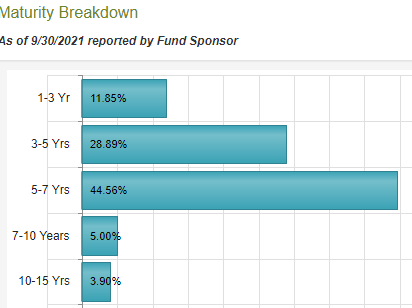 Source: cefconnect.com
The average maturity is 4.9 years.
As of the end of the third quarter, the top holdings were: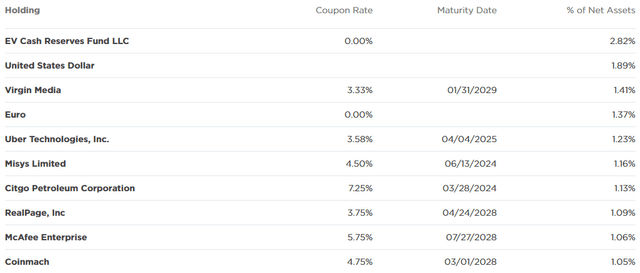 Source: funds.eatonvance.com
There is a link to view a complete list of holdings.
Payout review

Source: Seeking Alpha
In June, the payout increased to $.0813 from $.065. Like many CEFs, Eaton Vance defines their distribution policy in the Prospectus:
The Trust intends to make monthly distributions of net investment income to Common Shareholders, after payment of any dividends on any outstanding APS. The amount of each monthly distribution will vary depending on a number of factors, including dividends payable on the Trust's preferred shares or other costs of financial leverage. As portfolio and market conditions change, the rate of dividends on the Common Shares and the Trust's dividend policy could change. Over time, the Trust will distribute all of its net investment income (after it pays accrued dividends on any outstanding preferred shares) or other costs of financial leverage. In addition, at least annually, the Trust intends to distribute all or substantially all of its net realized capital gains (reduced by available capital loss carryforwards from prior years, if any).
Looking at the Competitors

Source: portfoliovisualizer.com
Above are ten CEFs that use a floating-rate strategy similar to EFR. CAGR favors EFR for the 3, 5, and 10 year periods. As mentioned in the summary, recent results have them more in the middle (1yr CAGR).

Source: Hoya Capital Income Builder Marketplace
Based on forward yields, FCT is the best choice but its 10-yr CAGR is near the bottom. It has also cut its payout three times in 2021, the last being in September.
I used the Seeking Alpha Portfolio feature to generate the next table.

Source: Seeking Alpha
Not sure why PHD data was not available. EFR will show a 4.0 once this article appears. Performance over the 1M, 6M, and YTD is not consistent though the Blackstone GSO Senior Floating Rate Term Fund (BSL) and the Apollo Senior Floating Rate Fund (AFT) are more so.
Portfolio Strategy
One question to ask would be, "Is this a good time to own a floating-rate fund?". These charts also come from the Eaton Vance Loan Monitoring report reference above.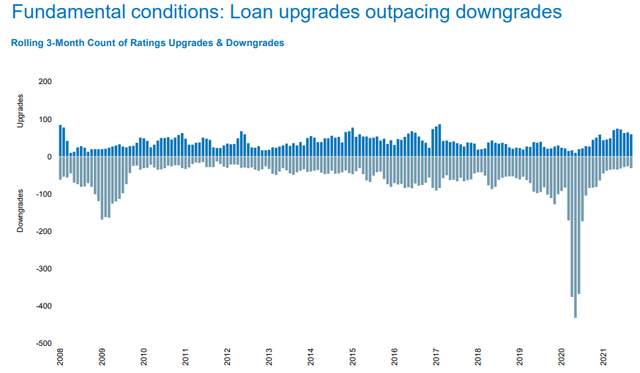 Upgrades are always a good thing as a loan's price should climb as its rating does. With most loans rated below investment-grade, the risk of defaulting is important. Current rates are at historical lows and a strengthening economy helps.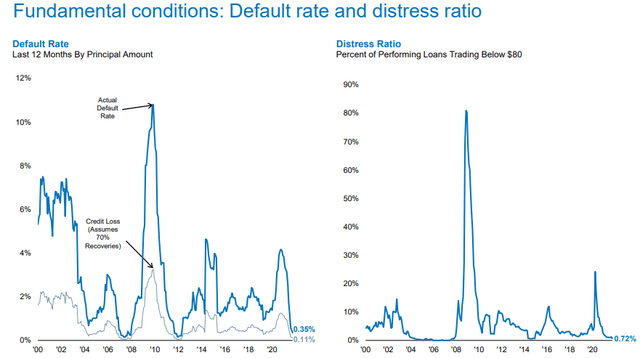 Only twice (2008, 2015), has the Index shown a negative return, with the median return being 5.08%. Only about 20 quarters show a loss.

Three of the worst quarters were during the 2008 financial crises and #2 was during the COVID-19-induced crash. The Top 4 best quarters all followed those two events.
Since duration is bad when rates go up, floating-rate loans' average duration is the shortest amongst fixed-income assets. They also outperform bonds when rates are flat to rising. This is also indicated by floating-rate loans having the largest negative correlation to the 10Y UST.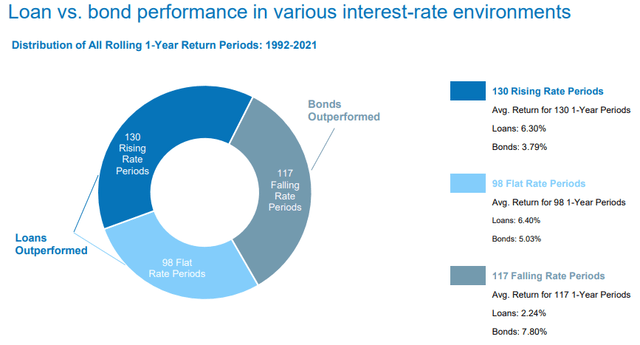 Finally, loans currently provide a competitive yield, trailing only EM debt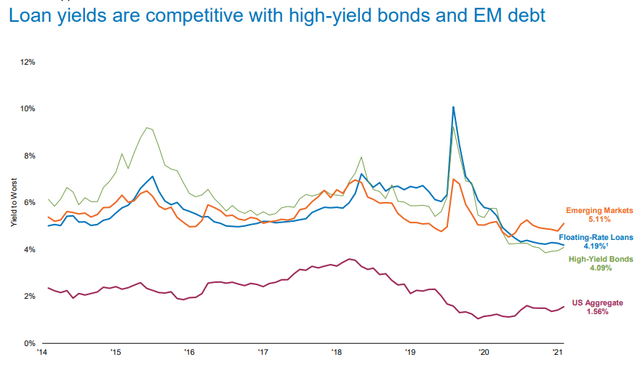 Based on my belief rates have to go up for many reasons and EFR's past performance versus its competitors, I rate the Eaton Vance Senior Floating-Rate Fund as Bullish long-term but currently it is in rare territory; selling at a premium, but buyer beware.
For investors wanting a floating-rate fund without leverage, I recently reviewed the Invesco Variable Rate Preferred ETF (VRP) and compared it to several other ETFs using that strategy.