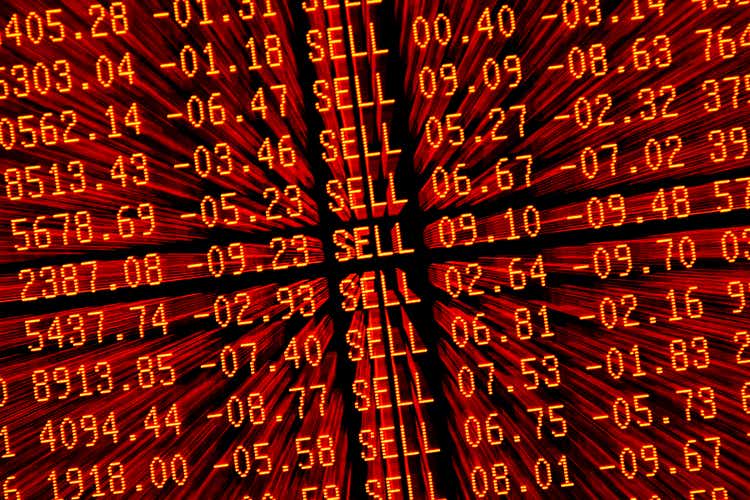 You've probably heard the old adage that "you shouldn't judge a book by its cover".
That couldn't be more true for the markets these days...
The cover story shows that the S&P 500 (SPY), Dow Jones Industrial Average (DIA) and Nasdaq 100 (QQQ) are all still hovering around all-time highs after posting some phenomenal gains year to date.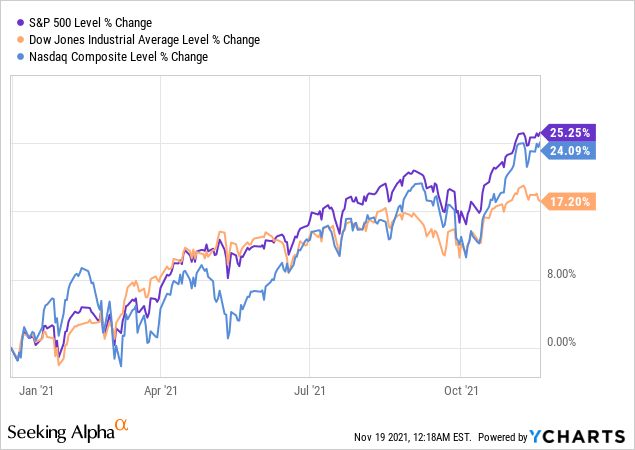 Now one would likely assume that this rising tide has lifted all boats this year.
However, if you dig below the surface a bit...you'll find that quite a few stocks are actually in deep correction territory (20%+ below recent highs) at the moment.
This discrepancy is driven by the concentration of the mega cap stocks in the broader indices. The top 5 stocks, Microsoft (MSFT), Apple (AAPL), Alphabet (GOOG)(GOOGL), Amazon (AMZN) and Tesla (TSLA), collectively represent 23% of the S&P 500 and 43% of the Nasdaq 100.
As shown in the chart below, it's easy to see how these stocks have kept the indices afloat this year with some very hefty returns.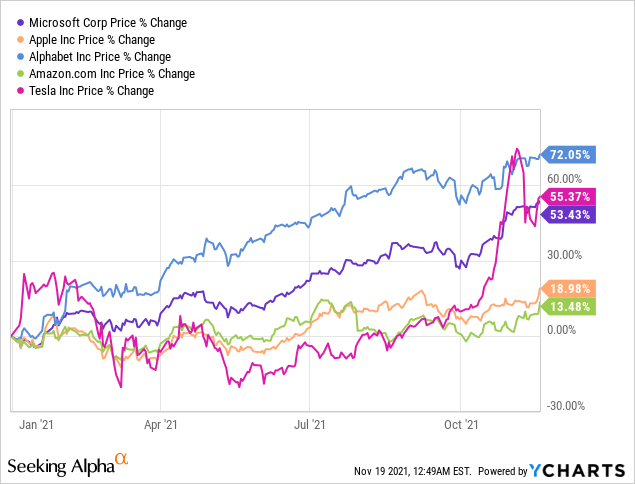 The point of all this is to highlight the fact that there are currently some bargains out there right now, despite the strong performance of the indices YTD (i.e., there are also many stocks that have vastly underperformed the broader indices YTD).
All that said, I recently put together a simple screener to find some of the most "oversold" and "beaten down" stocks in our coverage universe.
This video will show you the exact filters I used for this screener. I also discuss why I chose certain filters and why I think they are important.
Here is a summary of the filters used in the video:
Market Capitalization: > $10 billion
Stock Price: $10.00 - $250.00
% Below 52-Week High: -20%+
RSI (14-day): < 40
Liquidity Ranking: >= 6
As highlighted in the video, there were 27 stocks that met all the criteria above, trading at an average discount of 42% from their respective peaks.
This is a solid starting point for building a great watchlist of stocks to buy on the dip and/or sell cash-secured puts on (see list below).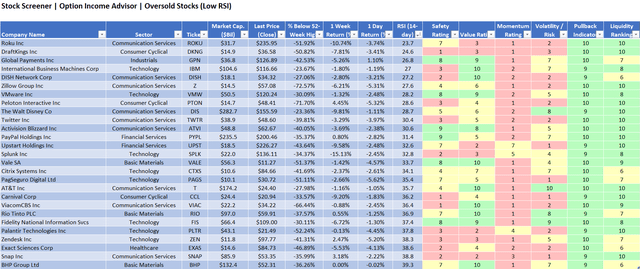 Source: Option Income Advisor / YCharts
Click here to download a copy of the full excel spreadsheet.
10 Oversold Stocks With Huge Upside Potential
Using the list above as a starting point, the 10 stocks below have all pulled back at least 25% from their respective highs and have an RSI reading below 35. Note that an RSI reading below 30 indicates extreme oversold conditions.
In addition, all of these stocks have at least 25% of upside potential (based on the consensus price target estimates). All price target estimates are sourced from Seeking Alpha (Ratings->Wall Street Analysts Ratings).
_____________________________________________________________
Roku Inc. (ROKU)
Sector/Industry: Communication Services / Entertainment
Roku is the leading streaming platform in the U.S. by hours watched with under 59 billion hours of content streamed in 2020. The firm's eponymous operating system is used not only in Roku's own hardware but in co-branded TVs and soundbars from manufacturers like TCL, Onn, and Hisense. Roku generates revenue from advertising, distribution fees, hardware sales, OS licensing, and subscription sales.
(Source: YCharts)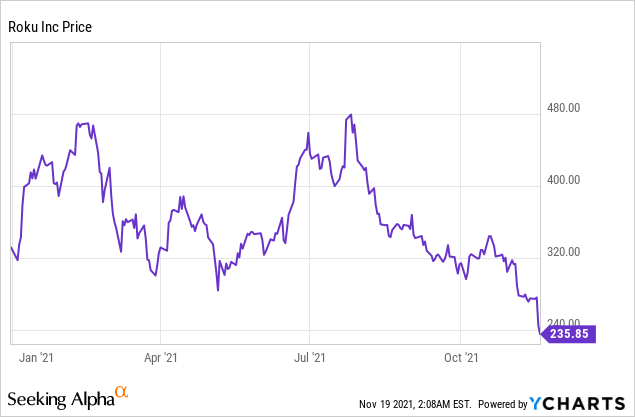 % Below 52-Week High: -52%
RSI (14-Day): 24
Price Target (Mean): $403.36
Upside To Price Target: 71%
______________________________________________________________
DraftKings Inc. (DKNG)
Sector/Industry: Consumer Cyclical / Gambling
DraftKings Inc. is a digital sports entertainment and gaming company. The company provides users with daily fantasy sports [DFS], sports betting, and iGaming opportunities and is also involved in the design & development of sports betting and casino gaming platform software for online and retail sportsbook and casino gaming products. It operates in two segments: Business-to-consumer(B2C) and Business-to-Business(B2B), of which the vast majority of its revenue comes from the B2C segment. Geographically, it derives most of its revenue from the United States.
(Source: YCharts)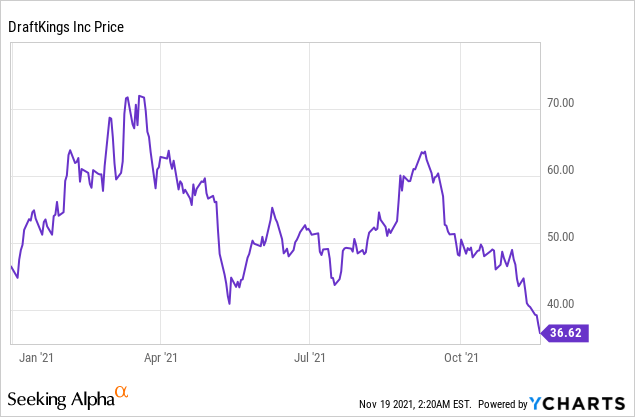 % Below 52-Week High: -51%
RSI (14-Day): 25
Price Target (Mean): $64.48
Upside To Price Target: 76%
______________________________________________________________
International Business Machines (IBM)
Sector/Industry: Technology / IT Services
IBM looks to be a part of every aspect of an enterprise's IT needs. The company primarily sells software, IT services, consulting, and hardware. IBM operates in 175 countries and employs approximately 350,000 people. The company has a robust roster of 80,000 business partners to service 5,200 clients--which includes 95% of all Fortune 500. While IBM is a B2B company, IBM's outward impact is substantial. For example, IBM manages 90% of all credit card transactions globally and is responsible for 50% of all wireless connections in the world.
(Source: YCharts)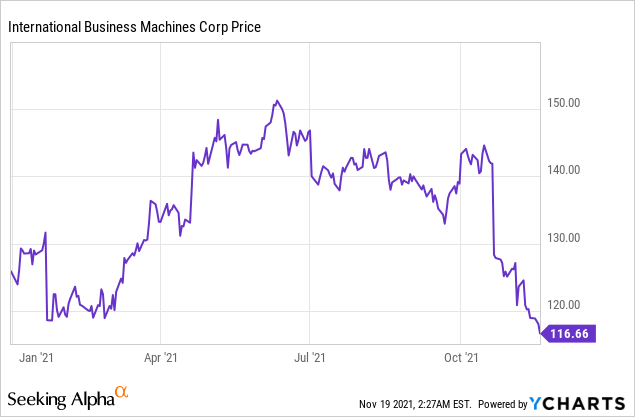 % Below 52-Week High: -24%
RSI (14-Day): 27
Price Target (Mean): $147.56
Upside To Price Target: 27%
______________________________________________________________
Peloton Interactive (PTON)
Sector/Industry: Consumer Cyclical / Leisure
Peloton Interactive Inc. operates an interactive fitness platform. It operates its business in two reportable segments: Connected Fitness Product and Subscription. Connected Fitness Product revenue consists of sales of bike and tread and related accessories, associated fees for delivery and installation, and extended warranty agreements. Subscription revenue consists of revenue generated from monthly Connected Fitness Subscription and Digital Subscription. The company generates the majority of the revenue from the sale of Connected Fitness Products.
(Source: YCharts)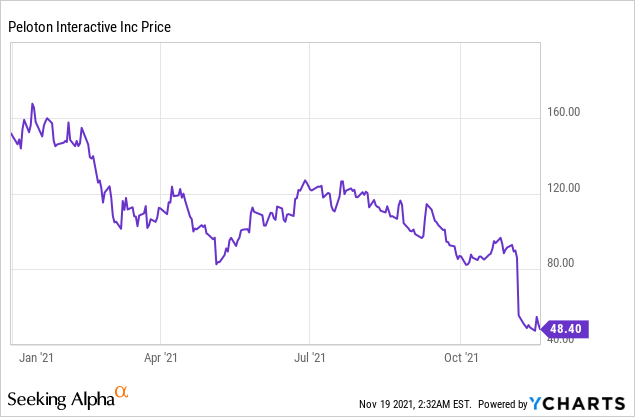 % Below 52-Week High: -72%
RSI (14-Day): 29
Price Target (Mean): $80.56
Upside To Price Target: 66%
______________________________________________________________
The Walt Disney Co. (DIS)
Sector/Industry: Communication Services / Entertainment
Walt Disney owns the rights to some of the most globally recognized characters, from Mickey Mouse to Luke Skywalker. These characters and others are featured in several Disney theme parks around the world. Disney makes live-action and animated films under studios such as Pixar, Marvel, and Lucasfilm and also operates media networks including ESPN and several TV production studios. Disney recently reorganized into four segments with one new segment: direct-to-consumer and international. The new segment includes the two announced OTT offerings, ESPN+ and the Disney SVOD service. The plan also combines two segments, parks and resorts and consumer products, into one. The media networks group contains the U.S. cable channels and ABC. The studio segment holds the movie production assets.
(Source: YCharts)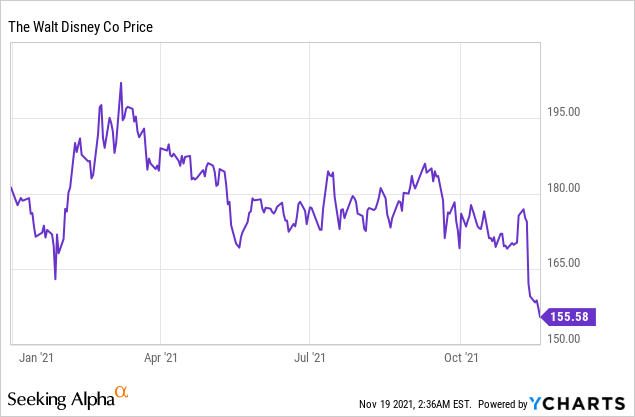 % Below 52-Week High: -23%
RSI (14-Day): 29
Price Target (Mean): $199.19
Upside To Price Target: 28%
______________________________________________________________
Twitter Inc. (TWTR)
Sector/Industry: Communication Services / Internet Content
Twitter is an open distribution platform for and a conversational platform around short-form text (a maximum of 280 characters), image, and video content. Its users can create different social networks based on their interests, thereby creating an interest graph. Many prominent celebrities and public figures have Twitter accounts. Twitter generates revenue from advertising (90%) and licensing the user data that it compiles (10%).
(Source: YCharts)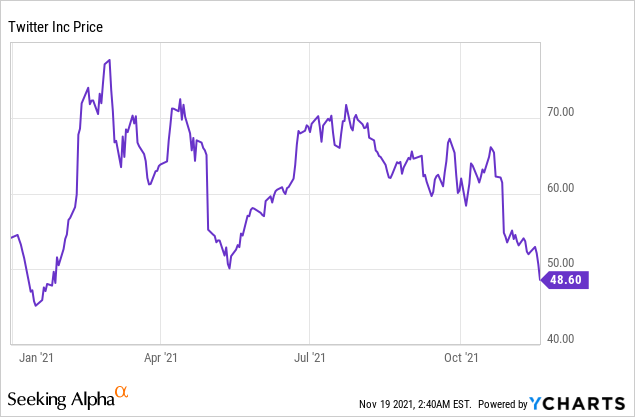 % Below 52-Week High: -40%
RSI (14-Day): 30
Price Target (Mean): $67.30
Upside To Price Target: 39%
______________________________________________________________
Activision Blizzard Inc. (ATVI)
Sector/Industry: Communication Services / Electronic Gaming
Activision Blizzard was formed in 2008 by the merger of Activision, one of the largest console video game publishers, and Blizzard, one of largest PC video game publishers. The combined firm remains one of the world's largest video game publishers. Activision's impressive franchise portfolio includes World of Warcraft, which boasts more than $8 billion of lifetime sales, and Call of Duty, which has sold over 175 million copies across 14 titles over 12 years.
(Source: YCharts)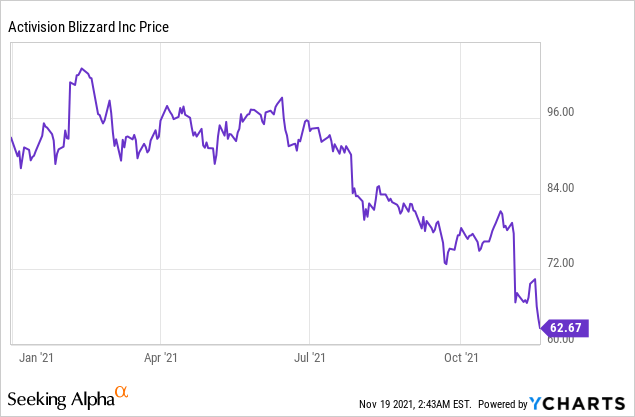 % Below 52-Week High: -40%
RSI (14-Day): 30
Price Target (Mean): $95.67
Upside To Price Target: 53%
______________________________________________________________
PayPal Holdings Inc. (PYPL)
Sector/Industry: Technology / Data Processing and Outsourced Services
PayPal was spun off from eBay in 2015 and provides electronic payment solutions to merchants and consumers, with a focus on online transactions. The company had 377 million active accounts at the end of 2020, including 29 million merchant accounts. The company also owns Xoom, an international money transfer business, and Venmo, a person-to-person payment platform.
(Source: YCharts)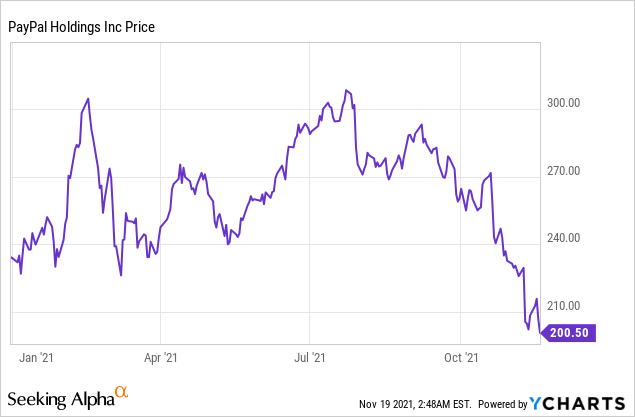 % Below 52-Week High: -35%
RSI (14-Day): 31
Price Target (Mean): $282.71
Upside To Price Target: 41%
______________________________________________________________
Upstart Holdings Inc. (UPST)
Sector/Industry: Financials / Consumer Finance
Upstart Holdings Inc. provides credit services. The company provides a proprietary, cloud-based, artificial intelligence lending platform. The platform aggregates consumer demand for loans and connects it to the network of Upstart AI-enabled bank partners. The revenue of the company is primarily comprised of fees paid by banks.
(Source: YCharts)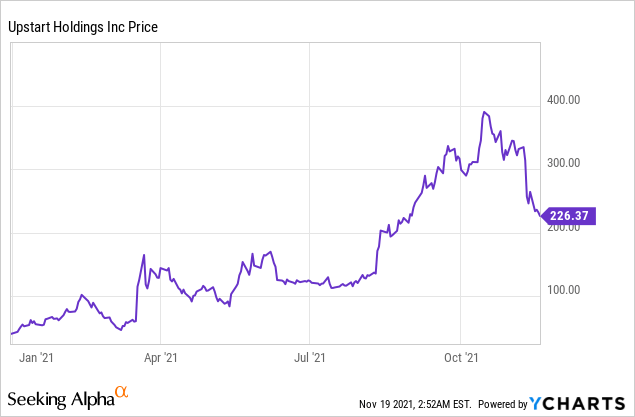 % Below 52-Week High: -44%
RSI (14-Day): 33
Price Target (Mean): $286.22
Upside To Price Target: 26%
______________________________________________________________
AT&T Inc. (T)
Sector/Industry: Communication Services / Telecom Services
Wireless is AT&T's largest business, contributing about 40% of revenue. The firm is the third largest U.S. wireless carrier, connecting 66 million postpaid and 17 million prepaid phone customers. WarnerMedia contributes a bit less than 20% of revenue with media assets that include HBO, the Turner cable networks, and the Warner Brothers studios. AT&T plans to spin Warner off and merge it with Discovery to create a new stand-alone media firm. The firm recently sold a 30% stake in its traditional television business, which serves 15 million customers and generates about 17% of sales. This business will be removed from AT&T's financials going forward. Fixed-line telecom services provided to businesses and consumers account for about 20% of revenue, serving about 15 million broadband customers.
(Source: YCharts)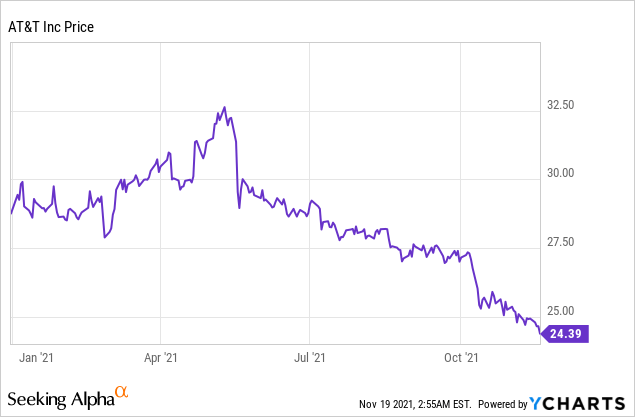 % Below 52-Week High: -28%
RSI (14-Day): 35
Price Target (Mean): $31.55
Upside To Price Target: 29%
______________________________________________________________
Summary
Screening for stocks that have pulled back significantly with a low RSI reading (indicating extreme oversold conditions) is a great place to start looking for stocks to buy...especially when Wall Street consensus price target estimates suggest that there could be significant upside potential over the next 12 months!