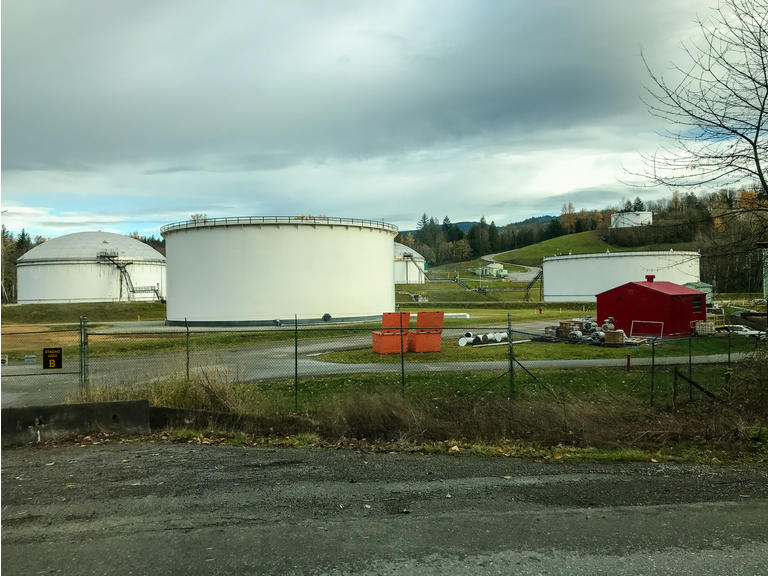 One of the largest oil, natural gas, and natural gas liquids and products pipeline/midstream services operator in the US is a company called Kinder Morgan (NYSE:KMI). Although the oil and gas space has been exposed as being a volatile one in recent years, the companies that operate in the pipeline and midstream services category are known for generating stable, consistent cash flows. At the end of the day, Kinder Morgan is about the cheapest prospect in its space, but it is trading cheap on an absolute basis. Add in the stability in cash flows the company offers, even during some of the toughest of times, and it surely is a difficult prospect to pass up. If anything, it should be considered an attractive opportunity for long-term investors who are interested in capturing some yield in the process.
The picture remains strong
When it comes to the transportation of the things like oil and natural gas, few companies can boast the same size that Kinder Morgan does. According to management, the company owns a natural gas transmission network totaling around 70,000 miles of natural gas pipelines. It has 700 bcf (billion cubic feet) of working storage capacity and about 1,200 miles of natural gas liquids pipelines. The company also has 6,800 miles of refined products pipelines and 3,100 miles of crude pipelines. Add in the 144 terminals, 16 Jones Act vessels, and 1,500 miles of CO2 pipelines in its portfolio, and Kinder Morgan truly is an industry giant. As you might expect, the bulk of its operations involve natural gas. 62% of its business, for instance, comes from natural gas transmission. Another 16% comes from products while 15% comes from its terminals business. The remaining 7% comes from CO2.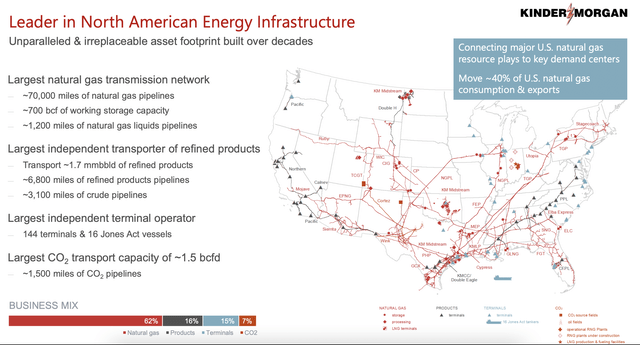 *Taken from Kinder Morgan
This is not the first time that I have written about Kinder Morgan. In early September of this year, for instance, I wrote about the company in an article where I called it a strong value prospect. Since then, the company has generated performance that has marginally outperformed the market, rising by 5.8% if we include the distributions. That compares to the 3.6% return achieved by the S&P 500 over the same period of time. While some of this upside may have been driven by greater enthusiasm surrounding the energy space, the more likely explanation involves the fact that recent financial performance has been robust.
In its third quarter this year, the only quarter for which we didn't have information when I last wrote about the company, the business generated revenue of $3.82 billion. This represents an increase of 31% over the $2.92 billion generated at the same time a year earlier. Admittedly, revenue doesn't mean too much for a company like this. After all, its operations center around capturing some margin from the products that it transmits or processes. Even so, this rise in revenue corresponded with mixed, but generally robust, financial performance.
As an example, we need only look at operating cash flow. During the quarter, operating cash flow totaled $1.13 billion. That represents an increase over the $1.05 billion generated the same time a year earlier. Of course, there are other profitability metrics that we should look at. Though less important for a company of this nature, the company did see net income climb from $455 million in the third quarter of 2020 to $495 million in the same quarter of this year. Not every metric showed year over year growth, however. Distributable cash flow, more commonly known as DCF, dropped modestly, declining from $1.09 billion to $1.01 billion. And adjusted EBITDA declined from $1.71 billion to $1.66 billion.
Despite these mixed results on the bottom line, the year-to-date performance for the company for all of these metrics has been positive. I already cited the operating cash flow figure, so I will refrain from doing so again. But the company went from generating a net loss of $488 million in the first nine months of 2020 to generating a net profit of $1.15 billion. DCF jumped from $3.35 billion to $4.37 billion. And EBITDA improved, climbing from $5.13 billion to $6.14 billion.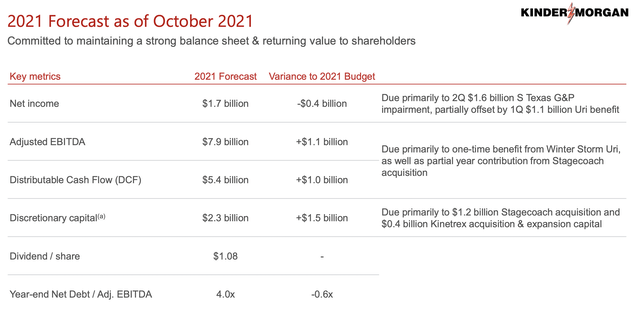 *Taken from Kinder Morgan
For investors thinking that this might have an outsized impact on expectations for the current fiscal year, it's important to look more into the data. Given the stability of companies like this, it is fairly easy to forecast what cash flows will be like in the foreseeable future. Not so much for analysts as it is for management. The company still expects to generate net income this year of $1.7 billion. Other expectations provided by the company that have remained flat involve EBITDA totaling $7.9 billion and DCF hitting $5.4 billion. It is worth noting that EBITDA in 2020 was $6.96 billion while DCF was $4.60 billion. It should also be said that inclement weather actually helped the company this year, likely to the tune of around $1 billion. So investors who are trying to value the company should probably remove that from the equation.
Shares look appealing
Using these estimates, I decided to value the company in two different ways. One was with the $1 billion associated with the inclement weather attached to it, and the other was without it. Doing this gave me a price to operating cash flow multiple of 9.7 and 7.9, with the former associated with the $1 billion downward adjustment and the latter keeping it in. Meanwhile, the EV to EBITDA multiple should be 10.7 or 9.4, sticking to the same approach as I did with the price to operating cash flow approach. It's also important to look at debt. Net leverage should be about 4.6, or about 4.0 if we use the $1 billion adjustment. The latter of these actually matches management's own expectation for leverage for this year.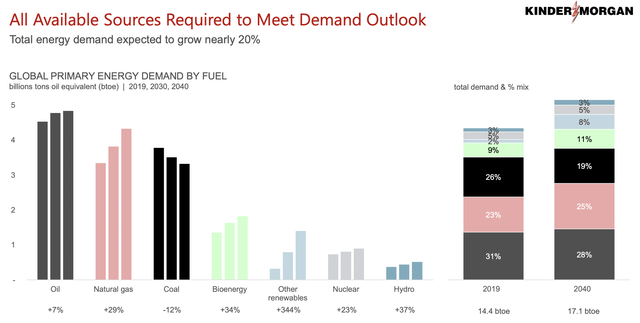 *Taken from Kinder Morgan
One thing that should also be mentioned about the company is its future. At some point in time, we will see significant declines in petroleum products, including natural gas. But fortunately, that is unlikely to happen in the near term. Management provided data that shows the share of natural gas as a component of global primary energy demand rising from 23% in 2019 to 25% by 2040. Though a small difference, the increase in total energy consumption over that same timeframe would see natural gas demand climb by 29.1%. Though a smaller portion of the company's portfolio, crude oil is also important. Its share should drop from 31% of total global energy demand to 28%, but that will still see total consumption climb by 7.3% over the same period of time.
Takeaway
At this moment, Kinder Morgan is, to me, a very interesting long-term prospect. No, the company may not be a growth machine, but it is a solid operator capable of generating significant cash flows. And with a yield today of about 6.4%, it's a difficult opportunity to pass up as well. Add in how cheap shares of the company are and the fact that it will likely continue to be a cash cow for the next 10 to 20 years, if not more, and it truly is a great prospect to keep in mind.