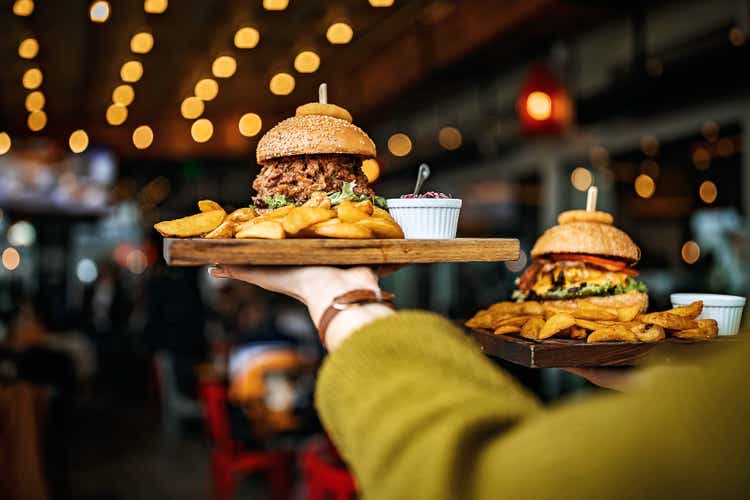 I have followed the Luby's (NYSE:LUB) liquidation quite closely as throughout 2021 in February, June and September Luby's has continued to exceed expectations in finding buyers for its property and brands.
With further good news from the company via a recent press release, it may still be a touch too early to sell the shares, though the risk/reward is now materially less attractive than previously, both because the range of outcomes has narrowed with many disposals completed and $2/share of distribution to shareholders have been made. That initial distribution increasing the 'leverage' of the remaining stub to potential outcomes, though it should be noted Luby's has paid down all financial debt.
Experience To Date
As a restaurant operator entering liquidation during the height of Covid, expectations were not high. Since then, Luby's has exceeded expectations in the following ways:
The core of the assets are property, and sales here appear to have exceeded liquidation valuations though some properties remain to be sold.
The company was conservative in valuing its primary Luby's and Fuddruckers brands and associated franchises and has sold both at reasonable prices.
Leases and operating costs, both anticipated as a drag on valuation, have generally come in better than anticipated. In part as Texas, where the company has its bulk of operations, has reopened faster with fewer restrictions than many U.S. states and other countries.
Outstanding Issues
Three primary issues remain with the Luby's liquidation, two potentially positive and one negative.
Property
Property sales may still exceed expectations. On September 2, 2021, the company sold 26 properties for $88M. This most recent release, states 30 properties sold for $101M.That crudely suggests things are on track; the previous properties sold at around $3.4M and the most recent for $3.2M in the same ballpark (although more disclosure would obviously be helpful).
You can see many of the properties designed as "former Luby's" on real estate listing sites such as Crexi (example).
My assessment from examining those listings is that the earlier sales may not be any worse than the later ones in terms of size and location, with in particular, many Houston listings remaining, albeit with some less urban locations too.
However, as with any disposal process, there is the potential for adverse selection as the remaining properties are less attractive than the initial sales, which may have inadvertently underpriced certain properties that sold first, leaving the more fully valued listings remaining.
Culinary Services - CCS
The Culinary Services business referred to by the company as CCS is one remaining asset to potentially be sold.
CCS, branded as Luby's Culinary Services, consists of a business line has serviced healthcare, sport stadiums, corporate dining clients, and sales through retail grocery stores. The healthcare accounts are full service and typically include in-room delivery, catering, vending, coffee service, and retail dining. CCS had contracts with long-term acute care hospitals, acute care medical centers, ambulatory surgical centers, retail grocery stores, behavioral hospitals, a senior living facility, sports stadiums, government, and business and industry clients. CCS has the unique ability to deliver quality services that include facility design and procurement as well as nutrition and branded food services to our clients. The cost of CCS on our consolidated statements of operations includes all food, payroll and related costs, other operating expenses, and other direct general and administrative expenses related to CCS sales. We were operating 26 CCS contracts at both November 18, 2020 and August 26, 2020.

Source: Luby's 10-K
We'll look at 2019/2018 numbers for this business given Covid and find the following segment information.
| | | |
| --- | --- | --- |
| | 2019 (fiscal year ends August) | 2018 |
| Sales | $31.8M | $25.8M |
| Profit | $3.3M | $1.6M |
Source: Author
Also, the most recent disclosure for 3-month performance in the 10-K shows the business delivering around $2M of annualized profit, so it is rebounding post-Covid albeit not to 2019 levels.
Note also, of course, that what is disclosed here is segment profit and we don't know how corporate costs are allocated or non-cash charges are treated. However, simplistically if the average/normalized profit is $2.45M, then putting that on a 15x multiple implies a valuation of maybe $37M (with perhaps a range of $10M-$80M, ranging from 7x the weaker profit year, or 25x the stronger profit year, given we don't know too much about the business or any potential buyer, if any).
With 30M shares out, that suggests CCS could be worth around $1/share (range $0.30/share-$2.60/share). And given the prior liquidation assumptions, it is unlikely the business was valued highly in liquidation assumptions.
Of course, it is still not a great time to operate a culinary services business and maybe the contracts are unattractive and competitors can win them anyway with Luby's gone. So perhaps the business is a zero. Still, CCS is the one major wildcard that remains. Either it sells or it doesn't. If you were operating a culinary service business today, then Texas is not a bad place to be operating it given the drive towards full reopening.
Taxation
Luby's had NOLs of $10.6M as of August 25, 2021 balance sheet and $12.1M of other tax credits. With the liquidation proceeding relatively well, it is not clear if those will be exceeded, and indeed how fungible the various tax losses and credits are.
As of August 2021, the company recognized $0.7M of tax liability, but that's before most of the sales occurred (most property sales were after August 2021). Further sales may attract a higher rate of taxation, offsetting some of the upside benefits should they occur.
Potential Valuation Per Share
| | | | |
| --- | --- | --- | --- |
| | Bear case | Base case | Bull case |
| Current Net Assets In Liquidation | $3 | $3 | $3 |
| Additional Property Upside | -$0.5 | $0 | $0.75 |
| CCS disposal | $0 | $0.5 | $1.5 |
| Additional taxation | $0 | -$0.2 | -$0.5 |
| Remaining distribution | $2.5 | $3.3 | $4.75 |
| Scenario weight | 10% | 60% | 30% |
Weighted valuation outcome from the above: $3.66/share
Source: Author
The above shows some potential scenarios. We know that the net asset value today is estimated at $3/share and can have some confidence in that number. In the bear case, though, maybe there is a problem with the remaining properties and they need to be discounted to sell.
In the base case, properties sell as expected, but CCS yields a little upside offset by incremental taxation. In the bull case, both the remaining property sales deliver ahead of expectations and CCS finds a motivated buyer but the taxman takes his share too.
Risks
Several risks do remain. The shares will very likely delist at some point in the coming 6-24 months. If that occurs before a final distribution then that may impact the ability of the shares to trade at a fair value, or at all.
Also, the payment of a $2 distribution creates risk for the remaining value. If future disposals perform poorly, the remaining assets will be disproportionately impacted.
The value now resides essentially in just 25 properties and a small culinary services business. This is becoming increasingly a smaller/micro-cap situation, as cash is distributed and the remaining assets are obviously less diversified than when the company retained a broader portfolio of brands, properties and other assets.
Finally, of course, though management have delivered well against estimates so far, they are still estimates and future proceeds may not be as forecast.
Implications For Investors
There is likely a little more upside in Luby's assuming property sales remain on track with an additional kicker from CCS if a motivated buyer is found. Today (11/19/21) the shares trade around $2.90, but that's before any impact of today's press release that came after the close.
With a fair value of around $3.66 with some risk, I am likely a seller at around $3.50 on current news and that's just enough upside to keep me bullish, albeit not massively excited given some risks clearly remain. However, I will watch closely for any announcement regarding the disposal of the CCS business as well as incremental news on further property disposals or clarity on the taxation picture.