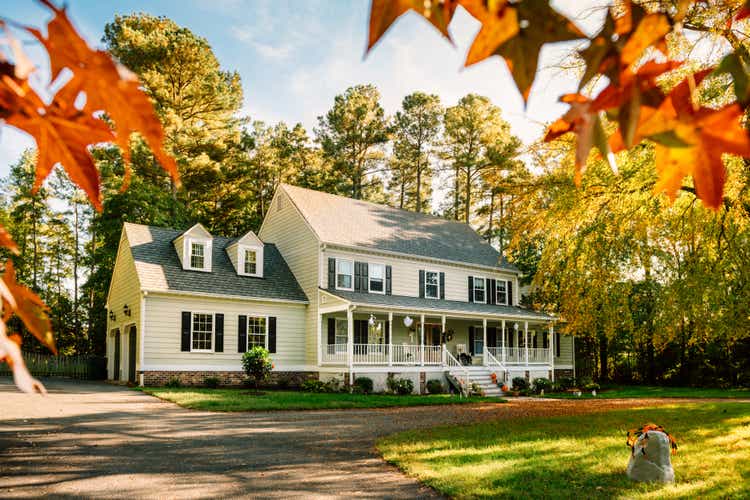 There are many ways to play the housing boom, and while homebuilders often come front and center, what often gets missed are title insurance companies. Buying a home is usually the most significant financial transaction in a person's lifetime, and these companies provide the essential services to make that happen. Plus, title insurance companies are "asset-light" compared to homebuilders, thereby making them less susceptible to financial trouble should the housing industry see a downturn.
This brings me to First American Financial (NYSE:FAF), which is one of the giants in the title insurance industry. FAF has done well since I last covered the stock, providing a 39% total return since February, far outpacing the 19% return of the S&P 500 (SPY) over the same timeframe. In this article, I highlight what makes FAF a continued Buy for potentially sound long-term returns, so let's get started.
A Way To Play The Housing Boom
First American Financial is a leading provider of title insurance, settlement services, and risk solutions for real estate transactions. It was founded in 1889 in Orange County, California, and today, serves nearly every region of the U.S. The company generated $9B in total revenue over the trailing 12 months, and has an impressive track record of both revenue and margin growth.
As seen below, FAF's annual revenue has more than doubled since 2012, with growth accelerating over the past 2 years. In addition, FAF's net profit margin has also grown from the 6% range to 14% at present as a result of the company digitizing its processes, making them more efficient.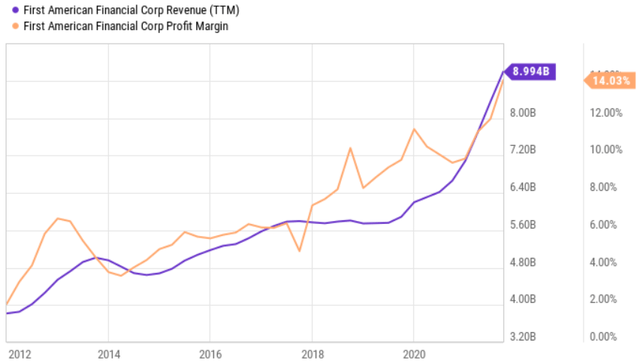 (Source: YCharts)
This has driven robust shareholder returns over the past decade, with FAF providing a 784% total return, far surpassing the 371% return of the S&P 500 over the same timeframe. As seen below, FAF's total return has slightly lagged the return of the S&P 500 over the past 5 years. However, it does come with a far better valuation (more on that later).

(Source: Seeking Alpha)
FAF continues to execute well during the current housing boom, with revenue up 34% YoY, to $2.6B in the third quarter. This was driven by robust sales growth in title agent and title direct premiums and escrow fees, with each growing by 38% and 17% YoY, respectively. Commercial title revenue also saw a big rebound, with 84% YoY growth to $262M, after commercial volumes declined during the prior year period.
While FAF may be thought of as being a "stodgy" old economy type of company, it has made meaningful forays into the technology space. This includes its Endpoint product, which is designed to essentially digitize the closing experience for buyers. This product could be a meaningful growth driver for FAF in the future, as it's already seen strong market traction, as noted by management during the recent conference call:
"One of our largest initiatives was the launch of Endpoint in 2018. While Endpoint is wholly owned by First American, it is by design also a native digital start-up committed to reimagining the closing experience for buyers, sellers and real estate professionals. Endpoint has captured a 3% market share in its initial market of Seattle, and currently operates in 11 additional markets across California, Texas and Arizona, and we plan to add more markets in the near future.

A major factor in Endpoint's success has been its ability to track world-class tech talent. Endpoint has approximately 100 product managers, engineers and designers, and plans on doubling the team over the next 12 months. Fully embracing the tech ethic of continuous improvement, Endpoint often releases enhancements to its technology designed to further improve efficiency. As a result, Endpoint is increasingly becoming the first choice of digital-forward companies, including those in the PropTech ecosystem." - CEO of FAF
Meanwhile, FAF maintains a sound BBB- rated balance sheet, with a safe debt-to-capital ratio of 28.5%, or 22.7% excluding secured financings payable of $593.6M. While the 2.6% dividend yield isn't particularly high, it does come with a very low payout ratio of 27%, 11 years of consecutive annual growth, and a 5-year dividend CAGR of 11.2%.
Risks to FAF include the fact that the housing industry is traditionally more economically vulnerable than other sectors of the economy. In addition, higher interest rates could drive lower transaction volumes and wage inflation / staff shortages could cut into the company's margins.
Admittedly, most of the near-term alpha for FAF is now gone. However, I still see value in the stock at the current price of $77.66. As seen below, analysts expect an EPS decline next year after seeing stellar growth this year. Even with next year's expected earnings decline, the forward PE still sits below FAF's normal PE of 12.9 over the past decade.

(Source: Seeking Alpha)
Analysts have a consensus Buy rating on FAF, with an average price target of $82.40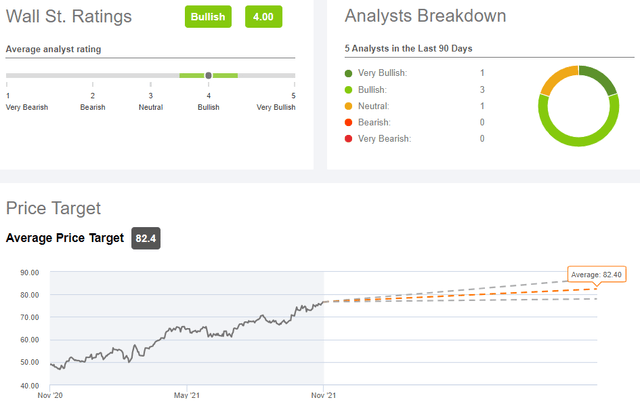 (Source: Seeking Alpha)
Investor Takeaway
First American Financial is one of the giants in the title insurance industry, and is a good "asset light" way for investors to play the housing boom, especially compared to the capital-intensive homebuilders. It's executing well, with robust growth in all of its business segments, including commercial. Looking forward, FAF's technology investments could pay off as they help to evolve the company towards a digital future. I continue to see value in FAF and view it as a solid long-term Buy.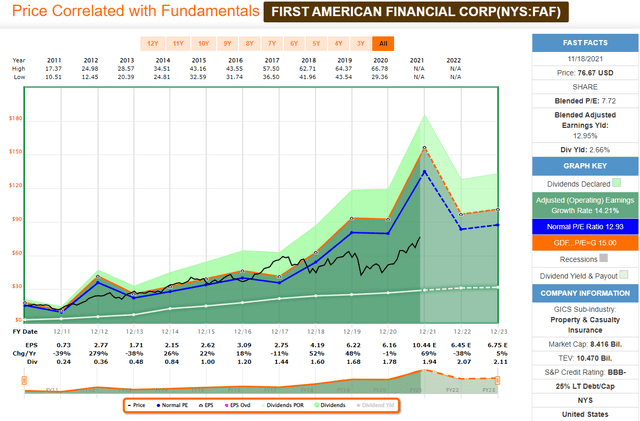 (Source: F.A.S.T. Graphs)