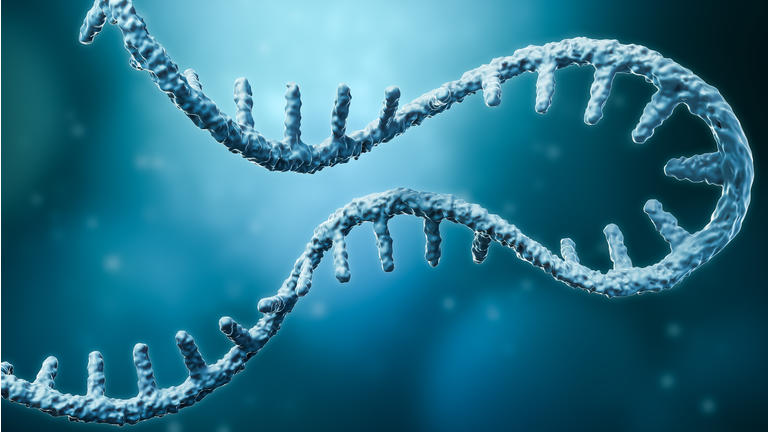 A couple of weeks ago, Intellia Therapeutics (NASDAQ:NTLA) reported its Q3-2021 results highlighting solid figures, a strong cash position, and interesting progress for the NTLA-2001, Intellia's leading in-vivo genome editing candidate. In this article, I will provide an in-depth review of Intellia Therapeutics financial results and I will explain why I believe NTLA is a company worth investing in.
About The Company
Before jumping into the financials, let's have a better understanding of Intellia Therapeutics. Intellia is a biotech company that is trying to develop curative genome editing therapeutics leveraging the CRISPR/Cas9 technology. Particularly, Intellia uses two different approaches, in-vivo and ex-vivo programs: for in-vivo programs, CRISPR acts as the therapy that is administered intravenously with the purpose of editing specific genes that are causing diseases. For the ex-vivo programs, CRISPR is used to create the therapy by engineering human cells that can help in treating cancer and autoimmune diseases.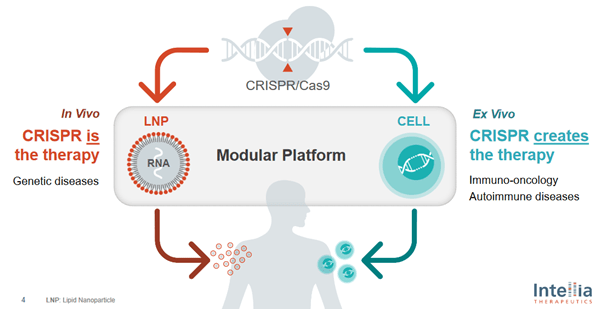 (Source: Company website)
The Company's research pipeline is quite promising with 12 programs (7 in-vivo and 5 ex-vivo) in various stages: 4 are in the early-stage clinical phase (including the NTLA-2001), 2 are in the IND-enabling phase while the remaining 5 are still in the preliminary research phase.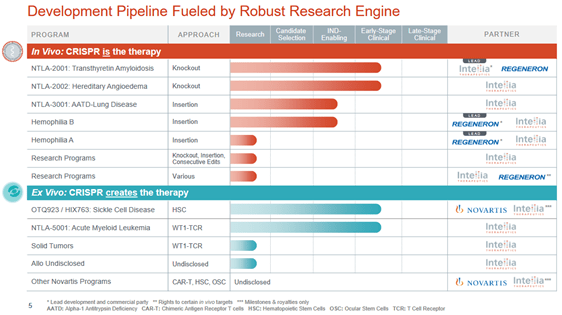 (Source: Company website)
About The stock
Intellia Therapeutics is currently trading at 129.48 $ per share (November 19th) with a market cap of 9.64 bn$. The stock has been showing a strong price increase throughout the year, with Intellia being up 132% year-to-date.
However, the stock is far from the maximum of 177 $ per share reached on September 3rd, ca 27% higher than the current price. At the same time, the 52-week low of 46.59 $ per share seems now to belong to another era. Short interest for the stock is 4.4%, meaning that a short squeeze event in the near term is very unlikely.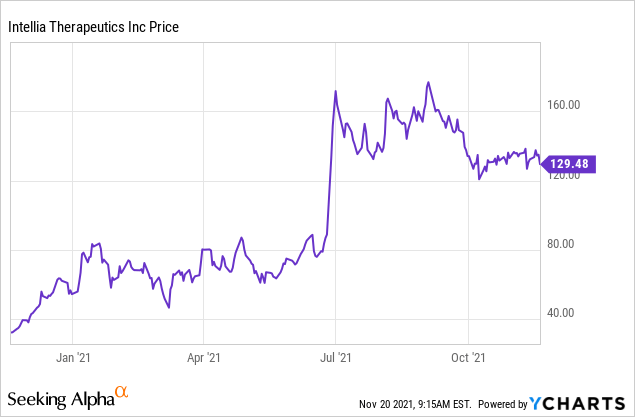 Review Of Q3-2021 Earnings
Intellia Therapeutics is currently not generating revenues from the sale of products but only from collaborations: in Q3-2021, collaboration revenues were 7.2 M$, down 68% from the 22.2 of Q3-2020. The main reason behind this drop is the transfer of license control to develop the Factor VIII for hemophilia to a third party (worth ca 15 M$).
Operating expenses increased by 57% from 50.3 M$ to 79.1 M$, with G&A increasing by 78% or 8.2 M$ and R&D by 52% or 20.8 M$. The higher R&D expense is a clear sign of the efforts that the Company is making to improve its pipeline and to carry on the clinical stage programs. Focusing on R&D, the main driver of cost increase were expenses for the NTLA-5001 program (up 62% or 2.3 M$), employee salaries due to an expansion in headcount (up 61% or 6.7 M$), and stock-based compensation (up 233% or 6.3 M$).
Clearly, the Company is not profitable yet but is generating losses for 71.6 M$ (0.97 $ per share) versus the -27.8 M$ of Q3-2020.
Looking at the balance sheet, cash and marketable securities are 1.1 bn$. Cash flow from operations was at -170 M$ for all the nine months of 2021, cash flow used for investing activities amounted to -391 M$ and cash flow from financing was 734 M$, of which 648 M$ due to proceeds from the issuance of common stocks. If the Company keeps a constant behavior in terms of CFFO and CFFI, and without taking into consideration additional funding, the current cash position of the Company (i.e., 1.1 bn$) should provide enough liquidity for at least the next 6 quarters.
Recent Developments
Good news comes from NTLA-2001, Intellia's lead candidate that is being studied as the world-first potential treatment for transthyretin amyloidosis (ATTR), a rare type of amyloidosis for which there is still no cure. The Company has announced that NTLA-2001 has been consistently showing transthyretin (TTR) reduction in the phase 1 study without generating any safety concerns: reducing the overall level of TTR is key to curing the ATTR since the disease is caused by an excessive accumulation of misfolded TTR. As of today, NTLA-2001 is in the dose-escalation phase trying to understand the optimal dose to be later evaluated in the second part of the study. So far, the company had already obtained encouraging results from the 0.1 mg/kg (52% TTR knock-down) and 0.3 mg/kg doses (87% knock-down); in the call with analysts, Intellia announced that also the higher dose of 0.7 mg/kg showed good results with a 97% TTR knock-down rate. Further updates on the fourth dose of 1 mg/kg are expected for Q1-2022 with the Company being optimistic about the outcome.
Moreover, Intellia revealed that they are accelerating the study of NTLA-2001 for the treatment of patients affected by ATTR and cardiomyopathy (ATTR-CM): this news is of great importance because the number of patients with ATTR-CM (200-500k worldwide) is much larger the those affected my ATTR only (50k worldwide) and, consequently, Intellia Therapeutics could be facing a much larger revenue-generating market pool.
Other interesting developments come from the NTLA-2002, an in-vivo drug that is being tested to treat hereditary angioedema (HAE) by knocking out the KLKB1 gene in the liver. Indeed, both in New Zealand and in the U.K., Intellia has received the Clinical Trial Application (CTA) authorization and, therefore, Intellia will start the first-in-human study before the end of the year.
Conclusion
To sum up, Intellia Therapeutics is a biotech company with a very strong pipeline of research projects that can offer several paths to success with NTLA-2001 being for sure Intellia's best shot. Moreover, the Company is actively playing its card to increase the success rate by going after a large target population (ATTR-CM) and by increasing efforts on other programs as well (NTLA-2002). From a financial point of view, Intellia Therapeutics is sound with enough cash to carry on its business for at least one year and a half without needing external funding. Overall, I think that the current stock price of 129.48 $ per share, at discount to the all-time maximum, could be a good entry point for long-term investors.