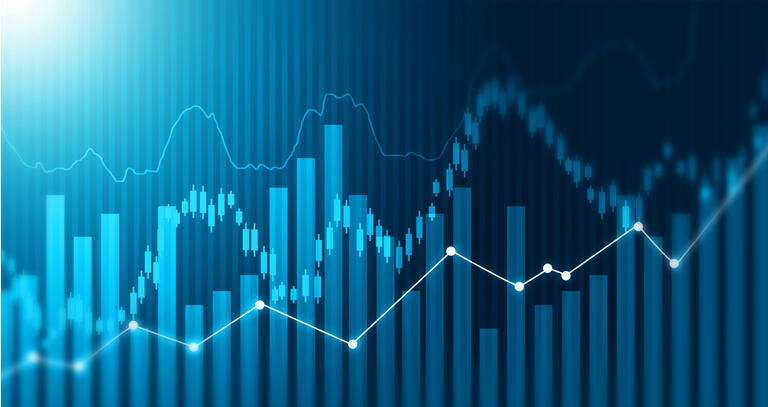 Written by Nick Ackerman, co-produced by Stanford Chemist
We've been putting a focus on interest rate sensitivity with several of our recent articles. We had published our senior loan fund update and covered several of the top-rated candidates on that screening. We also updated our coverage on PGIM High Yield Bond Fund (ISD). As a high-yield fund, the fund naturally has a relatively lower duration. Lower duration indicates a lower sensitivity to interest rate changes.
Today, we will be looking at ISD's sister fund, PGIM Short Duration High Yield Opportunities Fund (NYSE:SDHY). This fund is quite similar to ISD itself, except with the added focus of targeting shorter-duration investments. Their overall target is a duration of three years or less. As of September 30th, 2021, they reported that the duration was at 2.4 years. That lower interest rate sensitivity and appealing discount make SDHY interesting at this time.
A bit of an interesting side note, ISD had initially been a short-duration fund as well. That changed in 2019 when they dropped that target and changed their name. Essentially, they dropped the "Short Duration" portion of their name. Then roughly a year and a half later, they launched SDHY, which brings back the short-duration focus.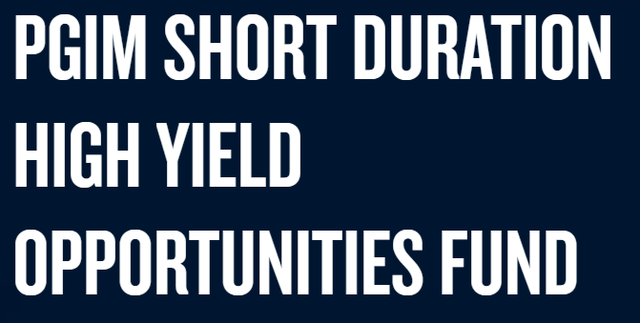 (Source)
The Basics
1-Year Z-score: N/A
Discount: 6.02%
Distribution Yield: 7.04%
Expense Ratio: 1.29%
Leverage: 21.73%
The fund "seeks to provide total return, through a combination of current income and capital appreciation by investing primarily in below-investment-grade fixed income instruments." They also target "portfolio duration of three years or less and a weighted average maturity of five years or less."
The lower maturity is precisely what leads to lower duration, which is a good thing for investors that want to hold fixed income but are worried about rates. The investment objectives of the fund are fairly standard for a CEF. Interest rates are expected to be higher over 2022, so there isn't much time before this happens anymore. Investors even anticipate higher rates than the Fed is projecting.
Term Structure
Since this fund was launched in November 2020, they have the standard structure of being a term fund now. That means they will potentially liquidate in the future. For this fund, it is a 9-year potential liquidation date. That puts it at November 30th, 2029. This is relatively shorter than most of the funds we see; I'd say 12 years is about standard.
To switch to a perpetual fund, the Board can conduct a tender offer. This would allow investors who want to get out such a chance to do so. The tender offer would be for 100% of the outstanding shares at 100% of NAV. If there is still a minimum of $200 million in net assets after the tender offer, the Board can switch to a perpetual structure. This is the standard language for such events.
Finally, it should be noted that the fund can be extended "once for up to six months..." That could happen with the Board's approval, not needing any shareholder vote on the matter. This would be beneficial if the market was in a huge panic sell such as March 2020. It would allow for some more time for assets to rebound and recover before being liquidated.
Leverage
SDHY has roughly $621.3 million in total managed assets. That includes utilizing leverage with a leverage ratio of 21.73%. Leverage is a double-edged sword; it can certainly help when times are good. However, it can definitely be detrimental when times are bad.
The fund's leverage is on the lower end for high yield fund leverage utilization. That's worth noting because the shorter maturities should also make the fund a bit less risky. That is, in the end, it is still a high-yield "junk" portfolio.
The borrowings for the fund show that they can have a maximum of $250 million from their credit facility. They are only using $135 million of that total potential to withdraw. Though in their last Annual Report, they had a maximum of $159 million, and at the end of July 31st, 2021, they had $154 million. So they have reduced their borrowings since that time. They paid an average of 0.85% on this leverage. It is tied to a 1-month LIBOR plus 0.75% spread. That means higher rates in the future mean higher expenses for the fund as well. This is pretty typical.
The Annual Report here is a bit misleading. The fund launched on November 25th, 2020. The reporting period is for the month ended July 31st, 2021. Those paying attention out there might note that it isn't a complete "annual" report.
Expenses and Taxes
The fund's expense ratio comes to 1.29%. When including leverage expenses, this comes to 1.49%. And, we don't see this very often, but they had paid an excise tax, which added 0.01% for expenses for a total expense ratio of 1.5%.
Excise tax isn't too common, but it is when a registered investment company doesn't pay out the required amount to shareholders. RICs don't pay taxes as they generally pay enough out to shareholders to meet their requirements. In this case, for 2020, they did not pay out enough to shareholders. This is the reason we will often see year-end specials. They are distributions from funds to make sure they aren't paying needless taxes. In the case of SDHY, this was a relatively small amount. I wouldn't expect this to be a regular expense from now on either.
It is the Fund's policy to meet the requirements of the Internal Revenue Code applicable to regulated investment companies and to distribute all of its taxable net investment income and capital gains, if any, to its shareholders. Therefore, no federal income tax provision is required. Withholding taxes on foreign dividends, interest and capital gains, if any, are recorded, net of reclaimable amounts, at the time the related income is earned. However, due to the timing of when distributions are made by the Fund, the Fund may be subject to an excise tax of 4% of the amount by which 98% of the Fund's annual taxable income for the calendar year and 98.2% of its net capital gains for a one-year period ending on October 31 exceed the distributions from such taxable income and net capital gains for the calendar year. The Fund paid approximately $59,600 of Federal excise taxes attributable to calendar year 2020 in March 2021.
Performance - Slow Start
As a reader mentioned in my previous ISD article in a side discussion of SDHY, the fund has been lagging behind what would be a relative peer. That would be the SPDR Bloomberg Short Term High Yield Bond Fund (SJNK). The fund has an even lower 1.92 years duration that it is sporting, which is a bit lower than SDHY's duration.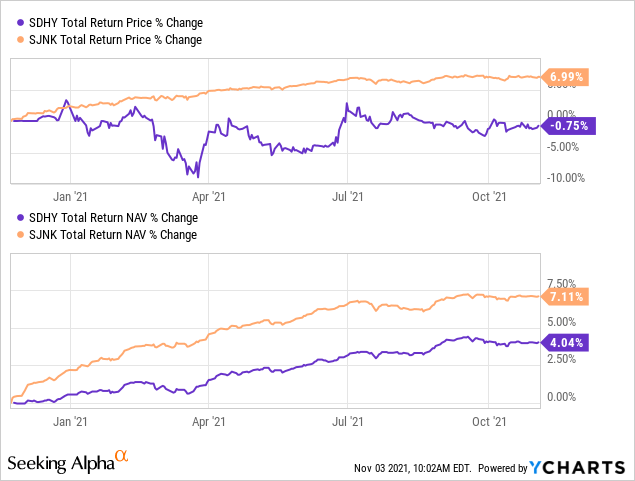 Typically, closed-end funds will sink to a discount. So the difference in the share price total return isn't too shocking. However, the poorer performance on the total NAV return level could be worth paying attention to.
To be a bit fairer, we generally want to give a fund at least 3 months to set up their portfolio. After launching, a CEF could carry a sizeable allocation to cash for the first few months as they find places to put it to work. With that being the case, we can take a look at the performance of these two from February 25th, 2021, to November 2nd, 2021.
When we do that, it is a much more similar return. However, still lagging just a bit. As time goes on, that could be compounded as well.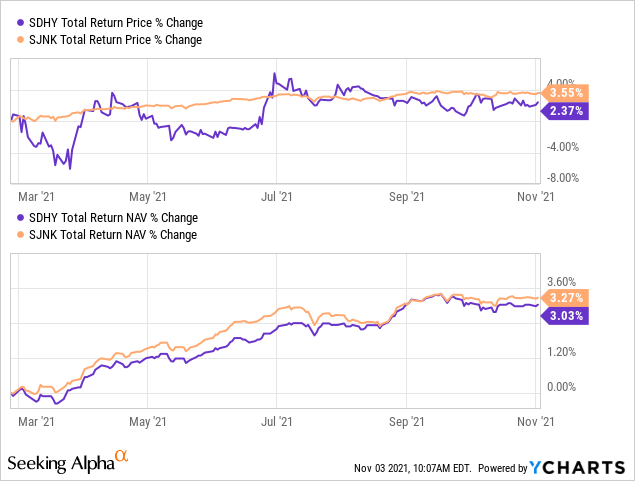 That being said, you generally buy a CEF for its discount and regular income. SJNK pays an irregular dividend to shareholders, while SDHY, you have a reasonable idea of what you will get for potentially years at a time.
Additionally, SDHY is at a discount currently. The discount isn't as deep as the fund has averaged over roughly the last year. At the same time, it is definitely in a valley from the few peaks we've seen for the fund. That could mean going forward; the share price has a better chance of outperforming even if the NAV continues to come up a bit short.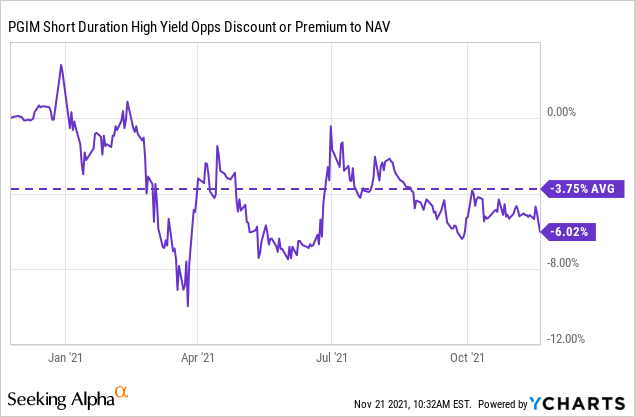 Distribution - Attractive 7.04% Distribution, But Coverage Comes In Quite Short
The fund currently pays $0.1080 monthly, which works out to 7.04% on the share price. On a NAV basis, that works out to 6.81%. This has been the same distribution the fund has paid since its launch.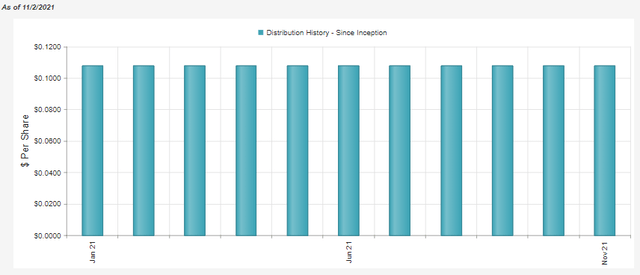 (Source - CEFConnect)
On the downside, the fund's net investment income coverage comes to just 55%.

(Source - Semi-Annual Report)
That coverage is some of the lowest we've seen from any fixed-income fund that we've covered, just about ever. However, there are a couple of things to be aware of here.
To reiterate, this is only for an abbreviated period. Since the fund launched at the end of 2020, we aren't getting an "annual" report. We are getting more of an 8-month report. This is important because bonds typically pay out semi-annually. That means the payments might not have lined up with the same reporting period.
At the same time, we highlighted above the fact that the first few months, the fund could have been sitting in a sizeable cash position. That would mean assets that aren't earning anything just about.
These points are reinforced and appear to be the case because they provided an earnings report as of September 30th, 2021. What we see is that coverage has jumped up considerably. In fact, it is the best coverage of the three different PGIM funds.

(Source - PGIM CEFs Earnings)
For tax purposes, there appears to be return of capital in their distribution. Due to knowing that the fund's NII coverage is light and the fact that its NAV has declined since inception, we would classify this as destructive ROC. So a trim of the distribution could be necessary at some point if they want to keep NAV flat.
For the period ended July 31, 2021, the tax character of dividends paid by the Fund was $17,948,001 of ordinary income and $704,829 of tax return of capital.
SDHY's Portfolio
More broadly, the portfolio of SDHY hasn't changed all that much since we covered the fund in April of this year. That is despite the 45% portfolio turnover they had reported in their last report.

(Source - Fund Website)
Average maturity dropped from 4.6 years to 4.2 years. This also translated into a slight drop for the duration, from 2.5 years to 2.4 years. Helping to reduce this duration is the fact that SDHY also incorporates bank loans in its portfolio. These are often floating rate investments. 15.2% (non-leverage adjusted) of the portfolio are in these bank loans. This is one area that they could incorporate greater exposure to reduce interest rate sensitivity even further.
The overall credit quality of the portfolio remains overweight in the BB-rated debt. Though from the previous update, there was a small reduction while B-rated debt exposure increased.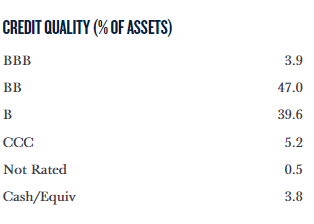 (Source - Fund Website)
This is something to monitor as well as the CCC exposure. In this update, CCC exposure declined. CCC is going to be positioned with substantial risks. They are only one notch above imminent default and, therefore, aren't far off from being in an actual default.
For sector exposure, technology, telecom and gaming continue to remain the most significant exposures. Allocations have declined some, but that isn't a terrible thing as it could indicate further diversification amongst other sectors.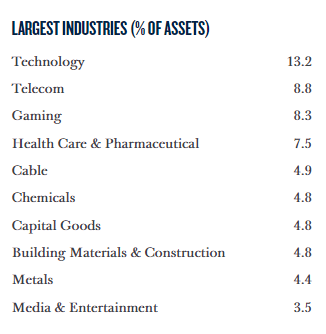 (Source - Fund Website)
Those top three sector exposures accounted for 33.1% of the portfolio's assets. Now at 30.3%, it is still sizeable but heading in the right direction if you are concerned about diversification.
For the fund's top holdings, we see some overlap with ISD's portfolio. With the same managers, it isn't too surprising to see some overlap. Additionally, they are both high-yield funds, so many holdings will meet the same investment policy of each.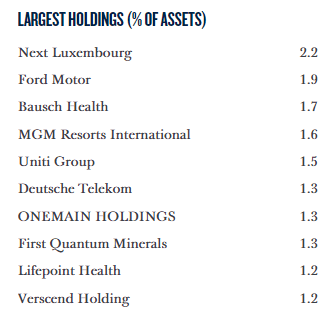 (Source - Fund Website)
As we explored in our ISD piece, the Next Luxembourg seems related to the Altice holdings within the fund's total portfolio. That position is a change from Deutsche Telekom that was previously the largest position at 3.2%. Again, this seems to be more diversification going on in the fund. The Next Luxembourg position itself went from a 2.4% allocation to 2.2% now. CEFConnect puts the total number of holdings at 308 positions.
What is interesting here is that the largest holding isn't actually what is listed above. When looking at the complete holdings of the fund, we have a 6.65% allocation to PGIM Core Ultra Short Bond Fund.

(Source - Fund Website)
That's a reasonably sizeable position in the portfolio. I'd like to believe it is just a short-term holding while they put the capital to work. However, at the end of July, it was a 2.8% exposure to the portfolio too.
Conclusion
SDHY is coming up on its first full year of existence. It felt appropriate to take a deeper dive into the fund to see how it has been doing.
For the most part, it would appear it has been coming up a bit short from its ETF peer, despite being a leveraged fund. On the other hand, the fund's discount is also appealing at this time. That could potentially lead to better returns over the shorter term if the last year is any indication. The fund's distribution is quite appealing, though a lack of coverage and decline in NAV could mean a trim is in the future.
This fund could be enticing to some investors for its shorter duration. That means less interest rate sensitivity in the future. The bank notes that are predominantly floating rate certainly can help this as well. If they increased the exposure there, it could help out on that front even further. However, I would personally take a pass on this fund at this time. So far, it isn't showing that it can be a long-term set and forget type of fund.