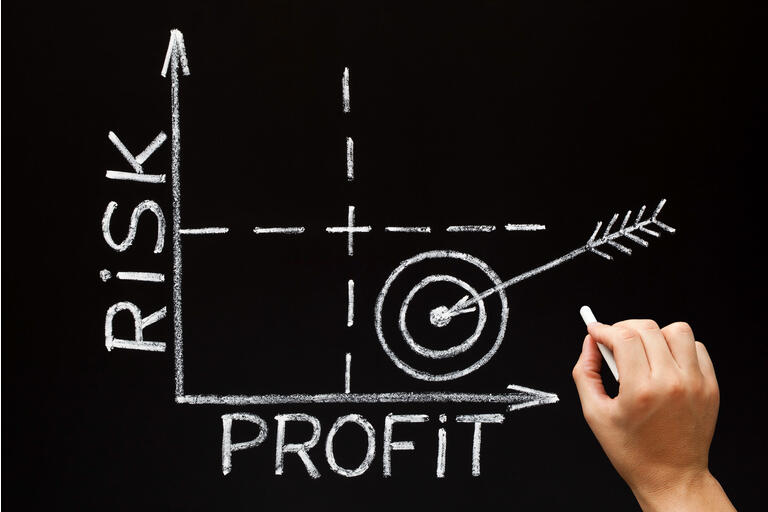 Investment Thesis
When companies with outstanding businesses and comfortable financial positions find their shares selling far below intrinsic value in the marketplace, no alternative action can benefit shareholders as surely as repurchases.
That's a quote from Warren Buffett's 1984 letter to shareholders, and one referenced by Meb Faber, Chief Investment Officer at Cambria Investment Management and founder of the Cambria Shareholder Yield ETF (BATS:SYLD). This is a genuinely unique ETF as it combines many factors many investors hold dear: dividends, buybacks, debt paydown, financial leverage, and valuation. The result is a fund that holds cheap, high beta stocks that have momentum, and in my view, is a perfect solution for dividend investors needing a catalyst in case the current bull market continues.
SYLD Overview
SYLD is a shareholder yield fund, which means that it considers stock buybacks and dividends in the "total cash distributed" picture. In addition to including net debt paydown in the equation, stocks are screened for valuation, quality, and momentum factors. Here are some key fund metrics you can reference as we go through what this ETF is all about.
Fund Basics
Current Price: $65.57
Net Assets: $331 million
Shares Outstanding: 5.05 million
Expense Ratio: 0.59%
Launch Date: May 14, 2013
Trailing Dividend Yield: 1.51%
Five-Year Dividend CAGR: 12.24%
Five-Year Beta: 1.12
Number of Securities: 102
Portfolio Turnover: 30%
Assets in Top Ten: 16.71%
30-Day Median Bid-Ask Spread: 0.14%
Tracked Index: None / Actively Managed
At first glance, its dividend yield is on pace with the S&P 500 (SPY), but it's a much more targeted fund with just over 100 holdings. The 30% turnover ratio is relatively low for a rules-based fund, which suggests that qualifying companies aren't one-offs or happened to have distributed a lot of cash recently. I assume that the proprietary screens involve smoothing out year-over-year swings in dividends, buybacks, and debt repayments. It's how the iShares U.S. Dividend and Buyback ETF (DIVB) works, which annualizes buybacks based on the last two years.
The median bid-ask spread of 0.14% is high, suggesting that many of its holdings aren't overly liquid and likely of the small-cap variety. This measure of liquidity isn't a deal-breaker by any means, but it does mean we have to consider the added risk this ETF likely has. Further evidence of this higher risk is the fund's five-year beta of 1.12, indicating it tends to be more volatile than the overall market.
Finally, the fees of 0.59% are a deterrent but acceptable so long as there's reason to believe SYLD will outperform. On its fact sheet, Cambria notes how Morningstar places it in the Mid-Cap Value category but then goes ahead and compares its performance with the S&P 500. Neither seems appropriate to me, so I'll provide several alternatives for you to consider throughout this article.
Investment Case
Cambria uses a quantitative algorithm to rank stocks based on dividends, buybacks, debt repayments, value, and quality. The method is proprietary, and the fund's investment strategy changed as of June 2020. It's now actively managed, allowing managers the freedom to react (or not react) to sudden market changes. The move appears beneficial, as SYLD has gained 77% in the last year, or 47% more than the SPDR S&P 500 ETF. Cambria outlines the investment methodology, which I believe is still generally followed today.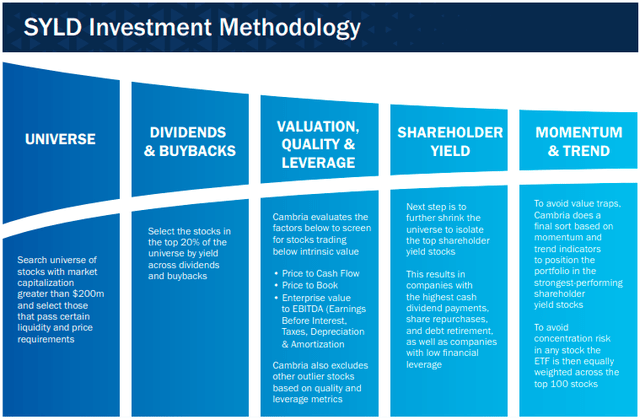 Source: SYLD Investment Case
As shown, virtually the entire U.S. stock market universe is available for selection. The top 20% by dividends and buybacks pass the initial screen, and stocks trading below their intrinsic values (according to three valuation metrics) are identified. Securities with the highest shareholder yields are isolated, and the fund managers use momentum and trend indicators to avoid value traps. Finally, the ETF is equal-weighted across the top 100 stocks, but there's no indication of how often rebalancing occurs.
Sector Exposures and Top Holdings
SYLD's top ten holdings total 16.71% of the ETF, and Dillard's (DDS) currently holds the top spot with a weighting of 3.27%. While SYLD doesn't appear to be equal-weighted, this overweighting is due to Dillard's 471% gain YTD. The same goes for Murphy Oil (MUR), which is up 118% YTD.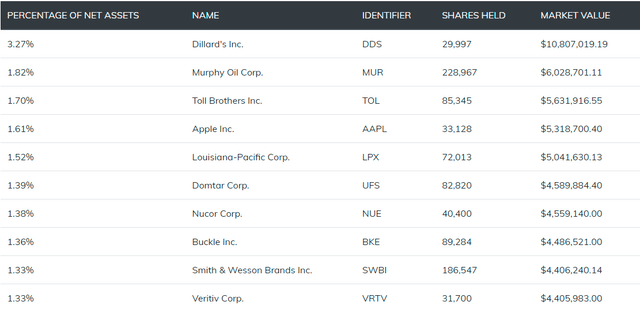 Source: SYLD Fund Overview
Cambria doesn't list the fund's sector exposures on its website, but I have put together the data below. After adjusting for the fund's 1% cash balance, precisely 75% of the ETF is exposed to Financials, Consumer Cyclicals, Industrials, and Materials. There are no REITs and only minimal exposures to defensive stocks in the Health Care, Consumer Staples, and Utilities industries. SYLD appears to be a "risky value play," as contradictory as that may sound.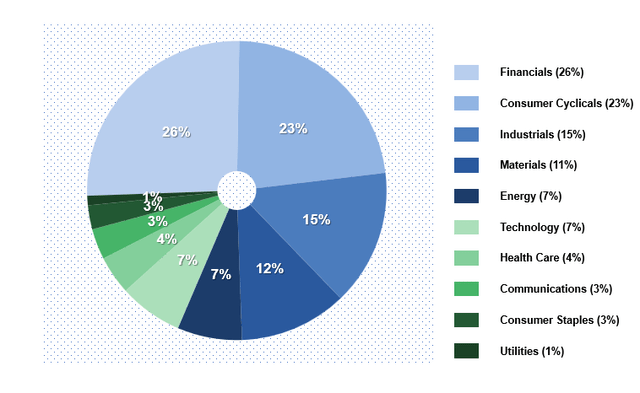 Source: Created By Author Using Data From SYLD Fund Overview
Performance
SYLD has easily outperformed its shareholder yield peers recently. Please look at some selected total return metrics I generated using the Hoya Capital Income Builder ETF Tracker.

Source: Hoya Capital Income Builder ETF Tracker
Just as crucial as SYLD's recent outperformance is its underperformance in prior years. Before June 2020, SYLD's underlying Index reconstituted quarterly, which was too aggressive in my view. Despite buying high conviction stocks, fund managers were forced to sell too early or, at the very least, scale back investments in stocks that had momentum. Such frequent rebalancings are unnecessary and don't make sense unless for value strategies.
Higher returns, however, often bring more risk. Recall how SYLD's five-year beta is 1.12, suggesting it's more volatile than the market. SYLD's performance since its inception, along with that of PKW, QSY, and SPY, are shown below. It's undoubtedly riskier, but you can see the risk-adjusted return metrics (Sharpe and Sortino Ratios) are about in line.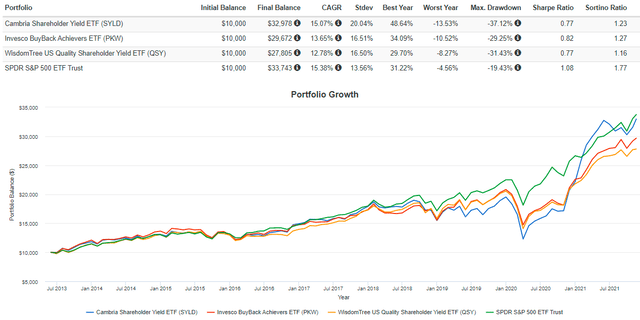 Source: Portfolio Visualizer
The maximum drawdown in March 2020, however, was much more significant. Cambria's Chief Investment Officer, Meb Faber, touched on this in a June podcast.
From February 19 2020 to March 23 2020, the S&P 500 endured the quickest fall from all-time-highs to bear market…ever. In just 23 trading days, the index fell 33%. Ouch. Our suite of shareholder yield ETFs wasn't immune to the market selloff, of course. Over the same period, SYLD fell 44%, our foreign version, FYLD 40%, and EYLD, our emerging markets fell 36%. Of course, since those late-March 2020 lows until the end of April 2021, on a cumulative basis, the funds were up 189%, 106%, and 105%, respectively, while the S&P 500 index was up 90%. Even better, each of the funds in the YLD suite trade at attractive valuations currently.
Essentially, value investors must be patient, which is what the active management strategy allows for. During the podcast, Mr. Faber also notes the fund's attractive valuation metrics, with the most recent ones as of September 30 shown below.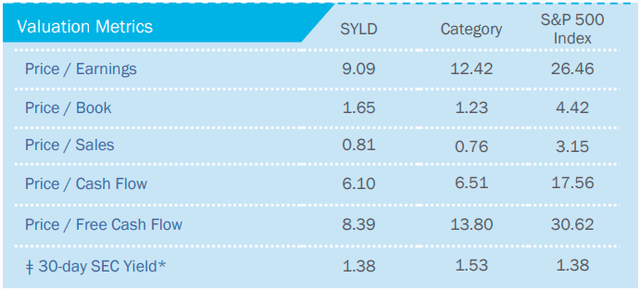 Source: SYLD Fact Sheet
A Mid-Cap Value ETF? Not Quite
As mentioned, Morningstar places SYLD in the Mid-Cap Value category, but I don't think that's entirely accurate. For starters, S&P Dow Jones categorizes mid-cap stocks as those with market capitalizations between $3.6 billion and $13.1 billion, and SYLD has many stocks with market capitalizations bigger than that. Even ignoring the skewness caused by Apple (AAPL), SYLD has 35 holdings, or one-third of the ETF, in the large-cap category. Finally, about one-third of the fund overlaps with either the iShares Russell 1000 Growth ETF (IWF) or the iShares Russell 2000 Growth ETF (IWO). Therefore, it's probably more appropriate to place it in the Total Market Blend or Total Market Value category. Based on these classifications and the fund's high beta, here are some alternative ETFs worth consideration.

Source: Hoya Capital Income Builder ETF Tracker
The Roundhill Acquirers Deep Value ETF (DEEP) is the closest based on P/E, but that fund focuses on small and micro-cap stocks, so it's probably not a good alternative. SYLD appears to be in a league of its own with its total-market-cap, high beta, and low P/E approach. Therefore, it makes for an excellent diversifier, but let's take a closer look at the constituents to make sure it's investable.
Fundamental Analysis
The following graphic highlights the six things investors should know about SYLD.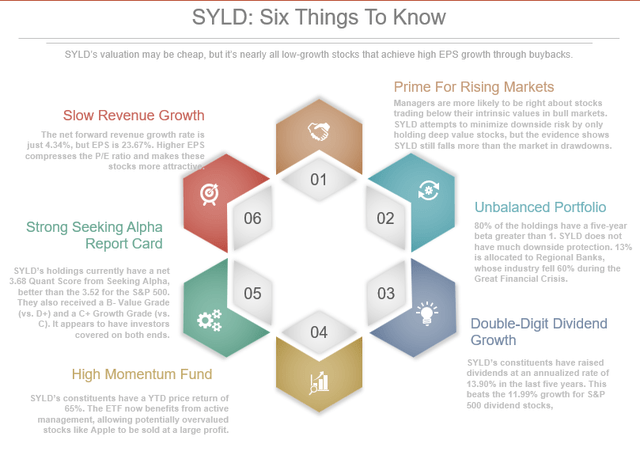 Source: Created By Author Using Data From Seeking Alpha
Prime For Rising Markets, Not So Much For Corrections
Remember that the fund's objective is essentially to identify stocks trading at deep discounts to their intrinsic value. It's much easier to be good at this in a bull market, even by simple chance. However, the real test comes in market corrections, and based on the historical performance thus far, SYLD has not succeeded. Its drawdowns are consistently worse than the S&P 500.

Source: Portfolio Visualizer
Unbalanced Portfolio
It's rare to see so much of a fund (80%) have five-year betas above one. The only one I recall is when I analyzed the S&P 500 High Beta ETF (SPHB), which had a 1.44 five-year beta at the time. The key difference was that SPHB has a combination of high and low P/E stocks while SYLD primarily has low P/E stocks. I think this composition is an issue, which is why I think it's best used if investors meet the following criteria:
they prefer value investing based on fundamentals and have the patience to wait for markets to realize stocks' intrinsic values

they already own low-beta dividend value stocks. A proper allocation to SYLD will allow investors to obtain market-like levels of volatility while still maintaining a value strategy.
Double-Digit Dividend Growth
Often, an ETF can obtain a high dividend growth rate simply by regularly rotating in and out of the highest-yielding stocks. This strategy helps explain why an ETF like SDY can have an 11.03% five-year dividend growth rate but only 6.46% growth among its constituents. Simply put, it's not difficult to earn a high yield if you're constantly buying the highest-yielding stocks and selling the lowest-yielding ones in your portfolio.
With SYLD, however, the ETF's five-year dividend growth rate is 12.24%, and the net growth rate for its constituents is even better at 13.90%. Therefore, there's no manipulation going on here. Fund managers aren't offloading low-yielding stocks too early because dividends are just one component in the selection process. Instead, when it comes to dividend growth, what you see is what you get.
High Momentum Fund
As noted in the graphic, SYLD's constituents have a 65% price return YTD, yet surprisingly, many of the top performers still have ultra-low price-earnings ratios:
One might usually be surprised these stocks haven't been sold yet, but given their valuations, it seems as though the fund managers still believe there's room left to run.
Strong Report Card
SYLD checks a lot of boxes. All four grades are better than the S&P 500, and the ETF looks to have you covered no matter if growth or value is favored.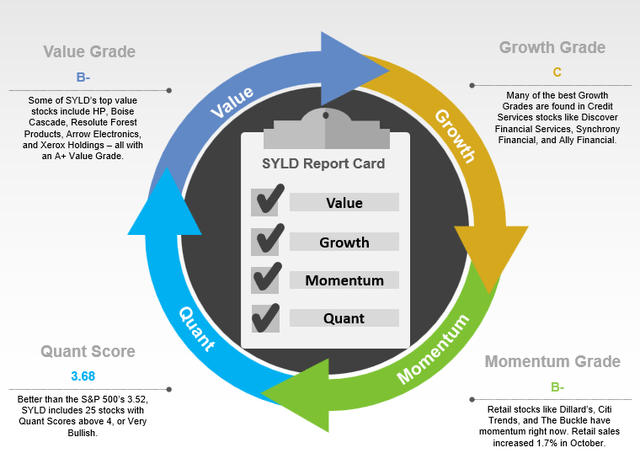 Source: Created By Author Using Data From Seeking Alpha
Slow Revenue Growth
By far, my biggest criticism of SYLD is its slow forward revenue growth rate of just 4.34%. It may be difficult for rapid price appreciation to continue if buybacks slow down. It stands to reason that as asset prices continue to rise, buybacks should decrease.
I can see this becoming a big problem in an overvalued market. Companies executing buybacks of overpriced shares destroy shareholder value, which is why management should use them sparingly. On the other hand, a prudent management team recognizing their shares are overvalued and electing not to repurchase shares may negatively signal the market. Laid bare is a poor revenue growth rate, which could further depress share prices.
Investment Recommendation
I recommend dividend value investors take out a position in SYLD. Most dividend ETFs have five-year betas between 0.85 and 0.95, and an appropriate allocation to this ETF would allow investors to capture more upside potential while still keeping with the value theme. In addition, allowing managers the flexibility to reconstitute when appropriate is a big positive, as the previous reconstitution policy made little sense for deep-value investing. The slow revenue growth rate is surely a problem, but if you aren't explicitly looking to manage downside risk and are instead trying to find a complement to your low-beta, high-dividend portfolio, SYLD could very well be the perfect ETF.