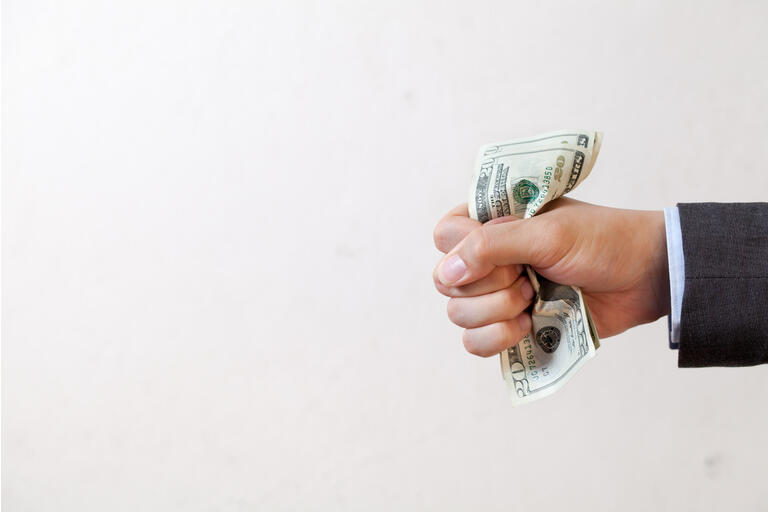 The short Interest data metric as an investment factor has been the flavor of the year. Historically, it is a pretty poor factor for forecasting long-term performance. After all, most investors short stocks because it is perceived they have poor investment fundamentals. But during a market cycle of short squeezes, it is a highly coveted data point. For over a year, interest in this data point has run strong and speculator's enthusiasm does not seem to be slowing. In a world filled with instant gratification and one of the most unique markets I've seen; we have been surrounded by stocks that outperformed and broke records in 2021, with key winners – if you're willing to roll the dice – in meme stocks. The definition of meme stock remains a topic of debate. They rose to the public eye because of social media platforms like Reddit and Wall Street Bets.
Full disclosure, in my thirty plus years of investment research, I have never seen this level of enthusiasm in short-interest data points. As a Quantitative Strategist, data analysis and interpretation of statistics have taken center stage in my career. For my purpose, the interpretation of data is the process of making sense of statistics that have been collected, analyzed, and scored. Hence, the preoccupation by investors in short interest prompted me to create a screen like no other screen out there; a screen with a data-driven application to zero in on stocks that have potential to experience a short squeeze. The Screen is our 'Top Short Squeeze Stock'. The screen pairs together stocks with two essential characteristics: 1). 'Very Bullish' stock ratings according to Seeking Alpha's quant model, and 2). Stocks with short interest above 10%.
Betting your capital on a single factor, such as the percentage of short interest, carries significant risk. Based on the investment cycle, certain factors or data metrics have the potential to run hot and can be a harbinger to create demand in stocks that possess those metrics. Especially, when investors are frenzied by meme stocks. Let us discuss the significance behind meme stocks: short interest and the short squeeze.
Reddit: Short Interest and Short Squeeze Defined
Meme stocks have taken the world by storm and many Meme stocks have high levels of short interest. Stocks with high levels of short interest are susceptible to short-term price swings. Historically, short interest as a factor (an investment metric) has notoriously been an inferior metric for forecasting stock price predictability. Nevertheless, a short squeeze has the capability to cause powerful stock rallies.
Wall Street Bets and the 'Reddit Revolution' made quite a splash this past year. The social media channels targeted many stocks that had the potential for a short squeeze. Short interest is not a foreign topic to experienced investors. Ironically, a lot of these sophisticated investors, to their embarrassment, missed some pretty big stock moves in the Meme stocks. On the other hand, many retail and novice investors looked pretty smart, as meme stocks were front and center of their stock picks. Equities like GameStop (GME) and AMC (AMC) shot to the moon as hedge funds were shorting the stocks, and on the other side of the trade, retail investors were buying these stocks.
By way of background, a short squeeze refers to the rare event where the price of a stock with significant short interest unexpectedly rises. Short Interest reflects the number or percent of shares that have been borrowed by a person or institution and sold short, but have not yet been covered or returned to the rightful owner. The borrower of the stock actually sells the shares (they do not own the shares) and hopes to buy the shares back at a lower price with the intent of returning the shares to the rightful shareholder. The higher the percent of short interest the greater the percentage of people shorting the stock. Sometimes, when a stock with high short interest begins to appreciate, this prompts panicked short sellers to exit their positions as quickly as possible by executing buy orders to purchase the stock, forcing the stock price to climb even higher. At the same time, new investors may also start buying the stock, either on speculation or investment fundamentals, driving the stock even higher. As you can imagine, a short squeeze is bad news for short sellers- but very good news for investors who took a bullish bet on the stock.
This is what happened during the 'Reddit Revolution,' which we saw this past year. If an investor catches the right side of a short squeeze you can make a vast profit. The trick is knowing when to exit. Many of these stocks have poor investment fundamentals and you do not want to be around when the light bulb goes off and investors realize the stock is not going to perform well in the long run. If you hold too long, you will likely lose because the short squeeze ends, and then the stock price falls; you could lose all of your gains. Forget losing your gains. You can exit at a loss. This past year, the squeezes were so amplified because of the small- to mid-cap companies selected. When a smaller company has an extraordinary trading volume, it is amplified compared to a mega-cap company.
How Some Brilliant Computing Power and A Smart Algo Identified Top Short Squeeze Stocks That Surged
As I mentioned, historically short interest is a very poor indicator for stock price predictability and price appreciation. This can be attributed to stocks with high short interest often having very poor investment fundamentals. Regardless of this risk, there are still a lot of investors willing to chase these stocks. After examining the enigma of Meme stocks and investor's engrossment for speculating on stocks with short interest (sometimes recklessly) it was apparent the market needed a better tool to identify stocks with high short interest that actually had good investment fundamentals. As the Head of Seek Alpha's Quant Strategy, I decided to develop a solution to investing in stocks with high short interest and minimize the investment risk. The solution was to target stocks that had very good investment fundamentals, as well as high short interest. Our Top Short Squeeze Stock screener pairs top stocks with two essential characteristics: 1) Very Bullish stock ratings according to Seeking Alpha's quant model, and 2) stocks with short interest above 10%. This screen refreshes daily.
Let us discuss further why it's vital to include quantitative data with mere risk-taking. The key to identifying stocks with short squeeze potential is using our model and marrying our short interest data with our quantitative metrics. The data-driven process is steadier than speculation and is critical to assessing the fundamentals of a company. But that doesn't mean a squeeze is going to happen. Trading must circle a company and cause the short squeeze. Institutional investors usually precipitate the circumstances and for years have controlled the data that is relevant to shorting stocks. But small institutions and retail investors now want in on the game. That's where Seeking Alpha comes in!
At Seeking Alpha, we have developed a screen that marries hard to find short interest data with proprietary quantitative data. The output of the screen is our Very Bullish recommendations that have high levels of short interest. This is an explosive combination and we have found the screen has generated recommendations that have performed very well. Look below at a list of some of our Top Short Squeeze Stocks.
Very Bullish Stocks With Short Squeeze Potential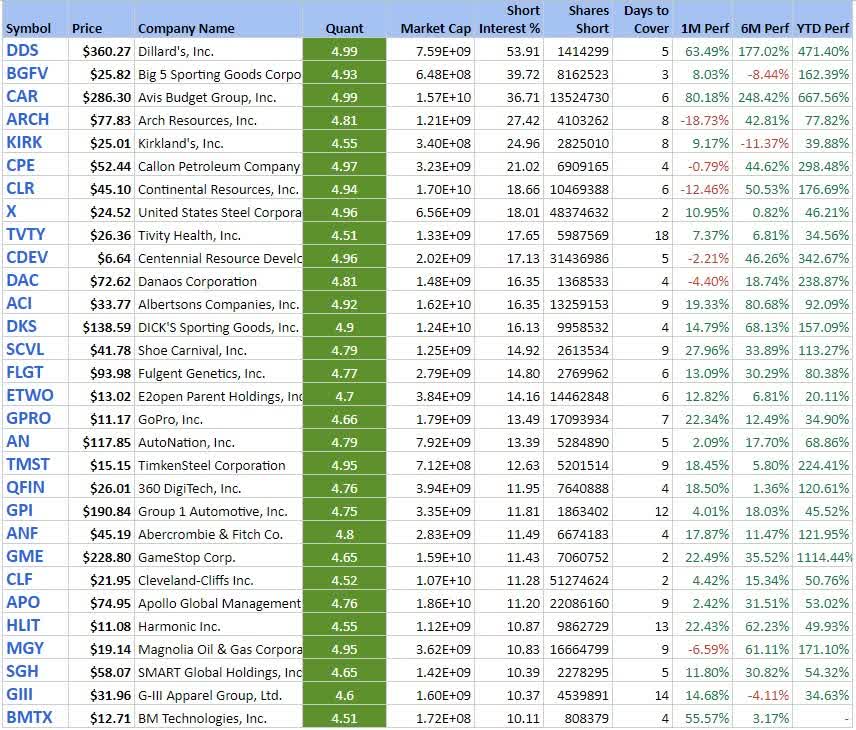 Source: S&P Global and Seeking Alpha Premium
The above table displays 30 stocks with short interest above 10%. FINRA requires firms to report short interest positions in all customer and proprietary accounts in all equity securities twice a month. In an effort to capture this data, Seeking Alpha's quant model's algo is updated daily, ensuring we do not miss when the short interest data is reported. Updating our model daily also ensures that all of the quant data is near real-time.
Again, short interest has not worked as a consistent strategy in past decades, but it has worked for the last 18 months. If you like short interest and want to make it work, consider using our Top Short Squeeze Stock screen.
At the top of the list are Avis Budget Group (NASDAQ:CAR) and Dillard's (NYSE:DDS). Looks like they may be the new AMC and GameStop.
Avis Budget Group short interest is 36.71%. It is one of the highest levels of short interest amongst our Very Bullish quant recommendations. Looks like the short squeeze really started to kick-in at the end of October. The stock is up 225% from our Very Bullish recommendation in May.
Avis Budget Group Short Squeeze Take Hold In October

The stock still has very good fundamentals on growth, value and profitability. In the last 90 days, 5 analysts have revised their earnings estimates up and zero have revised down. Trailing Twelve month Revenue and Forward earnings growth are strong with 'A' quant grades and 30% and 68% growth respectively.
Avis Budget Group Has Solid Factor Grades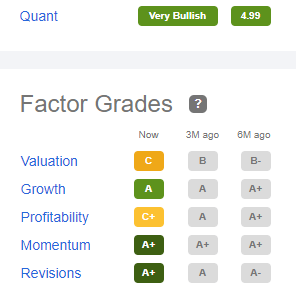 Dillard's is up 75% from our Very Bullish recommendation in August 2021

Dillard's is also a Very Bullish quant recommendation and has the highest level of short interest at 53%. Perhaps the naysayers on the stock dislike it because it is a traditional department store retailer. However, the company looks very solid in regards to growth, value, profitability, and analysts expecting the company to do well going forward. The stock is up 75% from our Very Bullish recommendation in August 2021. The factor grades below exhibit the data is very strong for Dillard's and the stock also has great fundamentals.
Dillard's Has Fantastic Factor Grades And Ranks The Highest In Its Sector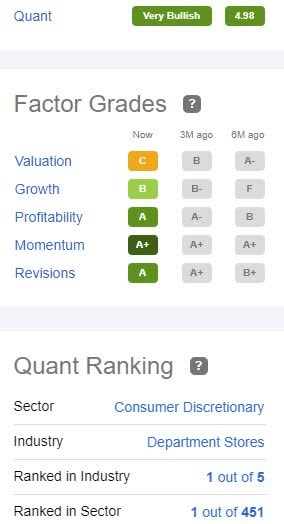 Dillard's also looks very strong in regards to its Dividend Safety Grades. See How Our Dividend Grades Averted 99% Of Dividend Cuts. Dillard's Gets 'A' Grades for Dividend Payout Ratios, Dividend Coverage Ratios, ROE, Cash Per Share, and Sustainable Growth.
Dillard's Has A Great Dividend Scorecard

Dillard's just increased their quarterly dividend to $0.20 from $0.15. The Board also approves a special cash dividend in the amount of $15.00 per common share, to be payable on December 15, 2021 to shareholders of record as of November 29, 2021
For Stocks With Less Risk- Consider Top Stocks By Quant Ratings
If you prefer less risky investments, stocks that are not centric to short interest, consider using our Top Stocks by Quant Ratings which focuses on providing investors with an instant characterization of stocks and allows you to find or rule out stocks based on your investment criteria. Below is an example of how the quant factor grades and quant rankings are displayed.
Top Rated Stocks Displayed Daily On The Seeking Alpha Quant Ratings Dashboard

Source: Seeking Alpha Premium
The Quant Ratings and Factor Grades provide a springboard for further investigation. You can quickly see where a stock is strong or weak, and with one click, you can view the underlying data and sector averages to perform your evaluation. The Quant Ratings and Factor Grades are appropriate for both short- and long-term investors. The Value, Growth, and Profitability factors identify mispriced securities, and the Momentum and EPS Revisions factors recognize timeliness. These core investment metrics are measured to support our quantitative algorithms, and SA offers top-notch tools with customizable screens and filters to create a portfolio suited to your needs.
The Top Stocks Quant Model Has Very Good Performance
Blending investment metrics based on value, growth, profitability, earnings, and momentum instead of focusing on a single metric like the percentage of short interest is crucial. This balanced approach has worked very well over the long term. As the Head of Quantitative Strategy at Seeking Alpha, I am immersed in data. Seeking Alpha's Very Bullish Quant recommendations are up YTD 50.65% compared with the S&P 500, up 26.41%. The process of making sense of statistics that have been collected, analyzed, and scored has served as a solid foundation in identifying trends and making transparent predictions. in the course of money management. It has also allowed me to develop user-friendly web-based tools that provide individuals with the indicators and signals required to interpret a stock's strength or weakness instantly. The results in the below SA chart speaks volumes to our success.

Source: Seeking Alpha Premium
And while past performance is not indicative of future results, the blended approach of employing a multitude of investment characteristics helps alleviate a lot of the risk carried when one uses a single factor. In a nutshell, do not put all of your eggs in one basket.
Summary
In a world that wants to get rich quick, if you can identify a company that has a high level of short interest that you're comfortable holding for a more extended period in anticipation of a squeeze, fantastic! We have the tools for you, especially if you're comfortable with the risk. If you're in with the short squeeze crowd, you better be ready to move quick!
Investing in stocks, whether long or short positions with a high level of short interest, is extremely risky. The risk is so significant that many traders will not carry the positions overnight and look to re-establish positions each morning. Consider using tools that help to ensure your portfolio contains investments that stand to increase over time. If you are not a Seeking Alpha Premium member, in order to use the Seeking Alpha Screens or Quant Grades, please feel free to Take the 14-day trial of Premium. The trial will open up the screens and tools to help you determine if they are useful towards your investment research. If the Quant grades, screens, and portfolio tools are not useful feel free to stick with the Seeking Alpha's free site.