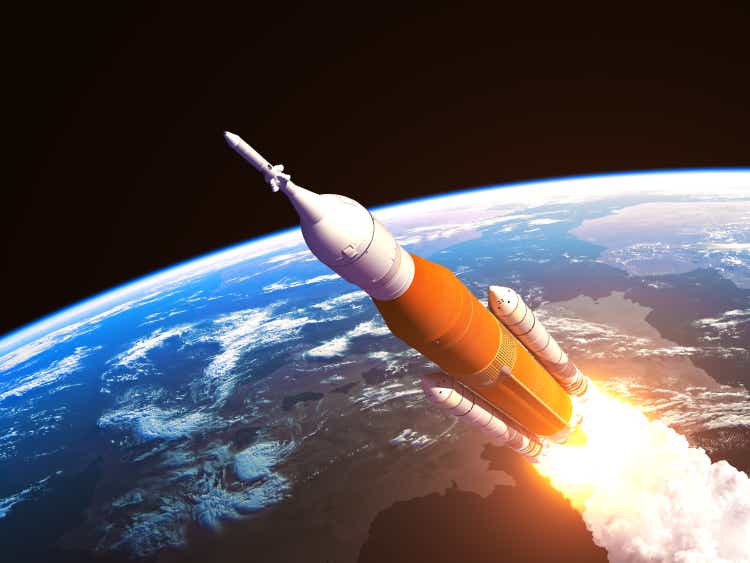 In case you missed it, Orion Office REIT (NYSE:ONL) debuted in the public markets just a few days ago – a newly created real estate investment trust (REIT) spun off from the newly merged Realty Income (O) and VEREIT.
Since I was already a Realty Income shareholder, I automatically have shares in Orion. For every 10 shares in the former, I got one share in the latter.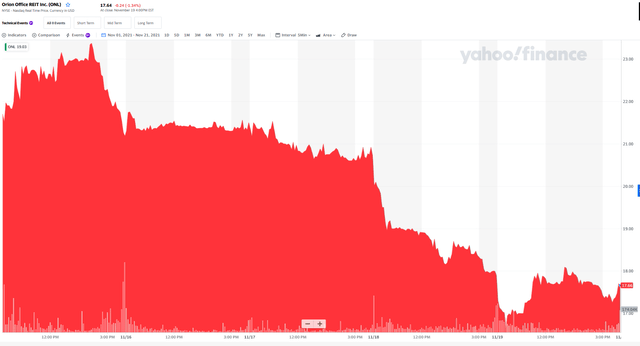 (Source: Yahoo Finance)
For the record, I usually don't jump on newly-listed REITs, preferring to conduct my due diligence first.
However, ONL with its 92 mission-critical and headquarter-office properties, is unique. I feel as though it's already part of the family, having already (partially) been generating dividend income for me via O.
In addition, Orion's senior level management team – broken down as follows – is very familiar with its portfolio.
CEO Paul McDowell was previously Vereit's executive vice president and COO of Vereit, a position he held starting in 2015. He was also the founder of CapLease, a former net-lease REIT I covered from 2012-2014 before it was acquired by American Realty.
CFO Gavin Brandon served as chief accounting officer at VEREIT since 2014 before taking on this new position.
CIO Gary Landriau was Vereit's head of office and industrial asset management for over six years.
COO Chris Day was previously Vereit's senior vice president and head of portfolio and retail asset management.
All in all, ONL's management team has over 25 years of experience in the single-tenant, net-lease suburban office market.
Meeting with Orion Office REIT's CEO
Part of my due diligence process with new REITs usually includes meeting with management. And as comfortable as I am with this one, I still spoke with Orion's McDowell on Friday.
The interview is available to iREIT on Alpha members, but part of it involved him saying:
"… we think there's a spot for us in the net-least marketplace for suburban office. We've got 92 properties, which is about 10.5 million square feet… a combination of the office properties from Vereit – which make up about 70% of the overall portfolio – and the office properties from Realty Income, which make up the remaining 30%. The portfolio is quite well-leased, with current occupancy of around 95%."

(Source: ONL Investor Presentation)
The properties are located in high-quality suburban markets. And Orion believes it can:
"… provide investors with the unique opportunity to invest in suburban net-lease office given limited public market focus on property type and demographic tailwinds associated with recent suburban migration."
The company (of already established leases) has collected 99% of its rent on a monthly basis through June 30. Moreover, these assets have a strong history of rent collection.
As you can see below, 25% of annual base rents (ABR) are from Sun Belt market properties: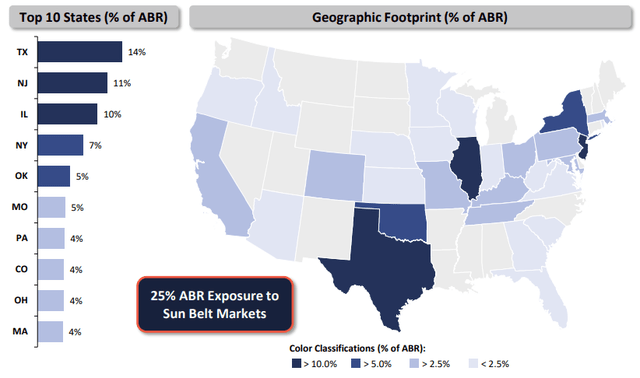 (Source: ONL Investor Presentation)
At 72% of its portfolio, ONL has one of the highest exposures to investment-grade ('IG') tenants in the net-lease sector. That's more than double the exposure to investment-grade tenants compared to the sector average, as viewed below.
Which explains its 99% rent payment collection year to date.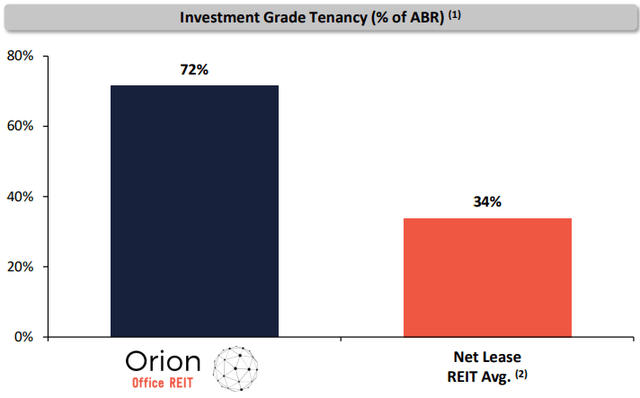 (Source: ONL Investor Presentation)
Who Are Orion's Peers?
Being a net-lease REIT that focuses 100% on office properties, here's the peer group we're including it in:

We could also consider City Office (CIO) a peer, but it owns multi-tenant properties. So it doesn't fit as well as it could into the same category as Orion.
Within its immediate peer group, macroeconomic and demographic trends point to a positive outlook for suburban net-lease office properties.
De-urbanization has caused population shifts from urban to non-urban communities – creating significant demographic tailwind for suburban offices. That's been the thesis for investing in CIO and Highwoods Properties (HIW).
Announcements by big tech companies like Amazon, Microsoft, Google, and Oracle have boosted these area's profiles even more.

(Source: ONL Investor Presentation)
Since 2017, suburban office returns have outperformed urban offices' by an approximate average of 230 basis points.

(Source: ONL Investor Presentation)
ONL's CEO told me:
"We think there's some really good opportunity in this sector. I'd say globally, cap rates for offices in the suburban (space) – just to broadly generalize – would… be about 7%... There's a significant spread for suburban office, but as you might expect, that cap rate varies pretty dramatically based on credit quality of the tenant, duration of the lease, and location of the asset."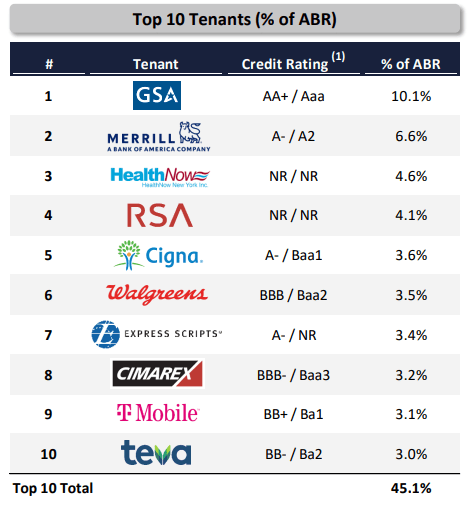 (Source: ONL Investor Presentation)
Cap rate spreads versus investment-grade bonds are well above historical averages. In fact, they're near all-time highs from the last 20 years. And we believe this is a compelling value proposition for Orion investors.
According to the company itself, the total suburban office market is valued at about $1 trillion to $1.5 trillion. So there's plenty of room for this particular REIT to capitalize on it – especially when so many other REIT have abandoned such properties.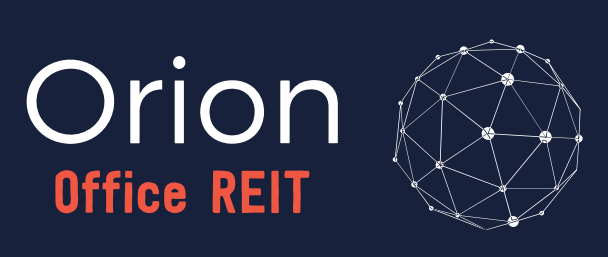 (Source: ONL Investor Presentation)
Regarding Orion's Balance Sheet and Dividend
Orion Office REIT has a conservative balance sheet with ample liquidity to pursue its growth-oriented business plan. The revolver facility is now $425 million with total liquidity of about $335 million available under the revolver and another $15 million in cash.

(Source: ONL Investor Presentation)
Last week, index funds had to sell Orion. And we suspect that institutions also exited due to indiscriminate selling from O shareholders.
ONL is a small cap, after all, whereas O is a large cap. So mandated managers were unable to hold shares of the new REIT. Plus, ONL has yet to declare a dividend.
Its CEO told me that while net-lease retail REITs tend to have much higher payout ratios, that's not the case for the office subsector.
"So we recognize that with a 3.4 weighted average lease-term portfolio, we're going to have a lot of lease rollovers in the next 3, 4, 5 years. And so that will require some significant amounts of capital.

"… that will drive our dividend policy to quite a large extent, because we have good uses for the money that we bring in. We can reinvest it in the existing properties rather than borrow it and pay a dividend.

"So I think our focus will be to set the dividend at a meaningful level. We would anticipate paying on a quarterly basis, and it will be at a level that would obviously maintain our REIT status but will likely be lower than from a payout ratio perspective than you might otherwise see in the net lease sector."
We believe Orion will set the payout ratio at 50%-60% based on adjusted funds from operations (AFFO). Here's how its peers stack up in that regard: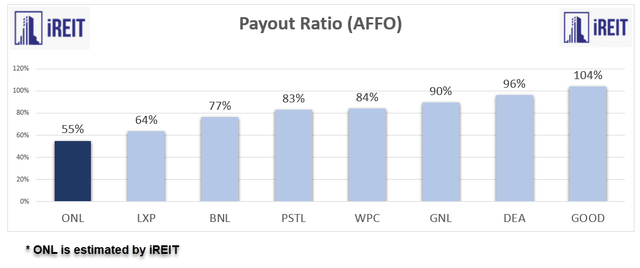 iREIT Likes ONL Stock
Given the fact that many O investors own ONL like I do… we suspect the company will do everything in its power to generate predictable dividend growth. Just like its big brother.
In addition, many of Orion's executives saw the damaging impact of a dividend cut. So, assuming it distributes 55% in AFFO, here's our preliminary earnings and yield model:
As you can see below and based on our model – of a 55% payout ratio and 8.5% yield – the dividend appears to be safe.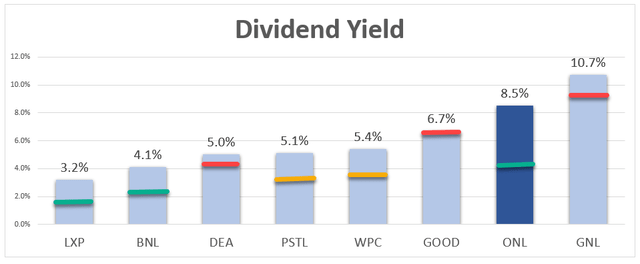 (Source: iREIT on Alpha)
Another valuation metric based on our so-far unconfirmed model, Orion appears to be trading at a deeply-discounted valuation.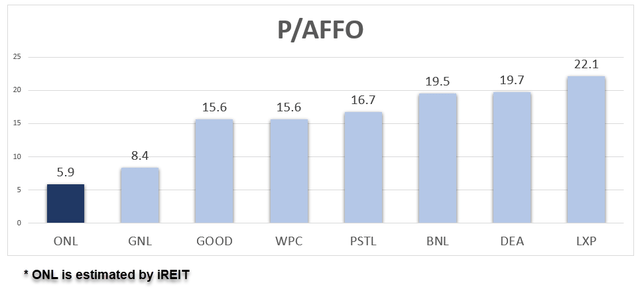 Finally, as you may recall, there's an industrial REIT we cover called STAG Industrial (STAG), which I happen to own. When the company listed shares in 2011, it traded at 11.6x p/FFO, and fell as low as 9.6x.
It took a while for the company to grow and get included in various indexes. However, as illustrated below, retail and institutional investors have gravitated to the "secondary market" business model since STAG's debut.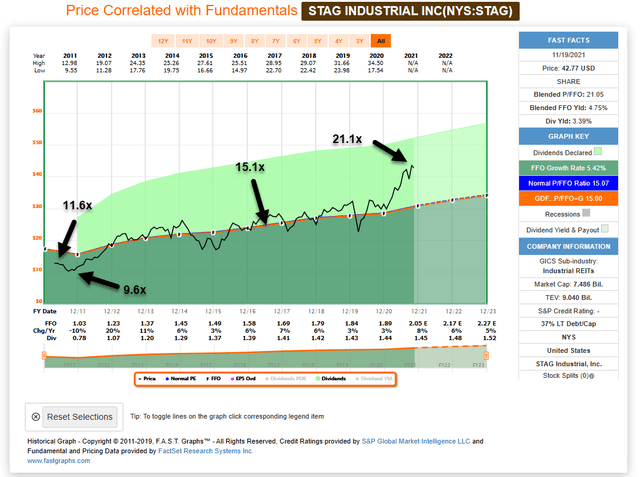 (Source: FAST Graphs)
The REIT was able to prove out its business model by growing its asset base accretively – while also generating stable retention results. It took a while for the company to gain scale. But now retention is stable, and tenant and geographic concentration levels have been reduced.
In Conclusion…
With a trusted management team (and board of directors), we believe Orion can deliver attractive returns. Given how 72% of its tenants are considered investment-grade, and that leasing expertise mitigates lease-up risk…
We're introducing it as a Strong Buy with these catalysts:
The dividend initiation, which we expect to be anything over 7%, should grab Average Joe and Jane's attention.
Most people are getting back to the office through Q2-22.
Management experience and insight is solid.
Although we don't consider mergers and acquisitions (M&A) as a catalyst, we can't ignore how robust private equity markets are. We wouldn't be surprised to see Blackstone (BX) become an active participant in joint ventures or an outright privatization deal.
Hopefully, McDowell and his team will have time to create value and demonstrate the value of this repeatable mission-critical, office-property model.
Remembering that Orion is a constellation that stands out in the night sky because of its brightness.
Let's hope Mr. Market can see the light… or at least see why this article is a "My Oh My, Another Strong Buy" type.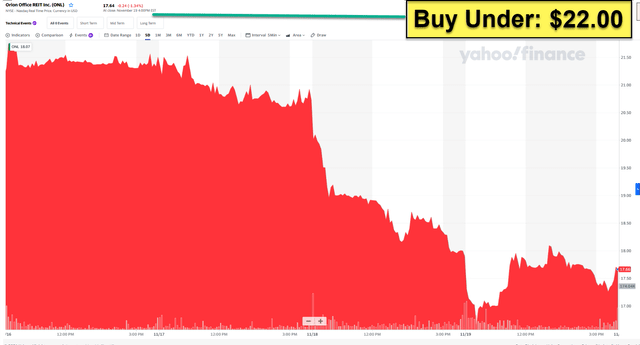 (Source: Yahoo Finance)
Author's Note: Brad Thomas is a Wall Street writer, which means he's not always right with his predictions or recommendations. Since that also applies to his grammar, please excuse any typos you may find. Also, this article is free: written and distributed only to assist in research while providing a forum for second-level thinking.