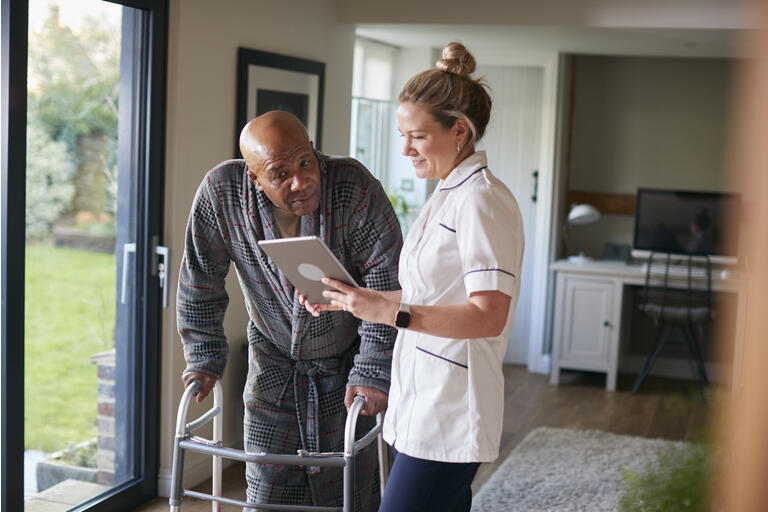 When I was younger and had less experience in the market, I would get frustrated—even angry—when I believed my stocks were unfairly "punished" by the market. But over the past few years, I have learned from those wiser than me to take advantage of these opportunities, when there is a disconnect between the market's reaction to a stock and what is happening fundamentally at the company. Now, when one of my top picks is, in my estimation, unfairly punished, I feel like a child on Christmas morning. Or perhaps a shopper on Black Friday, getting one heck of a deal!
That's how I felt several times the past few months with one of my top core holdings, InfuSystem (NYSE:INFU), a national health care service provider, which facilitates outpatient care for durable medical equipment manufacturers and health care providers. The stock was punished for the "crime" of slightly missing revenue and earnings estimates for 2021, all so they could earn significantly more in 2022 and well beyond. I wrote about this following their Q2 earnings call, encouraging investors to look beyond the headline numbers to see that the lower guidance for 2021 was actually good for the company—and should have been good for the stock!
I am happy that following their 3Q21 earnings call, the stock has begun to rebound nicely. Still, I believe the stock has plenty of upside left for long-term investors, with several possible upcoming catalysts and a positive long-term trajectory. In short, I believe more than I did three months ago that the stock should be worth at least $42/share in a couple of years, because management has already started to show execution on their investment phase, lending them increased credibility.
INFU's Pivot
For those unfamiliar with the story, or who need a recap, I will recall what we learned on the 2Q21 earnings call and through subsequent research. During the first half of 2021, INFU saw several opportunities present themselves to expand via their integrated therapy services (ITS) platform. This platform has been honed via INFU's oncology therapy services and can fairly easily be leveraged to add additional therapies with other partners. Due to various occurrences such as marketplace disruptions and partners approaching INFU about teaming up to use the company's platform and services, INFU recognized a massive opportunity in front of them. Specifically, the company believed they could grow the business multiple times larger in 2022 and beyond if they took advantage of these opportunities. But there was one catch.
In order to take advantage of these unique opportunities, INFU needed to make some short-term investments. These investments included keeping some equipment on hand to be used for future partnerships instead of immediately sending them out in the field, meaning revenue from that equipment would be delayed from 2021 to 2022. Another investment required hiring salespeople who had become available through the marketplace disruptions, leading to some increased expenses, with the revenue generated by these salespeople not coming through to the financial statements until very late 2021/early 2022. Again, for this "crime" of missing guidance expectations, INFU stock was hammered to the tune of a nearly 50% decline from its summer high of $23.26.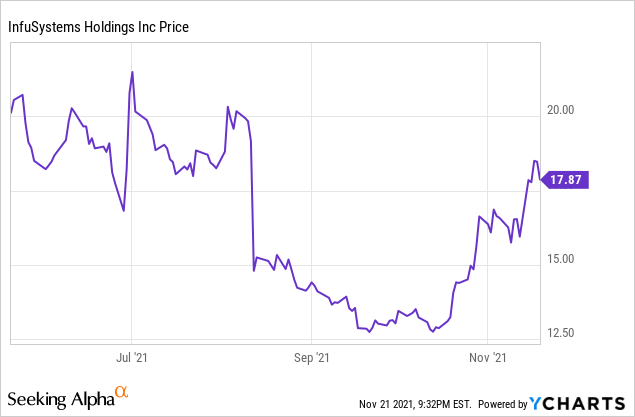 In my view, CEO Rich DiIorio was correct in what he stated on the Q2 call: when faced with this scenario I described, management should make this investment "10 times out of 10." And DiIorio did not make this decision without skin in the game. In fact, in his presentation/Q&A interview with me on Breakout Investors following the quarterly call, he indicated the INFU management team made a conscious decision to miss their bonus numbers in order to take advantage of this opportunity. Simply put, they had high confidence that the investment would pay off in multiples later.
Since that Q2 call, investors have seen INFU make meaningful progress on multiple fronts, followed by a strong Q3 call that led to a significant rebound in the share price. I will now discuss the progress the company made between quarterly calls, as well as update on some significant details that came out on the Q3 call itself.
INFU's Progress & Updates
On November 2, INFU announced an exclusive agreement to provide electronic infusion pumps to treat post-surgical pain with a leading U.S. health care provider with more than 12 million members. As part of the service agreement, INFU will provide InfuBLOCK, its Pain Management Therapy, which includes electronic infusion pumps for continuous peripheral nerve block, a 24/7 clinical hotline, biomedical services, and accompanying supplies. Based on my research, I believe INFU's partner in this endeavor is Kaiser Permanente, a highly-respected organization.

Source: INFU Website (Pain Management Pump)
This agreement, together with the hiring of pain management salespeople INFU noted on the Q2 call, is leading to a much quicker ramp in ITS pain therapy revenue than I imagined. In my last article, I noted I expected pain revenue to be at $15M annually in three years. Well, to my (pleasant) surprise, INFU already guided in their Q3 press release for the pain business to be on a $15M run rate by the end of this quarter. A reasonable person would thus expect that I to move my revenue number for pain a little higher!
In addition to this development on the pain management side, in that earnings release, INFU noted they had been selected as supplier of infusion pump biomedical services for a leading global medical technology and diagnostic equipment company, yet to be named. This deal is expected to be worth $14-15M in annual revenue potential. But even more exciting, CEO DiIorio hinted on the Q3 call that additional, similar deals are in the works with other possible partners, and he expects some meaningful announcements between now and March, when INFU normally reports their Q4 and Full Year results.
One of those announcements, based on DiIorio's commentary, should be INFU's annual guidance for FY2022. Based upon the CEO's answer to my question on the Q3 call about those guidance expectations, it seems the company expects, at minimum, a 20% increase in revenue and a return to 25% or higher AEBITDA margins in FY2022. This guidance was significantly more than prior analyst expectations, which is likely why the stock has rallied since the report. After discussing the risks to INFU below, I will then come back to these numbers in my Valuation section, while also discussing some of the other opportunities in front of INFU at this time.
Risks
The biggest risk I see facing INFU currently is their ability to grow at such a rapid pace. While growing at a decent clip, the company was not anywhere near 20-30% annual growth rates, which is approximately their expected growth next year, and likely for several years beyond. And on top of that, INFU's growth is by diversifying (which, of course, is a net positive, if they succeed), which means they will have a lot of irons in the fire. However, it should be pointed out that INFU's growth is by leveraging its current ITS platform, a platform developed and honed by the company over many years via its current, strong oncology business. As a result, while INFU will be growing rapidly, they will not be moving beyond their core business. Their core business is now their platform! And when viewed through this lens, although managing the large growth is a risk, it is one I predict INFU can handle well.
The other major risk to highlight is that INFU is subject to decisions made by third parties; namely, CMS and insurance companies. Reimbursement rates for healthcare providers regularly change, and INFU is, therefore, impacted by those changes. I believe this risk is mitigated by several facts. First, INFU helps to provide home healthcare solutions. The clear trajectory in the healthcare industry is towards home healthcare solutions, which normally save these third parties money, while also often achieving superior patient results. Second, it is just as likely that INFU will benefit from increases in coverage as they will be harmed by any decreases. The services INFU provides are well-established and unlikely to see any drastic changes to reimbursement.
Valuation
My valuation of INFU has not changed significantly since my last article, but I wish to highlight a few key points from that article, as well as to update on several lines of the business, which is how I break out my valuation.
Oncology continues to do well, and I continue to see it growing at a 3-5% annual clip.
Pain management is already expected to reach my prior three-year revenue mark of $15M run-rate revenue by EOY 2021. I consider there to be some further upside in pain, although so far the company has not guided for material increases. Consequently, I will model pain revenue to grow 3-5% annually, like oncology.
Biomedical services is off to a hot start. I previously modeled $40M in annual revenue for that division in three years. Given they already have one contract for roughly $15M in place, with some others in negotiations, that estimate seems entirely reasonable, if not low.
Wound care revenue should start being material in 2022. I will maintain my estimate of $40M in revenue from wound care in three years.
Lymphedema is the newest therapy. On the Q3 call, CEO DiIorio made it clear that no material revenue from this indication is expected until 2023, which is in line with previous thought. However, lymphedema is by far the largest revenue opportunity for INFU based on their guidance of $1.5B TAM, and their expectation of obtaining about 10% of that market share.
AEBITDA margins should continue to expand, and in three years the company should be at or near the 30% targeted margins. Next year, I believe the company, based on the Q3 call guidance, will be back to at least 25% margins, with 26-27% not entirely out of question.
As noted in my previous article, I expect INFU revenue to be at $265M, with AEBITDA of roughly $80M, within three years. Admittedly, my numbers are higher than CEO DiIorio's stated expectations on the Q3 call—to at least double revenue in roughly that same time (double 2021 expected revenue would be around $220M)—but unlike DiIorio, I do not have to be concerned about meeting my stated guidance. My concern is with being the most accurate, in order to assess my investment. And based on the current INFU progress, I think my number is reasonable.
Considering that INFU will likely still be in a major growth phase for the next five years, minimum, I would use a 12x EV/EBITDA multiple, which gets me to an enterprise value of $945M, or $42/share, well over a double from current prices, and with plenty of upside likely still left at that time, given INFU's robust pipeline.
Conclusion
While the weather has started to cool down, INFU stock has heated up after strong guidance on the Q3 earnings call. In my view, the biggest change at INFU from my last article is the quite important fact that the company's management team has begun to show they can execute on their stated strategy. Because they have been executing on new deals, INFU's 2022 guidance will blow away what analysts had expected going into the 3Q21 earnings call. With multiple catalysts upcoming between now and March, including 2022 guidance, and with a long runway for growth in front of the company, I expect shares of INFU to remain hot into the new year.