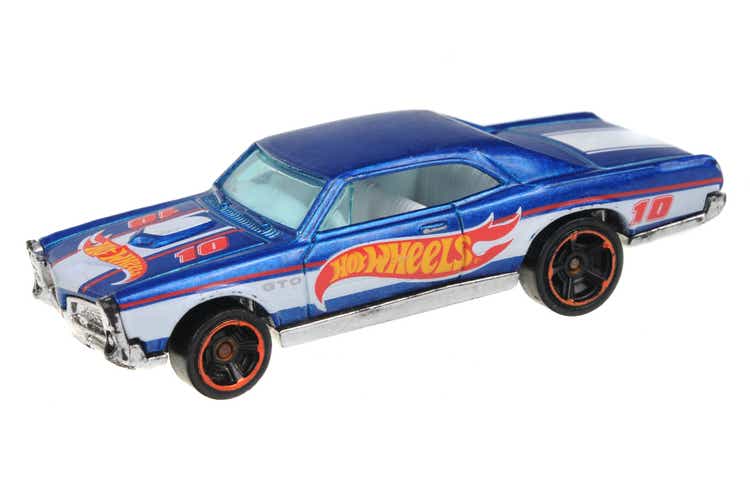 Mattel (NASDAQ:MAT) dropped its Hot Wheels NFT collection earlier this month, November 16th. The NFT drop was preceded by a promo pack drop on Twitter and other social media sites. The drop was hosted by wdny.io, wax.io, and wallet.wax.io. The promo packs contained one Hot Wheels NFT sticker with four different types. There is a Discord channel for wax.io drops with a specific sub channel for the Hot Wheels drops. Collectors and resellers congregate here to watch the drop and hear updates from WAX admins. Funko (FNKO) and other NFT collections have sub channels for drops on this channel.
Digital collectibles known as NFTs (Non-Fungible Token) have quickly gained popularity among collectors and resellers. An NFT is a digital token made on a particular blockchain. The token is inscribed with images and trackable data. For many NFT collectables, the blockchain of choice is WAXP. Digital tokens and cryptocurrencies are part of the fast-emerging DeFi (decentralized banking) movement. WAXP (WAXP-USD) is one of many new cryptos on the market. The WAXP blockchain is used to buy, sell, and store digital collectables. WAXP is trading at .82 to the US $1 currently and has experienced a .10 flux on any given day, especially when a popular NFT collection is dropped.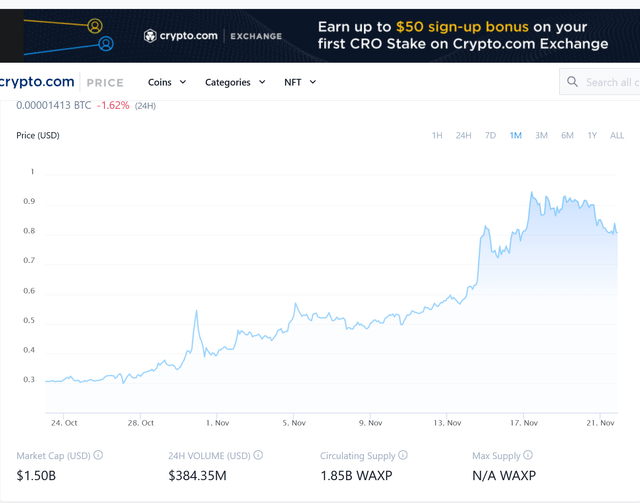 Source: Crypto.com
Some basics about buying and selling NFTs
The process of buying and selling NFTs is at first complicating and has a learning curve. There are several secondary marketplaces where NFTS are bought and sold, for instance AtomicHub, NeftyBlocks, and OpenSea. The drop typically occurs through a digital queue process and only allows a limited number of NFT packs per customer. Packs contain NFT cards which have licensed images, rarity rating, and a mint number. Packs are opened and stored in a Wax wallet. Secondary markets allow for anyone to buy and sell packs and cards.
Before someone attempts to purchase packs from an NFT release, there are some basic items to consider. A WAX wallet must be opened and it should be a wallet associated with the website doing the drop, so that the buyer can have the packs deposited into their wallet. The buyer has to know beforehand whether the packs from the drop may be purchased with WAX or with a credit card. If WAX is required, then the buyer must first buy WAX on a crypto exchange like crypto.com and then transfer the WAX to the wallet associated with the drop. The customer is given a key associated with each WAX wallet and this key is the only way to recover the wallet. It should also be noted that all WAX and NFT transfers are irreversible, so one must know their specific WAX wallet address and the specific info associated with the drop.
If the buyer misses a chance to buy packs during the initial drop, then they must move to the secondary markets to buy packs or to buy individual cards. Popular NFT drops experience an extreme mark-up on the secondary market. Individual cards are priced based on their rarity and mint number. The mint number represents the cards place in the production of that specific card. Every card and pack are released in limited number. Mint #1 is worth more than mint #1,000 of the same card. In addition, rare cards often come with physical prizes which can be redeemed later for the actual physical collectable. Common cards drop in value and rare cards tend to rise in value. Drops from Hot Wheels and Funko have completely sold out and now only sell on secondary markets, both in packs and individual cards.
The Hot Wheels release featured two different packs, one with 4 cards and one with 10 cards. Below is the break-down of number of packs and price per pack. In order to buy packs, you had to join a digital queue and be let into the buy interface. Packs were sold out within the hour and buyers could refresh their screen and watch the number of packs being sold and still available.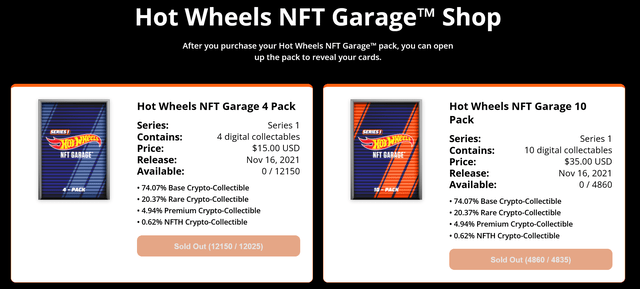 Mattel made a decent revenue take on the event. The raw numbers indicate $170,000 in sales on 10-packs and $182,250 in sales on 4-packs with a total of $352,350 from the release. NFTs have a market fee built in which auto pays the original maker of the NFT. Mattel makes an additional 8% on secondary market sales of its packs and cards.
Each pack contains the chance of rare, premium, or treasure hunt cards. Most cards in each pack are common. The distribution of rarity may be seen below.
If a card is premium or treasure hunt, then a physical collectable may be obtained from Hot Wheels. According to the back of the premium cards, a redemption coin is deposited into the owners account on March 16th, at which time Hot Wheels plans the second half of its first NFT release. The holder of these coins will be able to use the token to receive a rare physical collectable from Hot Wheels. The treasure hunt cards on AtomicHub are currently selling for $1000 on average. Premium cards sell for around $125 - $200. Base and rare cards have lower values. Common cards are selling as low as $3.00 and rare cards around $12 per card. The stickers from the promo packs are fetching about $25 per sticker, although low mint stickers are selling as high as $100.
Unopened packs have undergone price fluctuation since the drop. 10-card packs, which sold for $35, were worth $120 - $140 on the secondary markets on the first day, while 4-card packs sold between $45 and $60 per pack. By the second day, 10-card packs were selling as high as $500 on AtomicHub. A lucky buyer could have bought 10x 10-card packs for $350 from the drop and sold them for $5,000 on the second day, which represents a near 1,500% profit. By the third and fourth day, 10-card packs had dropped to around $140 per pack and remained there since. There was a large price flux because of the popularity of the drop and the large number of buyers who didn't receive any packs from the initial drop.
Prices for cards and packs vary greatly. Low mint cards and packs sell higher than high mints. Many packs and cards are priced high for no apparent reason. As packs are bought and opened, the remaining unopened packs will gain in value. Unopened packs contain statistics about the collection, including how may premiums and treasure hunts have been found. Once all ultra-rare cards are found, it is assumed the unopened packs will decrease in value. Unopened packs from the earlier Funko NFT drops are still gaining value in the secondary market. A complete catalog of the Hot Wheels NFT collection may be found here.
NFTs are the new trend and many big toy licenses have plans to release collections. There is no central source for learning about releases or for checking popularity and price potential of releases. Buyers must visit different WAX hosts or sit on Discord in order to learn about upcoming releases. According to a recent Seeking Alpha story, Sanrio's Hello Kitty is planning a huge NFT drop with the first limited releases appearing December 9th. Pokemon also plans a NFT collection drop which will be one to watch. Hot Wheel's next drop on March 16th will also be interesting. These brands have appealed to collectors for a long time and enjoy robust secondary sales on eBay (EBAY).
Mattel reports record revenue numbers
| | | | | | |
| --- | --- | --- | --- | --- | --- |
| In Millions of USD | Sep 2021 | Jun 2021 | Mar 2021 | Dec 2020 | Sep 2020 |
| Total Revenues | 1,762.3 | 1,026.4 | 874.2 | 1,625.8 | 1,636.5 |
| Cost Of Revenues | 919.6 | 538.5 | 460.4 | 789.7 | 808.4 |
| Gross Profit | 842.7 | 487.9 | 413.8 | 836 | 828.1 |
| Net Income | 795.1 | (5.5) | (112.4) | 130.5 | 311.3 |
Source: Seeking Alpha
Mattel reports record revenues of $1.762 billion for Q3-2021 and raised its 2021 physical year guidance to a 15% increase compared to last physical year. It has not broken the $1.7 billion mark since 2016. The company consistently reports a gross profit and operates with a net income. We will see the revenue push from the company's NFT sales in future earnings releases. The NFT release should come at a low operating cost since there is no physical manufacture, storage or distribution. The revenue estimate on the company's Q4-2021 earning report is $1.66 billion.
Mattel's stock price has been on a one-year uptrend with a 50% price increase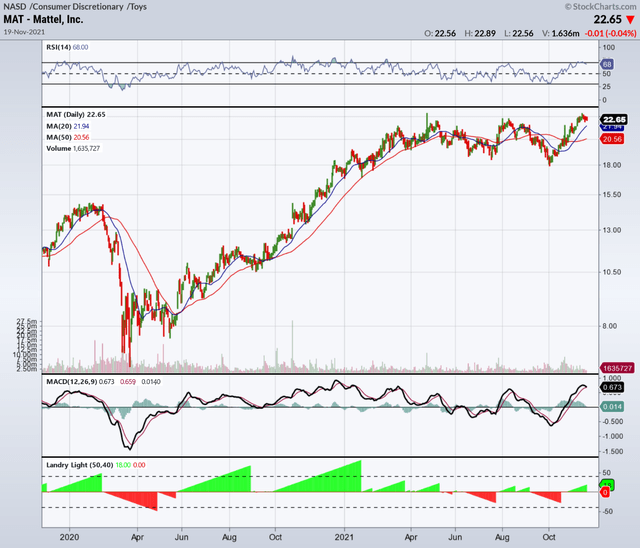 Source: www.StockCharts.com
The company's stock price rallied from its recent earnings call. The stock price has been on a two-year uptrend and currently sits at its 52-week high. The stock price has seen large fluctuations and is meeting upward price resistance. This uptrend is new and comes after the stock experienced a long down-trend between 2017-2020. Whether the stock price can reach higher price channels is yet to be seen.
Investment Strategy and Risk
The company has a strong financial position and its stock has been on an uptrend. The company is currently undervalued at 2x EV/Revenues but I also feel that the company is overweight for the time being. It is unclear whether the current stock price uptrend will continue. The company's revenue numbers have remained consistent for many years and one may see a limit of growth over the long term. Those that have held the stock for many years likely feel that the stock is in a recovery stage. For now, I rate the company as neutral, but I recommend that investors watch the company's future earnings releases and financial performance.
I feel that the NFT trend contains a lot of high risk to collectors and resellers. The prices of packs are extremely volatile for days and opened packs may not contain the same value as the unopened packs. There is a lot of excitement around big releases that play a role in the price of packs tripling in value in the matter of hours. One can watch the price movements of these packs and cards on the secondary market just as one watches the price movements of a stock on the stock market. There are winning strategies for investors in buying and selling NFTs, if the right circumstances are present. If the buyer can get in on the initial drop or on the first day on the secondary market, then they may sell on the third day when prices rise and before they begin to fall again. Not every drop has this popularity and opened packs can have no value, so there is a lot of risk. I recommend that crypto-minded investors continue to watch the NFT markets and releases.
Conclusion
Mattel has entered the NFT arena with a Hot Wheels NFT collection. The company's first NFT drop was successful and all packs were sold. The secondary market immediately set higher prices for the packs and ultra-rare cards. Mattel plans the second installment of this release in March 2022. Before Mattel's NFT release, Funko made several successful drops which have gained value on the secondary markets. Other large licenses, like Hello Kitty and Pokemon, plan NFT collection drops this spring. I recommend the crypto minded investors watch these drops and even participate. As to Mattel's stock, I rate it as neutral for now and feel that it is overweight. Mattel is a low-risk investment, but its stock price needs a higher price channel to confirm its current uptrend. Revenue numbers will continue to increase for the company and the company is currently undervalued. It will be interesting to see how the NFT release affects Hot Wheels revenue numbers and operating costs.