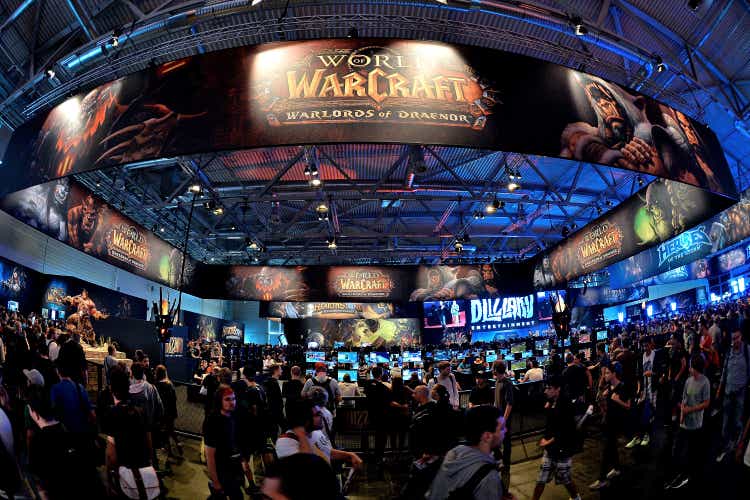 Ironically, Activision Blizzard (NASDAQ:ATVI), the maker of popular video games like World of Warcraft and Call of Duty, is currently in a warzone of its own.
Ongoing internal issues have driven the stock down ~35% since July.
In addition, new game launch timelines also reportedly have been pushed off (likely due to the internal struggles), exacerbating the selloff in ATVI stock.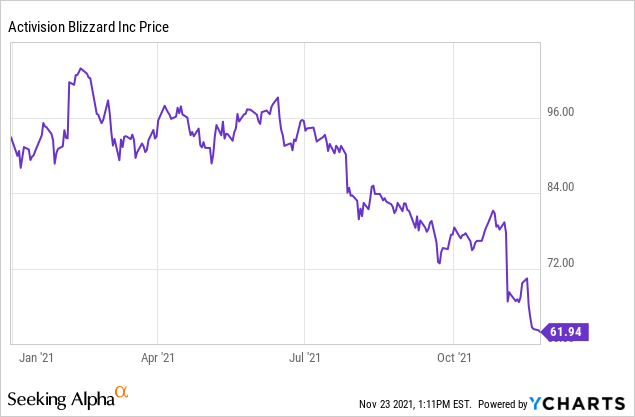 All that said, it feels like the worst has been priced into stock at this point, and it's currently trading at a really attractive multiple of ~16x forward earnings.
There's a great core underlying business here that produces significant free cash flow, and ATVI's video games will be an important part of the new "Metaverse" for years to come.
We think it's definitely time to buy this dip!
Note that ATVI was recently highlighted on our "Oversold Stocks" list.
In the video below, we break down the whole trade analysis for you (listen to this first as the commentary is a great introduction for the rest of the article).
Activision Blizzard
Sector/Industry: Communication Services / Electronic Gaming & Multimedia
Activision Blizzard was formed in 2008 by the merger of Activision, one of the largest console video game publishers, and Blizzard, one of largest PC video game publishers. The combined firm remains one of the world's largest video game publishers. Activision's impressive franchise portfolio includes World of Warcraft, which boasts more than $8 billion of lifetime sales, and Call of Duty, which has sold more than 175 million copies across 14 titles over 12 years.
(Source: YCharts)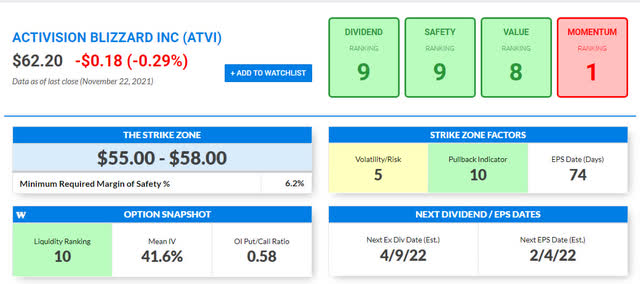 Source: Option Income Advisor
ATVI currently ranks above average for all of our long-term ranking measures: Dividend (9), Safety (9), Value (8).
Note that our rankings are from 1 (lowest) to 10 (highest).
Dividend
Although the yield is currently low (0.8%), ATVI has grown its annual payouts at a compound rate of 10.6% over the past 10 years. In addition, the company has plenty of room for future growth with a payout ratio of only 12%.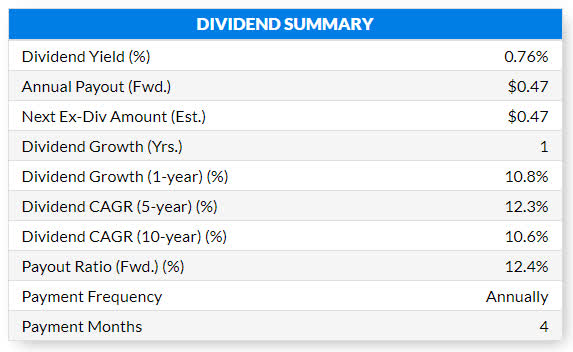 Source: Option Income Advisor
Safety
ATVI is on pace to earn $3.80 per share in fiscal 2021 (a 35% increase over 2021). Although earnings in fiscal 2022 are expected to flatten out (as some sales were certainly pulled forward during the pandemic), the company expected to grow EPS by $19 in fiscal 2023 to $4.56 per share.

Source: Option Income Advisor
The company's balance sheet also is extremely strong with $9.7 billion of cash/short-term investments, equating to ~20% of its current market capitalization.
Valuation/Upside Potential
Activision Blizzard looks extremely attractive from a valuation standpoint and is currently trading at a decent discount to all of its long-term valuation metrics (hence the high Value Ranking of 8).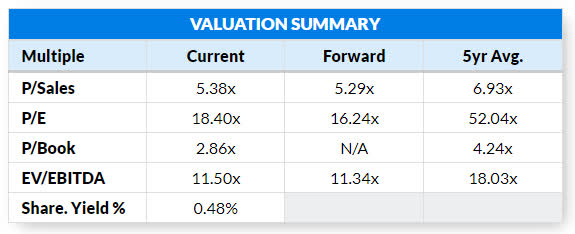 Source: Option Income Advisor
Specifically, ATVI is trading at a huge discount to its historical P/E multiple on a forward basis (16.2x 2022 earnings).
That said, as the company moves forward and rights the ship internally, we definitely think there could be some room for margin expansion in the near future.
If you put just a 20x-25x multiple on consensus forward earnings of 3.83 per share in 2022, that would equate to a $77.00 - $96.00 stock price (representing 23%-54% upside from current levels)!
Cash-Secured Put Analysis
While we believe that ATVI is a "strong buy" at current levels, if you are concerned about more downside volatility ahead, we also love the risk/reward profile of the cash-secured puts.
The three main data points we look at when analyzing a cash-secured put trade are:
Premium Yield% (or Average Monthly Yield%): Measure of expected return on capital assuming that the option expires worthless (out-of-the-money). Assumes that the option is fully cash secured.
Margin-of-Safety %: Measure of downside protection or the percentage that the underlying stock could decline and would still allow you to break even on the option trade.
Delta: A good proxy for the probability that the put option will finish in-the-money.
The downside with a cash-secured put is that you are obligated to buy the stock at the strike price (which in most circumstances ends up being a good trade).
Note that there is always a negative correlation between Premium Yield and Margin of Safety: The higher the Premium Yield for a given strike month, the lower the Margin of Safety.
An investor should always be honest with themselves about their risk tolerance. The Triple Income Wheel can be adapted to suit your needs.
Now let's look at the cash-secured put analysis for ATVI. We're focused on the December monthly contract that expires on 12/17/21.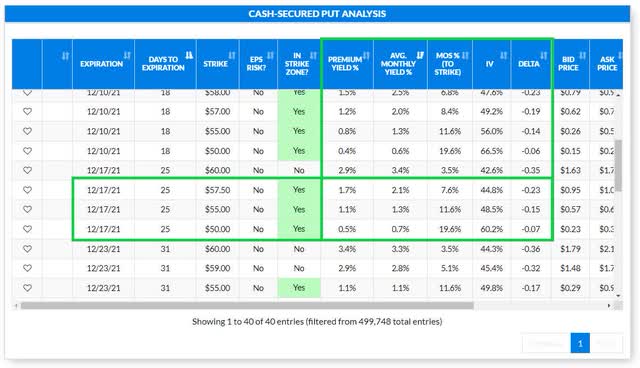 Source: Option Income Advisor
As discussed in the video, we believe that ATVI stock could be bottoming out. So we really like the following cash-secured put:
ATVI Dec 17th $57.50 Put (25 days until expiration)
Option Premium: ~$0.98 premium
Average Monthly Yield %: 2.1% (25.2% annualized)
Margin-of-Safety %: 7.6%
Delta: 23
Conclusion
Based on our long-term and short-term views on Activision Blizzard, we believe the risk/reward profile with ATVI stock is very attractive at current levels. That said, if you want some additional margin of safety, consider a cash-secured put strategy.