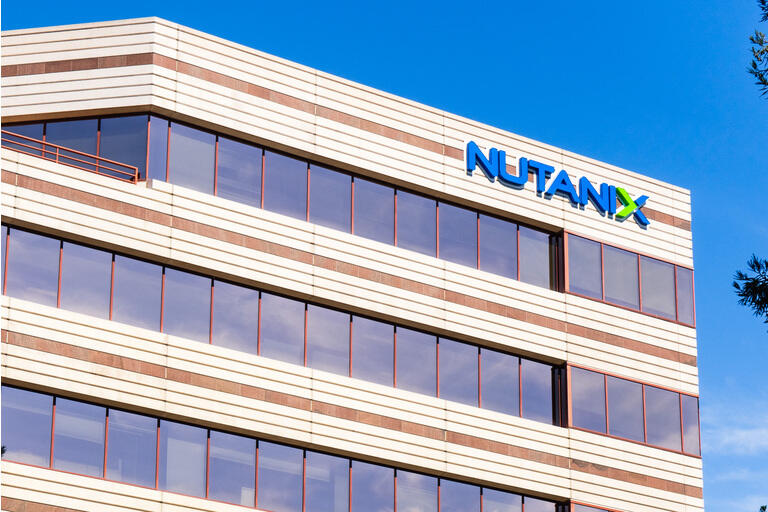 Nutanix (NASDAQ:NASDAQ:NTNX), a major player in enterprise cloud computing, added major new capabilities for its hyperconverged infrastructure ("HCI") software back in September 2020. These updates brought significant innovations to its products in terms of performance.
Customers have rewarded the company accordingly with quarterly sales being on a steep uptrend since the third quarter of 2020, after overcoming COVID lows.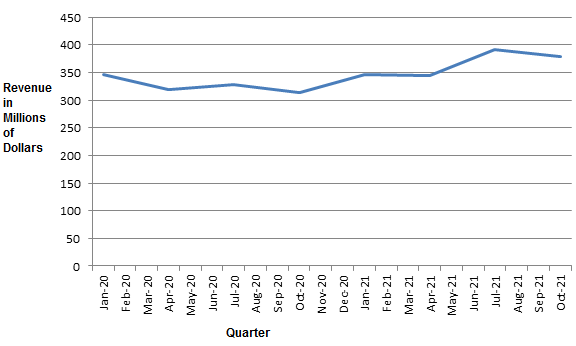 Source: Chart built using data from Seeking Alpha
However, after a timid upside to $35.22 soon after Q1-2022's financial results a few days back, the market appears not to be convinced, even with the last three analysts on SA being Bullish on the stock, and analysts at Needham "maintaining their Buy rating and raising the price target from $61 to $64".
MY objective is to first understand the reason for this peculiar market behavior, and for this purpose, I start with analyzing the competition.
The competition
Coming back to the increase in performance, this was made possible by Nutanix evolving its HCI architecture to take full advantage of the latest storage technologies, including NVMe SSDs and Intel's (NASDAQ:INTC) Optane SSDs through the use of BlockStore. The resulting reduced latency allowed higher performance for I/O intensive applications, such as large databases used in finance and healthcare applications.
Fourteen months later, I checked for some customer reviews on IT Central Station and there is mention that Nutanix's "high performance keeps our transaction processing fast and efficient", and others mentioning that "the machines provisioning times have reduced drastically".
Exploring further, Nutanix revamps came at a time when IT administrators were used to the old paradigm whereby servers, storage and the virtualization tool which most commonly consisted of VMware (VMW) had to be managed as three separate entities, in addition to the network. Thus, during technical issues, administrators were getting different reasons for the occurrence of faults with each of the three stakeholders shifting the blame on one another. Hence, there are many instances of customers favoring Nutanix, as its combined solution "gives them fewer headaches with managing and other administrative operations".
Others choose Nutanix as it simplifies multi-cloud deployments in an end-to-end fashion including security control to support a zero-trust strategy. Now, Zero-Trust is a new mechanism of network protection that ensures corporate data is protected whenever it is, right from corporate datacenters to employees' laptops in their homes. It has gained more popularity in an environment where the physical boundaries got blurred with people working from home.
I also found that Nutanix is not necessarily the cheapest tool in the market, but the fact that the company has offered extensive automation and resource optimization capabilities for cloud resources has enabled clients to reduce their total cost of ownership ("TCO") while supporting many applications.
I further double-checked Nutanix's position of superiority on Gartner.com, another customer review website, which credits the company with a score of 4.8, the highest among the more traditional providers. Additionally, the company is a leader in Gartner's Magic quadrant but is closely followed by VMware.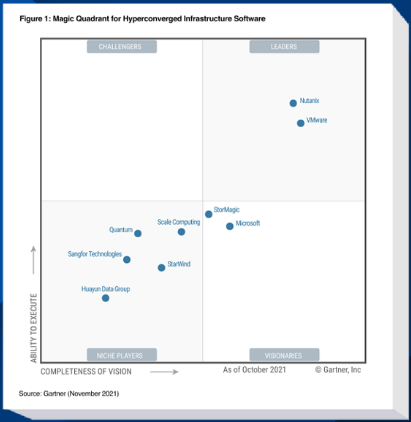 Source: nutanix.com
However, this is a highly dynamic market, one where customers are constantly looking for hardware-agnostic solutions, signifying a desire to acquire their own hardware, "without being tied to equipment that can only be supported by the HCI vendor". Here, capitalizing on the balance between price and features, other suppliers are emerging offering "the overall cost of implementing as far as 30-400% lower".
In such a market, competing on the traditional quality/price rationale does not make much sense, and, for this purpose, just like VMware, Nutanix has chosen to extend market breadth through partnerships. In addition to the typical hardware plays like Hewlett Packard Enterprise (HPE) and Lenovo, it has also partnered with Red Hat to deliver open hybrid multicloud solutions. The company is also making good progress on expanding "alliance partnerships" with the list including some of the biggest names.
Also, looking into Q1-2022 which ended in October 2021, Nutanix outperformed on ACV or annual contract value, a metric used by SaaS businesses "that typically represents the average annual contract value of a customer subscription". For this matter, the latest quarter saw a record ACV billing, which grew 33% year-over-year, or the highest growth rate in over 2.5 years.
As a result, the company grew revenue by 21% year-over-year, its highest growth rate in over 3 years despite seeing "expected term compression". This was due to strong momentum across the entire hybrid multi-cloud portfolio, both for core and emerging products.
Now, after such performance and especially due to inflation changing status from "transitory" to "permanent", it becomes important to really examine profitability, using both GAAP and non-GAAP measures.
The profitability
As per the executives, sales rep productivity significantly exceeded their assumptions in Q1, in turn leading to a reduction in operating expenses which were $353, down from expectations of $365 million to $370 million. This was lower than the $373 million for Q4-2021 which included approximately $12 million in severance expenses related to sales and marketing headcount reduction.
On the other hand, despite the non-GAAP gross margin of 82.1% exceeding guidance by 0.6%, it remains slightly below Q4's 82.9%.
Now, companies use non-GAAP accounting standards as it excludes certain exceptional expenses and more accurately reflects their business operations, but using GAAP values enables a comparison with others. For, Nutanix, GAAP gross margins at 79% for fiscal 2021 have steadily trended higher since 2013, despite the competition constituted by the likes of VMware, showing the company is able to sell products at higher prices using some form of differentiation.
With a focus on delivering a single platform that fixes Nutanix hallmarks, simplicity, and performance into the hybrid multi-cloud market, the company's margins should also go above the 80% mark just like VMware's 82.4%.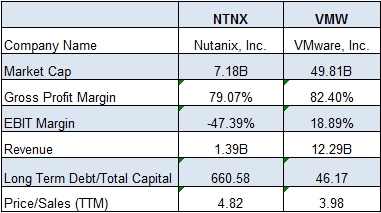 Source: Seeking Alpha
However, these two companies differ considerably as for EBIT margins where Nutanix is currently operating at a loss. Its operating expenses have been averaging 129.4% of revenues during the last four quarters, all due to Nutanix funding sales reps and engineering teams to continue its growth. In view of the wage inflation and travel constituting one of the bigger variables in COVID-induced locked downs, it is important to consider costs. In this respect, I noted that the company continues to focus on the expense side of the equation as per the CFO during the fourth quarter earnings call back on September 1:
In fiscal 2022, we expect our growing base of low-cost renewals will drive further improvements in top and bottom line performance."
First, as for the top line, given its competitive position, Nutanix should continue on its growth path. Also, it benefits from more stable revenues in the form of subscriptions. Since transiting to the subscription model in 2019, recurring revenues from subscriptions grew by 83% over FY-2020 and accounted for most (63%) of Nutanix's business in fiscal 2021.
Second, the bottom line should be closely monitored for further improvement during fiscal 2022. For this matter, the metric to look for is GAAP EBIT margins. The income loss margin has been improving from -52% in the April 2021 quarter and before to around -36% in the last two quarters.
Conclusion
Nutanix also has a high long-term debt to capital ratio of 660. For this matter, the company received a $750 million pf investment from Bain Capital back in Q4-2021 and it closed its October 2021 quarter with cash and short-term investments of $1.28 billion.
This is more than enough to finance operating losses averaging around $440 million in the last five quarters taking into consideration that revenues are growing at more than 20% on a year-on-year basis.
As for valuations, despite the stock's downside, the higher trailing price to sales multiples of 4.82x does not offer an investment opportunity at the particular moment.
Finally, given growth prospects, Nutanix should be on your watchlist as the management executes on improving the bottom line throughout fiscal 2022.