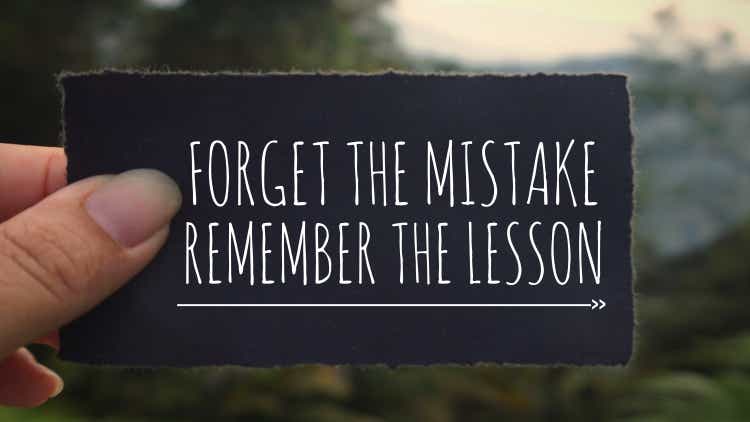 Investment Thesis
The Vanguard Dividend Appreciation ETF (NYSEARCA:VIG) appears designed with the dividend growth investor in mind - that is, one who wants to own a collection of dividend growth stocks rather than high-dividend-yielding stocks that may not be the safest. While this philosophy is one that I share, I feel compelled to remind readers that VIG is almost too similar to the S&P 500 right now, and I don't think you can count on it to outperform by much in a correction. I've found its growth rates to be much lower than anticipated. Therefore, I suggest investors start thinking about what they're gaining by investing in VIG and if that cash could be better used elsewhere in the dividend ETF world.
VIG Overview
Recently, VIG switched its benchmark to the S&P U.S. Dividend Growers Index after previously tracking the NASDAQ U.S. Dividend Achievers Select Index. I won't go much into the implications of this, as the Retired Investor already did in this excellent piece, but I don't see much difference in the two. Ten years of consecutive dividend growth is still required, REITs are still excluded, and although not explicitly stated, I've always suspected that the previous Index banned the highest-yielding dividend stocks. It's nice to see that spelled out in the new Dividend Growers Index.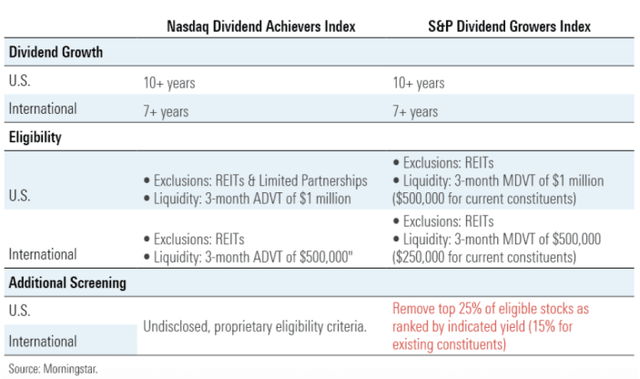 Source: Morningstar
Annual reconstitutions occur towards the end of March based on end-of-year fundamentals, and the Index provider performs monthly revisions to remove any dividend cutters. Constituents are ranked by indicated dividend yield and are then float-market-cap-weighted. This effectively pushes VIG to be a large-cap dividend ETF, which you'll quickly recognize when looking at the top ten holdings list.
A quick sidebar: the exclusion of REITs is a critical gap to fill. Real Estate is an excellent way to insulate your portfolio from inflationary pressures. Consider using an ETF like the Hoya Capital Housing ETF (HOMZ) to get diversified exposure to four key housing business segments or a broad-based fund like the Real Estate Select Sector SPDR ETF (XLRE).
Before we get into the top holdings and sector exposures, here are a few more quick facts about the ETF:
Current Price: $167.61
Assets Under Management: $66.11 billion
Expense Ratio: 0.06%
Launch Date: April 21, 2006
Trailing Dividend Yield: 1.52%
Five-Year Dividend CAGR: 8.16%
Five-Year Beta: 0.91
Number of Securities: 268
Portfolio Turnover: 25%
Assets in Top Ten: 30.66%
30-Day Median Bid-Ask Spread: 0.01%
Tracked Index: S&P U.S. Dividend Growers Index
Sector Exposures and Top Ten Holdings
At present, Industrial stocks have a 21.10% exposure followed by 15.90% for Consumer Discretionary and 15.60% for Financials. VIG has a 15% lower to Technology stocks versus the S&P 500, though, which will lower the fund's volatility but could also be a source of persistent underperformance going forward. For those interested, the S&P 500 Dividend Aristocrats have been suffering through this recently. However, the requirement for 25 years of consecutive dividend increases means that structural problems will continue for some time. For VIG, not so much.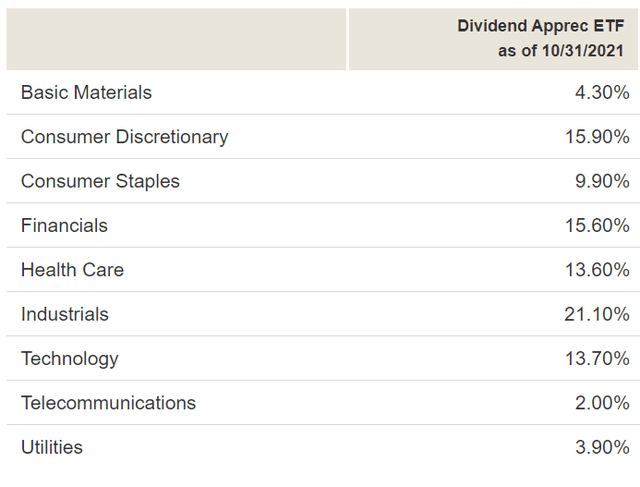 Source: Vanguard Dividend Appreciation ETF Overview
And since it is float-market-cap-weighted, the top ten holdings are all household names. To give you an idea of how this affects the ETF, consider that VIG's weighted-average market capitalization is $305 billion, but the median market capitalization is just $14 billion. 130 of the 268 stocks are below S&P's large-cap threshold of $13.1 billion, but the choice of weighting scheme means they only account for 5.35% of the ETF. Therefore, the list below will give you a reasonable idea of what to expect.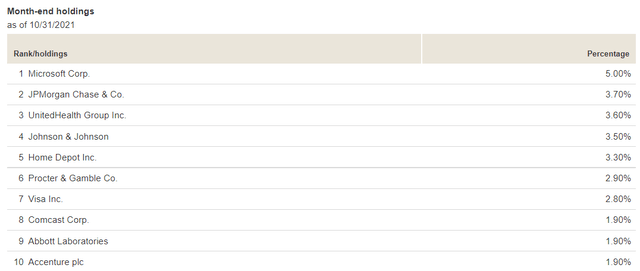 Source: Vanguard Dividend Appreciation ETF Overview
Dividend Growth
General Guidelines
Starting early is the most important thing you can do as a dividend growth investor. During your accumulation years, the goal is to buy stocks with a good history of increasing their dividends. Using an ETF like VIG can accelerate that growth, too, since it efficiently rotates into the highest-yielding stocks for hardly any cost each year. If you want, you could supercharge your dividend growth strategy by investing in a fund that overtly selects the highest-yielding stocks and rotates (i.e., reconstitutes) more frequently. However, I generally caution against this approach since investing for yield often means investing for value. Dumping a stock too quickly when you originally purchased it for its low price is not recommended; for a real-life case study, take a look at the Invesco S&P 500 High Dividend Low Volatility Portfolio ETF (SPHD) (review here).
VIG Dividend Growth and Performance
In case it wasn't obvious, VIG isn't for investors needing a high yield right now. Instead, it's for those desiring a high yield 10 to 20 years down the road. Think of it as a "planning for the future" tool. To illustrate, here's the income generated each year on a $10,000 investment beginning in June 2006.

Source: Portfolio Visualizer
You can see that to date, in 2021, dividends received from VIG totaled $519, or a 5.19% yield on cost, compared to $449, or a 4.49%, for the iShares Core S&P 500 ETF (IVV). You can also see that in most years, the income received from VIG was higher.
Now, there are dividend growth ETFs that will earn you substantially more income. One of my favorites is the Schwab U.S. Dividend Equity (SCHD), which has outstanding criteria for selecting the best dividend growth stocks. As shown below, SCHD's portfolio income trounces VIG's, which helps to explain its popularity.

Source: Portfolio Visualizer
The downside is higher volatility, and depending on your outlook, a higher allocation to the Financials sector, which we all know can fall pretty hard in a recession.
The point is that we all have to assess our risk-return profiles, how much we have available to invest now and in the future, how long we plan on investing until decumulation begins, and how much income we'll need in retirement. Let's now look at the historical performance of VIG, IVV, and SCHD in Portfolio Visualizer, and then I'll give you some more options to consider afterward.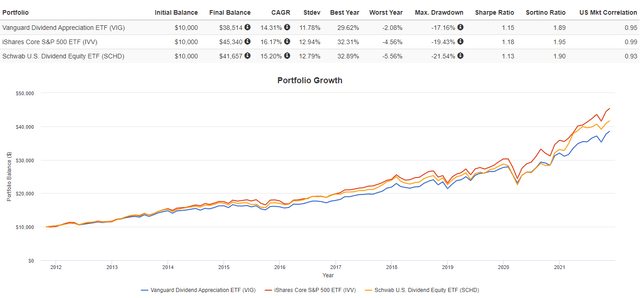 Source: Portfolio Visualizer
As shown, VIG's been a little safer, but safe spaces aren't the best place to be in a bullish market. Until March 2020, VIG was actually ahead of SCHD and only slightly behind IVV, and then negative real yields became a reality. Here's how the three have shaped up against some other dividend ETFs in the last five years.

Source: Hoya Capital Income Builder ETF Tracker
VIG was the second-best-performing dividend ETF out of this group in 2020, primarily because of a lesser drawdown. It also was the best performer in the single down year of 2018 but had mixed results in other years. The extra safety, in my view, is reflected in the higher price-earnings ratio.
Fundamentals
Seeking Alpha Report Card
To begin the fundamental analysis, let's look at how Seeking Alpha has rated the ETF against the S&P 500. Ratings aren't officially given for the ETF the same way they are for individual stocks, but they should be the product of its holdings.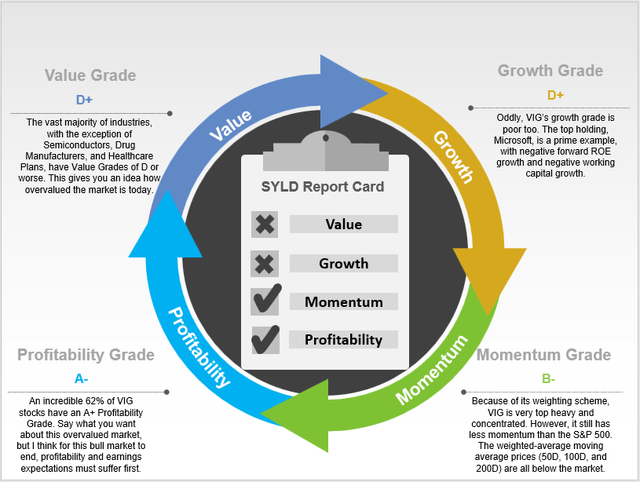 Source: Created By Author Using Data From Seeking Alpha
Generally, the news isn't good for both value and growth investors, but then again, the S&P 500 isn't a bargain either. I found the S&P 500 to have almost identical grades. The quant scores were about the same too, so at least from a quantitative perspective, there isn't much difference.
Revenue, Earnings, and Dividend Growth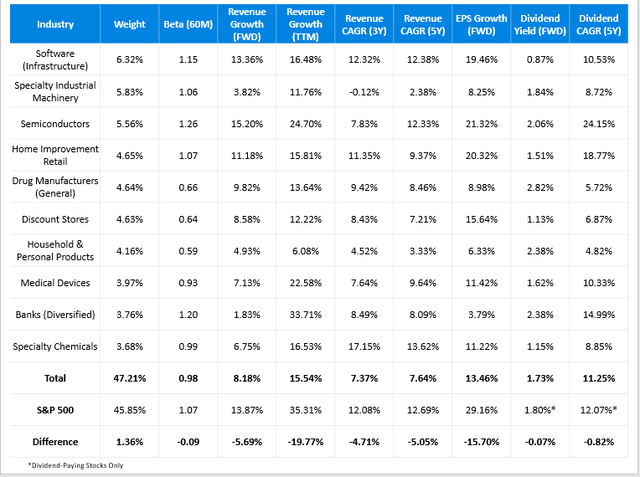 Source: Created By Author Using Data From Seeking Alpha
The above table, reflecting the weighted-average metrics for VIG's top ten industries, is important for me, and I'd like to make the following observations:
1. VIG is more concentrated than the S&P 500 by measure of its top ten holdings and its top ten industries. While it should still be slightly less volatile than the market, the 0.98 beta of the current holdings is higher than the 0.91 the ETF experienced. In other words, it's more "market-like" right now in terms of volatility. I find this news disappointing, as one of the benefits VIG had in the past were lower drawdowns. Now, I'm not so sure.
2. VIG's revenue and earnings growth rates are well-behind that of the S&P 500. Analysts expect revenue to increase 8% compared to 14% for IVV, and they've trailed by as much on a three- and five-year basis. EPS growth is also relatively low. VIG doesn't include high-growth stocks like Apple (AAPL), Alphabet (GOOG) (GOOGL), Amazon (AMZN), Tesla (TSLA), or Facebook (FB). It also doesn't own Energy stocks like Exxon Mobil (NYSE:XOM) or Chevron (CVX), which could help insulate a portfolio against an inflation-led recession. Since inflation and higher interest rates concern me, I wish this fund offered more defense against such a scenario.
3. Constituents have a weighted-average five-year dividend growth rate of 11.25%, which is lower than the dividend-payers in the S&P 500. The ten-year dividend growth requirement helps the safety score, but it also prevents you from holding other excellent stocks like Mastercard (MA), Morgan Stanley (MS), and Charles Schwab (SCHW). To illustrate, there are 157 securities in the S&P 500 with a five-year dividend growth rate above 10%, and their average five-year total return was 148.48%. This works out to be a 19.97% annualized return, significantly better than the 16.80% for IVV. Of course, this analysis has the benefit of hindsight. Still, the idea is relatively straightforward: buy stocks forecasted to have high dividend growth rates, usually supported by above-average sales and earnings growth. Without that support, dividend growth is limited, and based on the data above, the S&P 500 looks better.
Investment Recommendation
When I analyze a dividend ETF, I look beyond total return because I understand that trends change, and there's never a guarantee the last ten years (which is within when most dividend ETFs launched) will repeat itself. If comparing with the S&P 500, I'll look to decide if what the ETF offers (e.g., a higher yield, more growth, less risk) is worth a lower total return. Often it is because not everyone has the luxury of being a "total return" investor with a long time horizon.
With that said, I can't offer many good reasons for selecting VIG today. Sure, it might protect you a little bit during the next drawdown, but then again, it might not. The beta is higher than it's been in the past, and the revenue and earnings growth rates are significantly lagging. Also, since its trailing yield is only 1.52% and its constituents are growing dividends slower than the dividend-payers in the S&P 500, the key selling point is mainly a lower exposure to Technology stocks. That might be enough for you, but I think most are better off going with ETFs like SCHD or even the First Trust Rising Dividend Achievers ETF (RDVY) - a top performer in the last five years. As that last link to my monthly dividend and income ETF report will show you, there are plenty of fish in the ETF sea, so it's always worth re-assessing your holdings every now and then.
I hope this article was informative, and I look forward to discussing it more in the comments section below. Thanks for reading!