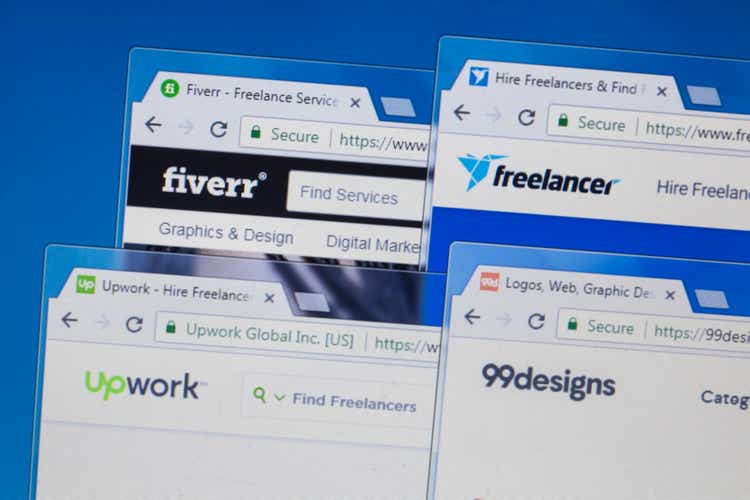 Introduction
Upwork (NASDAQ:UPWK) has established itself as the leading online marketplace connecting companies with freelancers. By providing independence for employees and outsourcing solutions for employers, Upwork's business model is both simple and elegant. As they state in their most recent annual report:
Upwork changing the way work gets done by placing independent talent at the heart of every business. 2020 10-K Report
In this article, after digging into Upwork's philosophy, business model and financial performance, I will explore whether the recent price drop represents an attractive buying opportunity for investors.
A Social Network for Work
While Upwork is included in the Industrials sector as Human Resource and Employment Services company, I think most would agree that this is, at best, an incomplete characterization and that Upwork should probably be valued and analyzed as a technology company. From the aggressive growth and market penetration the company exhibits to the wide margins that simply do not exist in the Industrials space, I would go even further to claim that Upwork is kind of similar in nature and philosophy to companies like Airbnb (ABNB), Teladoc (TDOC) and Uber (UBER). After all, just like Airbnb connects homeowners to travelers, Teladoc introduces patients to physicians and Uber drivers to people who need transportation, Upwork connects employers (companies) to employees (freelancers). All businesses are, arguably, social networks at heart, specializing in their respective fields. Although none of them compete with each other, their business models, growth patterns and the fact that they all happen to be on similar stages of their respective economic cycles suggest that could be explored by the investor from the same scope.
What makes social network-like companies very interesting, in my opinion, is the amount of reach they have, namely anyone with access to an internet connection and a computer or smartphone. In the case of Upwork, that includes almost every business in most developed countries around the world, therefore establishing a huge Total Addressable Market for the company. To be more specific, in the Q3 2021 Investor Presentation, Upwork claims a TAM of $1.3T.
Inside the Business
I believe it is evident for most analysts that while the Covid-19 pandemic fast-tracked the establishment of remote work, the trend has been developing for years now and is most definitely here to stay. In fact, if we could look into the future we would probably find that a large percentage of professionals across different fields are performing at least some amount of their work remotely.
Upwork however, does not just exploit that trend by facilitating work from home, what it does is create a social network space where professionals can actually become freelancers, defining the projects they assume, pricing their services and taking control of the hours they put into their work.
Not only this gives freelancers flexibility but it also increases productivity, since people can apply the skills they are more proficient on. Employers also benefit from outsourcing, being able to find different professionals with skills tailored to the goals they wish to accomplish, while at the same time staying within their budget.
Upwork's growth story over the past 5 years has been remarkable. What is even more impressive than the accelerating revenue growth, is the fact that gross margins are expanding as well, surpassing the 70% mark.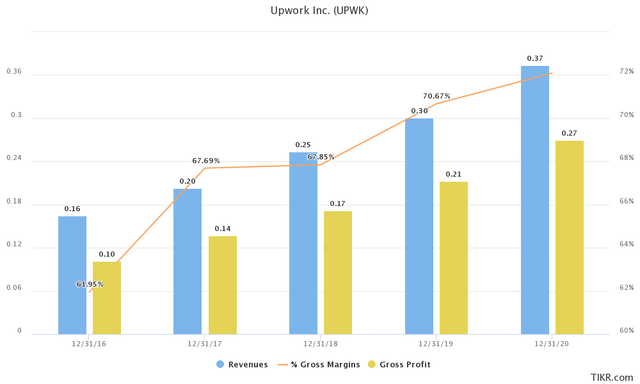 Active clients using Upwork are also increasing at double-digit rates every quarter, with growth accelerating even more during 2021. Gross services volume is steadily increasing as well.
When it comes to the balance sheet, Upwork presents confidence-inspiring financial health. While investing heavily in R&D the company has not accrued alarming amounts of long-term debt. Especially after reaching profitability, an event bound to happen during the next 2 or 3 years, Upwork's sky-high margins will allow for fast cash accumulation in order to finance the rapid expansion that is already underway. Annual Total Assets, Liabilities, and Cash/Equivalents are found in the chart below (amounts in millions USD).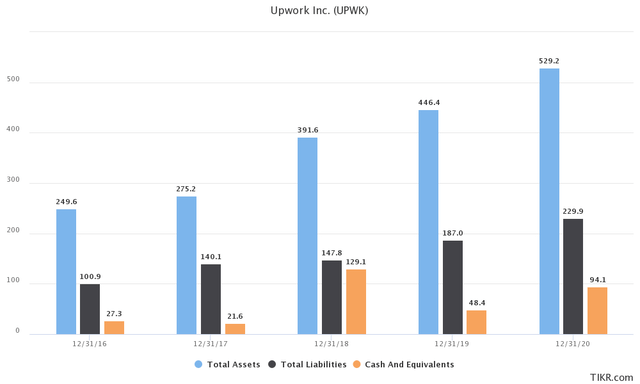 Current and Quick ratios, standing at 3.9x and 3.1x LTM respectively, also both indicate that the company will not encounter any liquidity issues, at least not in the short term.
Recent Stock Performance
The story of Upwork's stock price movement for the last year has been one of extreme volatility. The stock currently trades at $38, 40% lower than all-time high levels of $64.5. Still, current price represents an 11% 1-year return and an 81.8% return overall since the company became public on October 5th, 2018.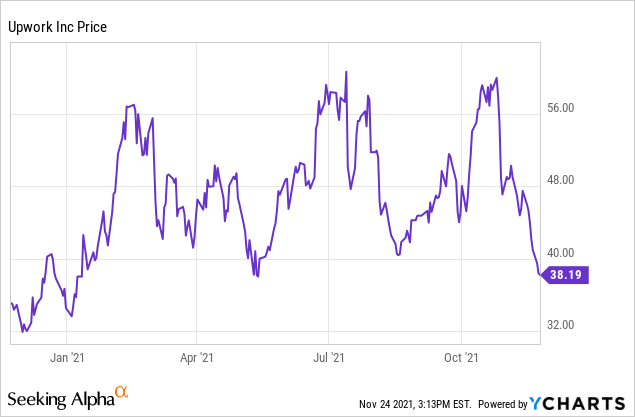 Valuation and Competition
At a first glance, any company that trades at a 10x Revenue could be considered expensive regardless of the growth story it can assert. Valuations like this, however, when we consider companies with similar margins, competitive advantages and dominating market positions, do not seem out of the ordinary. Since, I made the case, previously, to compare Upwork with companies like Airbnb, Teladoc, and Uber, I decided to include a graph (found below) where Price/Sales multiples for all are shown.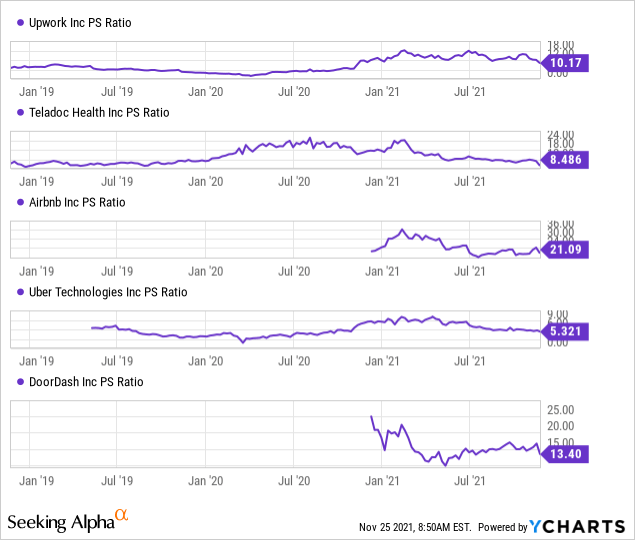 Looking around for competition using a more traditional approach, we can spot a few companies that stand out. Fiverr (FVRR) is arguably the most prominent competitor. Being a rising online freelancing marketplace, Fiverr just like Upwork exhibits aggressive growth, a very promising business model and appeals primarily to budget-concerned small businesses. Another online freelance service company, that trades in the Australian stock market is Freelancer, a company that focuses more on services around designing websites, logos packages, and more. Lastly, Insperity (NSP) and Manpower Group (MAN) are HR solutions companies that cater to clients looking to outsource that part of everyday business to more skilled professionals that offer a wide array of services including HR consulting, recruiting and insurance services.
As shown in the graph below Upwork and Fiverr appear to be valued similarly when it comes to their Price/Book Value ratios, while Price/Sales Ratios imply that Upwork might trade at a discount. Of course, Fiverr being at a slightly earlier stage of the growth cycle could explain the difference in P/S multiples.
With a look forward always being useful when it comes to valuation, we will consider analyst estimates to understand how the company is valued today considering 2022 and 2023 projected Revenue.

Upwork today trades at 7.8x 2022 and 6.4x 2023 estimated revenue. While the growth potential is there, the valuation is still pretty steep. If consensus estimates prove to be accurate and the P/S multiple drops to a more conservative 6x in 2023, the stock would represent a $4.55B market cap, implying no upside for the 2-year period.
Final Thoughts
There is little doubt that Upwork is an incredible business, well-positioned to take advantage of the trend towards working remotely. The company gives independence to freelancers and a variety of choices to businesses who wish to join its platform. The only reservation any investor should have to an otherwise financially healthy, expanding business is of course a pricey valuation. Even after the recent significant drop in the price of the stock, ideally, I would like to see more conservative multiples. Yet, few things in the stock market are ideal; maybe Upwork is too good to pass on and deserves a -somewhat reluctant- buy rating.