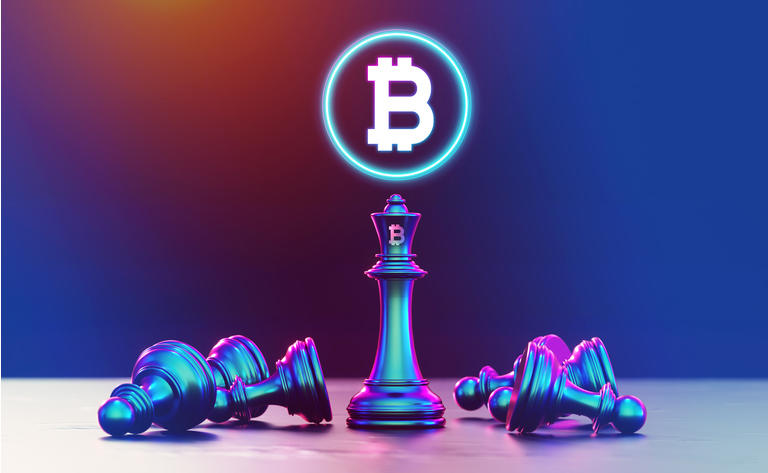 Introduction
In our previous article entitled Bitcoin: The Upside Is Now Limited (published on April 29th), we mentioned that the upside gains were limited on Bitcoin in the medium term following the significant surge we saw in the past year. The market was then too confident on the direction of Bitcoin, and history has shown us that assets tend to move in the opposite direction when people are 'overconfident' about their investments.
This time is different as the macro outlook has changed drastically in recent months: new Covid restrictions, decelerating growth, rising inflation… In this article, we argue that Bitcoin prices could reach $100,000 in the coming months as the compressed volatility in all asset classes combined with the new rounds of liquidity to finance the costs of renewed restrictions will keep supporting the crypto market.
Compressed volatility everywhere: a driver of Bitcoin
1. Low volatility in equities
In the past cycle, the constant intervention from central banks have led to a compression of volatility in all asset classes as most of the developed economies have become very sensitive to a sudden tightening in financial conditions. For instance, we saw how Powell changed the tone regarding monetary policy in the last quarter of 2018 when equities started to consolidate sharply (from "long way from neutral" in October 2018 to "appropriate stance" in his press conference in January 2019). Even though some investors continue to remain confident that the Fed is not sensitive to the dynamics of equities when debating its policy outlook, it is clear that a sharp drawdown (20%+) will be followed by looser speeches from Fed policymakers. Figure 1 shows how the rise in liquidity (Fed assets) have benefited to the equity market since the pandemic.
Source: Bloomberg, RR
2. Compressed volatility in the bond market
Another interesting observation is how low long term interest rates have been globally since the start of the year given the significant surge in inflation. Figure 2 represents the history of interest rates since the beginning of the 12th century up to today. With inflation rising to 30-year highs in some economies, LT bonds should have experienced significant selling pressures with global interest rates surging back to at least their long-term average at 4/5 percent. However, the constant open market operations conducted by major central banks with some economies implementing a yield curve control policy (i.e. Japan) have been compressing volatility on the long end of the curve.
It is now clear that with the debt burden significantly rising since the start of the pandemic, developed countries cannot afford higher interest rates as a sharp increase in LT interest rates would immediately question their debt sustainability. For instance, according to the CBO estimates done earlier this year, the debt burden is expected to double over the next 30 years if the 10Y yield rises to 4.9% ('neutralization' forecasts).
Figure 2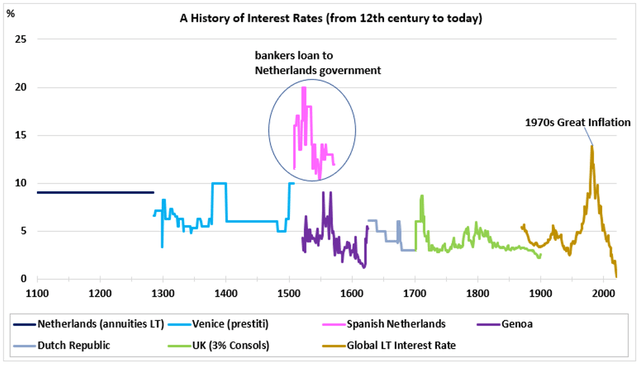 Source: Homer and Sylla (2005) Jorda et al. (2017), RR calculations
3. Compressed volatility in FX market
Eventually, the FX market is another asset class where volatility has been compressed in the past cycle. Even though central banks do not target exchange rates, we have seen in the past cycle that they can implement massive QE programs to influence their currency when the exchange rate becomes 'too expensive' for their economy. For instance, one of the three arrows of Abenomics was to dramatically weaken the Yen through its massive QQME program announced in April 2013 to lift up inflation expectations and also stimulate asset prices. Another example was when the ECB announced it was 'ready to act' in May 2014 and introduced a bazooka QE program in January 2015, which led to a dramatic depreciation of the euro.
In the past cycle, major central banks have also become very sensitive to a sharp currency appreciation as it generally tends to tighten 'financial conditions', which could be negative for the economy and risky assets.
Therefore, the compressed volatility in all asset classes could have been one of the factors behind bitcoin's strong momentum in the past few years, with investors looking to allocate wealth in an aggressively trending market. The chart below shows the significant fall in cross-asset volatility in the past cycle and how Bitcoin started to trend in recent years given the compressed volatility in all asset classes (to the exception of March 2020).
Figure 3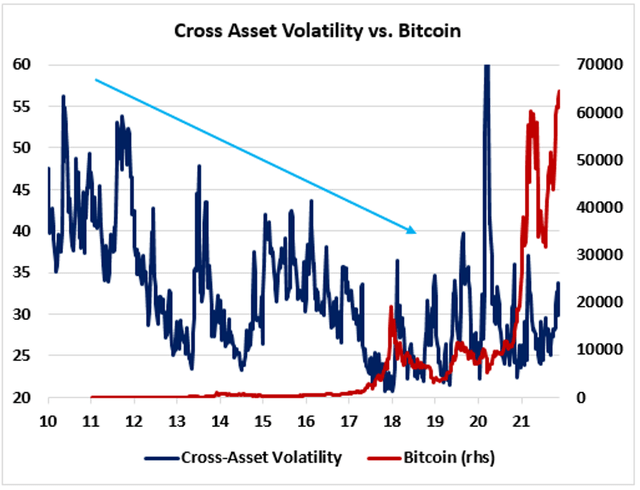 Source: Bloomberg/RR
Bitcoin reaching new highs despite decelerating liquidity
In the beginning of the year, we were concerned that the deceleration in global 'liquidity', which we define as the total assets of the major 4 central banks (Fed, ECB, BoJ, PBoC), was going to weigh on Bitcoin and other risky assets. Figure 4 shows that the dramatic increase in money supply from central banks since the March 2020 panic had been the major driver of bitcoin. Until July 2021, we can notice that the deceleration in liquidity was significantly weighing on Bitcoin prices, with the cryptocurrency more than halving from its high of $64,870 reach on April 14 to its local low of $29,307 reached on July 20 (55% drawdown). However, Bitcoin started to receive strong support at that the $30,000 level and the sharp recovery since this summer has led to a drastic divergence between the two times series.
Figure 4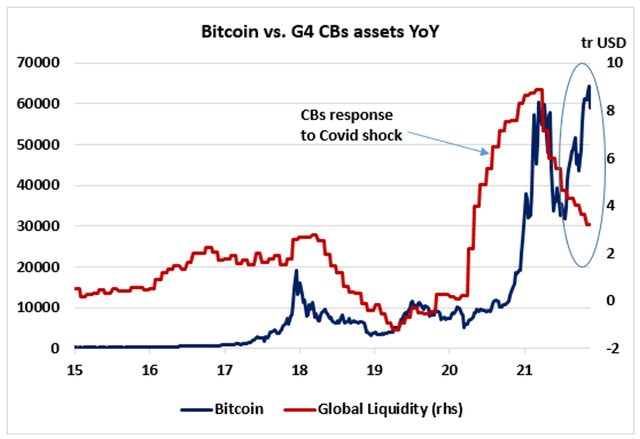 Source: Bloomberg, RR
Bitcoin: new 'inflation hedge'
Interestingly, the rise in inflation seems to have been one of the factors supporting Bitcoin recent months. Figure 5 shows that while gold has been constantly reaching lower highs in the past year, Bitcoin has experienced a strong co-movement with the US 5Y breakeven. The rise in inflation expectations in the past few months has been associated with a strong rally in Bitcoin prices, surging from $40,000 to nearly $70,000 before consolidating lower in the past two weeks.
Hence, figure 5 shows that Bitcoin seems to have been a better 'inflation-hedge' than gold in the past year, and therefore rising inflationary pressures, which are expected to remain elevated longer than policymakers previously expected, could continue to support the cryptocurrency in the medium term.
Figure 5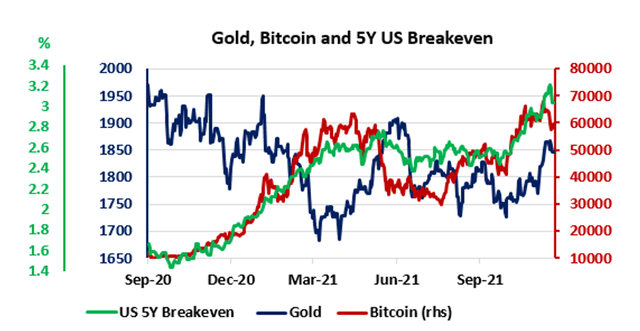 Source: Bloomberg, RR
New lockdowns, more debt, higher bitcoin?
In the past few weeks, we have seen that the rise in Covid cases has led to new restrictions imposed by governments to limit the downside risk of another wave of infections. We first saw Latvia announcing a lockdown in the end of October, followed by CEE countries reimposing new restrictions and more recently core European countries such as Austria or Netherlands. German Health Minister comments that the government may 'not rule out a lockdown' has led to a surge in 'safe' assets as investors are becoming increasingly concerned over the economic outlook.
We think that more countries will follow and announce a lockdown, which will lead to a significant downward revision in growth expectations. Even though some investors were confident a few months ago that developed economies with high vaccination rates will not have to go through lockdowns this winter, the scenario is radically changing, which could benefit to Bitcoin as governments will have no choice that offsetting the partially closed economy with more debt.
It is very difficult to see that some countries will act independently this time as the government will not take the chance of not acting and therefore taking the risk of having a bad outcome and therefore losing popularity.
Economic uncertainty, flattening of yield curves
Hence, with governments progressively imposed new rounds of lockdown, the economic outlook remains highly uncertain, which has led to a flattening of the yield curves and therefore increasing recession risks. For instance, the 'traditional' 2Y10y yield curve recently inverted in Czech Republic, Russia, Poland and Brazil as central banks have aggressively been hiking interest rates to combat inflation. As uncertainty over the economic outlook remains elevated, the magnitude of the move in LT interest rates was lower, leading to the inversion of the yield curve.
In the developed world, where central banks have still been keeping interest rates low while the economic recovery is taking place, we have seen a sharp flattening of the 5Y30Y yield curve in recent months. Figure 6 (left frame) shows that the UK 5Y10Y has flattened by nearly 70bps in the past 6 months. The US 5Y30Y is down 90bps since May, currently trading at 70bps (figure 6, right frame).
With economies constantly slowing down with consumer sentiment standing at a 10-year low in the US, DM policymakers will not be able to dramatically tighten monetary policy without creating a deflationary risk for asset prices. Hence, a looser for longer policy seems very likely in the DM world and therefore should continue to support bitcoin prices.
Figure 6

Source: Bloomberg, RR
Network effect keeps growing
While the network effect has been stable for gold (the proportion of people who will be aware of gold next year compare to this year is low), it is still growing very fast for bitcoin, with growing interest in different fields from engineering to quant and macro hedge funds. Recently, we saw that Brevan Howard will start a unit dedicated to cryptocurrencies, then also quant hedge fund GSA capital. As the asset class keeps growing, it attracts more and more 'smart money' investors who are looking for more volatility in the market. We have seen in recent months that crypto hedge funds have experienced strong monthly gains due to the significant swings in cryptocurrencies.
Technical Analysis
Momentum on Bitcoin has been strong in recent months after the cryptocurrency found support slightly below the $29,000 level in July. The sharp recovery shows how powerful the trend is and therefore Bitcoin could reach new all-time highs in the short term. Our first target stands at 78,642, which corresponds to the 138.2% Fibo projection of the 28,818 – 64,870 range.
The rise in uncertainty combined with another round of liquidity this winter with governments imposing new restrictions is likely to push Bitcoin prices significantly higher in the coming months, up to $100,000, which represents the 200% Fibo projection.
The downside risk could increase if we see another sudden sell-off in risky assets in the market. As opposed to gold, which has shown robustness in periods of rising market uncertainty, Bitcoin tends to perform badly when price volatility surges. The cryptocurrency was down 42% during the Q4 2018 equity selloff and nearly 10% in Q1 2020).
First support to watch on the downside stands at 53,384 (200DMA), followed by 51,097 (61.8% Fibo retracement).
Figure 7

Source: Bloomberg