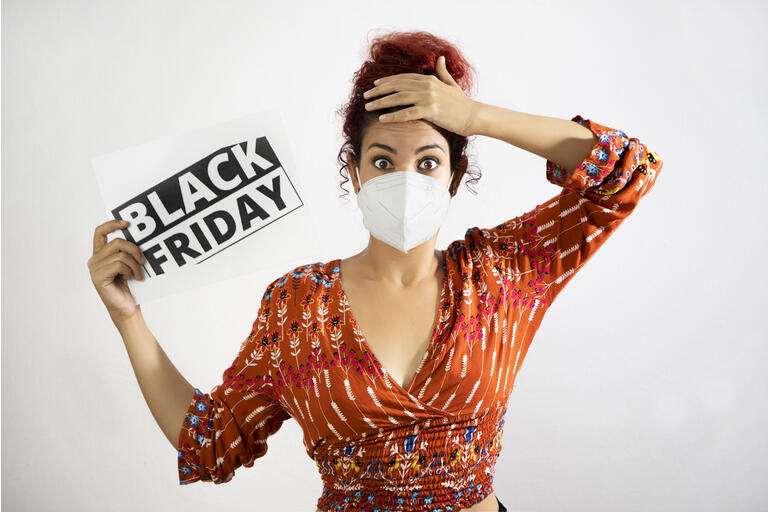 By ALT Perspective for Chinese Internet Weekly
Already walloped from uninspiring third-quarter results in several Chinese internet companies, Chinese stocks were hammered further by the broader market slump on renewed pandemic concerns. On Friday, global financial markets sold off with reports of a new heavily mutated COVID-19 variant, named Omicron by the World Health Organization (WHO), raising the alarm around the world.
Interestingly, even as Chinese ETFs, in general, followed their U.S. counterparts (QQQ)(DIA)(SPY) south, the Xtrackers Harvest CSI 300 China A-Shares ETF (NYSEARCA:ASHR) managed to stay unscathed. The well-diversified ASHR ETF declined a mere 0.08 percent over the last five-day period.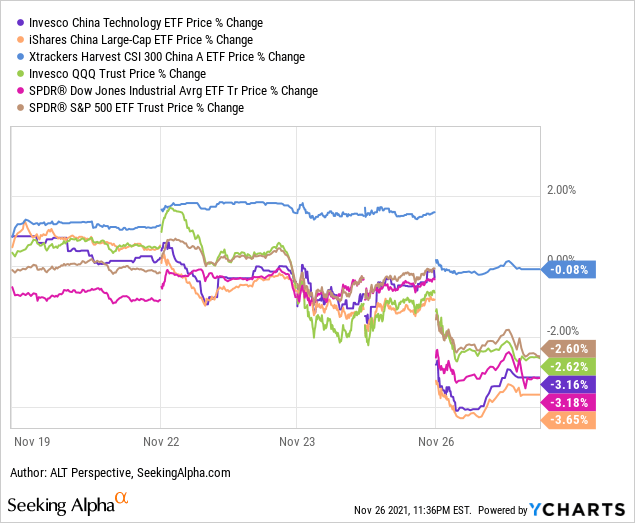 The relative calm of well-diversified ASHR ETF amid bullish BlackRock's China call
The steady performance seemed to be reflecting investors' confidence that China would be little affected by the deteriorating pandemic situation, perhaps given its ongoing 'Zero COVID' stance and strict border controls. The much smaller presence of internet stocks in the ASHR ETF portfolio might have helped too, since investors weren't piling into internet names as they did before, believing that they would be beneficiaries of lockdowns.
Another supporting driver for the relative calmness of the ASHR ETF could be investors betting that China would see more export demand, as the prospect of fresh movement restrictions reared its ugly head again. This can be gleaned from stocks like Zoom Video Communications, Inc. (ZM) and Peloton (PTON) regaining investor favor Friday.
Coincidentally or otherwise, Bloomberg ran an article with the headline BlackRock Says Time to Buy China Stocks, Trim India Exposure on Tuesday. Lucy Liu, a portfolio manager for global emerging markets equities, was quoted as saying "the time to position in the China market is right now," with signs of "bottoming out" for the internet and property sectors and a possible surprise to the upside for economic growth.

Source: Bloomberg
Notably, BlackRock (BLK) narrowed its underweight call on internet services companies. Unfortunately, the positive messaging from the world's largest asset manager, with over US$9 trillion in assets under management, was unable to save Chinese stocks in general from Omicron's scare.
The Invesco China Technology ETF (NYSEARCA:CQQQ) and the iShares China Large-Cap ETF (FXI) both fell more than 3 percent. The duo is internet-heavy. The CQQQ ETF counts Tencent Holdings (OTCPK:TCEHY)(OTCPK:TCTZF), Meituan (MEIT)(OTCPK:MPNGF)(OTCPK:MPNGY), and Baidu (BIDU) as its top three holdings.
Shares of Meituan tumbled following the release of its third-quarter results Friday, declining double-digit percentage and losing its pre-results gains the previous day. TCEHY stock fell 5.0 percent while BIDU stock was a relative oasis of calm, declining 1.5 percent. BIDU shareholders could be cheering news that Baidu began charging fees for its Apollo robotaxi business from Thursday.
The development was significant considering that it's the first time a large city in China allowed companies to charge the public for robotaxi rides. Furthermore, investors could be betting that other major cities like Shanghai, Shenzhen, and Guangzhou would follow suit shortly, providing a fillip to its leadership in autonomous driving and plans to produce its own electric vehicles.
The FXI ETF also has Tencent and Meituan as its top holdings. However, instead of Baidu, Alibaba Group (NYSE:BABA) is the third-largest holding of the FXI ETF while it's absent from the CQQQ ETF. The share price of the e-commerce and cloud titan continued to bleed following its lackluster third-quarter results. BABA declined 7.3 percent for the week, worsening its stock loss from its 16.1 percent plunge the previous week.
Fines imposed by the state regulator over the weekend for offenses related to non-reporting of acquisitions by several Chinese internet players like Alibaba, Tencent, and Baidu contributed to the bearish sentiment. However, it should be noted that the penalty for each fine was only 500,000 yuan ($78,000), a tiny fraction of the annual revenues posted by the affected companies.
The Chinese Internet sector representative ETF, the KraneShares CSI China Internet ETF (NYSEARCA:KWEB), had another awful week, unsurprisingly so given the fall in most of its holdings. Nonetheless, if it's any consolation, its decline of 5.8 percent last week was an improvement over the previous week's 6.5 percent.
Among the key holdings of the KWEB ETF, only the share prices of NetEase (NTES) and Bilibili (BILI) managed to stay afloat, up 1.6 percent and 1.4 percent respectively. NTES stock continued its positive momentum from its third-quarter results while BILI stock likely was benefiting from a 'dead cat bounce' following its 22 percent plunge a week ago after disappointing guidance.
The dismal performance of Pinduoduo (PDD) among the largest holdings is making it stick out like a sore thumb. The group-buying e-commerce giant was already weak ahead of its earnings announcement. However, the sell-off accelerated after the release of the results proved the bears correct.
Although PDD's adjusted EPADS was 4c higher than the consensus estimates at $0.34, its third-quarter revenue was well below the consensus of $4.03 billion, coming in at $3.34 billion. Yet, that 'poor' revenue still reflected a 61 percent year-on-year increase over the pandemic-enhanced revenue of Q3 2020.
Naysayings about Alibaba often don't pan out, but does it matter?
Pinduoduo's share price slump has come a long way since some PDD bulls proclaimed that the heavily-discounted group-buying format would significantly threaten Alibaba's e-commerce market share. We have eventually discovered that the internet juggernaut is more than capable of fending off competition, considering that its e-commerce revenue continues to grow.
This is so even as Juhuasuan, its answer to the group-buying phenomenon, hasn't received much public mention since its relaunch in 2019. Over the past year, PDD stock is down nearly as much as BABA. This is despite PDD benefiting from a well over 40 percent jump prior to its downfall beginning from mid-March.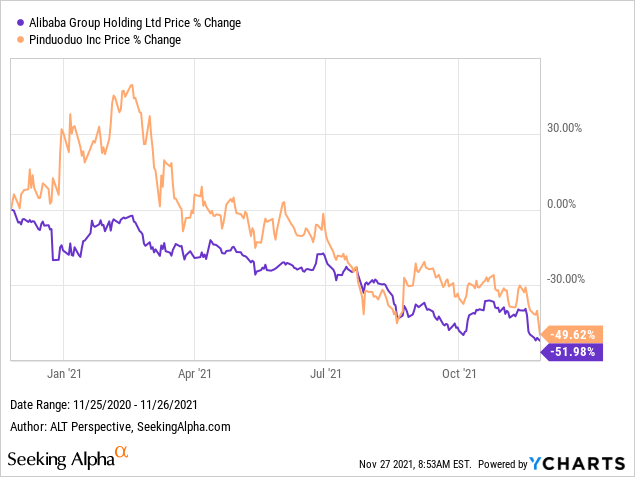 In other words, shareholders of Pinduoduo who had invested thinking that the company could gain from Alibaba's woes would have learned their lessons painfully. This is just one out of the numerous contradictions that regular readers of Chinese Internet Weekly would know I enjoy pointing out, including those highlighted in a September piece and another in June.
Following the recently concluded UN Climate Change Conference of the Parties (COP26) meeting, I have heard countless arguments that China's economic prospects could be impaired due to the commitments it has made. If its energy needs are constrained by the restrictions to use coal, a resource it has in abundance, its manufacturing prowess could be diminished, benefiting US reshoring efforts.
It is, thus, refreshing to read an opinion piece on The Wall Street Journal declaring that "the Biden administration's commitments in Glasgow would cripple America's economy, empower China and Russia and do little to address climate change." Given that BABA stock has long been played as a proxy to the Chinese economy, BABA shareholders must be glad to know that the latter could be a winner from the Glasgow meeting.
I have also argued many times that the regulatory crackdown on Alibaba Group was not targeted at the company specifically. When this became apparent, the critics changed their tune to say, with the entire internet sector under greater regulatory scrutiny, Alibaba being part of the top three sector giants would bear the brunt of the attack.
Again, I pointed out the opposite but not without basis. For instance, in July, I wrote:
"Furthermore, the series of regulatory crackdowns have seemingly spooked foreign investors. Starved of capital, the new ventures would increasingly turn to the deep-pocketed tech giants like Alibaba and Tencent for funding, helping them to strengthen their ecosystems at a lower cost due to weaker competition."
Alibaba Group exploited the funding deficit with its Alibaba Hong Kong Entrepreneurs Fund [AHKEF]. The company shrewdly portrayed itself as the benevolent venture capitalist, avoiding accusations of monopolistic practices. Thus, it ensured the company retained the ability to invest in promising startups in all the exciting fields.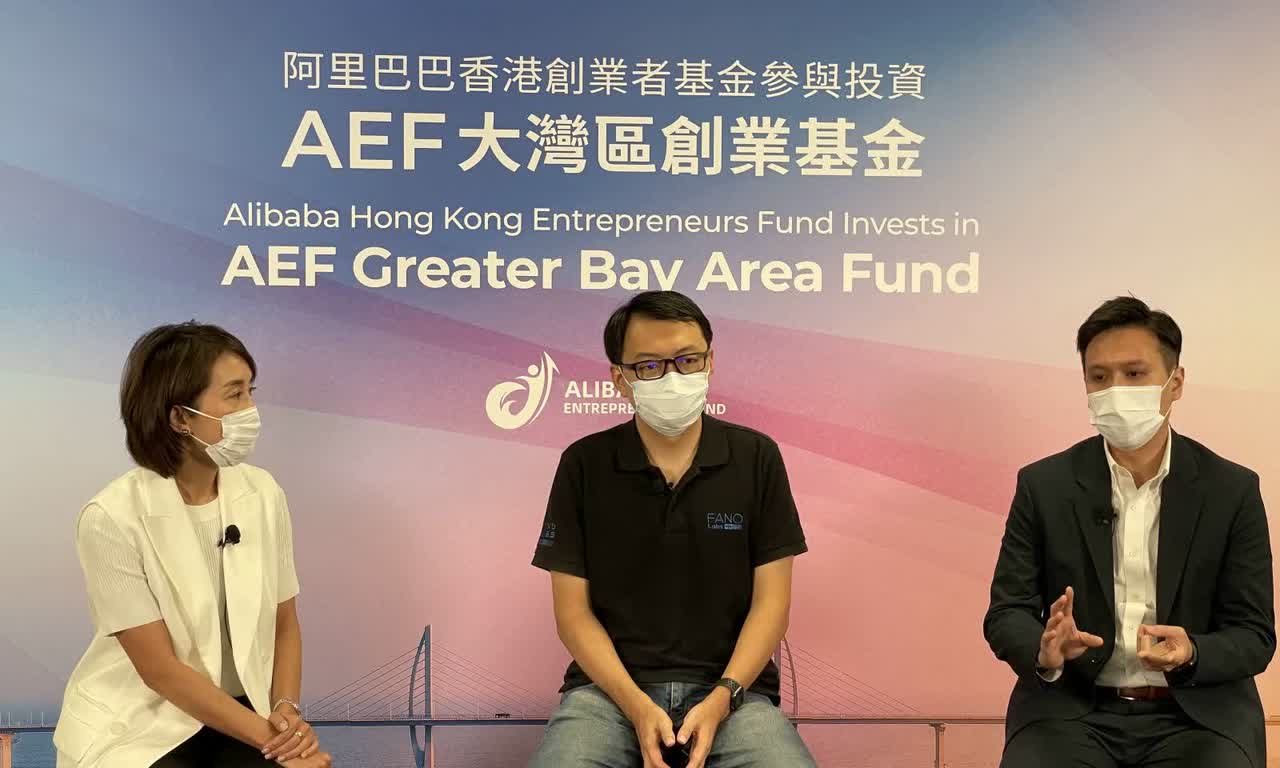 Source: Alibaba Hong Kong Entrepreneurs Fund
Months later, it was reassuring to know I wasn't alone in thinking the same. I stumbled upon an article published two weeks ago by a respectable financial media outlet in Southeast Asia. The title of the article sufficed - China's 'long overdue' crackdown may entrench, not kill, tech duopoly: Expert.
Recall that speculations were rife in April that Beijing could nationalize data, seizing data from the big tech giants. Investor sentiment on the Chinese internet stocks soured further as analysts weighed on the possibility.
Months later, as the rumor died down, it seemed the Chinese government is considering a tax on data instead. Well, don't get me wrong. I acknowledge that a tax on data is an additional burden on the affected companies like Alibaba. However, that surely is a much better outcome than the purported nationalization of data, isn't it?
While we are on this topic, may I also remind readers that Ant Group, the fintech unit of Alibaba Group, was reported to see its valuation plummet as low as $29 billion if changes were made to comply with the revised regulations. Since these 'worst case scenarios' are in the public domain, it is assumed that BABA shareholders are aware of them.
Thus, it is surprising to hear the recent valuation by major investor Warburg Pincus could depress sentiment further. After all, while the valuation was cut by 15 percent to $191 billion at end of September, this was still 6.6 times higher than the 'worst case scenario' at $29 billion.
In case anyone has the urge to point out that BABA continues to sink regardless, yes, I am well aware of that. This is how the market works, isn't it? Likewise, Warren Buffett has long argued that Berkshire Hathaway (BRK.A)(BRK.B) is undervalued and that has not stopped the share prices from stagnating relative to the benchmark indices. This doesn't mean he is wrong, does it?
In the same vein, positive developments from Alibaba Group don't excite investors as they should. The latest manifestation of this phenomenon is the lack of enthusiasm for Alibaba's metaverse offerings.
In a November 4th newsletter, Alibaba Cloud proudly revealed it has "completed various metaverse projects in the areas of retail, construction, and city traffic management." In addition to providing a cloud infrastructure for metaverse applications, Alibaba Cloud also boasts a slew of metaverse capabilities.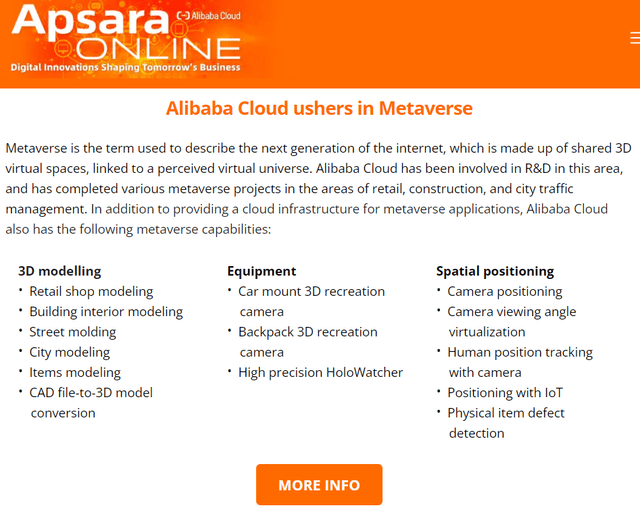 Source: Alibaba Cloud
The same achievements announced by an American firm might have sent its stock soaring. Alas, Alibaba Group is a Chinese company. Shareholders should be cognizant that the 'China discount' may take a long time to dissipate. It may never go away too.
Notably, BABA, like the many U.S.-listed Chinese internet stocks, relies on a Variable-Interest-Entity [VIE] structure. I argued in August that many concerns raised on the VIE risks were weak but I acknowledge the fear will continue to perpetuate, leading to a sustained stock discount.
Switching out of Chinese tech stocks to their US equivalent has proved to be a disastrous move for some
Shareholders of Chinese tech stocks who decided to cut their losses and shift the proceeds to some U.S. counterparts may have realized it wasn't a wise move. For instance, edtech stocks like Chegg (CHGG) have slumped dramatically in recent months, nearly mirroring the fate of gymtech provider Peloton Interactive (PTON). The same goes for the e-commerce firm Poshmark (POSH).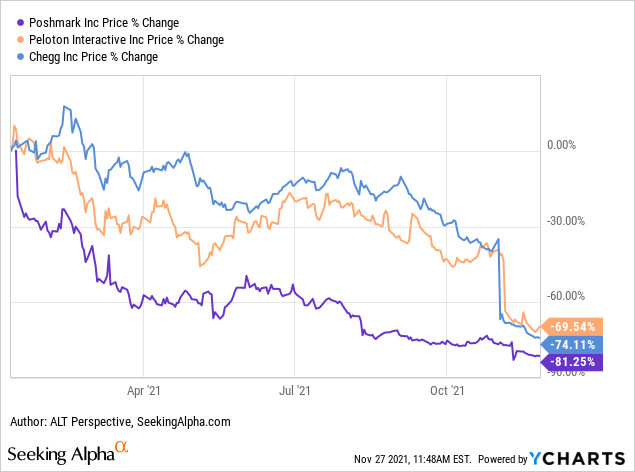 (Comparison period from the listing of Poshmark till date)
While the above names are ostensibly victims of the reopening, proptech Zillow Group (Z) has another major contributing factor - its overzealous buying of houses at a premium and the subsequent abandoning of the iBuying business division. KE Holdings (NYSE:BEKE), better known as Beike, is suffering from entirely different challenges.
In addition to being negatively affected by the Chinese regulatory crackdowns, concerns over the VIE structure, doubts over the accounting quality of Chinese firms, U.S.-China political tensions, investor aversion towards Chinese stocks, etc., KE Holdings is also impacted by the Chinese government's crackdown on the property sector.
Despite the contrasting drivers of the stock movements of Zillow and KE Holdings, both have been terrible investments for shareholders in the past year. Those who switched out of BEKE, after the plunge in August, into Zillow would have suffered a double whammy in their returns, with the latter plunging in early November.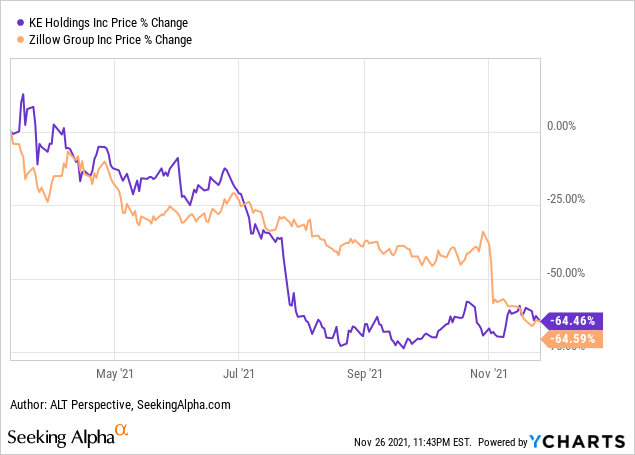 I have sold my BEKE holding in August at a steep loss and did not redeploy the proceeds into Zillow. However, I'm not taking this opportunity for schadenfreude - with my losses, I'm not qualified to do so. My commentary is intended to point out the irony of the exhortation a few months ago by some to get BEKE shareholders to switch into U.S.-based proptech counters for those who intended to stay with the investment theme.
It's a pity that I couldn't find the comments. Nevertheless, based on my recollection, they went like this: "Sell out your BEKE and redeploy the proceeds into Z (or some others)." The justifications followed and regular readers would know these tended to revolve around fear-mongering and the use of patriotism to persuade.
Meanwhile, BEKE stock has stabilized and even recovered somewhat from the August lows while Z stock is making new 52-week lows. In the few days following the announcement of its third-quarter results, BEKE rose over 30 percent. Thus, it should be emphasized that investment wisdom is not simply "Chinese stocks bad, US stocks good."
In the July to September quarter, the new home area sold in China plunged by 9.5 percent, 17.6 percent, and 15.8 percent year on year respectively. Yet, the revenue of KE Holdings only fell 11.9 percent year on year to $2.81 billion. This was higher than the consensus estimate by $420 million.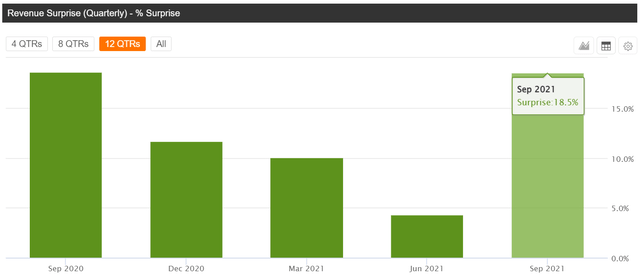 Source: Seeking Alpha Premium
For readers who don't own BEKE but have an interest on how the upcoming property tax in China will impact other stocks, I would like to share with you a commentary by Tao Xu, Executive Director and Chief Financial Officer of KE Holdings, which I found to be very well rationalized:
"The introduction of property tax will have a significant short-term impact on the market. Some owners of multiple residences may sell part of their properties, leading to higher market supply and hence wait-and-see sentiment among buyers in the short term. However, from the long-term perspective, transaction volume is predicated on housing supply and demand fundamentals.

The rational launch of property tax, by laying a solid foundation for effective common prosperity, will contribute to stable long-term market expectations and prices. Only in such a scenario with stabilized prices, rationalized market and smoothened fluctuations in the long run can rigid demand be further unleashed, resulting in higher home turnover rate, better affordability and roofs for everyone and hence a potential growth in transaction volume."
Interestingly, Xu also included a piece of warning for hopeful investors of "mega internet companies" like Alibaba and ByteDance (BDNCE) who believe they can leverage their Big Data, large user bases, and solid financial positions to expand into new areas like property transactions (emphasis mine):
"To integrate an online model with an offline-model, one cannot resort to short-termism, such as unfair competition and capital based disorderly expansion, including setting low commission rate, high rebates, unrealistic binding valuation promises, is definitely false proposition, which will not sustain and could cause anti-trust violations.

In the past and last year, mega internet companies entered the industry with high profiles, all walked away later with the rationale disapproved. Tmall Haofang, Fangchebao are good showcases. ...

Last but not least, if ByteDance still decides to move to offline transactions, especially under the current market momentum, we believe they will have their lessons learned from the market and players who truly understand this industry like BEKE."
Finally, as we discussed earlier in this article that the heightened regulatory environment could entrench the incumbents, Xu has this to say (emphasis mine):
"In the down cycle, the trend of "huddling together to keep warm" in the industry is more evident. We noticed that the cooling of the market prompted more stores and agents who were reluctant to join the platform to finally join Beike platform. The number of brands connected to Beike's platform exceeded 300 in the third quarter. The percentage of newly added stores from external new home sales channels increased greatly from 22% in the second quarter to 29% in third quarter."
I hope the sharing of these insights from the industry players themselves can help in investors' research. I am also taking this opportunity to bring to the attention of readers that Seeking Alpha has a comprehensive transcript service for earnings conference calls and selected investor events of listed companies, including numerous traded over-the-counter (OTC).
As explained in a past issue of the Chinese Internet Weekly, I found the KWEB ETF holding the most representative stocks in the sector. As such, an overview of the week's share price movements of the top ten holdings of KWEB (as of Friday) compared with the ETF itself is provided as follows for convenient reference especially for the stocks mentioned in this article.