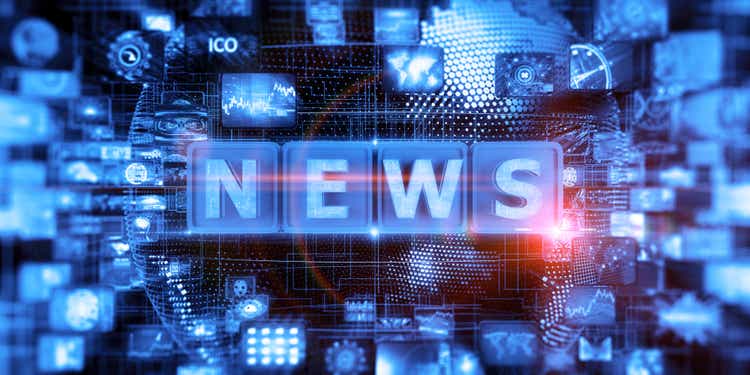 One of the largest multimedia companies that investors have an opportunity to buy into is a firm called News Corporation (NASDAQ:NWS) (NASDAQ:NWSA). This firm owns a significant portfolio of various properties that, on their own, could be considered household names. In recent years, financial performance at the business has been mixed on the top line, driven by short term fluctuations caused by things like the COVID-19 pandemic and by long term opportunities and challenges associated with individual segments of the enterprise. Because of the uncertainty at the company, shares of the business appear to be trading on the cheap. Some of this low price is warranted given the circumstances. But it is likely that the company has some upside potential moving forward. This is especially true when you consider how the cash flow picture of the enterprise has looked recently.
An overview of News Corporation
The portfolio owned by News Corporation is truly vast. The company's properties include The Wall Street Journal, Barron's, Dow Jones, The Australian, Herald Sun, The Sun, The Times, HarperCollins Publishers, Foxtel, FOX SPORTS Australia, talkSPORT, various real estate websites, and more. At the end of the day, the company's operations can largely be organized into six different reporting segments. Using data from the company's 2021 fiscal year, the largest of these segments, by revenue, is called News Media. This particular segment accounted for 23.6% of the company's overall revenue for that year but was responsible for just 3.3% of its segment EBITDA if we exclude a $287 million loss associated with its 'Other' segment that makes up any miscellaneous activities that fall outside of its five other key segments. This particular segment owns properties such as News Corp Australia, News UK, and the New York Post. It also includes a sports radio network, a social media content agency, and other miscellaneous properties.
The next largest segment the company operates is called Subscription Video Services. This particular segment was responsible for 22.1% of the company's overall revenue last year and 23% of its positive segment EBITDA. At present, this segment includes subscription programs for sports, entertainment, and news services for pay TV and streaming operations. It also includes revenue associated with commercial licenses to cable, satellite, and Internet channels. A big portion of the segment involves News Corporation's 65% ownership in Foxtel Group, which is the largest Australian based subscription television provider on the market.
In third place, you have the company's Book Publishing segment, which generated 21.2% of the company's revenue last year and 19.4% of its positive segment EBITDA. Through this segment, the company operates HarperCollins, which is the second largest consumer book publisher globally with operations spread across 17 different countries. Its print and digital global catalog includes more than 245,000 publications spread across 16 languages. And of its content, 140,000 publications are offered in digital formats. The next segment is called Dow Jones, and it is responsible for providing news and business information to various clients. Properties owned under this segment include The Wall Street Journal, Factiva, Dow Jones Risk & Compliance, and more. According to management, this particular segment accounted for 18.2% of the company's overall revenue and 21.3% of its positive segment EBITDA.
Finally, we arrive at the cash cow of the enterprise. This is known as Digital Real Estate Services. Through the segment, the company owns a 61.4% stake in REA Group, and it owns an 80% interest in Move, with the remaining 20% currently owned by REA Group. REA Group advertises its property and property related services on its websites across Australia and Asia. And as of the end of its latest fiscal year, its assets were responsible for average monthly visits to its top property of 121.9 million. Move, meanwhile, operates as a provider of digital real estate services in the US. Its primary property is realtor.com. According to management, this particular segment accounted for only 14.9% of the company's overall sales last year. But it was responsible for 32.9% of positive segment EBITDA.

*Created by Author
Financial performance achieved by News Corporation has been rather mixed in recent years. After seeing revenue rise from $8.14 billion in 2017 to $10.07 billion in 2019, it then fell to $9.01 billion in 2020. The company staged a partial recovery in 2021, with revenue climbing to $9.36 billion. Some of this volatility can be chalked up to the COVID-19 pandemic. However, there is a lot of other stuff going on here. For instance, you have some parts of the enterprise that are growing rapidly and others in secular decline. This can be seen in the table below.

*Created by Author
As you can see, revenue associated with the company's circulation and subscription operations has been rising nicely in recent years, climbing from $2.47 billion in 2017 to $4.21 billion in 2021. Another strong area of growth for the company has been its consumer business. This jumped from $1.57 billion to $1.91 billion over the same period of time. Meanwhile, the real estate operations of the business have grown from $696 million to $1.15 billion. All of this growth, unfortunately, has been negatively affected by declining advertising revenue. Between 2017 and 2021, advertising revenue has nearly halved from $2.91 billion to $1.59 billion. A good portion of this can be chalked up to a weak print market. But the company also has engaged in various financial transactions in recent years that have complicated the picture. As an example, advertising revenue in the News Media segment fell from $1.56 billion in 2020 to $885 million in 2021, driven largely by the sale of News America Marketing. This is not necessarily a failure of the company, so much as it is a one-time transaction aimed at optimizing shareholder value.
For the current fiscal year, things are looking up from a revenue perspective. Revenue in the first quarter of the company's 2022 fiscal year totaled $2.50 billion. This represents an increase of 18.2% over the $2.12 billion generated the same time one year earlier. Again, this is a complicated picture. But the largest contributor to this increase was a rise in revenue at the company's Digital Real Estate Services segment, which saw sales jump from $290 million to $426 million. This was driven, in turn, by a 62% increase in revenue associated with REA Group and by 30% increase in revenue associated with Move.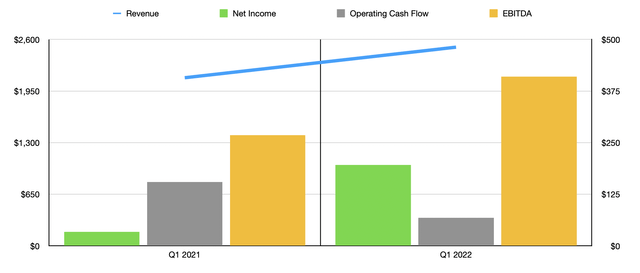 *Created by Author
Just as revenue has been volatile in recent years, so too has profitability. The company has generated a net loss in three of the past five fiscal years. Though, in 2021, its profits were an impressive $330 million. More consistent, fortunately, has been cash flow. This figure has risen in four of the past five years, eventually climbing from $494 million in 2017 to $1.24 billion in 2021. EBITDA has followed a similar trajectory, climbing from $885 million to $1.27 billion. So far this year, things are, once again, looking a bit mixed. Profits in the first quarter totaled $196 million. That dwarfs the $34 million profit achieved in the first quarter of 2021. Operating cash flow, meanwhile, did drop, falling from $155 million to $68 million. But EBITDA did manage to rise from $268 million to $410 million.
Valuing News Corp. is a challenge
Due to this volatility and the absence of any meaningful guidance by management, it is truly difficult to value the business. We certainly cannot value it based on earnings given the volatility it has experienced there. The cash flow picture is a bit easier to work with, but it has been made more complicated by $938 million in non-controlling interests that make it impossible to strip out what the company doesn't own of the cash flow it generates from what it does own. Even so, if we rely on 2021 figures, shares of the business do look rather cheap. On a price to operating cash flow basis, the company is trading at a multiple of 9.4. Perhaps more appropriately, given the information we do have access to, we should be looking at it from the perspective of its EV to EBITDA multiple. This comes out to 11.7.
| | | |
| --- | --- | --- |
| Company | Price / Operating Cash Flow | EV / EBITDA |
| News Corporation | 9.4 | 11.7 |
| Meredith Corporation (MDP) | 7.6 | 7.2 |
| John Wiley & Sons (JW.A) | 7.5 | 9.2 |
| Gannett Co. (GCI) | 8.0 | 12.9 |
| The New York Times Company (NYT) | 26.5 | 26.6 |
| Pearson plc (PSO) | 10.4 | 6.6 |
As part of my analysis, I decided to compare News Corporation to the five highest rated of its peers as defined by Seeking Alpha's Quant platform. On a price to operating cash flow basis, these companies ranged from a low multiple of 7.5 to a high one of 26.5. Three of the five companies were cheaper than our target. On an EV to EBITDA basis, these companies ranged from a low of 6.6 to a high of 26.6. Once again, three were cheaper than News Corporation is today.
Takeaway
At this moment, News Corporation is facing many of the same challenges that other players in the news, entertainment, and telecommunications spaces are. Namely, its quality properties are struggling to offset the decline of more legacy assets that, on their own, don't have a particularly bright future. The company also has a lot of working parts and has engaged in a number of transactions that complicate things. Because of all of this, some low multiple on the company is probably warranted. And that seems to be reflected in the industry as a whole when you look at other competitors. Relative to these peers, the firm is probably more or less fairly valued. But on an absolute basis, it does look to be rather cheap. So for investors who believe that the quality assets will shine through, it may not be a bad idea to consider buying in now. But that strategy definitely will require patience.