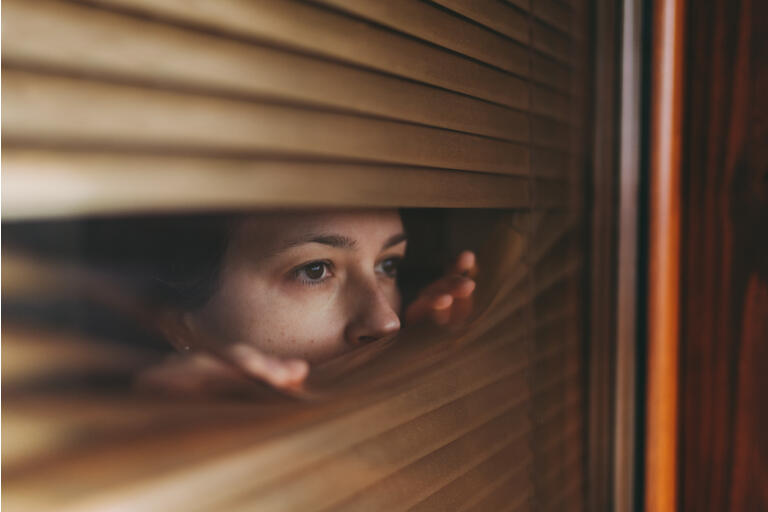 COVID Omicron burst onto the world stage during Black Friday last week, causing indexes around the globe to sink between 2-5% on the holiday shortened trading day. The new variant has now been detected throughout Europe and Africa and has led a long list of countries to reinstitute travel bans for a multitude of countries.
In this article, I would like to present my shopping list for further panic in the markets driven by COVID B.1.1.529, Omicron.
What We Know
In short, not much. This new variant was first detected in South Africa on November 24th. The virus appears to have undergone a multitude of mutations that, as of yet, are not clearly understood by the medical community.
The reason for concern among medical professionals is that this strain appears to have become dominant in South Africa in a very short period of time, indicating that it is perhaps much more transmissible than the already extremely transmissible Delta variant.
Initial reports also indicate the new strain's ability to rapidly re-infect people, perhaps indicating that the virus is able to evade antibodies that act as a first line of defense against reinfection.
The CDC already estimates the Delta variant to be highly contagious and could be about as transmissible as chickenpox, so if Omicron turns out to be magnitudes more contagious than even the Delta strain, along with potentially having the ability to rapidly re-infect and to evade antibodies, Houston, we definitely have a problem.
Why Buy Anything?
I must admit that initially, I was quite concerned with the news of this strain of COVID and the potential to evade vaccines and current treatments, however upon reflection, I have changed my stance. I must state that this portion of the article is purely my opinion only, I am not a doctor, nor am I an expert in the medical field in any way.
With that said, logic, history and evolution tell us that as viruses mutate and evolve, the general direction regarding mortality tends to be downward. It is important to note that this is not always the case, however, the vast majority of truly highly transmissible diseases tend to have a mortality of around 1% or lower.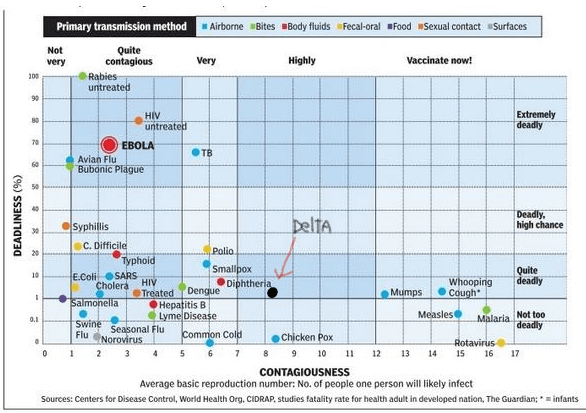 Source: The Guardian and Author Created
And this does make logical sense. A virus's prime directive, encoded into its DNA is simply to replicate and pass on its genes. This DNA driven prime directive means that as time goes on, the most successful variant at performing this simple task will become dominant.
The Omicron variant, upon initial examination, appears to possess the traits needed to perform this task of virus replication extremely well if the transmissibility and antibody evasion stories indeed prove true. Information coming out of South Africa, while still very early and not scientific, seem to be skewing towards the optimistic side regarding virulence.
We're seeing a lot of cases but not a lot of severe disease. Yesterday, Dr. Rudo Mathivha, head of the ICU at an Omicron epicenter hospital said that among their patients:
I am choosing to position myself in the optimistic camp in thinking that a drastic increase in transmissibility may mean that mortality rates could be coming down for the virus as part of its long-term evolution.
While this opinion is currently not backed up by any solid scientific data I can find and is certainly subject to change, there appears to be virtually no appetite for further lockdowns or restrictions in the United States. In Europe, anti lockdown sentiment is growing at a rapid pace as well.
The stock market is fantastic at overreacting in the short term to headlines and as such, I believe that we could see high quality companies, positioned well for the long term be punished harshly in the near term. I am planning to take advantage if that happens.
My Shopping List
Below, I will list the companies that I am interested in purchasing in the event of a continued COVID Omicron based market panic.
The Walt Disney Company (DIS)
Disney, before news of COVID Omicron, had already been sold down to attractive levels due to a lackluster earnings report on November 10th. Disney is still recovering from the initial COVID hit to earnings and I would fully expect shares to drop precipitously during a new pandemic scare.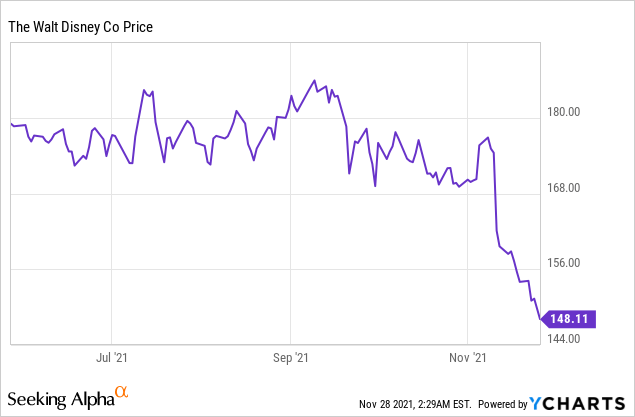 While the company could be primed for a further hit if the new variant sweeps the globe, the company is positioned extremely well in the content space for the long term by way of Disney+, Hulu, ESPN & Star+.
The bottom line here is that if you expect the world to eventually recover from the COVID pandemic, Disney is a very high quality stalwart to benefit from long-term consumer content distribution and in person experiences.
The company's balance sheet, while not as fantastic as before the pandemic, is considered to still be in fine shape, the company has an A- debt rating at Fitch, BBB+ at S&P and A2 stable at Moody's.
I would be happy to pick up some discounted shares in the near future.
PayPal (PYPL)
PayPal is another company that has been falling well before the news of a more aggressive COVID strain entered our newsfeeds. The company has been a victim of investors curiously rushing to the exits in many fintech and payment providers.
In addition, while PayPal reported seemingly great earnings, its recent guidance, which indicated a faster than expected burn off of eBay's (EBAY) business, sparked further selling in the shares.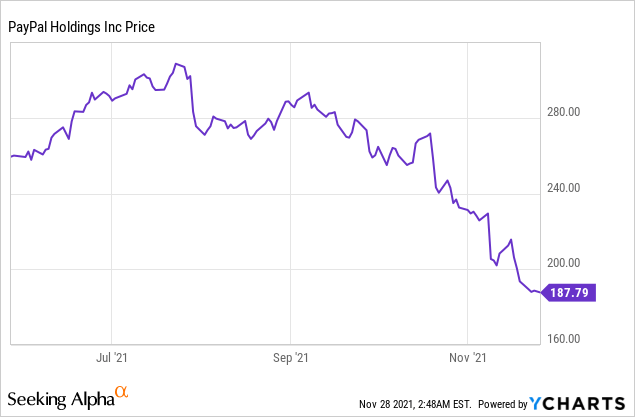 In my opinion, the company at current prices represents an attractive long-term valuation and could repeat the stellar performance it achieved during the first COVID onset panic.
PayPal is positioned extremely strongly in the payment sector going forward, they have adapted their product to service a very wide range of the payment sector. The main issue for any burgeoning fintech competitor is reaching a critical mass by way of user adoption.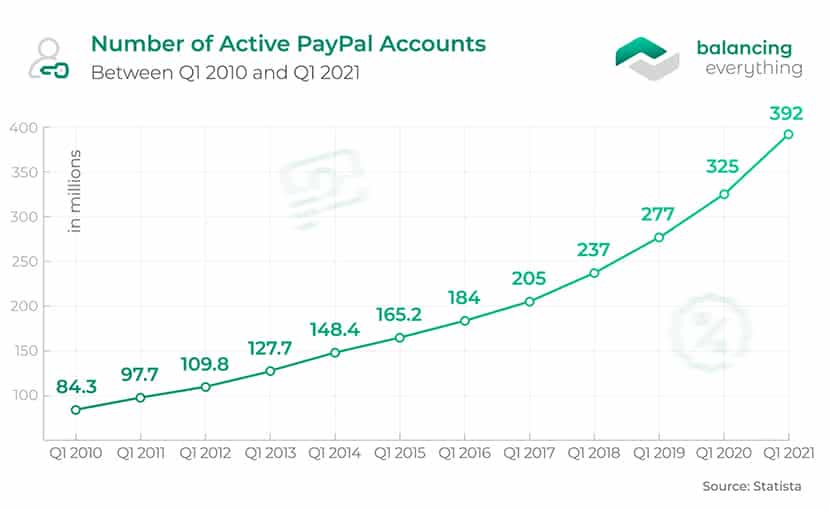 Source: Statista
As you can see from the chart above, PayPal does not have this problem. The company has been very agile in offering new services to its vast user base and by driving new revenue sources at attractive margins. I have no doubt that the company will be able to adapt very well to any new products offered by competitors in the future and is likely to grow EPS at a 20%+ rate for many years to come.
STORE Capital Corp (STOR)
STORE Capital is a REIT focused on triple net leasing to single tenant businesses across the United States. This is a business that does not look to be going away anytime soon.
In addition, this particular company was severely beaten down during the first COVID wave and subsequent shutdown, yet as you can see below, the company's actual results showed a very different picture.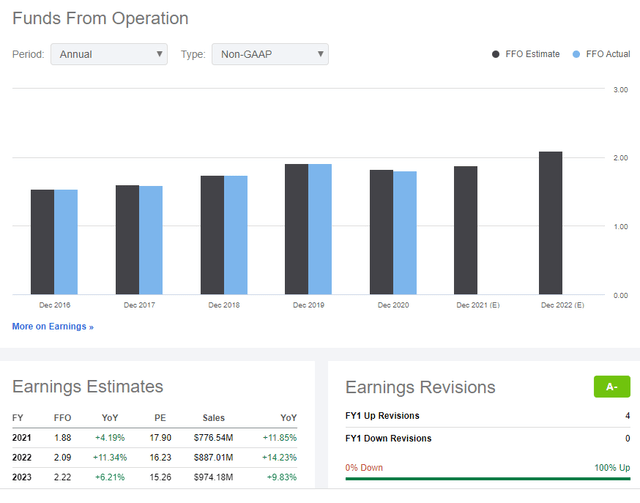 Source: Seeking Alpha
STOR is a very well run, conservative organization with a solid balance sheet rated BBB by Fitch, BBB (positive) by S&P and Baa2 at Moody's. The company is highly diversified by both geography and by industry.
The most attractive aspect of the company however is the industry leading CAP rate and lease terms the company commands.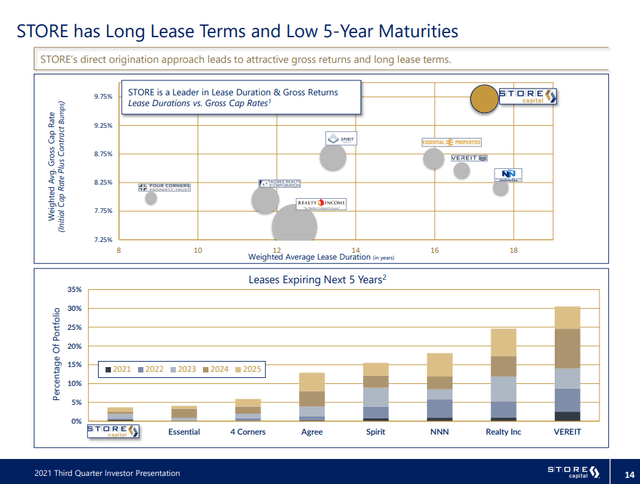 Source: STOR Capital
This CAP rate, along with prudent portfolio management by the company, allows STOR to not only grow FFO at rates that are higher than most competitors but also to offer a very well covered and growing 4.65% dividend to investors.
I find STOR to be trading at very attractive valuations currently and if they are hit at all like they were in 2020, I will be backing up the truck in this name.
Mastercard (MA)
Another participant in the 2021 payment massacre is Mastercard. Before the current news of the new variant the company was already on my radar to add to given its virtual monopoly along with Visa (V) in the payment sector.
The company operates as a 21st century toll booth operator for credit and debit card transactions worldwide with virtually no other system in place or that can be reasonably built to replace it. Banks are highly dependent on the interest charges they make from the arrangement with Mastercard and Visa leading for absolutely zero true momentum by either side to change the status quo going forward.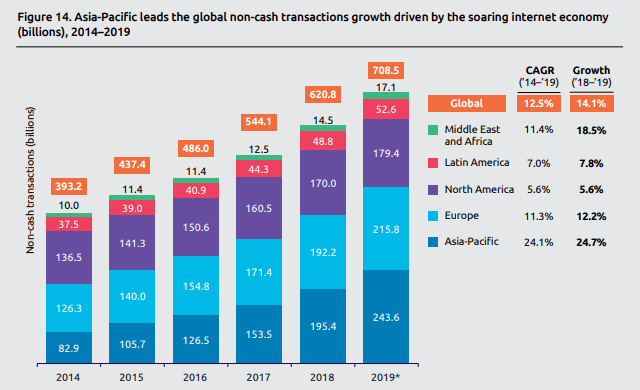 Source: worldpaymentsreport.com
Non-cash transactions are on an ever rising march upwards, placing Mastercard firmly in the driver's seat with the enviable tailwinds of both digital conversion, increased consumer spending and inflation.
The dirty little secret that Mastercard and Visa have is that the emerging "fintechs" like PayPal, Square (SQ), Adyen (OTCPK:ADYEY), Stripe and many others, all drive the vast majority of their revenue from Visa and Mastercard networks, paying them handsome fees with each transaction.
The only true threats to these two payment processors appear to be the buy now pay later trend, further regulation as to the fees charged by companies or the eventual rise of cryptocurrency as a form of payment. Personally, I find the BNPL trend to likely be a fad as implementation of this as a form of regular payment would be a nightmare.
Both Visa and Mastercard have proven to be very adept at defending antitrust concerns and the orderly and smooth process they provide is a direct benefit to consumers and governments alike.
Cryptocurrency could eventually handle large payment volumes however this also has serious political issues as the Fed and national governments would have to cede control to a large extent, which I do not see happening anytime soon.
Mastercard is a fabulous company, involved in the very long tailed megatrend of digital payments and any opportunity I can get to buy more of this company at a reasonable price, I will take with open arms.
Texas Instruments (TXN)
The semiconductor industry has been a fabulous place to invest since the first COVID wave struck our shores in 2020 and Texas Instruments has been no exception.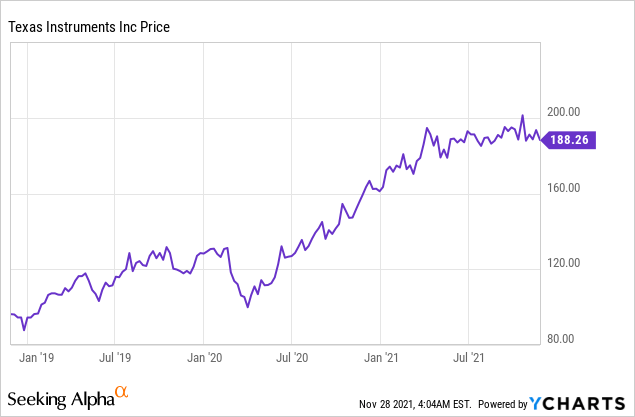 This company is arguably one of the highest quality operators in the industry today and they have a wonderful history of producing stable, consistent growth, along with highly prudent, conservative capital management.
Texas Instruments has a bulletproof balance sheet and has shown to be highly adaptive to emerging use cases for its products. Currently, the company is embarking on a quest to expand its fabrication capabilities and to leverage its strength and position in the analog chip industry.
The share price as of late has been stagnant given the relatively rich valuation in shares, which I view the premium as completely deserved. I am closely watching shares for a panic selloff given the extremely high quality and long-term growth prospects of the company.
If we see a similar pullback as we did in 2020, this will be one of the first places that I park new money.
Honeywell (HON)
Similar to Texas Instruments in semiconductors, Honeywell is considered to be the gold standard in the Industrial sector for quality and has been rewarded as such with a premium valuation.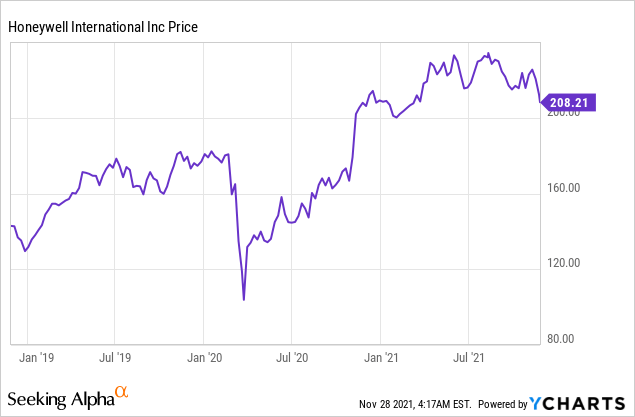 The company similarly has a rock solid balance sheet to go along with very attractive prospects in multiple high growth industries. The company is moderately leveraged to the aerospace sector, making this company perhaps subject to a harsher selloff if a new COVID panic strikes the market.
I would view any sustained selloff in this name to be a gift. Honeywell is a name that is nearly always considered "expensive" and any chance to purchase the stock at levels considered fair or even undervalued, should be looked upon as an extreme opportunity.
Raytheon Technologies (RTX)
To further the theme of aerospace related companies, Raytheon Technologies operates in the aerospace and defense industries. Both of these sectors were quite severely beaten down in the initial COVID panic and have yet to fully recover.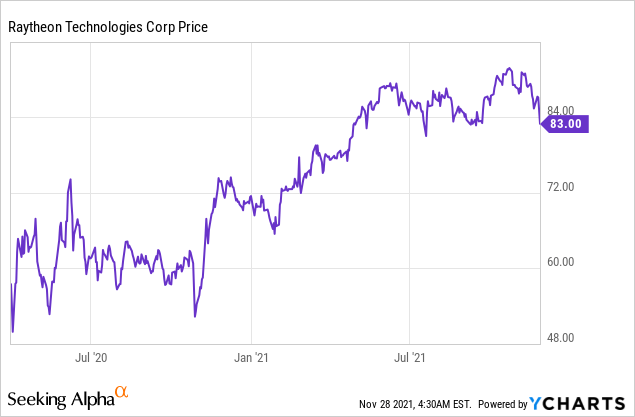 Raytheon however, has been operating at a very high level over the last two years given the strength in the defense business and to fantastic management of capital during the COVID crisis.
Raytheon is positioned extremely well in defense considering its expertise in missile defense and the burgeoning hypersonic sector. In addition, the aerospace division looks to ride the long-term growth in air traffic once conditions return to normal.
Until that day comes however, the defense segment looks primed to drive significant growth at the firm while we wait for aerospace to return to pre pandemic levels.
The company currently trades at a quite reasonable 2021 PE ratio of 19.69 and growth is forecast to run at near 20% levels for the next 3 years making any severe downturn in shares an attractive entry point for long-term investors.
Bottom Line
COVID Omicron certainly seems to have the market considering another panic moment. If this does happen, it will be a quick and likely brutal selloff, taking with it many high quality names, just as it did during the March 2020 selloff. I plan to take advantage of this if it does indeed occur.
As with many things in the world today, the headlines we see are nearly always worse than the reality of the situation on the ground. The Omicron variant may indeed prove to be worse, and if that is the case, then I will simply be invested in high quality companies that take longer to pay off.
However, temporary crises are just that, temporary. I refuse to believe that the world as we know it, will end, or that the high quality names I have listed will suffer any real long-term damage to their respective investment thesis as a result of this new variant.
Please stay safe and thank you for reading. I look forward to your comments below and to hear your respective lists. Good luck to all!