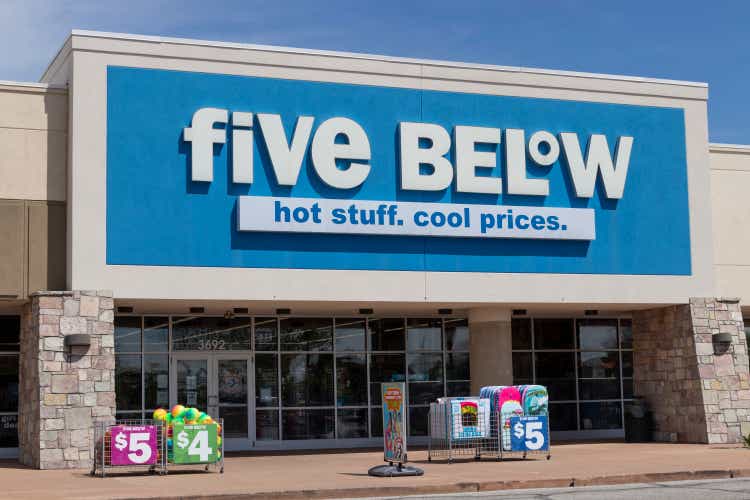 It's been a solid year for the Retail Sector (XRT) thus far with a 50% plus year-to-date return, and Five Below (NASDAQ:FIVE) is one of the best-performing names thus far in Q4. The company is getting ready to report its Q3 results this week and has guided for up to $565 million in revenue and mid-single-digit comp growth. While meeting these estimates would be quite impressive given the difficult comps, FIVE looks fairly valued heading into the report, trading at ~37x FY2022 earnings estimates. With a limited margin of safety at $205.00, I believe there are more attractive bets elsewhere in the market.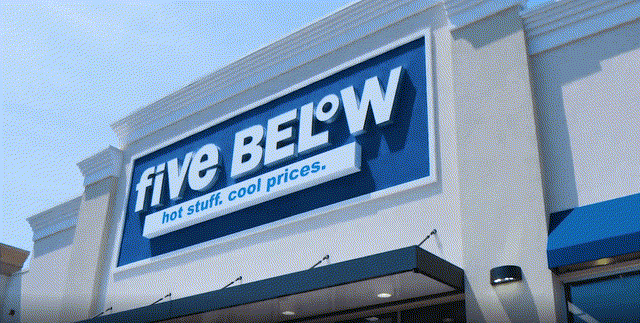 (Source: Company Website)
Five Below reported solid results in Q2, reporting 52% revenue growth year-over-year and 55% growth on a two-year basis. This was driven by strong comp sales growth and a torrid pace of unit growth, with 100 new stores added relative to Q3 2020 results. Looking ahead to Q3, though, the company is coming up against more difficult year-over-year comps due to the blowout Q3 2020 report (12.8% comp sales growth). While a beat on the sales guidance mid-point (~$558 million) is certainly possible, I don't see meaningful upside to justify getting long ahead of the report due to the current valuation. Let's take a closer look below.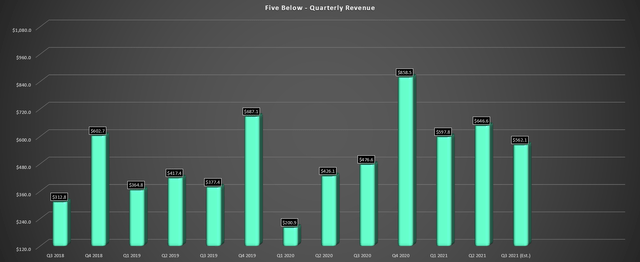 (Source: Company Filings, Author's Chart)
As shown in the chart above, Five Below continues to be a leader in the retail industry from a growth standpoint, with a ~23.0% compound annual revenue growth rate in Q2 2021 relative to Q2 2018 levels ($347.7 million). Looking ahead to Q3 2021 estimates ($562.1 million), this figure is expected to remain elevated at 21.6%, with these growth rates coming in just shy of high-octane growth names like Lululemon (LULU) at ~26.0% in the same period. The incredible growth can be attributed to continuing to stock on-trend products, innovations like WOW Walls and Five Beyond, and exceptional unit economics, which have helped the company continue increasing its store count rapidly relative to peers.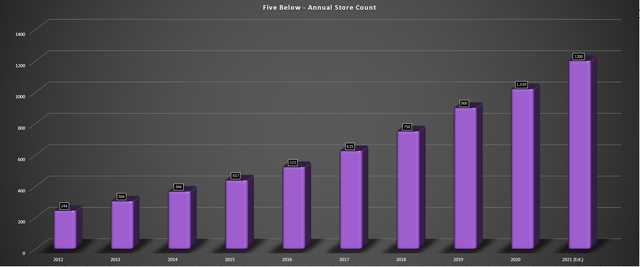 (Source: Company Filings, Author's Chart)
As the chart above shows, Five Below has grown its store count at a compound annual growth rate of ~19.6% (FY2012 - FY2020), and this growth is expected to be maintained for FY2021, planning to finish the year with 1,200 stores. The company is also working to roll out its assisted-self-checkout across its stores to drive operational efficiencies and is nearing ~30% of stores with the Five Beyond section (extreme value products at $5.00+) at the back of the store. The ultimate goal is to get this figure up to 50% by the end of next year, and with new stores having the Five Beyond section performing extremely well with a few record grand openings, this should help to boost average sales per store as more system-wide stores offer Five Beyond.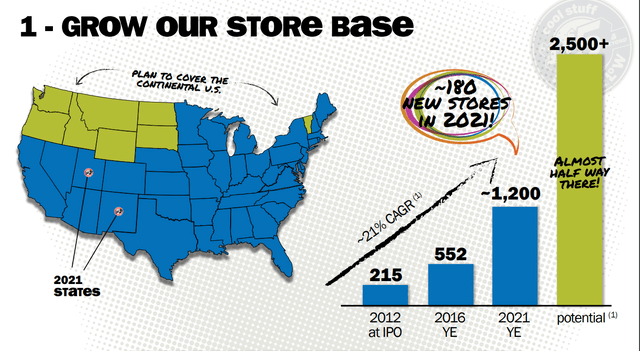 (Source: Company Presentation)
Looking out longer-term, it is quite clear that Five Below is still in the middle innings of its growth story, with the company confident that it can get to 2,500+ stores eventually. This would translate to the store count doubling from FY2021 projected levels. Given the impressive unit economics ($300,000 average net investment) and average store 4-wall EBITDA of ~$450,000, maintaining these double-digit unit growth rates is nowhere near as capital intensive as many other brands sector-wide. So, for investors looking for growth in the sector, Five Below continues to be a name to keep a very close eye on.
The issue, unfortunately, is that while Five Below is an incredible growth story that continues to innovate, which has led to a decade of consistent comp sales growth, the valuation has begun to get a little ahead of itself. This is because the stock is now up nearly 700% from its Q4 2015 lows and trading at ~37x FY2022 earnings estimates. Normally, I would be confident in a healthy beat on earnings estimates since the company has not seen many headwinds. However, supply chain and wage inflation continue to be headwinds sector-wide judging by commentary from other retail names this earnings season; it's harder to justify paying for growth at any price with Five Below.

(Source: YCharts.com, Author's Chart)
Valuation & Technical Picture
If we look at Five Below's earnings trend above, we can see that the stock is projected to earn $4.77 in FY2021, $5.56 in Fy2022, and $6.48 in FY2023, representing incredible growth relative to FY2019 levels. Hence, there's no disputing this is a solid growth story. However, if we look at Five Below's historical earnings multiple of ~38, the stock appears to be already trading near fair value. This is because Five Below is trading at ~37x FY2022 earnings estimates at a share price of $205.00, with its historical earnings multiple pointing to a fair value of ~$211.00 per share (38x FY2022 earnings estimates). This doesn't mean that the stock can't go higher, but it's hard to argue that there's any margin of safety here for new investors looking to start a position in the stock.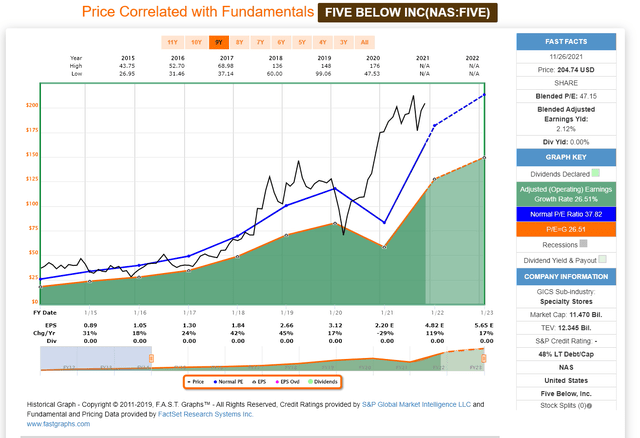 (Source: FASTGraphs.com)
If we look at the stock's technical picture, it is corroborating the view that the reward/risk ratio at $205.00 is unfavorable, with strong resistance overhead at $226.00, and the next support level not coming in until $174.90. Based on a current share price of $205.00, this translates to $21.00 in upside to potential resistance and $30.10 in downside to its upper support level. This represents a reward/risk ratio of 0.70 to 1.0, which is well below ideal for starting new positions. In fact, I generally prefer a reward/risk ratio of 4.5 to 1 or better from a technical standpoint, and only if the stock is offering a meaningful margin of safety.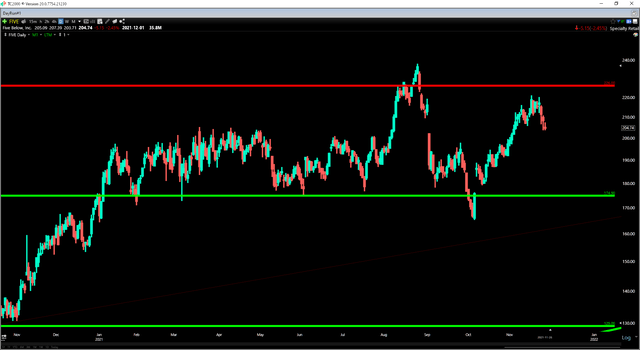 (Source: TC2000.com)
Given that Five Below is sitting just shy of an area where we saw strong selling pressure in August and well above its next support level, it's hard to argue for entering new positions ahead of the Q3 report. This is especially true when the company is dealing with higher freight expense that is likely to persist into H1 2022 judging by the discovery of a new variant recently, Omicron. Not only could the new variant be a slight headwind from a traffic standpoint, but it could also prolong the supply chain headwinds. Five Below is well-positioned to pass prices on given its value model to offset margin pressure, but the company did note that using price as a lever was the last resort in its Q2 conference call.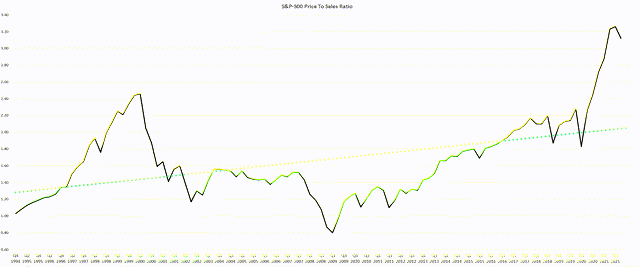 (Source: Multpl.com, Author's Chart)
Five Below is one of the best growth stories in the retail sector, but there is no investing without valuation, and I struggle to see much upside short-term from current levels. From a risk standpoint, we have one of the most expensive general markets in history (as shown above). Meanwhile, we have recently seen extreme exuberance from a sentiment standpoint, increasing the risk of a 10% correction in the S&P-500 (SPY). Given this backdrop, I don't think it's wise to pay up for growth at any price. To summarize, I believe the best course of action is being patient for a better entry point into the stock, and I continue to see much better value elsewhere in the market.