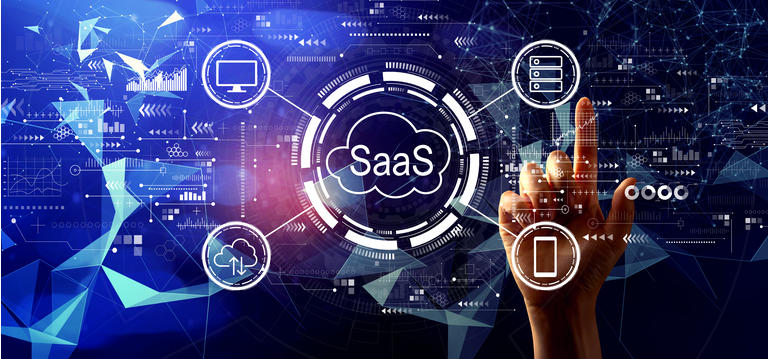 Zendesk (NYSE:ZEN) is an American company that develops software products related to customer support and communications. Recently, the company has announced an acquisition of Momentive Global Inc. (MNTV), which immediately resulted in a fall of the ZEN stock price.
Of course, MNTV stockholders may vote against this acquisition deal. In this case, the ZEN stock will return to its pre-announcement price level in the foreseeable future. Otherwise, the acquisition will result in an improvement of Zendesk's services, which will positively affect its stock price. I consider these two scenarios for the further price formation of ZEN stock as the most credible. Since both are likely to at least compensate the recent decline in its price, I am bullish regarding ZEN stock.
Financial Background
3Q21 financial results have improved significantly on the year-over-year (YoY) basis. The revenue figure in 3Q21 was $347 billion, and it increased by 32.5% compared to 3Q20. The gross profit margin grew as well by 3.8% - that is, from 76% to 79.8%. Unfortunately, operating expenses exceeded the gross profit, so that the 3Q21 financial period ended with a net loss equal to $54.42 million.
As of the end of 3Q21, Zendesk faced a positive net cash flow figure, which amounted to $110.22 million. In fact, it's an excellent result given that in 3Q20 there was net cash outflow. Such a difference between net cash flows were appeared due to a 121% increase in net cash provided by operating activities in 3Q21 compared to 3Q20, while the company also decreased its purchase volumes of marketable securities by 54%. Therefore, it seems that the financial health of Zendesk has improved significantly.
According to 4Q21 financial expectations, the revenue growth rate will increase by 5,4-7.2% relative to 3Q21. Notably, the net operating loss shall decrease by $4.5 - $10.5 million within the 3-month period ended 31 December 2021. Therefore, it is likely that the allocation of operating expenses per $1 of revenue will become even more optimal.
By the end of 3Q21, the number of customer logos, which is the quantity of consolidated paid customer accounts across Zendesk's solutions, exclusive of Zendesk's legacy Starter plan, free trials, or other free services, was 111800, which is greater YoY by 800 customer logos, but lower by 500 compared to 2Q21.
A worthy acquisition of Momentive Global Inc.
Zendesk has recently announced an agreement to acquire Momentive Global Inc., which is an experience management company that develops cloud-based software and, specifically, provides an online platform for conducting surveys. According to this agreement, current MNTV stockholders will receive 0.225 shares of ZEN stock for each MNTV share.
In practice, when an acquisition is announced, the stock price of the acquirer tends to fall slightly, because it often involves a M&A premium. We may observe this fact by looking at the ZEN stock price behavior on 29 October 2021, when it fell by 14,46%.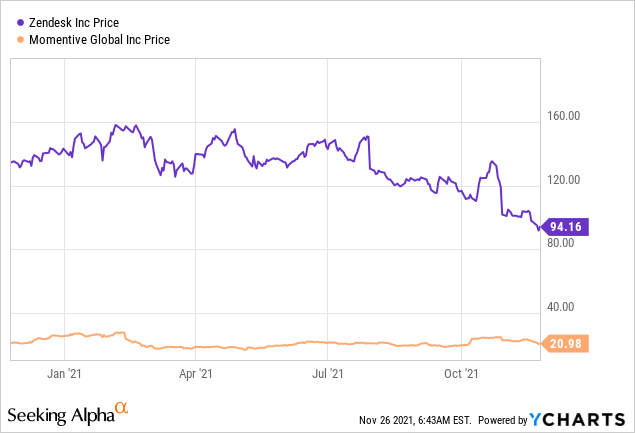 Currently, we observe a premium with respect to this acquisition. As of 23 November 2021, the 7-day moving average price per share of Zendesk was $102.75 ($22.75 for the MNTV stock price). Then, it means that each MNTV share would be worth $23.12 (>$22.75). If we simply look at the "Close" stock price as of 23 November 2021, the MNTV stock was traded at $20.58 per share, while ZEN stock was traded at $91.09. In this case, Momentive Global stock will be acquired by Zendesk for 20.50 per a MNTV share, which, obviously, means a discount. Anyway, if Zendesk manages to acquire Momentive Global, current Zendesk stockholders are expected to have 78% of shares of the joint company, while MNTV stockholders will have 22% of total shares.
After the announcement of the acquisition, I consider the following two scenarios concerning the ZEN stock price as the most probable. On the one side, current MNTV stockholders may vote against this takeover, as the terms of this deal imply a discount for each MNTV share, not a premium, so that they will become worse off. On the other side, this acquisition deal can be closed, which, in turn, will generate synergies for Zendesk.
Scenario 1: acquisition failed
The stock price of Zendesk reached its minimum since July 2020, and this situation should explain the potential decision by MNTV stockholders to reject this takeover. Given current ZEN and MNTV stock prices, MNTV stockholders will become worse off if this acquisition is completed, as current MNTV price per share exceeds the price of a 0.225 ZEN share.
Then, if MNTV stockholders vote against this acquisition, the price of the ZEN stock will be able to return into the $110 -$150 price range as it was before the announcement of this acquisition. So, we should expect at least a 20% increase in the ZEN stock price.
Scenario 2: acquisition completed
If Zendesk completes the acquisition of Momentive Global, the former will get various benefits. The first advantage involves an increase in its revenue up to $3.5 billion in 2024. Without this acquisition, the revenue volume is expected to be achieved in 2025. In fact, the acquisition of MNTV seems to be complementary for ZEN through the creation of synergies.
For example, the survey and feedback platforms of Momentive Global will make it easier to collect essential information about customer demands and expectations. Obviously, it will significantly improve the quality of services provided by Zendesk, which will positively affect its net revenue. Besides, collection and analysis of market data will become more accessible and complete, while customer intelligence will be more personalized. Summarizing ideas mentioned above, Zendesk will operate more efficiently if the acquisition is completed.
Valuation
The ZEN stock has been performing very well since 2014, when it became a public company and was valued at $1.7 billion. By the beginning of 2021, its stock had shown a strong positive dynamics, as it peaked at $158 per share in February 2021. However, by 23 November 2021, it has fell by 40.15%. Partially, the stock price decline should be attributed to the recently announced acquisition of Momentive Global.
Although there is an uncertainty with respect to the completion of the acquisition deal, the ZEN stock can enrich your stock portfolio. In my point of view, another customer relations management company, like Salesforce (CRM), may regard Zendesk as a possible target company, as such a merged business will be able to create synergies to the same extent as the joint company of Zendesk and Momentive Global. The takeover of Zendesk will provide it with at least $30 billion additional market capitalization, which is equivalent to a 250% -300% growth in the market cap of Zendesk.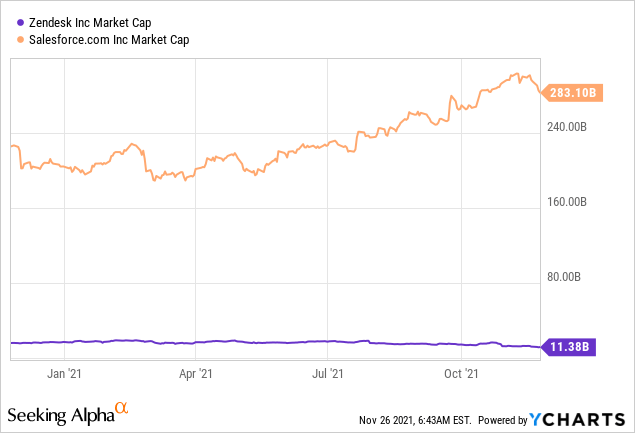 In a short-term period, the optimal range of the price per share of Zendesk is likely to be between $110 and $150. In 3-5 years, the growth rate of Zendesk will allow to move the upper border of the price interval to $190. By the way, if MNTV stockholders have the same expectations about the ZEN stock price dynamics, they will vote in favor of the acquisition of Momentive Global.
Otherwise, suppose that the acquisition will not take place. Then, we may look at current ZEN price-to-book (P/B) and enterprise value-to-sales (EV/S) multiples. The P/B ratio measures the market value of a share relative to its book value, while the e EV/S ratio simply shows the value of the company compared to its total revenue. In general, a stock is relatively undervalued if its P/B ratio is lower compared to the stock of its peers. Similarly, a company is relatively undervalued if its EV/S ratio is lower than the average ratio among its peers.
| | | |
| --- | --- | --- |
| Company | Enterprise value-to-sales ratio | Price-to-book ratio |
| Zendesk | 8.61 | 8.72 |
| Freshworks Inc. | 22.79 | 8.34 |
| ServiceNow | 22.76 | 22.62 |
The main competitors of Zendesk are ServiceNow (NOW) and Freshworks Inc. (FRSH), both of which provide software-as-a-service offerings. Well, Zendesk is relatively cheaper compared to both ServiceNow and Freshworks. At the same time, the ZEN stock seems to be slightly overvalued with respect to the FRSH stock, but, obviously, it is undervalued compared to the NOW stock.
However, the YoY compound annual growth rate of revenue of Zendesk is 27.75%, which is lower by 3.33% and 17.08% compared to ServiceNow and Freshworks, respectively. Despite this fact, the YoY growth in levered free cash flow of Zendesk is 227.03%, which I consider as a great result. Besides, if Zendesk successfully acquires Momentive Global, then its growth rate of revenue will have a significant boost over the next years.
What are the risks for the ZEN stock?
As for now, there are two main risks for Zendesk. First of all, in 3Q21 50.2% of revenue was generated in the USA, while in 2Q21 and 3Q21 at least half of total revenue was also attributed to the USA, approximately 30% to EMEA countries, about 10% to APAC countries and the rest to the other countries. Therefore, the US economic activity is crucial to the business of Zendesk: if it slows down, the number of transactions to Zendesk may decrease accordingly, which will reduce revenue streams.
Secondly, the company has to take into account potential security breaches. For example, in 2016, a hacker got an access to information about 10000 users of Zendesk. After this event, the company has managed to improve its cybersecurity protocols, but it is still essential to go on investing in the cutting-edge security tools in order to avoid such problems.
Conclusion
Zendesk has a solid base for an improvement in its operational efficiency along with a significant growth rate in its financials. And last but not least, the potential acquisition of Momentive Global may play its role in of its market position. Although MNTV stockholders may still vote against this takeover, ZEN stock has the potential to return to its previous price level.