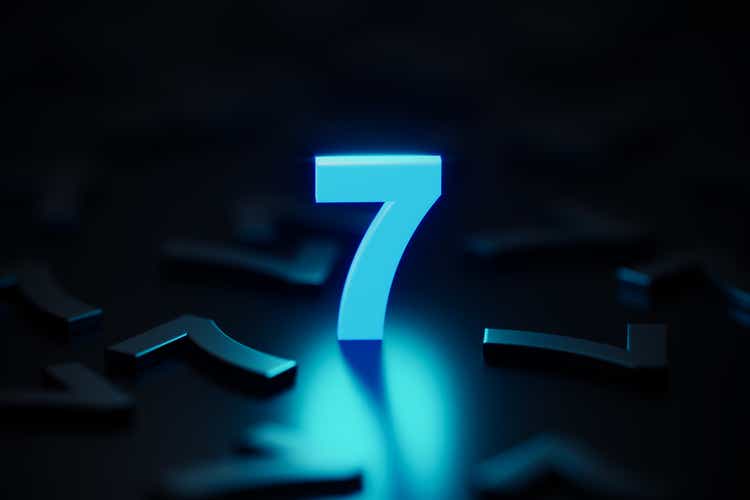 Investment Thesis
The Strategy Shares NASDAQ 7 HANDL Index ETF (NASDAQ:HNDL) is a prime example of what responsible portfolio management looks like: appropriate allocations to multiple asset classes working to achieve two goals: a consistent 7% yield and minimal volatility. Based on HNDL surpassing $1 billion in assets under management in September, investors are taking notice.
To grow the fund, I suspect Strategy Shares is trying to peel away closed-end-fund ("CEF") investors from the 7% yields they've been enjoying, too. And the way they've done it is by competing well on fees (expense ratio recently dropped to 0.97%) and by selling the ETF structure, which doesn't result in significant premiums or discounts to net asset value ("NAV"). I'm of the simple view that as investment time horizons shorten, capital protection becomes more critical, and the same goes for increasing uncertainty. Therefore, I believe HNDL is one of the best choices retirees can make in today's highly uncertain market. Feel free to take your chances elsewhere as you see fit, but holding HNDL in your income or retirement portfolio just makes sense.
HNDL Overview
HNDL holds two portfolios of equal weight. The "core" portfolio has a 70% fixed-income, 30% equity allocation, and the "explore" portfolio results from a proprietary algorithm optimizing the weights of 12 distinct asset classes with no single one exceeding 10%. Like many CEFs, leverage to the tune of 23% is added through a total return swap, enhancing both risk and return levels.
Currently, HNDL's top ten holdings comprise 77.32% of the fund, but since it's an ETF of ETFs, this doesn't reveal much. The first three holdings are part of the "core" fixed-income sleeve, and you can see that HNDL currently is overweight the Global X MLP ETF (MLPA), the Vanguard Dividend Appreciation ETF (VIG), and the Schwab U.S. REIT ETF (SCHH). Note that it is Strategy Shares' policy to select the lowest-cost ETF in each asset class.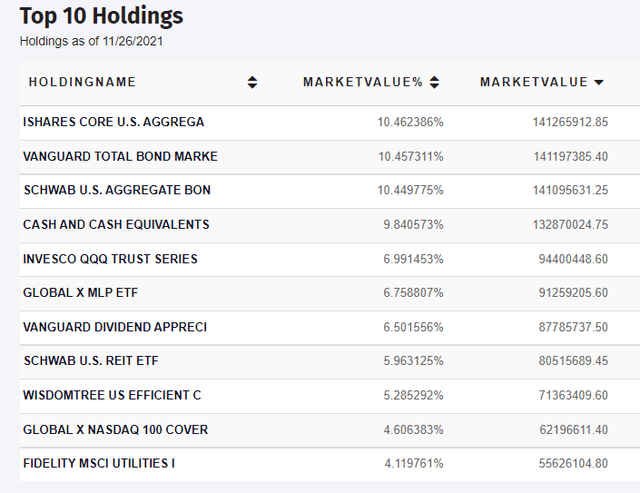 Source: Strategy Shares
I also want to mention that because of the leverage factor, these weights are all slightly off. HNDL doesn't hold any cash. Therefore, I will be using adjusted weights (excluding cash) for the remainder of this article. My summary of the holdings is as follows: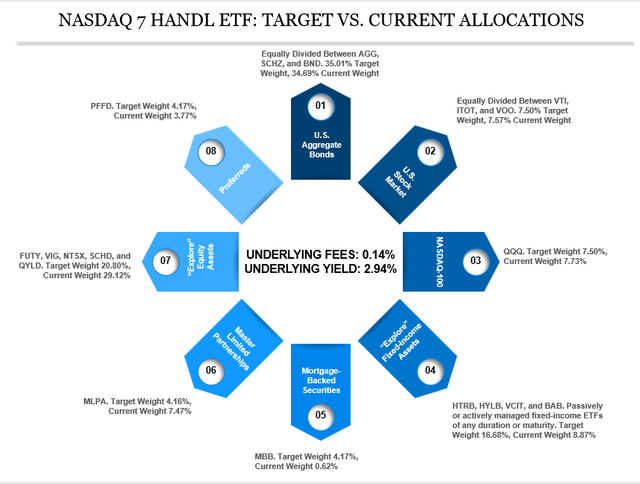 Source: Created By Author Using Information From Strategy Shares
As shown, the net fees of 0.14% are low, and the 2.94% distribution yield of the underlying ETFs isn't enough to cover the full 7% distribution. The chart below shows that the difference is made up through capital sources, including a return of capital. The latest distribution was roughly one-third from income sources (e.g., bond coupons) and two-thirds from capital sources. I think you can count on this approximate breakdown continuing so long as interest rates stay low.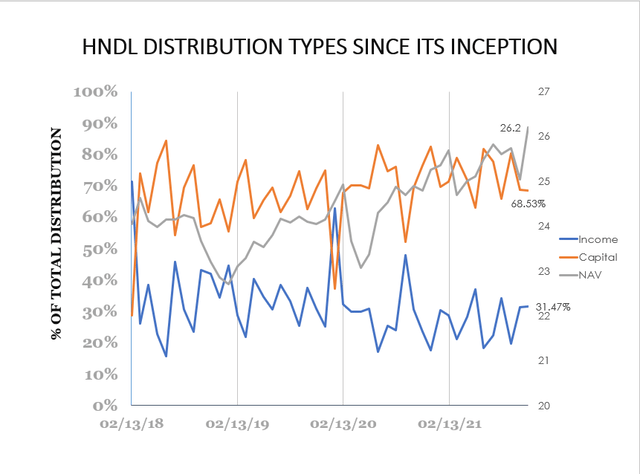 Source: Created By Author Using Data From Strategy Shares
As for how much of the distribution is a return of capital, it's pretty variable. For example, for 2020, it was only $0.28 per share on $1.68 in total distributions, or 16.7%. For 2021, there was no capital return due to the fund's rapid growth during the back half of the year. I expect this to change, and from now on, it should make up a significant portion of the distributions from capital sources.

Source: HNDL ETF Annual Report
Performance
Actual and Benchmarked Performance
Since its inception, HNDL has traded consistently around its initial NAV of $25 per share. Right now, the NAV is a bit above $25, implying that total returns have exceeded the 7% distribution. My backtesting supports this, and there's good reason to believe it can continue without NAV destruction. As many readers have previously pointed out, a return of capital is a positive feature so long as NAV stays the same or increases. HNDL fell under $23 as 2018 closed out but has since attached itself to the runaway train that is the stock market. Currently, HNDL is overweight its "explore" equity assets by over 8%. Here's a look at how it's done versus the SPDR S&P 500 ETF (SPY) since its inception.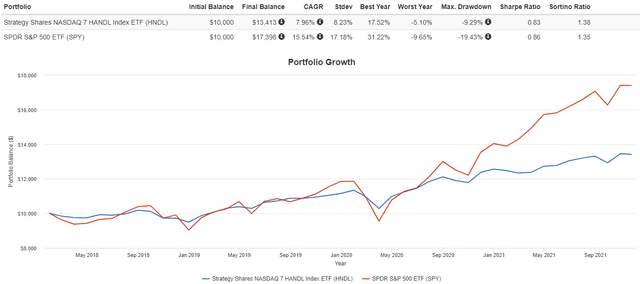 Source: Portfolio Visualizer
As shown, HNDL outperformed SPY up until the March 2020 crash, where it had a drawdown that was 10% better. The recovery was tiny in comparison, though, since HNDL overweights fixed-income assets. Even if I include the WisdomTree U.S. Efficient Core Fund (NTSX) and the Global X NASDAQ 100 Covered Call ETF (QYLD), the target allocation to pure equity ETFs is only 36%.
Clearly, these allocations don't work in ultra-bull markets. But they do work well over the long run, and it's constructed this way to meet the fund's distribution target without the destruction of capital. Originally, HNDL was marketed as an alternative to annuities, but as I argued in my previous article, it's gaining steam as a CEF alternative as well.
Negatives that I've identified include how the explore portfolio's algorithm works. I don't think it's optimal, and while the fund is still in its infancy, I continue to wait for it to add significant value. Consider the following table showing the target performance (using the weights mentioned earlier) with HNDL's actual calendar year 2019-2021 performance (2018 was a partial year).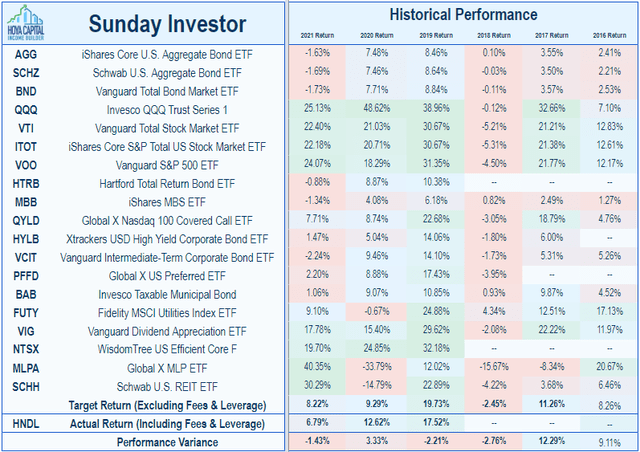 Source: Hoya Capital Income Builder ETF Tracker
We can see that in 2019 and 2021 YTD, actual returns were lower than had the portfolio adopted the target weights for the year, while in 2020, the ETF added value to the tune of 3.33%. The Portfolio Visualizer simulation shows the same thing with monthly rebalancings.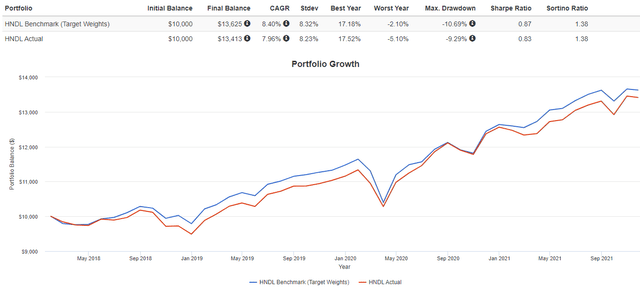 Source: Portfolio Visualizer
The benchmark portfolio I created has outperformed the actual ETF 8.40% to 7.96% per year. It may not seem like a big deal, but it should not happen, given HNDL's use of leverage. This added risk should have generated better returns even after accounting for the fund's fees. Still, investors would struggle to create a 7% distribution as efficiently as HNDL does, so I view this as an acceptable tradeoff. It does open up the door for non-yield-focused investors to replicate its risk and return profile, though. Buy the assets in the target distributions in the link above, rebalance every now and then, and you've created your own HNDL ETF (just without the tax-efficient income).
Simulated Performance: Target Weights
Since downside protection is an important feature, readers might be interested in seeing how HNDL would have performed since January 2008, assuming target weights were used. The following graph shows it would have held up well (excluding leverage and fees).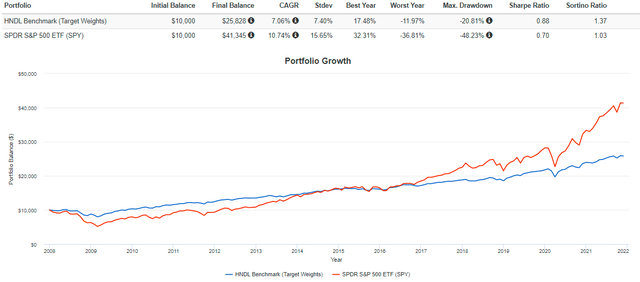 Source: Portfolio Visualizer
Long-term returns were lower than SPY, of course, but HNDL's risk-adjusted returns (Sharpe and Sortino Ratios) were better. Also, HNDL recovered from its 20.81% drawdown ending February 2009 in just nine months. SPY needed 26 months to recover from its 48.23% drawdown. The chart below summarizes things nicely.

Source: Portfolio Visualizer
Simulated Performance: Returns-Based Style Analysis
Another way of simulating performance is by using the Returns-Based Style Analysis produced by Portfolio Visualizer on the target weights. This type of analysis doesn't represent what the fund holds; instead, it attempts to explain risk and return based on allocations to major asset classes. For HNDL, it's:
U.S. Large-Cap Value (5%)
U.S. Large-Cap Growth (20%)
U.S. Mid-Cap Value (10%)
Long-Term Treasuries (40%)
Short-Term Treasuries (25%)
Again, if you don't need a 7% distribution, this simple structure might work for you. You can see the benefits over an even-longer time frame (since 1987) below. The simulated portfolio floats in between the returns of the U.S. Stock and Bond Markets, but it's able to capture much more in returns despite only a 35% to U.S. equities.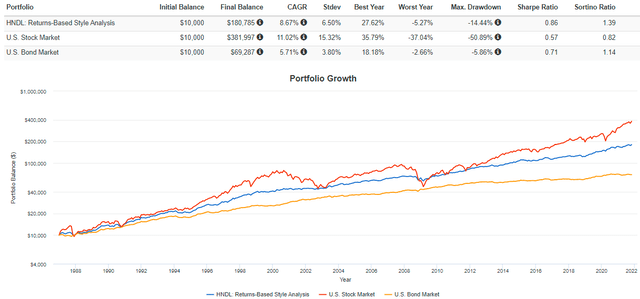 Source: Portfolio Visualizer
Also, risk-adjusted returns were by far the best. This portfolio fell just 3.30% during the Russian Debt default (17.57% for U.S. stocks), 3.87% during the Dot Com crash (44.11% for U.S. stocks), 14.44% during the Subprime Crisis (50.89% for U.S. stocks), and 2.51% in Q1 2020 (20.89% for U.S. stocks).
CEFs As A Sentiment Check
Investors considering HNDL are likely already invested in CEFs as their typical high yields have been a lifeline for many in this current low-interest-rate environment. However, as mentioned, investor sentiment can have a substantial effect on premiums and discounts to NAV. The ETF structure, on the other hand, doesn't have this feature. HNDL's price, for example, always trades virtually identical to its NAV because of the way ETF units are created and removed from the market.
While acknowledging that increased volatility increases potential returns, it also increases risk, which is sometimes ignored in bull markets. In my last article, I illustrated how quickly premiums could reverse when sentiment changes, and if you happen to be holding the "wrong" asset class, the results could be devastating. Therefore, it's helpful to identify which asset classes are in and out of favor today. To do this, I gathered data from 365 funds in the Hoya Capital Income Builder CEF tracker across the equity, mixed allocation, and fixed-income categories. Here's some information I hope you'll find useful.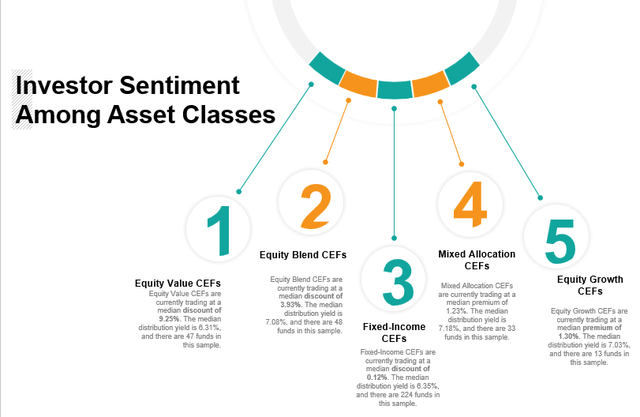 Source: Created By Author Using Data From Hoya Capital
As shown, equity value CEFs are the most attractive right now by measure of their median 9.25% discount to NAV. The asset class is out of favor, as any dividend investor will tell you. In contrast, equity growth CEFs are the most in favor right now, and in my view, most susceptible to a change in market sentiment. The premium is still only 1.30%, so it's not alarming by any stretch, but it is something to keep a close watch on and can be avoided entirely by selecting HNDL instead.
Investment Recommendation
HNDL's transparency with its selections gives me confidence that it will hold up well over time. I backtested the underlying holdings to 2008, and the unlevered CAGR was 7.06%. The returns-based style analysis produced by Portfolio Visualizer reduced the fund to just five asset classes that gained 8.67% per year since 1987, with very low drawdowns through some of the market's most volatile periods. HNDL itself has yet to miss a distribution and is trading above its initial NAV of $25, indicating that the return of capital hasn't been destructive. I don't think this one is too hard to figure out.
I think retirees can especially benefit from the certainty HNDL brings in this uncertain market. The allocation doesn't have to be large, but you can adjust it based on how much income you need and how much risk you're willing and able to take on. For that reason, HNDL is an excellent risk management tool, and in my view, the superior choice for retirees.