(This article was co-produced with Hoya Capital Real Estate.)
In my first article for the Hoya Capital Income Builder marketplace service, I introduced the ETF Reliable Retirement Portfolio.
In that article, after working to synthesize information from 2022 investment outlooks from several reputable sources, I selected a few themes that guided my ultimate ETF selections, as well as the weightings I assigned. I summarized one of those themes as follows.
The return from U.S. equities may be only marginally higher than bonds - Particularly for retirees, finding a solid balance of risk/reward is worthy of consideration. I attempt to find this balance in my portfolio.
I based my themes on, among other things, a September, 2021 market perspectives report from Vanguard. Below is an updated version, from November, 2021. Notice the featured sections; U.S. equities and U.S aggregate bonds.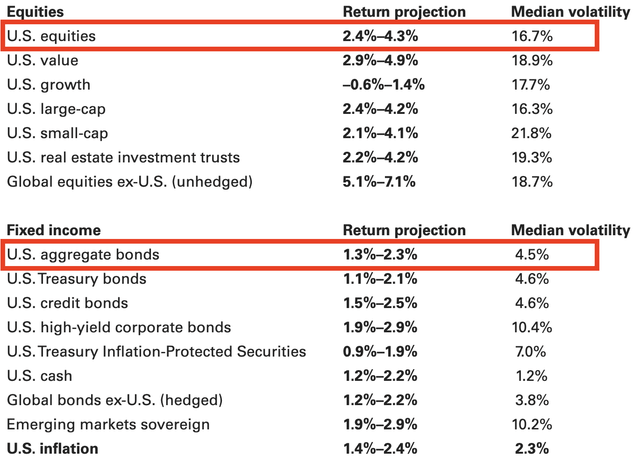 Source: Vanguard Market Perspectives: November 2021
In the portfolio, I settled on iShares Core U.S. Aggregate Bond ETF (NYSEARCA:AGG) as my core bond holding. A most worthy competitor is Vanguard Total Bond Market ETF (BND). In fact, at .035%, BND's expense ratio slightly undercuts AGG's .04%.
In this article, I will delve into why I ultimately settled on AGG as my choice, talk a little bit about the overall place for bonds in your portfolio, and possibly mixing it with a second ETF. In so doing, I will offer an occasional comment as to how AGG compares to BND, as well as some helpful graphics from both the Hoya Income Builder service as well as Portfolio Visualizer to help you evaluate your own risk/reward perspective.
iShares AGG - Digging In
AGG seeks to track the Bloomberg Barclays U.S. Aggregate Bond Index, which includes taxable, investment grade U.S.-dollar-denominated bonds with at least one year until maturity. With an inception date of 09/22/2003, AGG recently celebrated its 10th anniversary. As of this writing, its AUM sits at roughly $90.85 billion. As mentioned above, it carries an expense ratio of .04%, and also boasts a tiny .01% trading spread.
Let me cut right to the chase with some excellent graphics to help you get a solid overview of the fund, and then I will continue with some commentary based on those graphics.
First, a look at AGG's overall exposure breakdowns.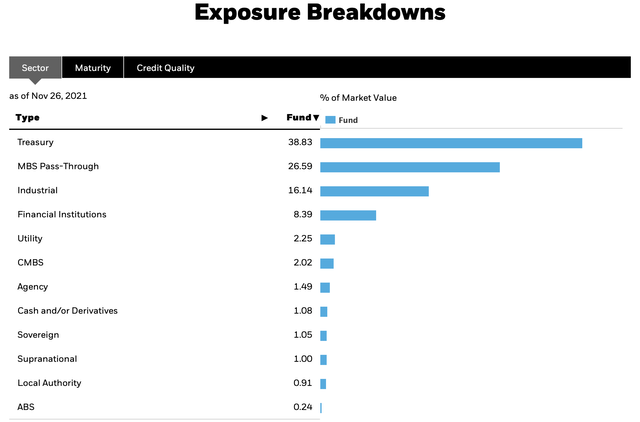 Source: iShares AGG Website
Just one quick comment here, before we move on. At 26.59%, Mortgage-Backed Securities (MBS) carry a slightly higher weighting in AGG than in BND, which currently sits at 22.3%. In turn, BND carries a slightly higher weighting in U.S. Treasuries. In general, MBS offer slightly higher yields, but also a correspondingly slightly higher level of risk. Rounding things off, corporate bonds also account for another 26% of the portfolio.
Next, a wonderful combination snapshot featuring AGG's credit ratings as well as maturity breakdowns.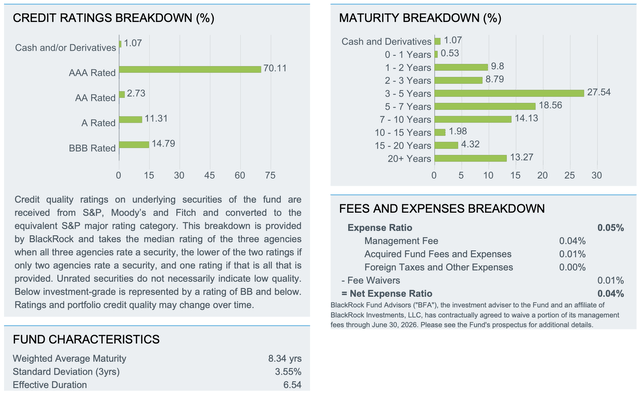 Source: iShares AGG Fact Sheet
Again, as a brief comparison with BND, at 70.11%, AGG carries a slightly higher level of AAA-rated bonds than does BND, with the offset being slightly less exposure to BBB-rated bonds; the lowest rating that either ETF includes in the portfolio.
Here is one last small differentiation. At 6.54 years, AGG's effective duration is slightly lower than BND's, which currently stands at 6.8 years. Now listen, none of this is earth-shaking stuff. At the same time, take a quick look at this graphic, courtesy of Hoya Capital Income Builder.

Source: Hoya Capital Income Builder
If you look closely, you will notice that BND tends to slightly outperform AGG in the up years, and AGG returns the favor with slight outperformance to the downside. I was able to quickly confirm this pattern in a Portfolio Visualizer backtest. Given where we stand with respect to interest rates at this particular time, I felt that this small detail tipped me in favor of AGG for the portfolio.
Bonds - Their Place In Your Portfolio
In 2019, I wrote an article entitled Bernstein And Bogle On The Search For The Perfect Portfolio. In that article, I linked to a paper by Peter L. Bernstein discussing a return to the classic 60/40 portfolio, followed by some comments from none other than John Bogle suggesting that perhaps even a 50/50 was worthy of consideration.
Why do I mention that? From time to time, I see articles written on AGG, and for that matter other bond ETFs, that seem to come from a similar perspective as to whether to buy or sell a particular stock at this precise point in time.
With all due respect, I suggest that this is not the way to evaluate your chosen allocation to bonds. No, it is much more big-picture than that.
Just how "big-picture" am I talking about? How about 93 years, from 1926-2019? Some years back, I came across the below graphic, from a Vanguard white paper on investing success.
From left-to-right, the graphic features the best, worst, and average yearly returns over that time period, starting with a portfolio comprised of 100% bonds and ending with one comprised of 100% stocks.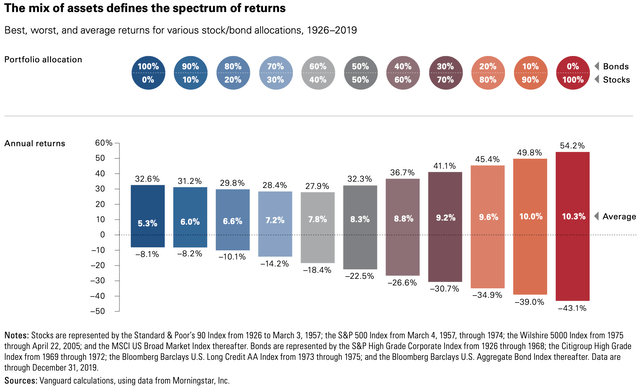 Source: Vanguard's Principles for Investing Success
As featured in the Bernstein/Bogle article linked above, no one, not even the most skilled prognosticators, can predict future events with anything nearing 100% certainty.
If anything, COVID has taught us that. If you were to go back to investment outlooks in the 2018-2019 time frame, you would see several worries listed. Income inequality was a big one, along with global warming and the threat of nuclear war. But I doubt you will be able to find a single reference to the Huanan Seafood Wholesale Market, in Wuhan, China. No, the news that began to leak out in December, 2019 was a surprise. And it is such surprises that can wreak havoc on one's portfolio.
The graphic above covers 93 years, and many surprises. True, not COVID. But that time span includes the Great Depression, World War II, the hyperinflation of the 1970s, the dot-com bubble of the late 1990s, and the Global Financial Crisis of 2007-2009.
With that background, look once again at that graphic above. Here's a question. What risk/reward mix would allow you to sleep at night? If you can answer that question, you can likely find the correct mix for you.
For me, the stock/bond range between a low of 50/50 and a high of 70/30 appears to be a nice "sweet spot" for most investors.
BSV - An Interesting Complement to AGG
In this last section, I would like to briefly discuss Vanguard Short-Term Bond ETF (BSV). While BSV is not the focus of this article, it is also one of my selections for the ETF Reliable Retirement Portfolio. AGG and BSV are also the two main bond ETFs I hold in my personal portfolio.
Without going into much detail, allow me to share just one specific of BSV. At 2.8 years, its duration is roughly 40% of either AGG or BND. Long story short, lower return but also lower volatility.
To give you a little idea about how a mix of the two could play out for you, have a look at the following backtest, courtesy of Portfolio Visualizer.
The period covered is January, 2008 - October, 2021. Portfolio 1 is comprised of 100% AGG, Portfolio 2 is 100% BSV, and Portfolio 3 is a 50/50 mix of the two. I selected the 'quarterly rebalance' option, to get a reasonably accurate representation of the performance of the 50/50 mix.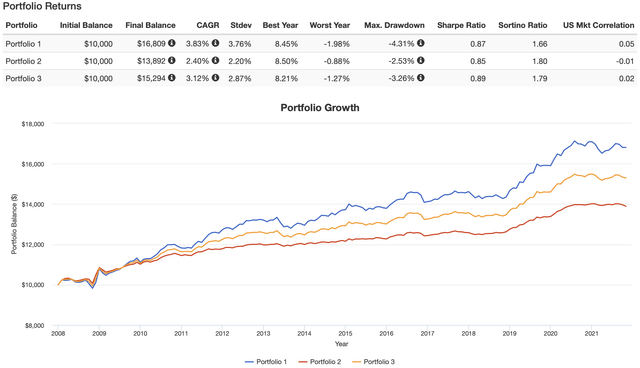 Source: Portfolio Visualizer Backtest
Here's what jumped out at me. The 50/50 mix had a higher Sharpe ratio (measure of risk-adjusted returns) than either AGG or BSV separately. Perhaps even more relevant, the Sortino ratio (which only analyzes downside volatility) is basically the same for the 50/50 mix as for BSV (the more 'conservative' ETF) alone!
Summary and Conclusion
I hope this review, both of AGG as well as the overall role of bonds in a portfolio, has been helpful to you. I also hope the little tidbit about the concept of mixing AGG with BSV has perhaps given you a little something to explore further.