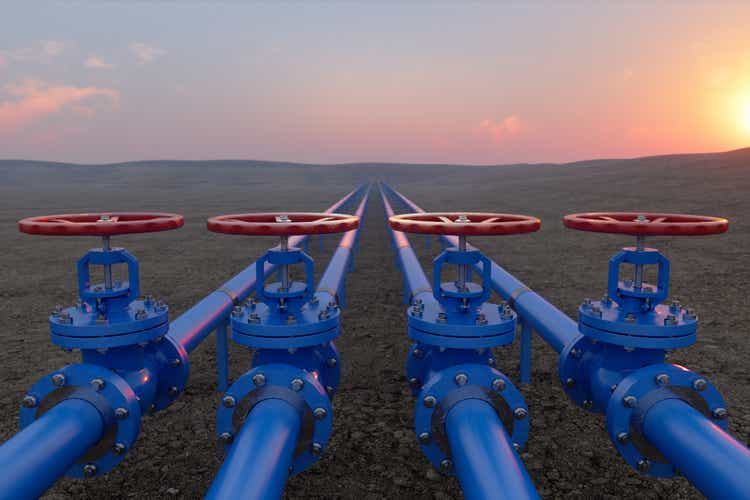 Suncor Energy (NYSE:NYSE:SU) is a Calgary-based energy company with a presence in the upstream to midstream part of the crude oil space as well as a stronghold in Canadian downstream operations. We're incredibly bullish on the stock and think it may be an excellent dividend play moving forward. The stock has gained significant support from elevated energy prices and recovering supply chains of late, and it's only natural for investors to doubt its prospects amid the emergence of the latest covid variant (Omicron) after a period of stagnating oil and gas prices; here's our take.
Recent Performance & Overview

Suncor stock has gathered steam in 2021 as crude oil nearly doubled at one stage this year. Adding to the stock's support has been the global increase in output, which was part of a supply recovery, allowing many energy companies to become once again profitable.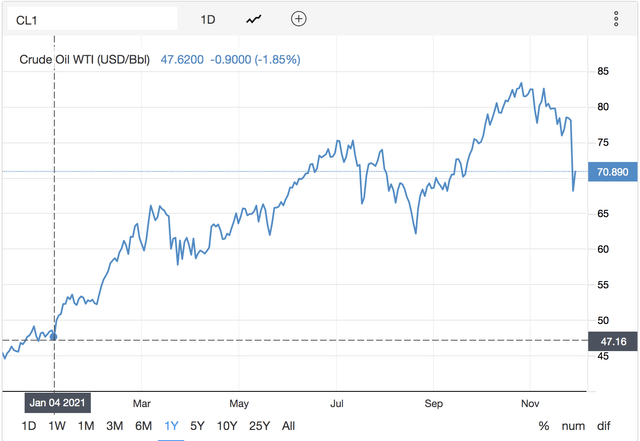 The support for the stock has been systemic more than anything else. Suncor actually had significant disruptions with its supply-line this year as its Syncrude plant in Alberta faced mechanical issues, subsequently pegging back its planned supply by 20%.
In October, the supply disruption was reflected in Suncor's third-quarter earnings report, as the firm missed on revenue by C$120 million. Nonetheless, Suncor stock has kept rising over the last month and is still trading above its 50-, 100-, and 200-day moving averages, signaling that it remains a momentum play in the market's eyes, despite its earnings miss.
How Could Price Changes Influence The Stock
Most of us have followed the markets on Friday and saw the abrupt price drawdown in WTI Crude, which luckily recovered on Monday. We can't really predict systemic shocks that may influence the stock price; however, in general, if we had to predict the price of WTI moving forward, we'd say that it will stay well above Suncor's breakeven price of $35 per barrel.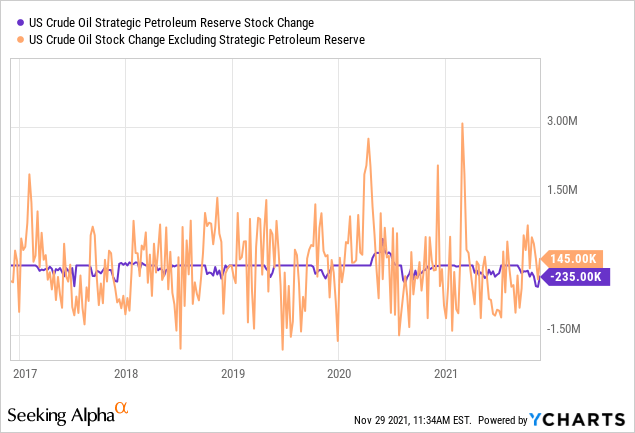 If we look at the supply dynamics, it's evident that there has been a recovery in production, but the problem still sits with reserves. Crude oil prices are heavily reliant on reserves as it is a long-horizon storage commodity, unlike natural gas or even shale oil. The above chart of reserves is the government reserves, and we all know that oil prices have stagnated lately due to global governments' talks of releasing some of their reserves to stabilize energy prices. Even with central support, we can't see prices retracing to below 2x of Suncor's breakeven price in the near future with a global economy that's expected to grow by 4.4%, especially if one considers that winter is upon us.
Let's examine how prices affect Suncor's in particular.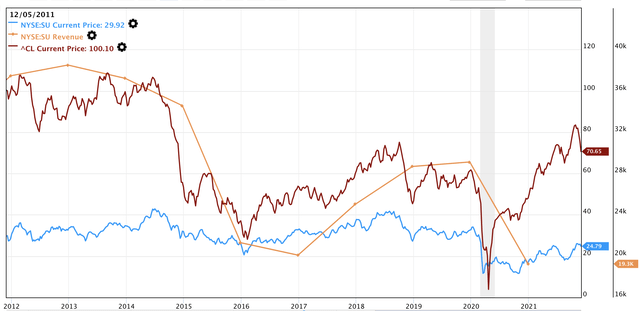 Source: Gurufocus
As the observation above shows, the company's revenue is positively correlated with the price of crude oil, and although the stock price is positively correlated, it's much less so than the firm's top-line earnings. Let's examine the stock's multiples to look at everything out of isolation. But before we do that, let's first see how the stock's key ratios stack up with the stock price and oil price movements.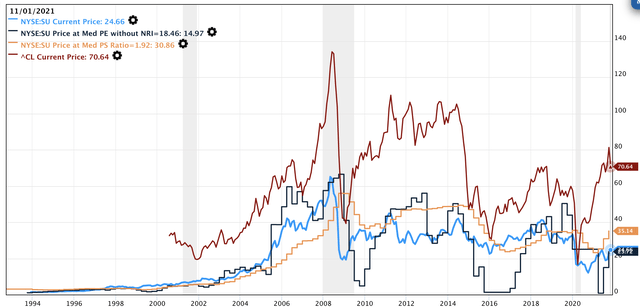 Source: Gurufocus
We can infer from the chart above that the oil price is the most volatile of the lot and always trades at a significant volatility premium. Secondly, it's perfectly normal for Suncor stock to trade at a price to sales premium, but its price to earnings tends to oscillate around the stock price. So, let's examine the stock's PE and its prospects.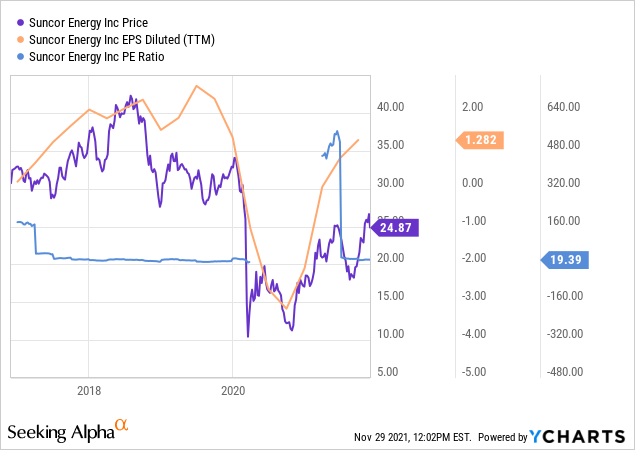 Examining the same timeline as we did in the previous chart, it's critical to look at the relationship between the diluted EPS, stock price, and the PE here. Suncor stock is trading above its PE once again, but if we look at it out of isolation, the EPS has been a leading indicator of the stock's PE and price growth. The theoretical underpinning is based on the fact that the company's retained income is growing in excess relative to shares outstanding; thus, the investors' residual is increasing.

Analysts anticipate 2022 to be a big year for Suncor's EPS. The estimate is that the stock's EPS will grow by an additional 53.22% next year to reach the 3.43 level.
Based on all the mentioned factors in this segment, we anticipate the stock's price to increase even further as very specific key metrics align.
Dividend Metrics
Suncor has an impressive forward dividend yield of 5.50%, with 29 years of consecutive dividend payments. Let's have a look at some ratios.
| | | |
| --- | --- | --- |
| Metric | Current | 5-year average |
| Cash Dividend Payout Ratio | 22.45% | -82.24% |
| Cash From Operations | 7.86B | +27.60% |
| Dividend Coverage Ratio | 2.74 | N/A |
| Free Cash Flow To Dividend Yield | 4.38% | N/A |
Source: Seeking Alpha
The company still has plenty of dividend capacity, which was conveyed after the company's latest earnings report when it doubled its quarterly dividend. The firm decided to increase its quarterly dividend to C$0.42 from C$0.21. Key metrics indicate that this could be sustained.
A cash dividend payout ratio discount indicates that the company is currently paying out 82.24% less in dividend than its 5-year average and should be taken as a bullish indicator for those seeking future dividend growth.
Furthermore, the company's cash from operations is a quarter higher than its 5-year average. For those who are not aware, dividends actually get paid out of operating cash flows under U.S. GAAP accounting standards. The cash from operations is well accommodated by a free cash flow to a dividend yield that exceeds the industry median by 73.07%.
Finally, the dividend coverage ratio is a measure of how many times a company can cover its existing dividend payments based on its current earnings (Profit & Loss Statement), and a ratio of 2.00 is generally considered healthy; Suncor is trading well above that and is in great shape.
Operating Analysis
Vertically integrated stocks such as Suncor provide reasonable protection against inflationary price changes because it holds ownership of most of its supply chain. Suncor's oil sands and conventional production platforms are still producing at prices well above its breakeven price of $35. As mentioned, the company did experience maintenance issues that halted production this year, but it's anticipated that the issue will be mostly resolved in 2022 and that business conditions will improve significantly.
Further to the firm's upstream operations is the news that CNOOC operated Buzzard II is set to deliver after the 12 thousand barrels per day project was halted since 2020 due to covid disruptions. Suncor owns 30% of the project on a non-operational basis, and we expect Suncor to report income as either associate or business combination based, proportionate to its ownership of the separate entity.
Looking at the firm's mid to downstream segments. Suncor owns and operates four refineries with more than 460 thousand barrels per day capacity. The company also has more than 1,800 petro gas stations as part of its downstream segment, which has lately taken advantage of higher gas prices. Growth remains robust in these two segments, with refining and marketing earnings up 267% year-over-year, comprising 67% of total earnings (remember that much of the upstream production was halted, and this figure is usually lower).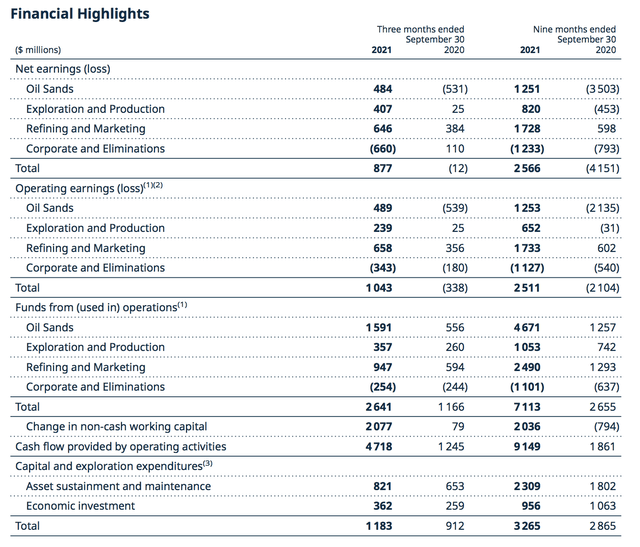 Source: Suncor
To end off this section, let's look at Suncor's balance sheet health. Suncor's solvency remains intact, with an interest coverage ratio of 5.92x. We think that the company will likely benefit from increased production next year, which could see it pay off debt even further and incentivize shareholders at the same time.
Risks
There's a possibility that crude prices could've hit an inflection point, and it's shown that the firm's revenue is positively correlated with the price of crude. Should commodity prices face a shape downturn in 2022, we could see Suncor stock underperform.
The company's Syncrude production site is set to produce better production results in 2022; it's, however, estimated that slope flattening will continue, and it may take a while for full production to materialize.
Lastly, there's uncertainty regarding new covid variants, which results in stock price volatility and commodity and exchange rate volatility. If the volatility persists, it will be significantly more difficult for Suncor to hedge its currency and commodity price risks, subsequently casting doubts over future earnings reports.
Final Word
Suncor has an advantage as a vertically integrated energy company as it's not as vulnerable to price inflation as single segment energy firms. The company has faced disruptions with Syncrude, which is supposed to be one of its cash cows. It's, however, expected that maintenance will conclude soon, and Buzzard II could add further substance to its upstream production recovery in 2022. Additionally, the firm's mid to downstream operations are a subject of continued robust earnings growth.
After examining key metrics, it can be concluded that there is a critical correlation between the stock's EPS, the crude price, and Suncor's stock price; when looked at out of isolation, it's clear that further upside potential is still present. Dividend payments also remain attractive, and upgrades in 2022 aren't out of the equation.
We're thus bullish on Suncor stock.