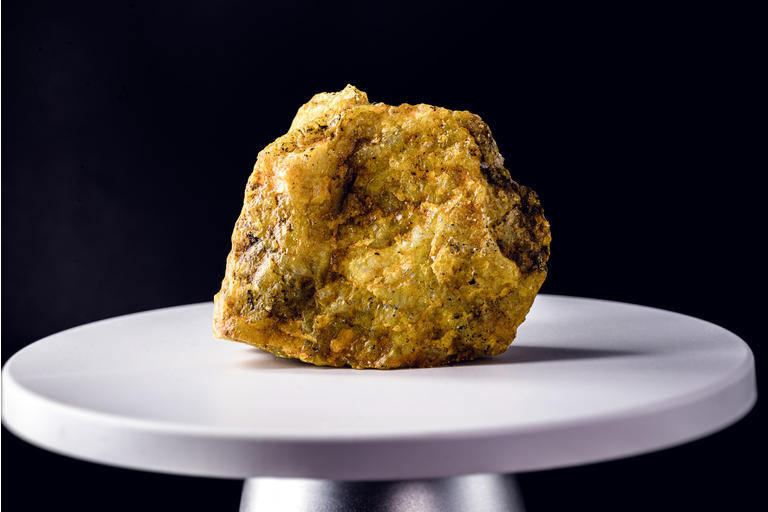 A truckload of uranium fuels a nuclear plant for two years, as compared to a trainload of coal every day. - Gilbert Brown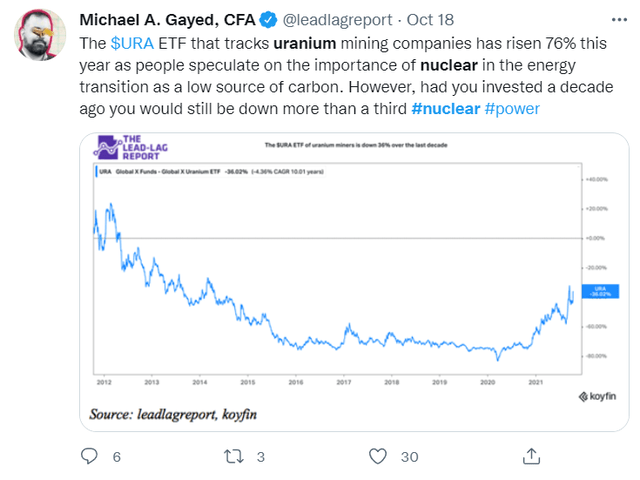 Source: Twitter
As highlighted in The Lead-Lag Report, various uranium and nuclear-based investment proxies have gained currency this year as investors seek to position ahead of an ongoing pivot towards low-carbon sources of energy. If you're looking at options in this space, the VanEck Uranium+Nuclear Energy ETF (NYSEARCA:NLR) is something you may consider.
A little more than half of NLR's portfolio consists of stocks based in the US with the rest of the portfolio focussed on stocks predominantly based in regions such as Japan, Canada, Finland, Czech Republic, South Korea, Spain, and France.
NLR uses four broad screeners to build its portfolio of 25 odd stocks and potential global companies are expected to meet any of the four screeners:
Firstly, prospective companies should be involved in uranium mining projects or developing projects that account for 50% of a company's revenues or the company's assets.
These companies should be involved in the construction, engineering, and maintenance of nuclear power facilities and nuclear reactors.
These companies should be involved in the production of electricity from nuclear sources.
Alternatively, these companies should provide equipment, technology, or services to the nuclear power industry.
How does NLR compare to its peers?
NLR is one of the oldest Uranium-focussed ETFs around, if not the oldest, having been around since 2007. Despite its long history, it's fair to say that it isn't as popular as other peers in this space who have been around for a much shorter period and have accumulated infinitely greater AUM than NLR. Over its 14-year span, NLR has only accumulated AUM of ~$30m; conversely, something like the Global X Uranium ETF (URA) which has been around since late 2010 has accumulated $1.26bn of AUM during its history. Similarly, the more recent North Shore Global Uranium Mining ETF (URNM) which was only set up in 2019, managed to accumulate AUM of $819m in just two years.
Having said that, NLR's relatively low popularity is somewhat ironic, given that it appears to be the most cost-efficient in this space (expense ratio of 0.6% vs 0.85% for URNM and 0.69% for URA) and it also offers a more compelling income angle. With NLR, the yield currently works out to 2% (above the asset class median of 1.15) whilst URNM offers no yield and URA only offers a yield of 0.49%.
The case for Uranium and Nuclear
I believe over the last couple of years more than any other period, we've seen a significant thrust towards nuclear power energy and it wouldn't be unreasonable to expect that over the next decade, conversations about nuclear tech will likely make a more pronounced impact within mainstream consciousness.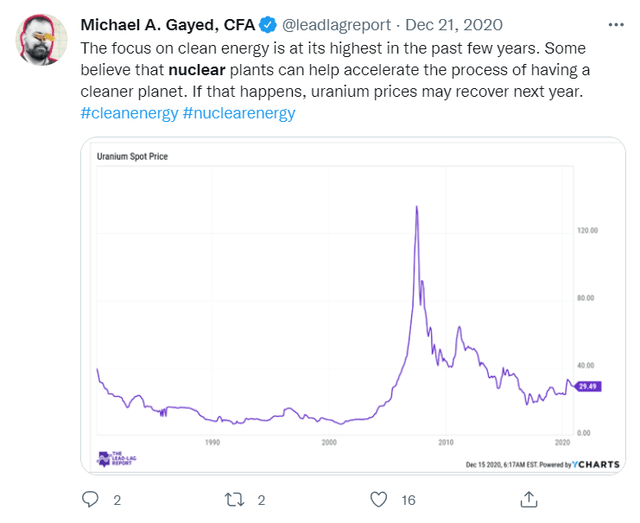 Source: Twitter
Towards the end of last year, I had implied in The Lead-Lag Report that this was a trend that was likely to catch on, and over recent weeks, we've seen plenty of noise come out of Europe in particular. A lot of these nations are desperate to lock in a reliable source of long-term energy that will also help them meet their ambitious climate targets and initial evidence suggests that most of them are gravitating to the force of nuclear power. A lot of skeptics such as that we could meet our climate goals with wind and solar energy but I remain dubious about that theory and believe it will be insufficient. There are considerable benefits to going down the nuclear route as plants are much smaller in size and modular reactors tend to be a more cost-efficient source of power.
More than half a dozen European nations have recently announced plans to build a new generation of nuclear reactors and even closer home in the US, there seems to be a concerted effort to embrace nuclear tech. If the European Union can classify nuclear energy as a "sustainable investment", this would open up the floodgates from the likes of various institutional investors to direct more flows to this sector.
All in all, as per their latest November report, the International Energy Agency expects global nuclear capacity to hit 582GW in 2040, from around current levels of 415GW.
If nuclear does come back into vogue, you can imagine what it could do for something like Uranium where the supply has been on a downward trend for a few years now and is expected to drop by 50% by 2030 (according to World Nuclear Association). At the same time, demand for Uranium is expected to grow from 160-170m lbs to 206 lbs by 2030!
In fact, recent reports suggest that various nuclear utilities have already begun getting into conversations about long-term Uranium supply for a while now, even as a Canadian Uranium fund has been draining supply from the spot market. Worth noting that, Uranium spot prices are up by nearly 60% on an annual basis.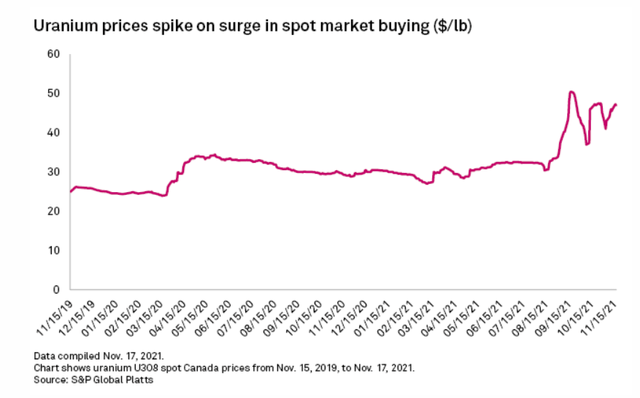 Source: S&P Global Platts
Conclusion
Besides the core fundamental story of nuclear and uranium, I also believe that tactically, something like an NLR may work well during this period. Subscribers of The Lead-Lag Report would note that in this week's edition, I've posited that my utilities risk-signal (one of three inter-market signals) will likely turn risk-off soon enough (the treasuries signal has already been in risk-off mode for a while now), and we may likely see utilities leadership in the month of December. 84% of NLR's holdings are exposed to the utility sector and it could potentially benefit from a basket-case approach of greater fund flows to this sector. As a defensive, low-beta play, NLR appears to be finely positioned with a 3-year beta of just 0.64 (vs the S&P500) so it could also prove to be a very fine hedge as volatility in the broader markets picks up steam.

Anticipate Crashes, Corrections, and Bear Markets
Sometimes, you might not realize your biggest portfolio risks until it's too late.
That's why it's important to pay attention to the right market data, analysis, and insights on a daily basis. Being a passive investor puts you at unnecessary risk. When you stay informed on key signals and indicators, you'll take control of your financial future.
My award-winning market research gives you everything you need to know each day, so you can be ready to act when it matters most.
Click here to gain access and try the Lead-Lag Report FREE for 14 days.