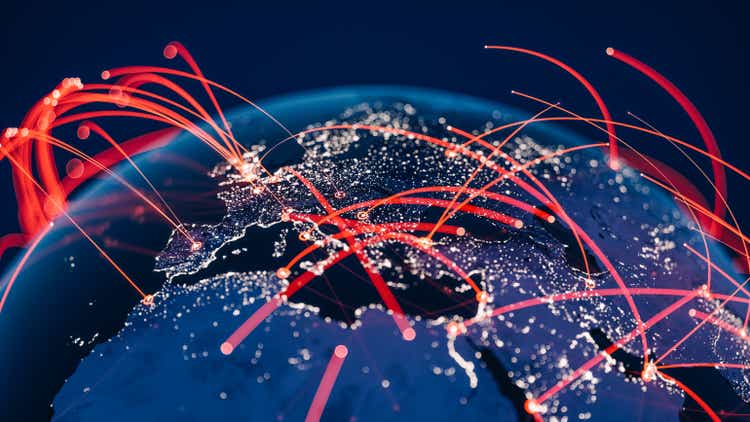 When we look at a long-term chart of PCTEL (NASDAQ:PCTI), we can see that shares have been basically stuck in a trading range for the best part of two decades now. On the surface, this may seem as a major opportunity cost here especially when we see what the S&P500 has returned in this time frame. While this may be true, we must remember that PCTI currently pays out almost a 4% yield which is much higher than the average.
Therefore, from an income generation standpoint, aggressive reinvestment of the dividend into more stock would have really reduced one's long-term cost basis in PCTI over past decades and produced solid returns. We have always stated in our commentary that income derived investors prefer lower prices in their underlyings because compounding in the portfolio can occur much faster when more shares can be bought every quarter.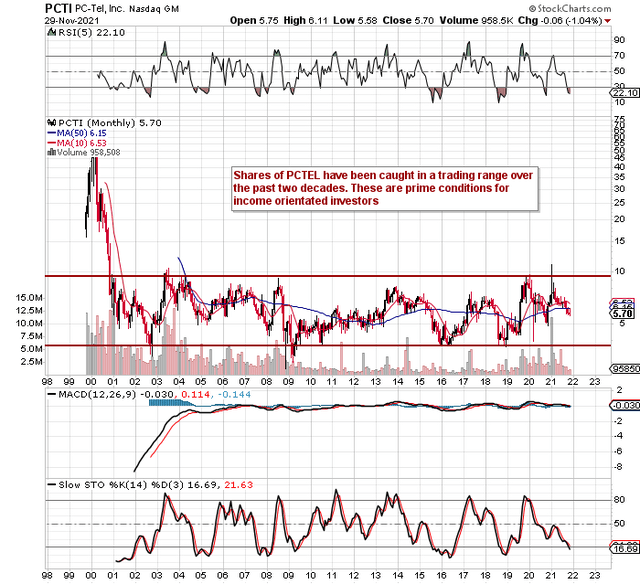 Suffice it to say, investing (for income) over the long term is much easier in low beta stocks which trade in a range. Apart from the compounding reason mentioned earlier, another factor is that so much time is saved from not having to research other companies. Active investors and traders do not put enough time into deciding where to deploy their capital. We believe this is critical for long-term success.
With respect to PCTEL for example going forward, income comes when one simply stays the course, reinvests the dividend and even sells covered calls when the opportunity arises (liquidity allowing). The long-term technicals in PCTEL continue to demonstrate both long-term support and resistance which are prime conditions for income generation.
When presented with these types of opportunities, it is all about downside risk for us. Therefore, let's delve into PCTEL's profitability, valuation and the strength of the firm's dividend at this moment in time.
Firstly, with respect to profitability. How does profitability reduce downside risk in an investment? Well, being that earnings growth is the primary driver of a company's share price, we have to ask how earnings growth takes place. Earnings growth comes from PCTEL's ability to generate enough sales to produce adequate earnings which in turn generates cash flow. This cash flow is the lifeblood of the company as it can be used to invest in the company as well as reward shareholders. Negative earnings and cash flow mean management ultimately has to resort to external funding sources. When we see frequent trends, such as share dilution, more debt being taken on or the sale of assets, it becomes clear that management is now up against the clock to get the company's affairs in order.
In PCTEL, however, not only did we see positive profitability in Q3 but we also witnessed a sequential improvement in sales and earnings for the quarter. Sales of $22.4 million also came in well ahead of the Q3-2020 as antennas & industrial IoT devices led the growth in the quarter. Although last year's Smarteq purchase explained the top-line increase to a degree, we also witnessed a hike in organic revenues which was encouraging. Sales were actually expected to come in higher in the quarter but shipments were unfortunately adversely affected due to the company not being able to get its hands on raw materials fast enough.
Looking forward, the antenna business (buoyed by strength in the agricultural space) should continue to perform well and power sales forward in the fourth quarter. This is important, and with Smarteq expected to go from strength to strength, the growth in the antenna space buys the company time to ramp up sales of its corresponding IoT devices as well as scanning receivers.
From a dividend standpoint, approximately $1 million of dividends was paid from a free cash flow purse of $2.5 million in the quarter. This gives us a pay-out ratio of 40% which is attractive. Since there is no debt to speak of on PCTEL's balance sheet, the company's operating profit can more or less convert into net profit on an ongoing basis (which happened in the third quarter). Suffice it to say, as long as the company can continue to generate cash (which guidance numbers are expecting), we do not see an issue with the dividend. In fact, more cash should now be available to management as the recent third quarter marked the end of the $5 million share buyback scheme.
This means the very attractive cash flow multiple of 11.1 should even improve in upcoming quarters as long as supply chain issues die down. In terms though of the company's valuation, PCTEL's assets and sales are the prime driver of earnings and remain competitively priced. Currently, the book multiple comes in at 1.53 and the sales multiple comes in at 1.25. These numbers look very attractive compared to both the industry as well as PCTEL's long-term averages. Suffice it to say, the valuation definitely has remained in check here.
Therefore, to sum up, we continue to believe that PCTEL with its almost 4% yield offers a sound income opportunity for the long term. One can compound one's gains fast in here through sustained re-investment as shares are likely to trade in a tight range for many years to come. The dividend is safe, shares are cheap from both an assets and sales standpoint and guidance is pointing to sustained growth in Q4 and beyond. We look forward to continued coverage.