Your Cash Is Trash, 2 Big Dividends To Buy Today
Summary
Cash is hurting your portfolio's returns, not helping it.
More possibilities are lost holding cash than gained.
We must be proactive to keep our cash earning us more cash.
Looking for a portfolio of ideas like this one? Members of High Dividend Opportunities get exclusive access to our model portfolio. Learn More »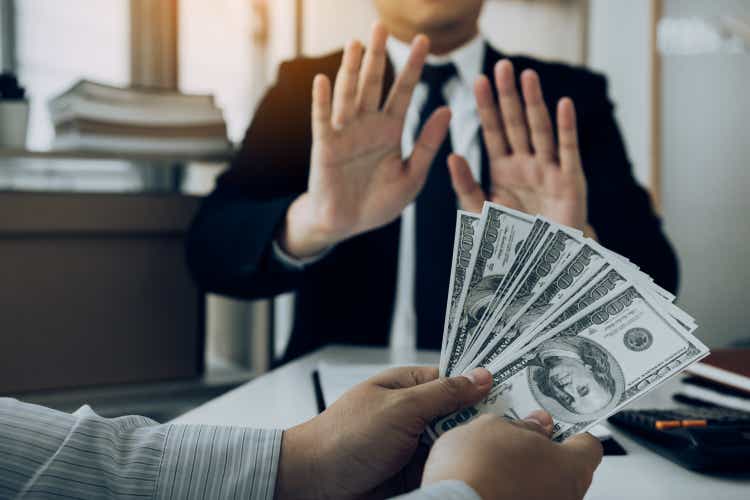 Co-Produced with Treading Softly
We've been hammering the point again and again. It is a mistake to hold cash in your investment portfolio as "part of its composition". Cash can be a glimmer like gold and seem to be the more useful or flexible holding you have - but make no mistake, it's fool's gold. Why?
Cash at this point is yielding a negative 6.2% based on the latest inflation figures. While its written value remains constant - no red or green writing in your brokerage account with cash - it is actively losing its purchasing power.
Instead, we must be mindful and aware of the perilous times we live in regarding hoarding cash. Inflation is a raging fire, burning away the effectiveness of cash, and it is set to get worse. We must overcome inflation's hunger by out-earning its impacts.
Furthermore, we must be prepared for the eventual moves by the Federal Reserve. When they decide inflation has been left running rampant long enough, they will take action - primarily by raising interest rates. These rate hikes will catch many bond investors and passive retirement investors unaware - leading to losses.
Today, we have two generous yielding picks that outpace inflation and will benefit when the Federal Reserve decides to do something about it.
Pick #1: ACRE - Yield 9.2%
Ares Commercial Real Estate Corporation (ACRE) is a commercial mortgage REIT that benefits from inflation in two ways:
Rising real estate values makes their loans lower risk.
Floating-rate loans will benefit when interest rates rise to combat inflation.
ACRE holds loans for a wide variety of different types of real estate.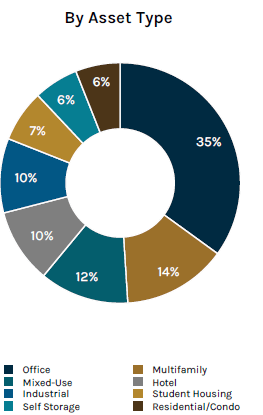 - Source: ACRE Q3 2021 Investor Presentation
These loans are 99% "senior" mortgages, which means that ACRE is the party that has the right to foreclose on the real estate. As the value of the underlying real estate goes up, the risk to ACRE goes down.
Additionally, 98% of their loans are floating rate. While we expect interest rates to remain relatively low in the near term, eventually, inflation will grow to the point that even the Federal Reserve can no longer deny it. Raising the target rate is the only tool the Fed has to combat inflation, which will mean rising revenues for ACRE.
ACRE easily covers its dividend today, with distributable earnings exceeding the dividend and supplemental dividend by 110%.

- Source: ACRE Q3 2021 Investor Presentation
Today's investors in ACRE get a high yield that is covered and will see upside through growth as ACRE originated $1.0 billion in new loans year-to-date, beating their highest annual originations ever, even before Q4. An increase in economic activity will keep the real estate market active, providing more opportunities for ACRE to originate quality mortgages. Down the road, the Fed will raise rates, and that will propel ACRE's earnings higher.
ACRE is a great investment to buy and hold for the long term. It is one that will be a great winner through the next interest rate raising cycle for the Fed!
Pick #2: TWO-C - Yield 7.2%
Two Harbors Investment Corp., 7.25% Series C Fixed-to-Float Cumulative Redeemable Preferred Stock (TWO.PC), is a preferred share for the agency mortgage REIT Two Harbors (TWO).
Agency mREITs invest in "agency" MBS (mortgage-backed securities). These are mortgages that come with a principal guarantee from the agencies Fannie Mae and Freddie Mac. If the borrower defaults, the agencies buy back the mortgage at par value. This makes agency mREITs a very conservative investment for preferred shares.
Common stock dividends can't be paid until the preferred are paid in full, so the common shares absorb the shock of the variable cash flow these mREITs can have. Preferred stocks offer conservative investors the best of both worlds: High yield, lower risk, and lower price volatility! TWO-C, in particular, benefits from the very low risk of the underlying agency MBS, which are extremely liquid and have very stable prices.
TWO-C has a "fixed-to-floating" feature. This means that the dividend will change after the call date in January 2025 (if it isn't called then).
The current dividend is $1.81/year. After it changes to a floating rate, TWO-C will pay the three-month LIBOR rate plus a spread of 5.011% on the $25 par value.
This means that if LIBOR goes back up to 2.8% like it was in 2019 (as inflation pressures increase and the Fed hikes rates in 2023), the dividend would be increased to $1.95/year.
We mentioned that inflation is at its highest rate since 1991. In 1991 3-month LIBOR was over 6%! At 6% LIBOR, TWO-C would pay $2.75/year.
So you can see how this feature is a huge positive to protect your portfolio in the event of runaway inflation and rising interest rates to fight it.
Until 2025, TWO-C will continue to pay its 7.25% dividend. This fits our macro-thesis perfectly since we expect interest rates to be minimal in 2022/2023. By 2024/2025, the Fed will likely have to get more aggressive.
Even modestly higher interest rates (2019 levels) will cause TWO-C to pay out more than it is now when it switches to variable rates. If interest rates skyrocket, which is a real risk, holdings like TWO-C will be better than gold!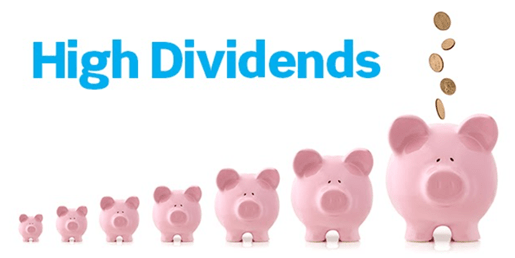 - Source: Dreamstime
Conclusion
Grabbing these two excellent picks will give you high income now and higher income as the Federal Reserve makes moves to overcome inflation. Income is needed now, and more is needed tomorrow. These picks can be relied upon to provide just that - income and more income.
Now is not a time for cash to be sitting idle in your portfolio. Get it off the couch and send it to work! These two picks, among many others, can be the source of passive income. Passive income is highly desirable because it's just that passive. No hard work from you is required. You poured hours of hard work into earning that money, now make your cash work hard for you!
If you want full access to our Model Portfolio and our current Top Picks, feel free to join us for a 2-week free trial at High Dividend Opportunities.

We are the largest income investor and retiree community on Seeking Alpha with over 4800 members actively working together to make amazing retirements happen. With over 40 individual picks yielding +7%, you can supercharge your retirement portfolio right away.
We are currently holding a limited-time Black Friday Sale with up to 65% off your first year!

This article was written by
The #1 Service for Income Investors and Retirees, +9% dividend yield.
I am a former Investment and Commercial Banker with over 35 years of experience in the field. I have been advising both individuals and institutional clients on high-yield investment strategies since 1991. I am the lead analyst at High Dividend Opportunities, the #1 service on Seeking Alpha for 6 years running.
Our unique Income Method fuels our portfolio and generates yields of +9% alongside steady capital gains. We have generated 16% average annual returns for our 7,500+ members, so they see their portfolios grow even while living off of their income! Join us for a 2-week free trial and get access to our model portfolio targeting 9-10% overall yield. Our motto is: No one needs to invest alone!
In addition to being a former Certified Public Accountant ("CPA") from the State of Arizona (License # 8693-E), I hold a BS Degree from Indiana University, Bloomington, and a Masters degree from Thunderbird School of Global Management (Arizona). I currently serve as a CEO of Aiko Capital Ltd, an investment research company incorporated in the UK. My Research and Articles have been featured on Forbes, Yahoo Finance, TheStreet, Investing.com, ETFdailynews, NASDAQ.Com, FXEmpire, and of course, on Seeking Alpha. Follow me on this page to get alerts whenever I publish new articles.
The service is supported by a large team of seasoned income authors who specialize in all sub-sectors of the high-yield space to bring you the best available opportunities. By having 6 experts on your side, each of whom invest in our own recommendations, you can count on the best advice. (We wouldn't follow it ourselves if we didn't truly believe it!)
In addition to myself, our experts include:
3) Philip Mause

4) PendragonY

We cover all aspects and sectors in the high yield space including dividend stocks, CEFs, baby bonds, preferreds, REITs, and more! To learn more about "High Dividend Opportunities" and see if you qualify for a free trial, please check out our landing page:
High Dividend Opportunities ('HDO') is a service by Aiko Capital Ltd, a limited company - All rights are reserved.
Analyst's Disclosure: I/we have a beneficial long position in the shares of ACRE AND TWO.PC either through stock ownership, options, or other derivatives. I wrote this article myself, and it expresses my own opinions. I am not receiving compensation for it (other than from Seeking Alpha). I have no business relationship with any company whose stock is mentioned in this article.

Treading Softly, Beyond Saving, PendragonY, and Preferred Stock Trader all are supporting contributors for High Dividend Opportunities. Any recommendation posted in this article is not indefinite. We closely monitor all of our positions. We issue Buy and Sell alerts on our recommendations, which are exclusive to our members.
Seeking Alpha's Disclosure: Past performance is no guarantee of future results. No recommendation or advice is being given as to whether any investment is suitable for a particular investor. Any views or opinions expressed above may not reflect those of Seeking Alpha as a whole. Seeking Alpha is not a licensed securities dealer, broker or US investment adviser or investment bank. Our analysts are third party authors that include both professional investors and individual investors who may not be licensed or certified by any institute or regulatory body.