Balance Sheet: What Is It & Tells Investors
A balance sheet is a financial document that presents the financial status of a business through an accounting of a company's assets, liabilities, and equity. A balance sheet, when looked at with a business' other financial statements, can help investors understand a company's current fundamentals.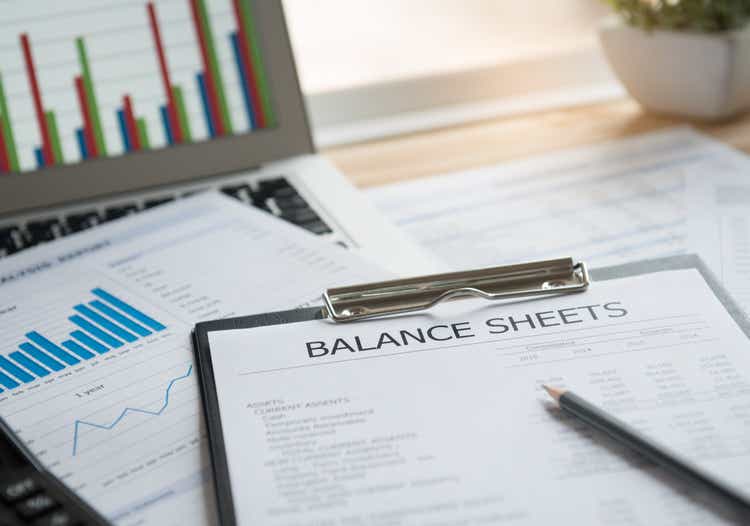 What Is a Balance Sheet?
A balance sheet is a financial statement that breaks down a company's assets, liabilities, and shareholders' equity at a single point in time. It can be used to evaluate a company's working capital, assets, and the amount of its capitalization that is debt versus equity.
Investors can use other financial documents like the income statement, which shows a company's revenues and expenses, and the cash flow statement, which track how cash flows in and out of a company, in conjunction with the balance sheet to understand a businesses full financial picture. Investors can compare the figures on a balance sheet to a company's previous filings or to other companies in the same sector in an attempt to gain insight into whether its financial situation is improving.
Investors can use a balance sheet to better understand things like a company's major liabilities relative to its assets, and to understand if the company is financially stable enough to continue its current growth trajectory, service its debt, and expand.
Purpose Of A Balance Sheet
Public companies are required by the Securities and Exchange Commission to provide annual and quarterly balance sheets to show investors their financial position at the end of a quarterly or annual period.
The balance sheet quantifies the company's assets and informs about their liabilities. From these numbers, the company's net worth (in terms of equity book value) can be determined, providing investors with a picture of the underlying value of their shares. Book value of equity can be assessed relative to the market value of the company. Companies trading substantially above book value does not necessarily point to overvaluation, however.
3 Components of a Balance Sheet
There are three main components of a balance sheet: assets, liabilities and net worth.
1. Assets
An asset is anything that a company owns that has value. Assets can include, but are not limited to, things like:
Real property
Inventory
Equipment
Pre-paid taxes and expenses
Accounts receivable
Cash
Marketable securities
Assets can also include intangibles, such as patents, trademarks, and other intellectual property.
A balance sheet usually breaks down assets into two categories: current assets and non-current assets.
Current assets are those that could be converted into cash within 12 months and include things like inventory and accounts receivable.
Non-current assets are long-term holdings that will generally not be converted into cash in 12 months, such as land, equipment, or intellectual property.
2. Liabilities
A liability is anything a company might owe another entity or person. That could include:
Payroll
Rent
Utility payments
Debt obligations
Accounts payable
Taxes
Legal judgements
Bonds payable
A balance sheet includes two kinds of liabilities: current liabilities and non-current liabilities.
Current liabilities are those which are due within the next 12 months such as accounts payable or wages.
Non-current liabilities are those that aren't payable within one year such as loans, leases, or other long-term obligations.
3. Net Worth (Shareholder's Equity)
A company's net worth is how much the company is valued after their liabilities have been subtracted from their assets. This is calculated using the following formula:
Net Worth = Assets – Liabilities
A businesses' net worth is often called stockholders' equity or shareholder's equity and represents the figure that would be left over if a company sold off all their assets and paid their liabilities. Shareholders' equity is the value that belongs to shareholders – whether the company is publicly or privately owned
Retained Earnings
Retained earnings, found as a line item on a balance sheet under shareholder's equity, refers to a company's cumulative profits that have been retained or held aside for future use. As many companies pay dividends to their shareholders, retained earnings refers to profits held inside the company, possibly in anticipation of future use for growth, expansion or to pay down debt. The cumulative retained earnings is calculated by adding the previous year's retained earnings to this year's profit or loss, and subtracting any dividends paid out this during the period.
Retained Earnings = Previous Retained Earnings + Net Profit or minus Loss – Dividend
Balance Sheet Example
Balance sheets can look different from one company to the next, depending on what kinds of assets and liabilities it has. Here is a sample balance sheet:
Assets
| | |
| --- | --- |
| Current Assets | $ |
| Cash and cash equivalents | $200,000 |
| Inventory | $50,000 |
| Accounts receivable | $50,000 |
| Investments | $15,000 |
| Prepaid expenses | $10,000 |
| Total current assets | $325,000 |
| | |
| --- | --- |
| Property & Equipment | $ |
| Land | $100,000 |
| Buildings and improvements | $300,000 |
| Equipment | $60,000 |
| Less accumulated depreciation | ($10,000) |
| | |
| --- | --- |
| Other Assets | $ |
| Intangible assets | $12,000 |
| Less accumulated amortization | ($2,000) |
| Total assets | $785,000 |
Liabilities
| | |
| --- | --- |
| Current Liabilities | $ |
| Accounts payable | $50,000 |
| Notes payable | $50,000 |
| Accrued expenses | $50,000 |
| Deferred revenue | $10,000 |
| Total current liabilities | $160,000 |
| | |
| --- | --- |
| Total Liabilities | $ |
| Total current liabilities | $160,000 |
| Long-term debt | $200,000 |
| Total liabilities | $360,000 |
Shareholder's Equity
| | |
| --- | --- |
| Shareholder's Equity | $ |
| Common stock | $100,000 |
| Additional paid-in capital | $30,000 |
| Retained earnings | $300,000 |
| Treasury stock | ($5,000) |
| Total liabilities and shareholders' equity | $785,000 |
Uses of a Balance Sheet
Investors can use the balance sheet to calculate a number of metrics that will help them better understand a company's performance and financial situation.
Working Capital
You can also use a balance sheet to calculate a company's working capital. To do this, deduct a company's current liabilities from their current assets.
Working Capital = Current Assets – Current Liabilities
A high current ratio means that a company has sufficient cash to cover their debt obligations, but if it is too high, it could mean that they are accumulating cash and not efficiently spending it.
A low current ratio, especially one that is less than 1.0x, suggests that a company might not be able to meet their short-term obligations.
While it's common in some industries to operate with a negative working capital metric because they operate in industries with long payment terms, a positive working capital figure is seen as preferable in many industries since that means that a company has funds on hand to handle its general operations and any unexpected capital needs.
Debt-to-Equity & Debt-to-Asset Ratios
Finally, other examples of ratios that you can calculate using a balance sheet are the debt-to-equity ratio and the debt-to-asset ratio. To calculate these, you need to divide a company's total liabilities by its shareholders' equity or its total assets as follows:
Debt-to-Equity Ratio = Total Liabilities/Shareholder's Equity

Debt-to-Assets Ratio = Total Liabilities/Total Assets
In some industries, a low debt-to-equity ratio is ideal since they aren't capital intensive industries and debt is seen as potentially harmful for a business. However, in capital intensive industries where all competitors have high debt-to-equity ratios, a low ratio might be seen as a sign that a company isn't maximizing its capital properly.
Limitations of a Balance Sheet
While a balance sheet is useful, it has some key limitations.
Historic Value: Balance sheets often record assets at their historical value rather then current value. Because of this, a balance sheet might not reflect the actual economic position of the company you are evaluating.
Depreciation of Assets: While balance sheets account for depreciation, recorded depreciation might not account precisely for how much an asset has decreased in value.
Intangibles: A balance sheet also might not account for intangible assets that a business has such as skill, loyalty of workers, or intelligence.
Bottom Line
A balance sheet can be useful since it offers a view of the book value of a company's assets and liabilities at a specific point of time. This helps investors and businesses make informed choices about whether to invest in a company or continue holding its shares.
This article was written by
Amanda Reaume has been writing about retirement, investing, and financial planning for over a decade. She has been published in USAToday, Time.com, Yahoo!Finance, Business Insider, Forbes, and Fox Business. She is a former credit expert at Credit.com and wrote a book about financial planning and investing aimed at millennials.
Disclosure: I/we have no stock, option or similar derivative position in any of the companies mentioned, and no plans to initiate any such positions within the next 72 hours. I wrote this article myself, and it expresses my own opinions. I am not receiving compensation for it. I have no business relationship with any company whose stock is mentioned in this article.