The Prudent Approach For Investing In Draganfly
Summary
After an excessive rally at the beginning of 2021, Draganfly share prices have fallen back to justifiable lower levels. Other drone companies fell back from very high valuations as well.
The industry is still in an emerging phase. Double-digit growth of the drone industry is expected, but it's too early to tell which companies will benefit the most.
Draganfly offers a good chance of success. It has cash, revenue growth and a viable path to profitability in combination with two decades of experience in the industry.
A prudent investing approach is to build speculative positions in several drone stocks with small purchases at a time. This spreads the risks over time and over several companies.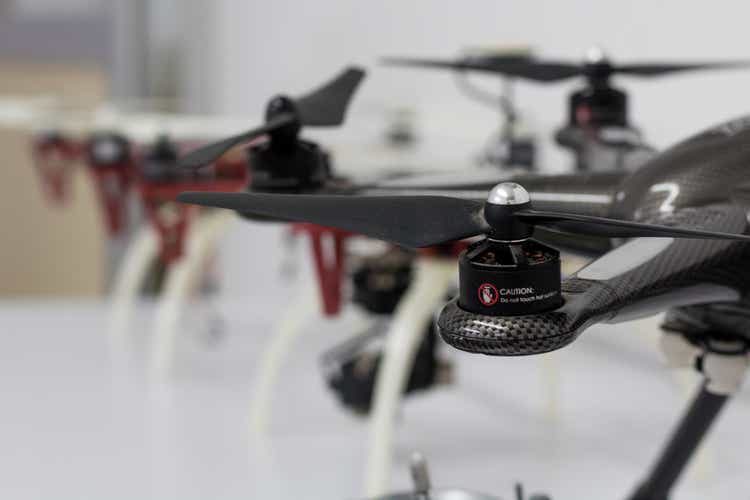 Draganfly after the hype
One year ago, at the end of November 2020, the share price of Draganfly (NASDAQ:DPRO) started to rally. Before that time, the shares had traded around the $1 mark for a long time, but from November 2020 to March 2021, the share price exploded to reach almost $16. I was lucky to own a small amount of stock of Draganfly at that time and I was able to sell it at a substantial capital gain.
Despite the fact that I benefited from the run up, it was my opinion that the market was overdoing it when the shares went over $10. In a bearish article that I wrote about Draganfly in the midst of the rally, in February 2021, called "Be careful with Draganfly", I noted that the market cap of the company had surpassed $250 million, while the total revenue in 2020 did not exceed $5 million. The low revenue and only modest growth forecasts were insufficient to justify the high market cap of a quarter billion dollars. The run-up of the share prices seemed more of a hype than a rational event.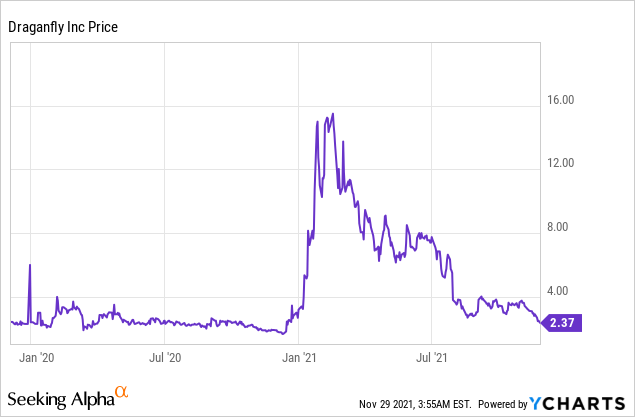 From the highs in Q1 2021, which was nearly at $16 as shown in the above graph, the shares dropped back to the current price of below $2.5. Note that Draganfly made clever use of the higher share prices during the rally by issuing significant amounts of new shares to the market. This caused substantial dilution. The share count was over 32 million at the end of Q3 2021, which was more than double the share count of one year before, at the end of Q3 2020. If the new shares hadn't been issued, the trading price would thus be double the current price.
The market cap of Draganfly, at the time of writing of this article, has now dropped back to below $100 million. Draganfly has recently reported the Q3 2021 earnings and the report can be found on sedar.com. The revenue for the first nine months of the year totaled $5.4 million, up from $2.9 million over the same period in 2020. The total revenue for 2021 should end up between $7 and $8 million.
My investment thesis for Draganfly is similar to the thesis for any of the other drone businesses. It's that taking a position in some of the companies in the industry now will lead to capital gains in the future. The drone industry is an emerging industry that is expected to grow substantially and reach an impressive size. It's early innings now and a long position in any of the successful drone companies of the future could prove to be a multibagger.
When investing now, though, the key challenges are that there will be ups and downs and that it's not certain which drone company will gain what share of the pie and by when. An approach for dealing with that is to spread the buying of shares over several companies and also over time. To spread risks, I also buy stock of other drone companies, such as, for example, Drone Delivery Canada Corp (OTCQX:TAKOF). There's evidence that other investors are using this approach as well. Some of the most well-known drone stocks tend to move in-sync with each other. The likely explanation for this is that investors buy and sell drone stocks of several companies at the same time. A graph of the share prices of AgEagle Aerial Systems (UAVS), Alpine 4 Holdings (ALPP) and Draganfly (DPRO) illustrates this. The shares of all three started to go up in the same period, from the end of 2020, and also went down jointly, at the end of Q1 2021.
The purpose of this article is to have a closer look at Draganfly specifically and to see if Draganfly is likely to be one of the successful players in the emerging industry. Is Draganfly likely to be one of the beneficiaries of the growth of the drone industry? And what evidence is there to be found in the most recent earnings report that the company has the right financial foundations in place? Before looking at Draganfly in more detail, we'll have a quick look at the status of the industry first.
Double-digit growth of the emerging drone industry
There's little doubt that the applications of drones for a wide variety of purposes will grow fast in years to come. This source, just one of many online available reports, states that the global drone market in terms of revenue will grow from $18 billion in 2021 to $42 billion in 2027 with a compound annual growth rate of 12.3%. Other online sources state similar growth forecasts: double-digit, adding tens of billions of dollars in additional revenue in years to come.
The growth comes from more and more usage of drones by the military, by the government, by businesses and by private persons. Just looking at one theme, the use of drones for delivery, there's two recent news items that I came across:
Just Eat Takeaway (OTC:TKAYF), the food delivery company that is the leader in Europe and also operates Grubhub in the New York area, recently conducted a pilot to deliver meals across the IJ river in the center of Amsterdam, which is near to where I live. A nice video was released that gives an impression of that pilot. It shows how a well-known restaurant prepared food on one side of the river and a drone delivered it to the Just Eat Takeaway offices at the other side.
Next, there's an example from earlier this year, when the state of Israel started a government run trial to facilitate 300 drone deliveries per day in an urban area by several drone operators simultaneously. The operators can use a centrally orchestrated platform, so that authorities can keep control over the drone traffic through the air.
These two examples about drone delivery, have many similarities to examples of the use of drones for surveillance, crop monitoring, firefighting, photography, maintenance, data collection and other areas. For all of these purposes, a lot is possible, but much of it is in a pilot or trial phase. There's no leading global platform yet and the revenue, if any, with each initiative is still small. While high growth is forecasted, the current status of the industry as a whole is thus very much "emerging". Another conclusion from a scan of initiatives for drone delivery or any of the other drone applications is that there's a large variety of active companies and organizations in the area. Drone initiatives are undertaken by companies of all sizes, from small start-ups to the largest ecommerce companies, such as Amazon (AMZN). Organizations can be everything from fully independent commercial companies to government-led partnerships. This makes it challenging for investors to find investments in the drone industry with the highest chance of success.
Prospects of Draganfly
Draganfly is one of the oldest pure play drone companies with a listing on the NASDAQ. The activities of the company cover anything from selling drone hardware to setting up and managing drone pilots and services for many clients and partners. The way that the company looks at its place in the industry can be illustrated with a quote from the CEO in the latest earnings call:
Our overall thesis is that nothing, deliver probably as efficiently as a drone and nothing can collect data as efficiently as a drone. There really is no device that can collect more or better data and unique data as a drone, and in so doing, that's really where we focus our efforts, and Draganfly will always be known as a drone company and hopefully the number one or number two player in the North American market over the coming years. It wouldn't be surprising to us to have been one of the largest depositories of battery mining data, or one of the largest repositories of forestry data.

So, it's our intense focus on collecting strategic information and helping to analyze that data for our customers that helps to differentiate us as a customer. Of course, we have very strong IP. We have over 30 patents and hundreds of pieces of IP that we do not publish, and we're constantly developing new products. Every quarter there is new products coming out that are really driven by our customer requests.
Leaving aside some mistakes in English in the above quote, there's at least three important takeaways. First, the focus of Draganfly is on selling drones and drone services for delivery of cargo and for gathering data. The company has been doing this in the last two decades and a significant number of patents has been obtained, important Intellectual Property for the company (see below image as illustration).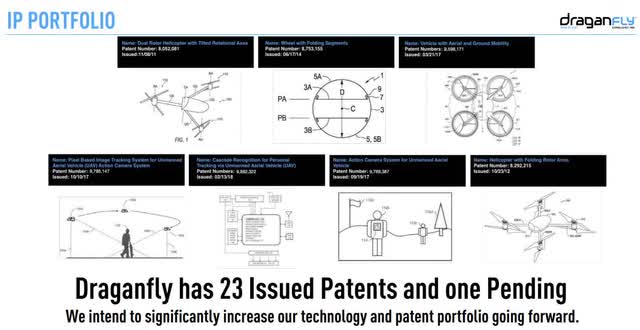 Source: Draganfly investor presentation October 2021
Second, the quote allows us to compare the company focus, as described by the CEO, with the focus of two peers. Draganfly has a wider focus than Drone Delivery Canada Corp, which has a sole focus on the use of drones for delivery of goods. Likewise, it's also wider than AgEagle, which has a focus on using drones to help farmers with monitoring their crop. Draganfly seems to have a more all-round approach than some of the peers. This allows the company to diversify revenue streams. The company earnings show that this is indeed the case. There's revenue from hardware sales and the delivery of drone services for a wide range of purposes.
Third, the company has the ambition to be a leading player, "the number one or number two player in the North American market". Looking at the financial performance, perhaps helped by reduced Chinese competition through regulations, the company seems to have a fair chance to get that position. At least revenue-wise, Draganfly can claim to be a bigger player.
Let's look at the financial situation to see how Draganfly is doing. Not surprisingly for a player in an emerging industry, the company has been operating at a loss for most of its existence until now, while it has been building drone related capabilities. The total revenue in 2019 was $1.38 million, in 2020 it was $4.36 million and in 2021 it should end up between $7 and $8 million. The annual cost of sales plus the operating expenses are still exceeding the revenue. My estimate for these costs and expenses in 2021 is in the range of $20-25 million. So, the annual revenue currently still falls short between $12 and $17 million to reach breakeven. Luckily, the company's cash was just below $30 million at the end of Q3 2021, so this should be enough to cover the cash burn for ~2 years, assuming the revenue keeps growing.
In terms of revenue growth prospects, there's no official forecast available, but there's reasons to believe that this will be fine. A $9 million deal between Draganfly and Digital Dream Labs, that was signed in October 2021, is one example of encouraging news. It shows that revenue can indeed keep growing at a significant pace. If this and other deals keep coming in, I'd expect the company to be able to reach breakeven in three years. The company regularly shares updates when new deals have been signed.
In the past, virtually all of the funding for Draganfly's activities has been obtained by selling stock to the open market. The company has no debt financing to speak of. As already mentioned in the introduction, the rally of the shares earlier in the year has allowed the company to raise a significant amount of cash by more than doubling the number of outstanding shares. This resulted in the company now having the nearly $30 million in cash on the balance sheet. Of course, this came at the cost of dilution for the existing shareholders. This is a risk for new investors as well. It's important to note that Draganfly has an authorized share capital of an unlimited number of common shares. This means that it's conceivable, or even likely, that more shares will be issued when the market is favourable and when the company is in need of new cash. The company has a lot of freedom in deciding when and how many new shares are issued.
Summing up the above findings about Draganfly, it seems that the company has a good chance to obtain a leading position in the drone industry. Revenue wise, the company is bigger than some of the peers. There's significant revenue growth, there's a viable path towards profitability and there's cash available to fund another two years of doing business. In addition, the company has around two decades of experience and it has built a unique expertise and Intellectual Property (IP). Some may argue that the IP alone is already worth more than the current market cap.
Prudent approach for investing in Draganfly
So, as becomes clear from the above, on the one hand, there seems to be a fair chance that Draganfly will succeed in the drone industry. On the other hand, there's a chance that more dilution will come for the shareholders to fund the business. This poses a conundrum: wait until after the dilution with the risk of missing out on a run-up or invest now with the risk of dilution.
Also, it's not certain how long it will take for Draganfly to become profitable, which is partly why shares are trading at easily justifiable lower prices, especially given the unique expertise that the company has. If an investor waits for more certainty, the shares will probably be much more expensive, because the company has already proven to be able to reach profitability.
One prudent way to deal with the above dilemmas is to buy small amounts of Draganfly shares over time. This spreads the risk over time, while it allows a shareholder to benefit from a next run-up, perhaps a 16-fold run-up just like the one at the beginning of 2021.
Next to spreading purchase of stock over time, it would be recommended to spread the risk over several drone companies. Each company has a different focus and it's impossible to tell which company will be the most successful. The market has shown that other investors take this approach over spreading the investments over several companies as well.
As I mentioned in the introduction, I had a substantial capital gain from the rally of Draganfly shares at the beginning of the year. I used part of this gain to go long Draganfly again and I also bought shares of Drone Delivery Canada Corp. I'm still essentially "playing with house money" and I intend to put more into it in the coming years while the drone industry becomes more mature.
Conclusion and investor takeaway
The current market cap of Draganfly looks justifiable with the current revenue levels, growth prospects and unique IP. The company grows the business step by step and is one of the most respected names in the drone business. As the company gets closer to profitability, the risks get smaller and share prices should move up. Spreading risks by investing in several drone companies and purchasing small amounts of stock over time is a recommended prudent approach. In that way, the risk of dilution and the risks of a bet on a single company become smaller.
This article was written by
TMT sector professional. Over 20 years of experience working in the sector in Europe and outside Europe. Decade of investing experience to keep in close touch with companies and themes that are relevant for my work.Companies where I worked are among others: KPN, Chellomedia, Liberty Global, UPC Cablecom Switzerland, Get Sweden, Ooredoo Middle East, Cell C South Africa, Du Dubai, Axiata South East Asia, Celcom Malaysia, Vodafone.
Analyst's Disclosure: I/we have a beneficial long position in the shares of DPRO, TAKOF either through stock ownership, options, or other derivatives. I wrote this article myself, and it expresses my own opinions. I am not receiving compensation for it (other than from Seeking Alpha). I have no business relationship with any company whose stock is mentioned in this article.
Seeking Alpha's Disclosure: Past performance is no guarantee of future results. No recommendation or advice is being given as to whether any investment is suitable for a particular investor. Any views or opinions expressed above may not reflect those of Seeking Alpha as a whole. Seeking Alpha is not a licensed securities dealer, broker or US investment adviser or investment bank. Our analysts are third party authors that include both professional investors and individual investors who may not be licensed or certified by any institute or regulatory body.