Changing The Narrative On AT&T
Summary
AT&T's weak performance this year is at odds with its financial performance.
Headwinds for the Telecommunication Industry look to be one of the larger factors impacting AT&T.
Despite the headlines, the company has managed to grow in a challenging environment.
AT&T's monster dividend of nearly 9% is very attractive in this low-rate environment, even after next year's restructuring.
Looking for a helping hand in the market? Members of Dividend Armada get exclusive ideas and guidance to navigate any climate. Learn More »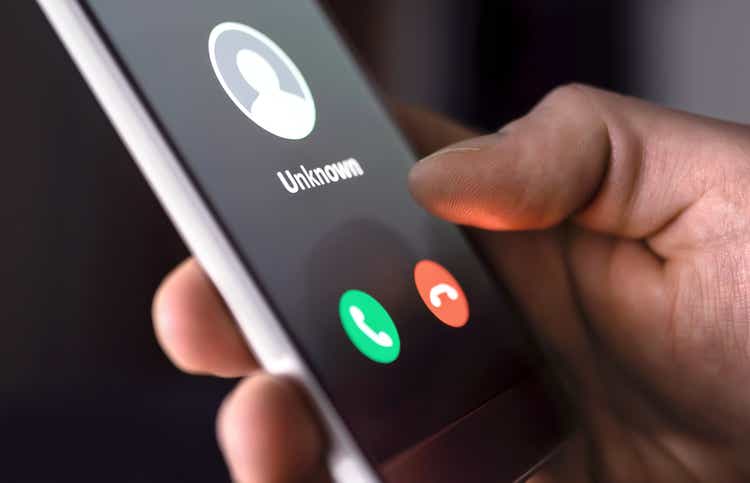 AT&T (NYSE:T) looks to be a classic case of the "baby being thrown out with the bath water". While the company did have a major change in focus during 2021, it looks like the bigger factors driving the company's stock performance were industry headwinds. AT&T's shareholders were not rewarded for the company's aggressive deleveraging plans through divestitures due to these headwinds. Although the AT&T's stock is trading near decade lows, these changes position AT&T to significantly outperform peers when the industry's challenges abate. This makes now a good time to own AT&T.
Introduction
AT&T continues to be one of the most hated/loved stocks for 2021. Investors, including ourselves, saw great opportunity for this dividend stalwart at the start of the year. While the stock posted compelling gains in the early months, management's decision to change direction and undo more than a decade of acquisitions shook the company's core investor base. As more news came out around the different divestitures, AT&T's stock continued to decline.
Currently, with the stock at its lowest point in more than a decade, the big question for investors is what to do? While the answer may be directly related to AT&T, it looks like the broader Telecommunications Industry has lost its luster in the eyes of investor. As a result, a large portion of AT&T's declines may have more to do with industry trends and not the company's massive pivot.
AT&T's Stock Price at Extreme Lows, While Current Yield is at All Time Highs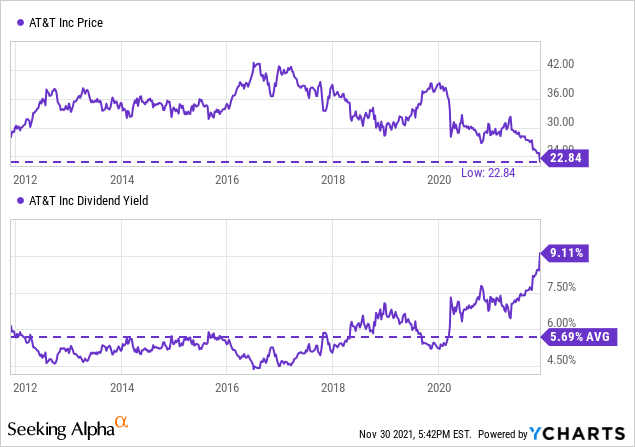 Industry Headwinds
AT&T's performance compared to the broader equity market is nothing short of disappointing. In a year in which the S&P 500 is up more than 20%, it is shocking that one of its largest companies could be down more than 10%. Interestingly, when looking only at AT&T it is easy to point to management's pivot as the culprit for this abysmal performance. When one broadens their lens, this poor performance looks to permeate the top three telecommunications companies in the United States (Verizon Communications (VZ), T-Mobile US (TMUS), and AT&T).
Year-to-Date Total Returns for the Big Three Telecommunications Carriers
From looking at the chart above, AT&T clearly had a good start to the year and management's pivot in May had a major impact on the company's stock. When adding in AT&T's peers, it looks like this pivot shifted the company to behave more like them for the remainder of the year.
On one hand, this is not very surprising. AT&T's leadership had changed from developing a modern media conglomerate to more of a classic telecommunications company. On the other hand, the resulting paydown in debt from these divestitures, as well as the interests in the spun-off companies (whether owned by AT&T or its investors) should be more valuable than just a "classic telecommunications company".
In our view, the bigger driver is the competing forces impacting major telecommunications companies today. On one side, their core services of voice and data are quickly becoming commoditized. Customers are increasingly demanding more for less, resulting in a potential margin squeeze. On the other side, companies are buying increasingly expensive bandwidth at government auctions and installing costly equipment to offer the highest quality of services to their customers. The net result is that companies are jammed on both the capital expenditure side as well as the suite of packages they offer to customers.
From this perspective, it is not fairly surprising that the major telecommunications companies have posted declines on the year. Shockingly, AT&T looks okay when compared to Verizon's 8%+ decline for the year and really good when looking at T-Mobile's nearly 16% decline.
AT&T's Business is Actually Doing Well
Interestingly, despite the major headwinds facing AT&T's industry, the company itself is doing well. We come to this conclusion from a couple of different perspectives:
Revenues and Earnings
Margins
Revenues and Earnings
First and foremost, a company's topline and bottom-line performance are the two biggest contributing factors to growth. If the company's revenues are not growing, there is only so much financial engineering management can do to improve earnings. Fortunately, for AT&T the company's revenues have grown and are currently above their five-year average. It is important to note that a significant portion of this growth came through acquisition (Time Warner) that will be spun out by the middle of next year.
Healthy Revenues and EPS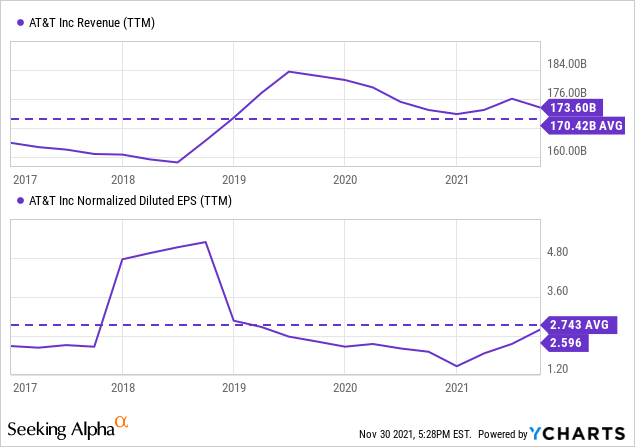 Fortunately, the company's earnings per share have been recovering since the initial dip during the Pandemic and are nearly back to their historical average. More importantly, AT&T's EPS is already at its pre-Pandemic levels and is showing signs of growing from here.
Margins
Digging a little deeper into a company's financials, it is also important to maintain healthy margins. Especially for companies in the midst of a major transition, margins can easily become the victim as the company sets up for the post-spinoff operating model. In these areas, we also find good positioning for AT&T. The company is well above its average operating margin for the past five years and is even near the high end of the range.
Margins are Above or Near Historical Averages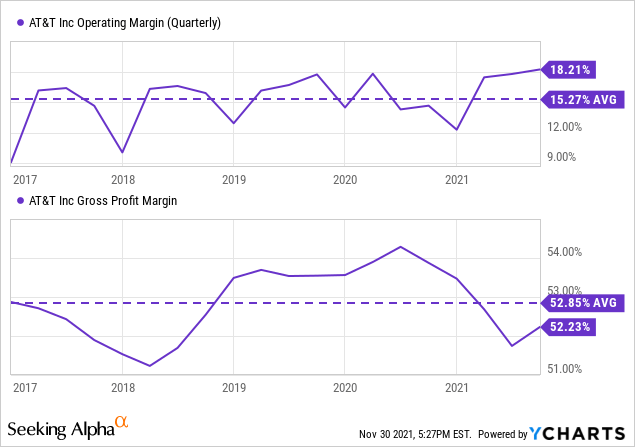 One stat that caught us by surprise was AT&T's relatively stable gross profit margin over the past five years. The company has managed to keep a tight range around the nearly 53% level. This means to us that the company has a solid operating business that is fairly resilient to the economic environment. Considering the acquisitions that AT&T made over this time period, we would have expected much more volatility to the gross profit margin since the media business can be very different from telecommunications.
Putting this together, we see AT&T as a company that has performed fairly well in the current environment. They have been able to maintain revenues during a challenging time while growing both operating margins and earnings per share. While this may not have translated into large outperformance on just these numbers, in our opinion they would have justified at least market level gains.
Managing Debt Loads Is Key
One of the other main factors that could have led to AT&T's stock decline as well as Verizon's could be their ballooning debt loads. While AT&T has been no stranger to large debt levels over the years thanks to their acquisition strategy, Verizon kept a relatively low level of debt. For many pundits, the difference in debt between the two companies was often the deciding factor.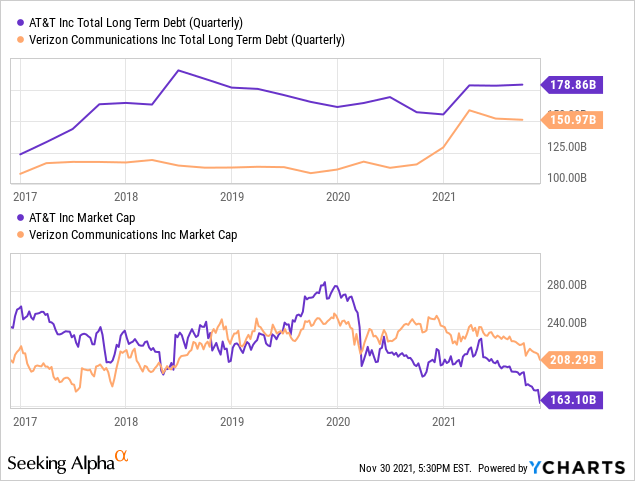 This dynamic changed more recently as the large cost to build 5G networks as well as acquire new bandwidth saw Verizon's debt levels explode to more than $150 billion from a fairly consistent level just above $100 billion. While AT&T's debt load also grew during this time, it was at a much lower magnitude of growth.
Considering that AT&T is set to receive nearly $43 billion in cash from the Warner Media spinoff, they are positioned to potentially have a lower debt level that Verizon. If management were to use the majority of the cash proceeds to lower the company's debt load, this would be the first time in years that AT&T would have less debt than Verizon.
In our view, the major deleveraging that AT&T is currently going through ($7.1 billion from DirecTV spinoff, $43 billion from Warner Media, and various smaller divestitures) while the industry is adding to debt loads should be a boon for the company. More specifically, this puts AT&T in a stronger position compared to Verizon, T-Mobile, and others due to their shrinking debt levels.
Ultimately, AT&T's focus on reducing its debt should result in compelling share price growth and notable outperformance relative to peers.
AT&T's Stock Is Too Cheap to Ignore
What is most surprising to us today is just how cheap AT&T has become. We are basing this on three main comparison points to AT&T's largest rival, Verizon:
Market Cap: AT&T's current market cap is $173 billion, which is significantly smaller than Verizon's $217 billion market cap.
Gross Profit: Considering that AT&T has generated $91 billion in gross profit over the past four quarters compared to only $78 billion for Verizon, we would have expected the market caps flipped.
Earnings: At the bottom line, AT&T has faltered lately, posting nearly flat earnings over the past four quarters, compared to $22 billion for Verizon. The major difference here has been due to the write-offs AT&T was taking from some of their acquisitions.
In our view, with a similar telecommunications footprint AT&T should be trading at the same market cap as Verizon based on just that portion of their business. Additionally, there should be incrementally more value to AT&T's market cap due to the WarnerMedia business, which won't be spun-off until next year. Lastly, as AT&T deleverages with proceeds from its divestitures, the company should trade at a significantly higher valuation.
One additional thought on AT&T's stock is that at this point it is trading at distressed levels. While there is always a case for a company to be worth considerably less, at these levels most of the bad news for the company appears to be baked into the stock price. At the current lows, unexpected gains from the company could relieve the selling pressure on AT&T's stock and see it return to prices not seen since the divestitures were announced.
AT&T's Dividend is F.I.N.E.
For fans of The Italian Job, we find John Bridger's FINE (Freaked Out, Insecure, Neurotic, and Emotional) acronym to by very appropriate when discussing AT&T's dividend. For most investors, AT&T was primarily seen as a source of income and only modest growth. With the major changes announced in the first half of 2021, this view was turned upside down and many investors were FINE with it.
Despite investor reactions, AT&T's current dividend yield of 9%+ is impressive in nearly any environment. Of course, there is the big caveat that the company is maintaining current distributions until the divestiture of Warner Media. At that point investors will receive a piece of the new company and a reduced divided from AT&T.
Specifically, AT&T's management guided that the dividend will be 40%-43% of free cash flow for the new entity, which is estimated to be $20 billion. This means that AT&T will be distributing approximately $8 billion to shareholders compared to currently $15 billion. Since AT&T is divesting a large portion of their business, we would have expected a 25%-30% decline to reflect the magnitude of the change. Since the dividend is being lowered closer to 45%, this is clearly a dividend cut.
To put this in perspective, Verizon currently has a dividend yield of 4.9% (notably T-Mobile US does not currently pay a dividend). Post divestiture, AT&T would yield close to 4.9% based on current levels. From this point, we would expect AT&T to resume its dividend growth path.
For those buying AT&T, the current income as well as the reduced cash flows in the future are both highly attractive in the current environment. More importantly, with all the restructuring that has taken place, the odds of a further reduction to the company's dividend are fairly low.
As a result, we would advocate that AT&T is a good source of equity income today and in the future.
Risks
The primary risks to our view come down to deal risk and value risk. On the deal front, as we've seen with AT&T's acquisition of Time Warner, there can be a number of regulatory issues that have the potential to derail the spinoff. Fortunately, there doesn't appear to be much of a monopoly or other regulatory concerns with the combination of WarnerMedia and Discovery.
The larger risk is on the valuation front. While this spinoff creates a pure media play that should garner a significantly higher multiple for WarnerMedia, it may take much longer for the market to revalue these assets. As a result, it may not be until a couple of quarters after the spinoff is completed until Warner Bros. Discovery reaches "Fair value" and AT&T's shareholders are rewarded for this position.
Conclusion
In conclusion, the entire telecommunications industry has had a distressing year. While AT&T has had its own set of problems due to its major shift in strategic focus, there is a high correlation to AT&T's declines relative to peers. From this perspective, AT&T has actually held up well. Considering that the company is pulling levers not available to peers (deleveraging through divestitures), AT&T is in a stronger position than Verizon and T-Mobile. While the pending dividend cut could be a point of consternation for investors, AT&T's compelling financial performance for 2021 and positioning for 2022 could make this a great stock to own as the Telecommunications Industry recovers.
Trying to make sense of these volatile markets?
The Dividend Armada is here to separate the winners from the sinkers and position your portfolio for long term success.
Members of the Armada have benefitted from engaging directly with our experienced team to manage their own portfolios of dividend stocks. By joining the Dividend Armada you have access to:
Our model portfolio of dividend stocks, designed for high yield and capital appreciation

Proprietary price targets for each portfolio company

Active company discussions and updates

Weekly commentary that focuses on what matters most



We recently published a new post detailing this service. Click here to learn more.

This article was written by
Analyst's Disclosure: I/we have a beneficial long position in the shares of T, VZ either through stock ownership, options, or other derivatives. I wrote this article myself, and it expresses my own opinions. I am not receiving compensation for it (other than from Seeking Alpha). I have no business relationship with any company whose stock is mentioned in this article.
Seeking Alpha's Disclosure: Past performance is no guarantee of future results. No recommendation or advice is being given as to whether any investment is suitable for a particular investor. Any views or opinions expressed above may not reflect those of Seeking Alpha as a whole. Seeking Alpha is not a licensed securities dealer, broker or US investment adviser or investment bank. Our analysts are third party authors that include both professional investors and individual investors who may not be licensed or certified by any institute or regulatory body.