PubMatic: An Overlooked Opportunity In Digital Advertising
Summary
​​PubMatic is one of two major independent enterprises focused solely on providing a sell-side platform for multichannel digital advertising.
The digital advertising industry has been under some pressure lately due to impending identifier changes and Big Tech's feared monopoly over the industry.
But PubMatic appears to be bucking the trend and has shifted its operations accordingly without missing a beat.
Last quarter earnings demonstrated 54% YOY growth in revenue ($58.1M). The company also raised full year guidance. This was the fourth straight quarter of 50%+ YOY growth.
I believe the most recent earnings is a "watershed moment" for PubMatic and the market will soon begin to fully appreciate its stock.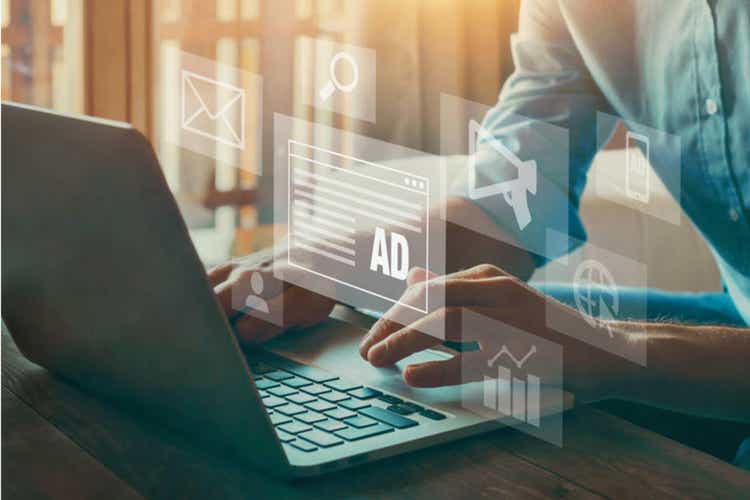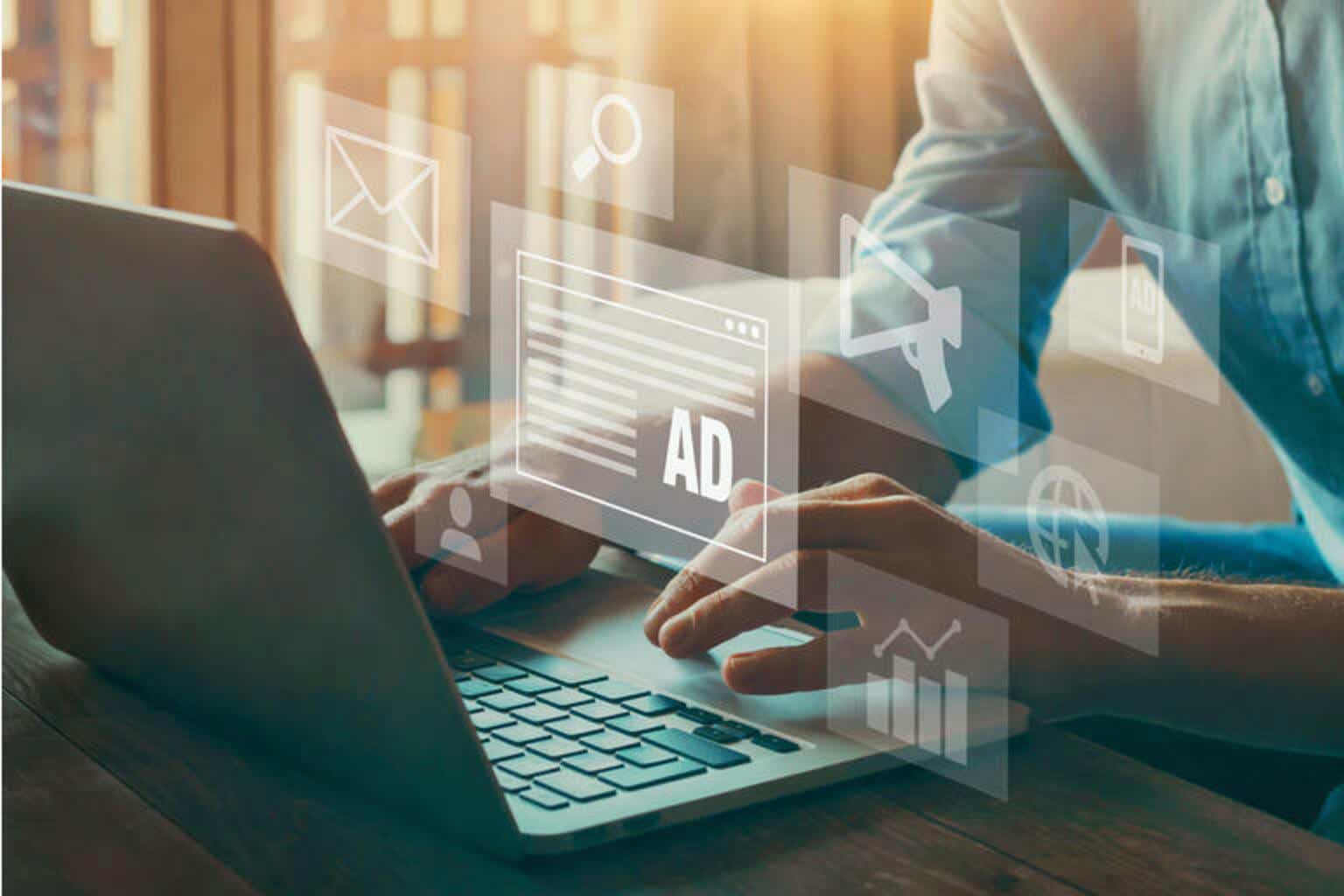 Introduction
A sell-side platform [SSP] for digital advertising, PubMatic (NASDAQ:PUBM) was founded in 2006 by Rajeev Goel [CEO], Amar Goel [CIO], Anand Das, and Mukul Kumar [President, Engineering]. Rajeev and Amar, brothers, are each 10% owners in the company's stock. PubMatic works opposite (and sometimes with) The Trade Desk (TTD) - the undisputed leader in demand-side platform [DSP] for digital advertising. Unlike DSP, SSP is a highly-fragmented market with many players fighting for relevance. Magnite (MGNI), via mergers and acquisitions, is the leading independent SSP. The industry also entails many smaller, private organizations, as well as mammoths like Google (GOOGL), who provide SSP services through a division.
The following article will center around PubMatic's risks to investment, which are two-fold: 1) a highly-competitive, fragmented market with larger fish and 2) an ever-evolving industry. Despite these obstacles, PubMatic has delivered 50%+ YOY revenue growth for four consecutive quarters. Perhaps more impressive, the growth is entirely organic and the company is profitable. These facts, coupled with PubMatic's global presence, omnichannel advertising approach, and its superior data-driven cloud platform, should provide investors with confidence in the company's long-term prospects.
Competition
It is estimated that Google controls nearly half of SSP. On the other hand, Magnite is estimated to account for 13%. Based on revenue comparisons alone, one can guesstimate that PubMatic's portion of the pie is in the lower single-digits. Competition is fierce, but the field is expected to consolidate further. The industry, seeking transparency and trust, is shifting towards "open internet" providers like PubMatic and Magnite, as opposed to "walled-gardens" like Facebook and Google. Additionally, buyers are increasingly utilizing multiple CTV channels - further fragmenting the market. These factors are bringing buyers to PubMatic's platform. PubMatic's net dollar retention rate (NDRR) typically runs high (>130%), but last quarter's 157% was astounding (although management anticipates this will normalize to some extent) and is now amongst highly-regarded SaaS companies like Snowflake (SNOW) and Twilio (TWLO). High NDRR suggests buyers are coming to PubMatic's platform, benefiting from their services, and, accordingly, increasing their spend. PubMatic's relationships with the two main DSP providers, Google and The Trade Desk, are expanding as well:
Critically, leading CTV ad buyers, such as The Trade Desk, are expanding their activity on our platform via programmatic transactions, consistent with our vision of the future of CTV, where advertisers can realize greater ROI via data-driven precision. Similarly, we have completed an integration with Google that enables PubMatic CTV inventory to be accessed on demand in the DV360 TV marketplace. These partnerships validate our approach to the rapidly growing CTV market, and together, they provide our publishers with scaled CTV demand from our two largest demand-side platforms.

Source: Q2 PubMatic Earning's Call
Industry Landscape
Identity Crisis
Another large risk to a PubMatic investment is the fact they operate within a rapidly evolving industry. A worry, that was recently pushed back a couple of years, involves the impending decimation of third-party cookies by Google, expected to phase out beginning mid-2023. PubMatic, long aware of these impending changes, has been shifting its operations independent of third-party cookies, including in-house development of "Identity Hub" - an alternative identifier. Today, the company reports over half of revenue is independent of third-party cookies.
As the industry continues to evolve, we believe the disruption caused by rapid changes to audience addressability and the pending deprecation of the cookie and other anonymous identifiers will benefit PubMatic as the value proposition for the open Internet grows relative to the walled gardens in the eyes of advertisers. We have invested heavily behind this opportunity for several years and continue to do so. I'm pleased to share that today, the majority of revenue on our platform now has alternative identifiers to the third-party cookie and Apple IDFA, which underscores the leadership position we have taken in the addressability transition. Having alternative identifiers available at scale, in many cases, identifiers that provide greater addressability than anonymous identifiers like the third-party cookie provides an environment to drive even greater utilization of our infrastructure.

Source: PubMatic's Q3 Earning's Call​
Industry Consolidation
Some may also have concerns over PubMatic's main and larger competitor, Magnite. Magnite's growth has been heavily reliant on merger and acquisition. The bigger Magnite gets, the greater the risk to PubMatic, right? I don't believe so. In fact, one could argue the following: the more the industry consolidates (via M&A), the more concentrated the industry becomes - drawing more customers to PubMatic's software due to buyers increasingly utilizing multiple channels. ​PubMatic management often speaks of the "flywheel effect". Consolidation within a fragmented market with vendors "trying different flavors" and sticking to the one[s] that work best is a critical component of their flywheel. And the NDRR mentioned previous is evidence that consumers are sticking and expanding with PubMatic.
PubMatic is growing at a rate (50%+ YOY) that is atypical within its industry. Magnite, for example, figures to have organic growth rate <30% after all the revenue from recent acquisitions are scrapped. Much of PubMatic's growth is evident in CTV (connected television), which the company estimates 600% YOY growth last quarter. Because they initiated CTV efforts as recent as Q2 '20, it's difficult to ascertain significance from this most recent comp. But the QoQ comparisons are encouraging as well and, perhaps, more telling. PubMatic reports 154 publishers - up from 114 publishers in Q2 '21. This is 35% growth QoQ - an impressive figure.
CTV is becoming increasingly important in advertising, with ad spending experiencing rapid growth, spurred by the pandemic.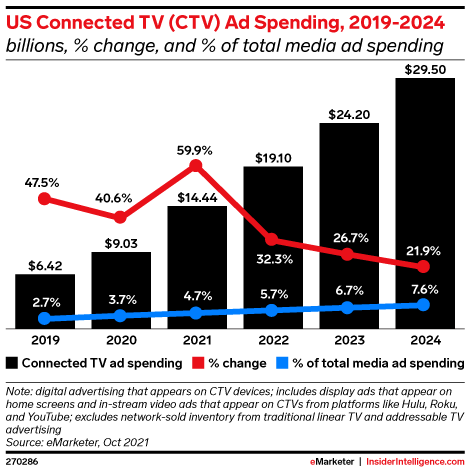 CTV Ad Spending, 2019-2024 (billions, % change, and % of total media ad spending)
CTV makes up 44% of Magnite's total revenue. For PubMatic, this number remains in the single-digits. If PubMatic is able to achieve a relevant portion of CTV, its growth should continue to accelerate.
Financials
PubMatic Q3 '21
PubMatic has been profitable for years. Last quarter, the company reported $58.1M in total revenue, an increase of 54% YOY. This is the fourth consecutive quarter with 50%+ YOY growth and it's entirely organic. PubMatic's gross margins remained >70% for the fifth consecutive quarter - coming in at 72%. Meanwhile, sales & marketing (26% of total revenue) and general/administrative (15%) spend remain relatively low. After everything is subtracted, PubMatic's net income for the latest quarter was $13.5M - a 117% YOY increase. PubMatic ended the quarter with $136M in cash and securities. They are without debt obligation. The current market capitalization for PubMatic is $2B. PubMatic trades ~9x annual recurring revenue. For the fourth quarter, PubMatic anticipates total revenue between $74M-$76M, representing 32% to 35% YOY growth. Bear in mind that Q4 2020 was a political season, so the comp is tougher.
Peer Comparison: Magnite Q3 '21
To compare with a close competitor, Magnite's latest gross margin, on $132M in last quarter revenue, was 53%. Magnite spends nearly 40% of total revenue on sales & marketing efforts. Not accounting for revenue from recent acquisitions, Magnite's organic growth comes in <30% YOY. Magnite reported a net loss of $24M, twice as much as Q3 2020. Magnite's market capitalization is slightly higher than PubMatic's, at $2.3B - but only after its stock depreciated 50%+ in the past few months.
Many would argue that Magnite is undervalued based on a total revenue multiple relative to PubMatic, which is valued similarly despite achieving only 44% of Magnite's total revenue. But valuations based on revenue alone are shortsighted and unreasonable. PubMatic's operations are far leaner than Magnite's - thanks to PubMatic's in-house capabilities. PubMatic has been able to achieve strong YOY revenue growth despite relatively low sales & marketing spend and having to shift their strategy away from third-party cookies. PubMatic also sports far better gross margins than Magnite (72% vs. 53%).
AdTech Struggles
Relevant advertising technology ("AdTech") players, such as Roku (ROKU), Digital Turbine (APPS), Magnite (MGNI), and DoubleVerify (DV) have been under intense pressure of late due to macro concerns like impending identity changes and Big Tech's feared monopoly over the industry.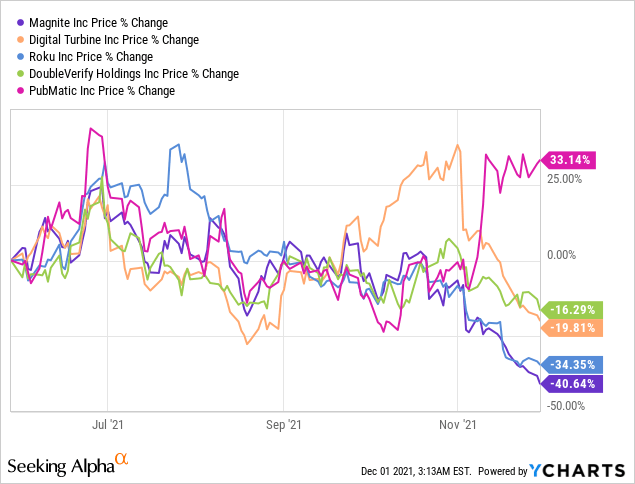 Despite these concerns, PubMatic is bucking the trend relative to its peers. I don't believe this is by mere coincidence. PubMatic appears to be excelling despite these challenges. It's growing, organically, at a strong rate, despite larger competitors and lean operation. This isn't to say the trend will last or that PubMatic is entirely "antifragile" from hits, but investors should be encouraged.
​Conclusion
Great companies often don't seek innovation, but, instead, are forced to innovate based on environmental changes. Like The Trade Desk, PubMatic, so far, profiles as a company with an astute ability for rapid change and innovation. Although there are large risks within the industry, PubMatic's "innovation stack" is making them "antifragile" to presumed existential threats. PubMatic is benefiting from a growing and fragmented industry that is bringing customers to their infrastructure. Whilst on their platform, customers are, additionally, increasing their use and spend. Despite PubMatic shifting their efforts away from reliance on third-party cookies, they are still seeing considerable success, as evidenced by four consecutive quarters of 50%+ YOY revenue growth. The industry has experienced some anxiety of recent, but I believe this is temporary. The tailwinds boosting digital advertising are enormous and, seemingly, enough to balance feared headwinds (e.g. identifier changes, Big Tech). PubMatic is adjusting accordingly to industry changes and doesn't appear fazed by larger competitors like Magnite. I believe the latest earnings is a watershed moment for PubMatic and the market (retail and institutions) will soon take notice.
This article was written by
As a Registered Nurse with a Bachelor of Science in Nursing (BSN), my commitment to biotechnology is both personal and professional. My dedication is grounded in a deep-seated passion for the field, fortified by an unwavering desire to stay ahead of market trends and breakthrough treatment innovations.Beyond my clinical experience and patient interactions, I bring an indispensable element to my analysis - objectivity. I understand the inherent risks involved in investing and consistently emphasize a balanced, informed approach to my readers. While I'm not afraid to make bold predictions, I also believe in admitting and learning from my mistakes, striving always to align my forecasts with the shifting realities of the biotech landscape. This focus on 'Superforecasting' - the practice of refining projections with each new piece of information - forms the backbone of my approach. I'm driven by the pursuit of truth, constantly adjusting my lens as new information comes to light, ensuring my insights are always timely, accurate, and reflective of the current state of affairs. With keen analytical skills and a knack for spotting details often missed by those without direct clinical experience, I strive to deliver deep-diving, insightful content. Leveraging my expansive knowledge, I aim to create meticulously researched, highly informative written materials that equip you with the insights you need to navigate the dynamic world of biotech investing. As your trusted source for biotech intelligence, I'm excited to offer you a perspective that's as rooted in real-world healthcare experience as it is in forward-thinking analysis.
Analyst's Disclosure: I/we have a beneficial long position in the shares of PUBM either through stock ownership, options, or other derivatives. I wrote this article myself, and it expresses my own opinions. I am not receiving compensation for it (other than from Seeking Alpha). I have no business relationship with any company whose stock is mentioned in this article.
Seeking Alpha's Disclosure: Past performance is no guarantee of future results. No recommendation or advice is being given as to whether any investment is suitable for a particular investor. Any views or opinions expressed above may not reflect those of Seeking Alpha as a whole. Seeking Alpha is not a licensed securities dealer, broker or US investment adviser or investment bank. Our analysts are third party authors that include both professional investors and individual investors who may not be licensed or certified by any institute or regulatory body.